Upside-Down Charles La Trobe Statue
This strange portrayal of the state's first lieutenant-governor literally stands on its head.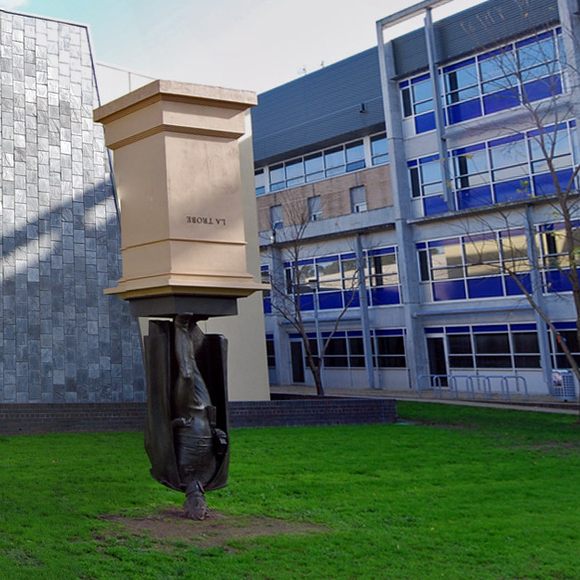 View all photos
Charles La Trobe Statue at La Trobe University Bundoora
Charles La Trobe was born in London in 1801. After a period of global gallivanting that included ascents in the Alps and a trip to Mexico with Washington Irving, he was eventually sent to Australia to help administer the various colonies of the British Empire. Despite a lack of experience, he was appointed as the first lieutenant-governor of the colony of Victoria, established in 1851.
La Trobe was an enlightened gentleman and a strong supporter of cultural and educational institutions and did much to improve the colonial (now state) capital of Melbourne. He helped improve the water supply, and established various institutions including the City University, State Library, Botanical Gardens, and the Royal Melbourne Hospital.
Despite all this, many history books considered La Trobe to be an ineffectual leader. He also returned to Europe in 1854 after just a few years as lieutenant-governor, the death of his wife cutting short his time in Australia. It wasn't until fairly recently, therefore, that his name and achievements became more widely recognized in Melbourne.
Today, only two statues of La Trobe exist in the city. The more recent of the two, erected in the forecourt of the State Library Victoria in 2006, is a classic bronze monument to a historic figure, standing on a plinth in an upright pose, dressed in official uniform. The second and earlier monument is not too dissimilar, save for one rather obvious difference: It's standing on its head.
The upside-down statue of La Trobe, officially called "Landmark," was created by Melbourne sculptor Charles Robb. The 16-foot-tall statue was unveiled in 2004 and stands in the Bundoora campus of La Trobe University (it also stood for a while outside Parliament railway station, in Gordon Reserve). It is made of polyester resin, fiberglass, polystyrene, polyurethane, and steel, and painted to look like the stone and bronze of a more traditional—and upright—monument.
And why, exactly, is it standing on its head? Is it disrespectful to La Trobe, as some have claimed? Or is there something more to the message?
Well, there seem to be a few reasons for the inversion of Charles La Trobe. According to the official artist's description, "the work seeks to address the tension between the authority of the monument (as a civic marker and a form of portraiture) and its 'invisibility' in public space while simultaneously addressing (and subverting) the 'authorless' nature of the figurative monument."
In other words, the sculptor was trying to challenge traditional commemoration and the use of public monuments to historic figures. The description also notes how, ironically, the inverted monument raised the profile of La Trobe in a way that a more conventional statue could not, thanks to the media attention it provoked.
The sculptor is also quoted as saying that "the statue embodies the notion that universities should "turn ideas on their heads." Other observers have jokingly argued that the statue was turned upside down because La Trobe is better known in England, and that from an English perspective the monument is not upside down at all.
Know Before You Go
"Landmark," also known as the Charles La Trobe Statue, is located just off Science Drive and near the West Lecture Theatres of the Bundoora campus of La Trobe University in Melbourne, Australia.
Community Contributors
Added by
Edited by
---
Published
August 14, 2019
---
Edit this listing
---
In partnership with KAYAK
Plan Your Trip
No purchase necessary. Winner will be selected at random on 10/01/2023. Offer available only in the U.S. (including Puerto Rico). Offer subject to change without notice. See
contest rules
for full details.