Sedlec Ossuary "Bone Church"
A church of bones, decorated with 40,000 human skeletons.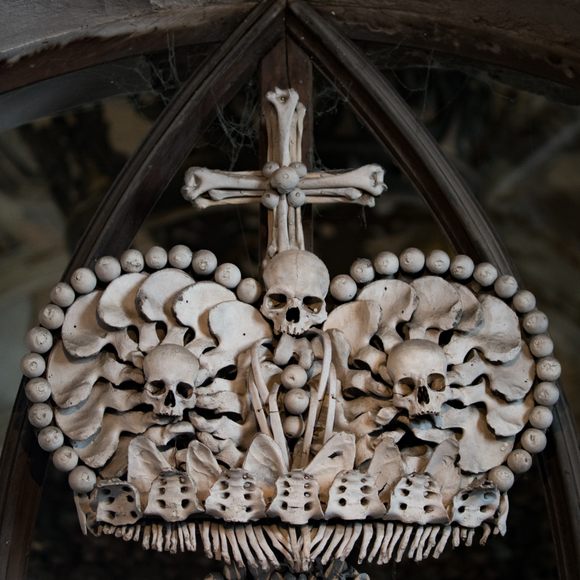 View all photos
Sedlec Ossuary
The 40,000 to 70,000 skeletons within Sedlec Ossuary (aka Kostnice Ossuary Beinhaus) in the Czech Republic welcome you, quite literally, with open arms.
Known to most as "the Bone Church," it displays some of the world's more macabre art. In addition to a splendid bone chandelier composed of almost every bone in a human body, the ossuary displays two large bone chalices, four baroque bone candelabras, six enormous bone pyramids, two bone monstrances (a vessel used to display the Eucharistic host), a family crest in (you guessed it) bone, and skull candle holders. Festively looping chains of bone are hung throughout like crepe paper at a birthday party.
Sedlec Ossuary has a long history, beginning in the 13th century when the Abbot of the Sedlec Monastery (Abbot Henry) brought a handful of earth back from a journey to the Grave of the Lord in Jerusalem. He scattered this "holy soil" across the Sedlec cemetery, securing its place as one of the most desired burial sites for people all over Bohemia and the surrounding countries. Everyone wanted to be buried in that handful of the Holy Land and more than 30,000 were. But it wasn't long before there simply wasn't enough room for everyone to rest in peace, and the bodies were moved to a crypt to make room for the newly dead.
In 1870, a local woodcarver, František Rint was employed for the dark task of artistically arranging the thousands of bones. Rint came up with the Bone Church's stunning chandelier, as well as the amazing Schwarzenberg coat of arms, which includes a raven pecking at the severed head of a Turk–all made of human bone. Rint was responsible for bleaching all of the bones in the ossuary in order to give the room a uniform look. His artist's signature is still on the wall today–naturally, in his medium of choice, bone.
Know Before You Go
One hour train ride from Prague. It's much easier to take the train than the bus, as you can walk from the train station in Kutná Hora in about ten minutes. Kutna Hora is a small and quiet town. You are free to walk around this skull church and admire the work of building up those skulls.
It cost 160 Crowns to visit the church and pictures are not allowed inside because they are actual remains. Still certainly worth seeing though! 
Community Contributors
Edited by
---
Published
July 24, 2013
---
Edit this listing
---
In partnership with KAYAK
Plan Your Trip
No purchase necessary. Winner will be selected at random on 01/01/2024. Offer available only in the U.S. (including Puerto Rico). Offer subject to change without notice. See
contest rules
for full details.