AO Edited
Cedar Bluff Reservoir
This 100-foot tall bluff located in the western plains of Kansas overlooks a massive reservoir.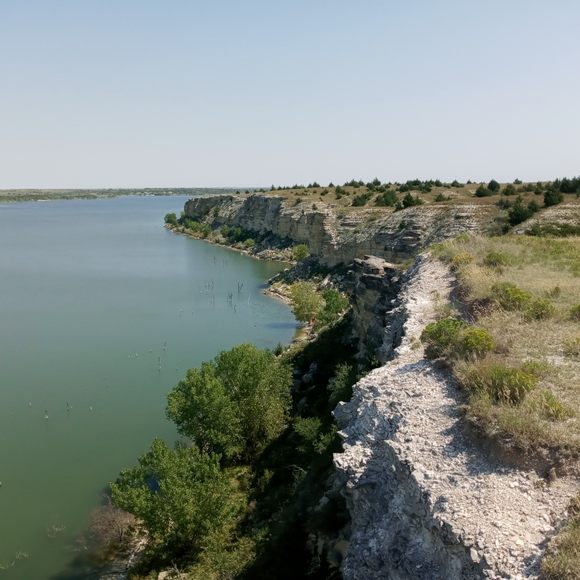 View all photos
View to the east.
A hidden gem of geology nestled in the Smoky Hill River Valley, Cedar Bluff offers unparalleled views of the lake and surrounding countryside. It was formed by years of erosion along what was once the floor of the Great Interior Seaway, that once stretched from the Gulf of Mexico to the Arctic Circle. The sandy seafloor turned to limestone and has been eroded over the millennia by wind and water. The Smoky Hill river is the root cause of this bluff. 
Atop the bluff, visitors can see for miles in all directions and can walk right to the edge of the bluff. It's quite the drop to the shoreline below.
The state park nearby offers excellent camping, both for RVs and tents alike, whether for group or solo excursions. Despite being located in western Kansas, there are ample shade trees around the reservoir. There are also several outdoor sporting opportunities around the reservoir.
Know Before You Go
There is a small circle turnaround at the top of the bluff for parking. The walk to the edge of the bluff is very short and possibly accessible by wheelchair, though nothing about it is ADA acceptable. 
Access off I-70 is quick. Take State Highway 283 South 22 miles to AA road and turn east. Travel a few miles and turn north on 290th Ave. Continue north until the road splits. Toward the left is a small day-use area, to the right and up the hill leads to the bluffs. Alternatively, take 147 South across the dam, and access the bluffs through the state park. AA and 290th are dirt roads and are sloppy after rainstorms. They are otherwise smooth. 
Be careful on the edge of the bluff, as the ground can be loose in areas. 
Community Contributors
Added by
Edited by
---
Published
October 2, 2020
---
Edit this listing
In partnership with KAYAK
Plan Your Trip
No purchase necessary. Winner will be selected at random on 01/01/2024. Offer available only in the U.S. (including Puerto Rico). Offer subject to change without notice. See
contest rules
for full details.