World-Famous Waterfalls May Slow to a Trickle, But Tourism Doesn't Have To
When climate change comes for attractions like Victoria Falls, visitors can find new ways to appreciate them.
Victoria Falls, in southern Africa, cascades over a 330-foot cliff with such power that Zambians know it as Mosi-oa-Tunya, or "The Smoke Which Thunders." Lately, though, there hasn't been much thundering at all. Hydrological data collected in the Zambezi River near the falls revealed that November 2019 saw its most sluggish flow in years, rolling in just below the previous low measured in 1995. "When the water is low," says Kaitano Dube, a lecturer in ecotourism management at Vaal University of Technology in South Africa, "the smoke that thunders is not there." This could also mean a reduced flow of tourists on both the Zambian and Zimbabwean sides of the falls.
There are always seasonal fluctuations in the flow, says Dube, who wrote his dissertation on Victoria Falls. The falls tend to be especially full between March and June, and then a bit slower between July and September. Low season spans October, November, and December, and then the falls start to swell before they get clapping again. These swings are affected by El Niño events and droughts, Dube adds, but measurements that are consistently lower than earlier data "is indicative of climate change."
As part of his research, Dube surveyed nearly 370 people about when they'd be most excited to visit the falls. Most reported that they'd be especially jazzed to see the waterfall tumbling instead of dribbling, Dube says, "though a significant number indicated that they would want to see it in its varied seasons." That data plays out in real-world tourism, too, Dube adds: "The low season for tourism arrivals coincides with low flow season. They love to see the falls when it's at its peak."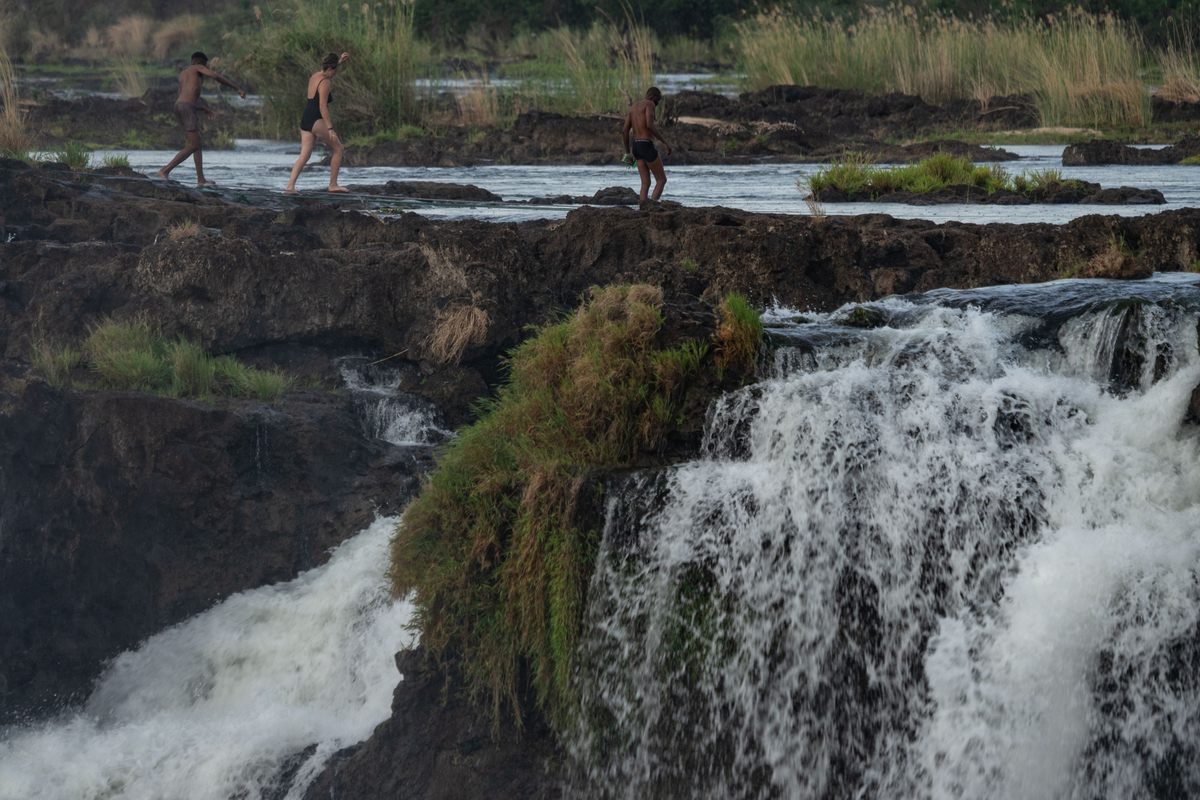 Figuring out how to navigate extreme weather and climate change is a major issue around natural wonders in southern Africa, Dube says. Gravel roads in South Africa's Kruger National Park have recently been closed to visitors, following deluges of rain. At the other extreme, droughts can leave flora parched—and if tourists snub the dried plants, that can threaten economies that are built on visitors. Writing in an article in the journal Environment, Development, and Sustainability, Dube suggested that resorts and parks near Victoria Falls "manage tourists' expectations in light of the noted change."
Part of this approach, Dube says, could include reminding visitors about activities that are better during the low season. At Victoria Falls, the low season is a good time for swimming and white-water rafting, Dube says—neither of which are a good idea when the falls are really roaring, because "people can be swept away." The gorge itself isn't bad, either: "It's a geological splendor." Visitors get a better view of the walls when when the curtain of water isn't veiling them. There's lots of wildlife around, too. As climate change comes for parks around the world, visitors will need to recalibrate what they consider wondrous in those landscapes. There will still be a lot to see, Dube seems to say—it's just that, in a changing world, age-old attractions might surprise you.