See Scale Models of the Greatest Skyscrapers Never Built
A new exhibition is full of diminutive versions of big buildings and even bigger ideas.
In 1956, Frank Lloyd Wright summoned reporters to a press conference in Chicago, where he planned to unveil a skyscraper the likes of which the world had never seen. He dubbed it "Mile High," and he meant that literally. "The Empire State Building would be a mouse by comparison," the architect told a reporter from the Chicago Tribune. A dizzying 528 stories, the complex would be deeply anchored with a taproot-style design, would house 100,000 people and 15,000 vehicles, and would be nearly twice as tall as today's record holder, the Burj Khalifa in Dubai. Even Wright's hand-scribbled sketch was eight feet long, and basically rendered Lake Michigan a puddle.
Wright was famously fascinated by, and hotly critical of, cities. He was intrigued by the various configurations of grids and highways but skeptical that skylines could have artistic value. His 1956 proposition was widely considered to be a stunt—but with the Jeddah Tower in Saudi Arabia set to dwarf the Burj Khalifa and soar to 3,300 feet in height, Wright's architectural provocation is beginning to look more prescient than ever. A United Nations forecast estimates that another 2.5 billion people will live in bustling metropolitan areas by 2050—putting a full two-thirds of humanity in cities. And many cities are responding by continuing to look up, up, up.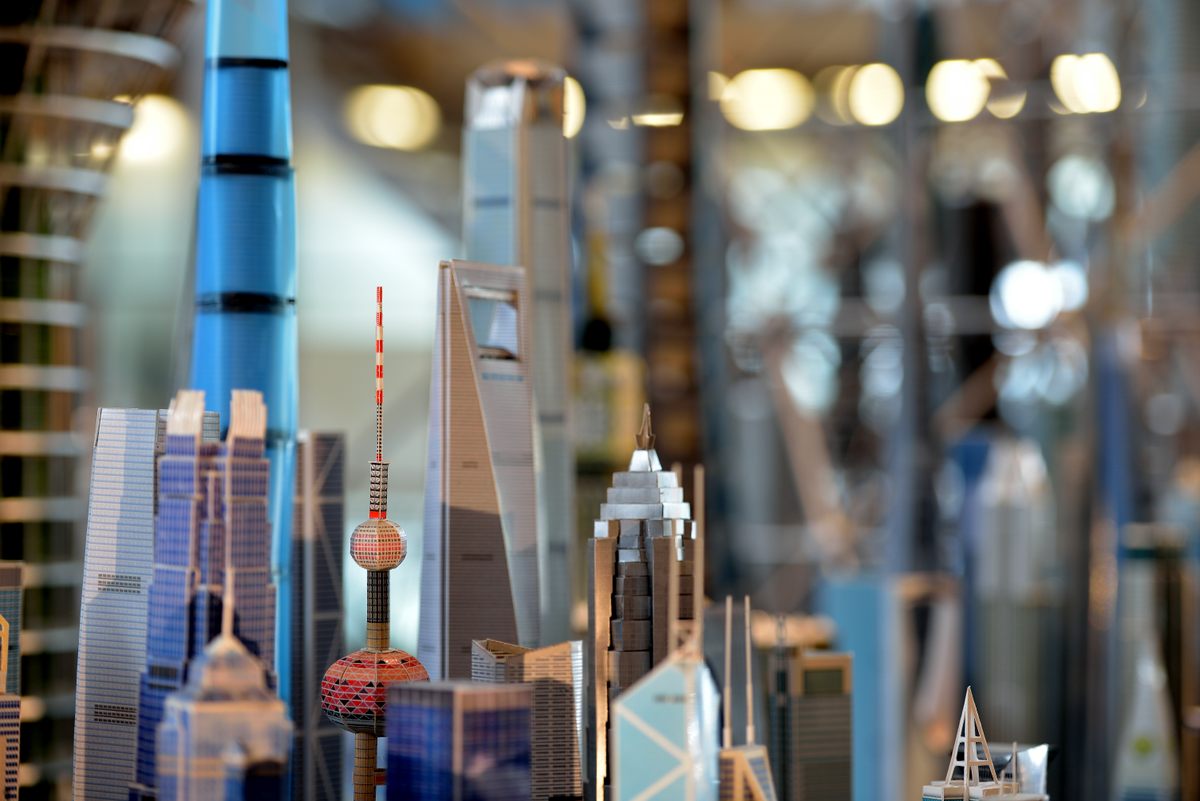 It can be hard to conceive of the scale of modern cities and skyscrapers, but Vertical Cities, a new exhibition at the Yale School of Architecture, might help you get your head around them. The show offers 200 models of skyscrapers—real, proposed, imagined—shrunk to 1:1,000 scale. Rotterdam-based designer Harry Hoek of M&H Traveling Exhibitions constructed the facsimilies, from carved wood, stacked paper, molded plastic, or soldered metal. Alongside New York's Flatiron Building and Taipei 101 are more fantastical flights of fancy, such as Buckminster Fuller's geodesic spheres—ground-bound or levitating when pumped full of pleasantly warm air. Mile High, though skinny, bests them all in sheer altitude.
Through February 3, 2018, visitors can tower over some of humanity's biggest ideas. Atlas Obscura has a selection of images of some of the ones that never made it to life-size.