How the Pandemic Is Transforming Britain's Historic Holiday Plays
It's not quite curtains for the "panto" tradition.
In November 2020, Adam Penford and his cast were doing in-person technical rehearsals for Cinderella, Nottingham Playhouse's annual pantomime show, when he heard the news that the theater wouldn't be allowed to open as planned at the beginning of December. It wasn't entirely unexpected—the show's opening had already been pushed back a week because of COVID-19 restrictions—but it was unwelcome news nonetheless.
The Playhouse has been producing pantomimes—a uniquely British family theater tradition with roots in Italian commedia dell'arte, illicit 18th-century mime, and Victorian variety performance—for 37 years. Penford, the theater's artistic director, had the unenviable task of getting up on stage to tell his cast, all dolled up in the extravagantly silly and colorful wigs and costumes typical of this type of show, that they probably wouldn't perform Cinderella in front of a live audience—at least not this side of the holidays.
"They were frustrated but incredibly stoic about it," he says. "We carried on." Penford is determined to give Nottingham audiences their panto fix, come what may. So the team needed to finish making the show and produce a digital version for audiences to stream at home in the age of social distancing.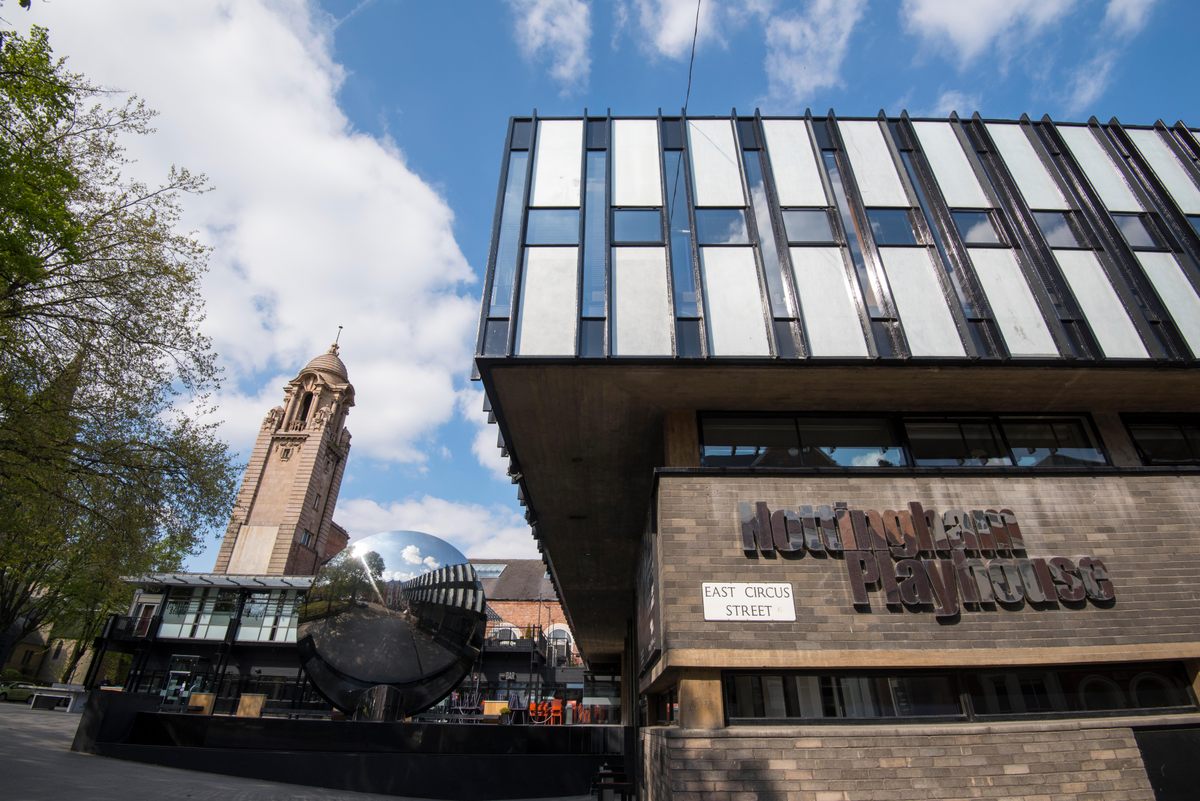 In a typical year, almost every theater in the U.K.—from huge West End venues to amateur-run village halls—performs a holiday-season pantomime based on one of around a dozen classic children's stories. Whichever story is chosen, the format, characters, and plot are largely the same: a plucky young hero, often played by a young woman in men's clothing, rises up against the tyranny of a narcissistic (and not terribly scary) villain, finding love along the way.
Pantomimes are group affairs, and thrive on the energy of a packed house. Crucial to proceedings are the pantomime dame (a maternal figure played by a male actor very obviously in drag) and a comedy sidekick for the hero, whose role it is to jolly the audience along to aid the hero in their quest. Full-throated participation is essential, with audiences primed to respond to particular phrases or plot points. Shout the words "Oh, yes, it is!" in a room full of Brits anywhere in the world and at any time of year, and you're very likely to hear "Oh, no, it isn't!" chorused back at you. "You can't get a more intense live experience of theater than pantomime because there's no fourth wall," says Nigel Ward, associate professor of drama at Anglia Ruskin University. "It's constantly reaching out to you, throwing things out to you, squirting water at you."
That experience will be unquestionably different this year. Even in the unlikely event that local incidences of Covid-19 fall low enough to allow Nottingham Playhouse to open to audiences, social distancing rules will permit selling only a third of the seats in its 770-person auditorium. Masks would be mandatory; shouting out would be banned. The cast would stay smaller, too—with social distancing in place, there isn't room on stage for the usual large group of professional actors plus the local dance troupe. Penford cooked up a few tricks to prevent audiences from feeling shortchanged: kids wouldn't be allowed up on stage, but could stand on small platforms nearby; instead of shouting out, audience members could stamp their feet. "It's been quite fun, weirdly, to have to creatively respond to those challenges," he says.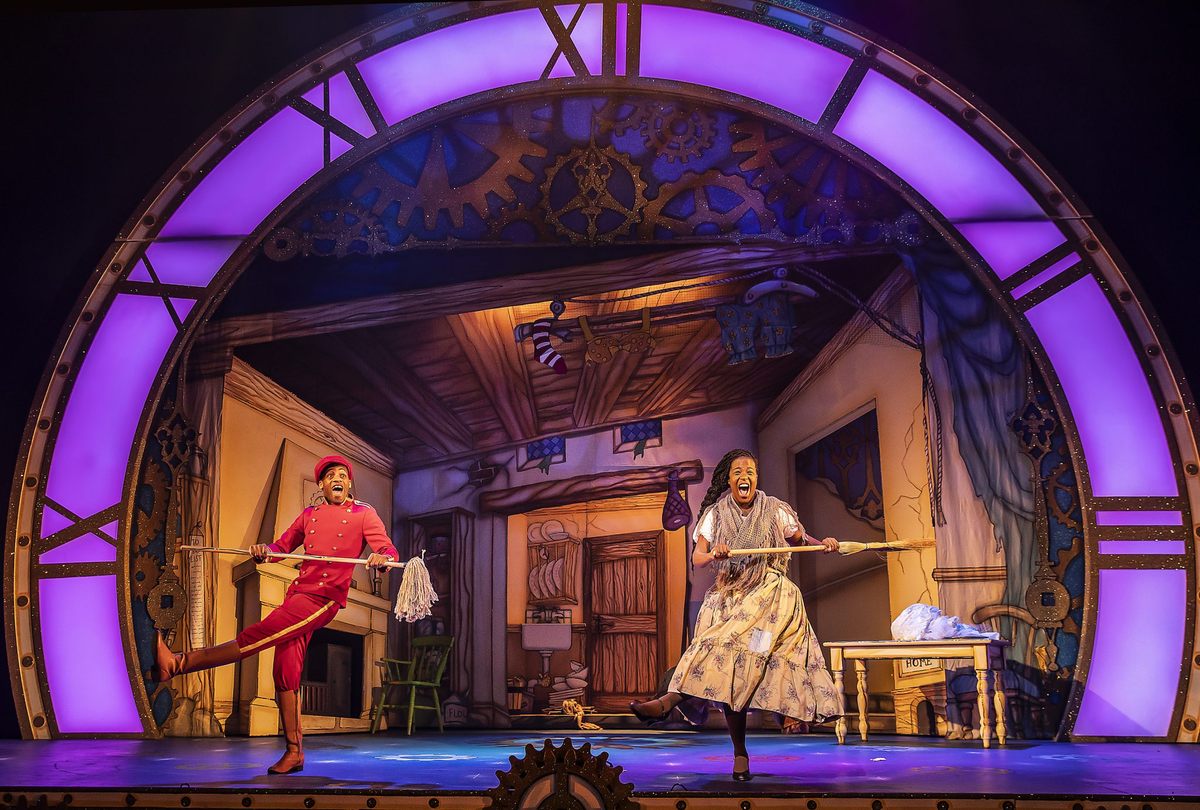 While a streamed pantomime can't emulate the liveliness of an in-person one, a digital version still has the potential to be deeply satisfying and comforting in this difficult time. Panto is embedded in the national psyche. "For a lot of people, because it's an experience they had as children and have probably taken their own children to, it holds a very special place," says Ward.
It's this aspect of pantomime that James Dunnell-Smith, Joshua George Smith, and John Woodburn, the comedy trio Sleeping Trees, are hoping to key into with The Legend of Moby Dick Whittington, a ridiculous mashup of Melville's epic novel and the folk story of the first Mayor of London. In previous years, the troupe has had success with live panto-style shows, but given the current uncertainties around theater openings, they decided to go digital-only this year.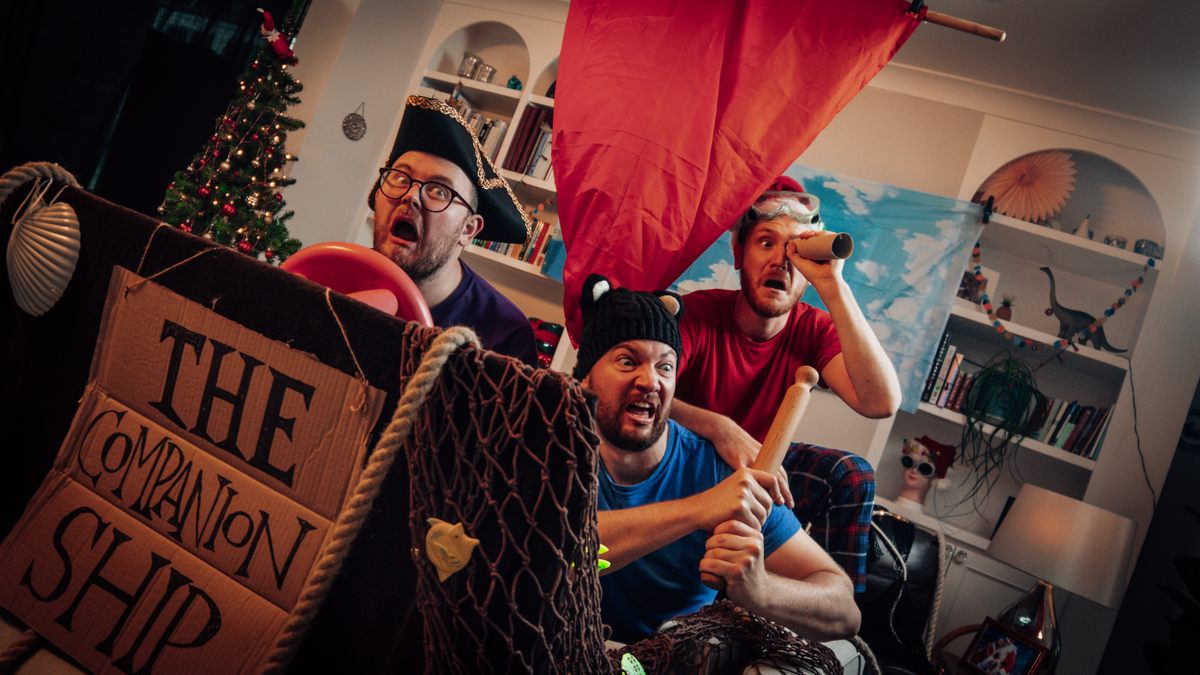 Their rough-and-ready production, filmed entirely in a friend's home, looks very different from spectacular affairs like Penford's Cinderella, but Sleeping Trees manages to capture the essence of panto nonetheless. There's a dance number, plenty of distant audience interaction (younger viewers are egged on to turn their couch into a sailing ship, and then wreck it in a storm, for example), and many of the archetypal panto characters make an appearance.
But the company also felt free to make it their own. "When we first started making pantomimes, there was a lot we didn't like about them," says Smith. The new production jettisons the smutty, adults-only humor that runs through many pantos.
Flexibility and adaptability have always been key to panto's success, whether by casting female actors in male roles to titillate Victorian audiences, or courting reality TV viewers by featuring celebrities. "Where theater itself has sometimes struggled to remain current and popular and find audiences, the pantomime has never struggled," Ward says. It embraces change and difference, and Smith says that's a strength—particularly this year. "Just because something has traditions to it doesn't mean you can't play with that and do them in different ways," he adds. "That's where part of the fun is."