Around the Middle East in Hummus and Falafel
A new book is an ode to chickpeas and the people that love them.
An Ottoman fable recounts Mehmed the Conqueror's tradition of adding a chickpea made of pure gold to the evening's chickpea pilaf during Ramadan. The lucky guest who found it could keep the special gift. It was with this tale in mind that graphic designer and editor Dan Alexander conceived the cover of his 408-page cookbook, Hummus, in a warm golden color.
The book is a transnational love story about "hummus," which is the Arabic (and modern Hebrew) word for chickpea. Across the Middle East, people have a passionate relationship with the tiny legume and the variety of ambrosial dishes that can be made with it.
"As I reflect on my history with this wonderful [legume], it really is a symbol of the Middle East," writes the British-Palestinian chef Joudie Kalla, whose family is from Jaffa. The book's contributors, whether chefs, philosophers, or sociologists, all believe that hummus is perfect. Besides being nutritious, healthy, and delicious, they describe it as "an essential culinary truth," or even "magical." One chef quotes Hazan, a falafel stall owner in Nazareth, who told her, "There's a secret in every falafel ball."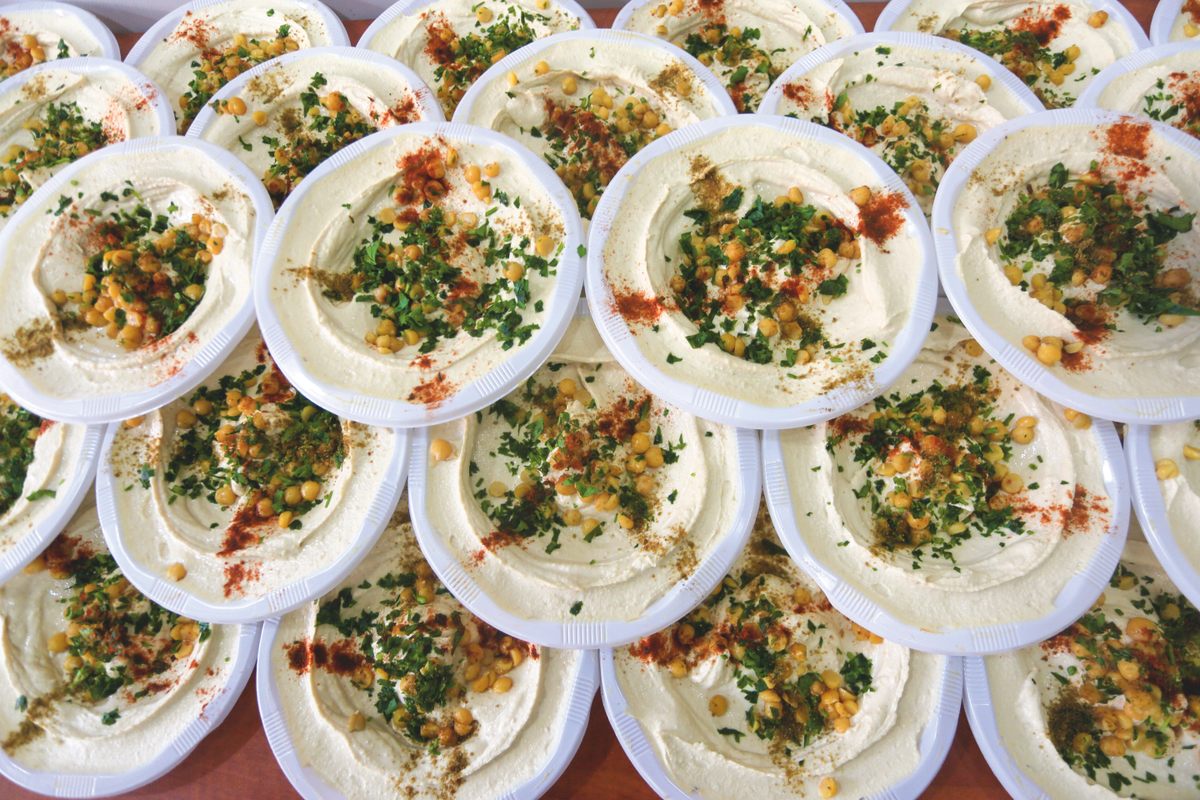 Hummus is as much an art book as a cookbook, and its organizing principle is geography. Alexander wanted to make the book a journey "between cities, people, and dreams" where borders and political arguments had vanished. The book focuses on nine cities—Cairo, Beirut, Damascus, Gaza, Jaffa, Tel Aviv, Jerusalem, Acre, Nazareth—that comprise "the hummus route."
The book begins in Cairo with cultural anthropologist and cookbook author Claudia Roden, an Egyptian Jew whose grandparents were from Aleppo, Syria. In the 1950s, during the conflict between Israel and Egypt, her family emigrated to London, where, she writes, "Although we had left Egypt, Egypt had not left us. Food was the one thing we could hold on to and preserve from our previous life, and it was the food that we cooked in our lively kitchen that brought us joy."
Roden includes a family recipe for chicken and chickpea casserole; we also find a recipe for the inescapable Cairene street food dish koshary, an addictive mix of chickpeas, lentils, and rice with a spicy tomato sauce. Falafel made with chickpeas is notably absent—Egypt is the sole country that makes falafel with broad beans.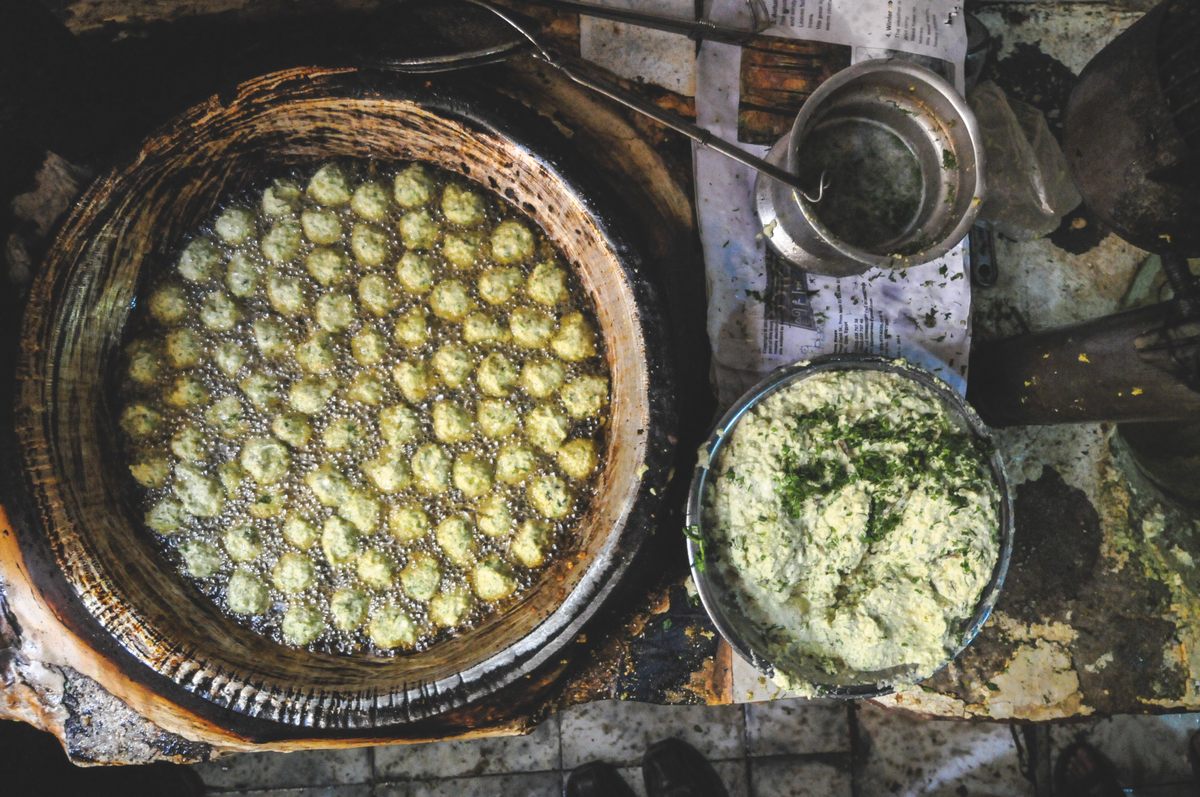 In Beirut, we hear from another expatriate: Paris-based chef Karim Haidar, who confides that he has little memory of hummus or chickpeas during his childhood in Beirut. But as a chef in Paris, he rediscovered hummus and experimented by adding a touch of orange blossom water to the dip and creating hummus ice cream. Cosmopolitan Beirut is known for its creative streak and, fittingly, the recipes include twists such as hummus with squid ink and bottarga.
In Damascus, chef Mohammad Orfali describes the city's famous fata, or fattet, a street food made with crumbled flatbread, chickpeas, tahini, yogurt, and lemon juice. But Beirut is not the only city that gets creative with its hummus. Damascus-born Farouk Mardam-Bey, author of The Chickpea Treatise, adds that hummus can be served in many ways: "topped with chopped parsley, chickpeas or fava beans, cumin, and even ground chili powder. It can also be garnished with lamb confit, minced meat, slices of sujuk (spicy sausage), or basturma (Armenian-style cured meat), or simply, with pine nuts fried in butter, or even better in samneh (clarified butter)."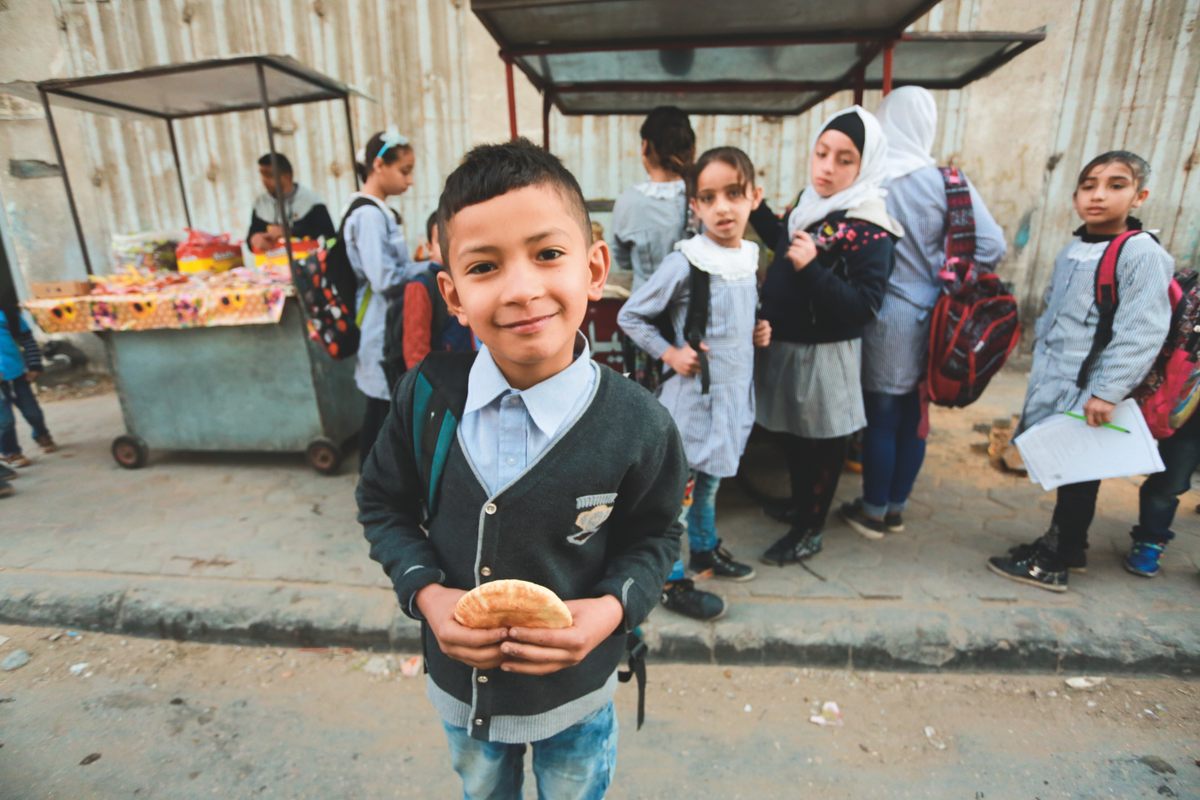 In Gaza, journalist and musician Mousa Tawfiq recounts how every Friday his mother wakes early to grind chickpeas and make falafel and hummus for the family—despite her husband's complaints that chickpeas don't agree with him. His mother and her friends, most of whom grew up in refugee camps and live under the decades-long Israeli blockade, believe that "hummus and falafel are an indispensable part of our heritage and history." Making these dishes "is about memories and people. It is about our stories that we want to tell." Gazan falafel often contains generous amounts of fresh herbs, which make the falafel balls bright green, with aromas of garlic and dill. Their cooking is also the spiciest within Palestine, and here a slow-cooked, chickpea-and-veal stew calls for two to three red Shatta (chili) peppers.
In Jerusalem, whether East or West, hummus and falafel joints can be found everywhere. "Hummus? It's God's!" says East Jerusalem restaurant owner Hassan al-Baghdadi, who for over 40 years has risen every day to make his hummus by hand with a mortar and pestle. Among the Jerusalem chickpea recipes, we find one from the city's Yemenite Falafel Center that calls for spices that are unusual for Levantine falafel: cardamom, cloves, and chili peppers. Most Israelis got their first taste of this more exotic falafel when Yemeni-Jewish immigrants arrived in Israel in the 1950s.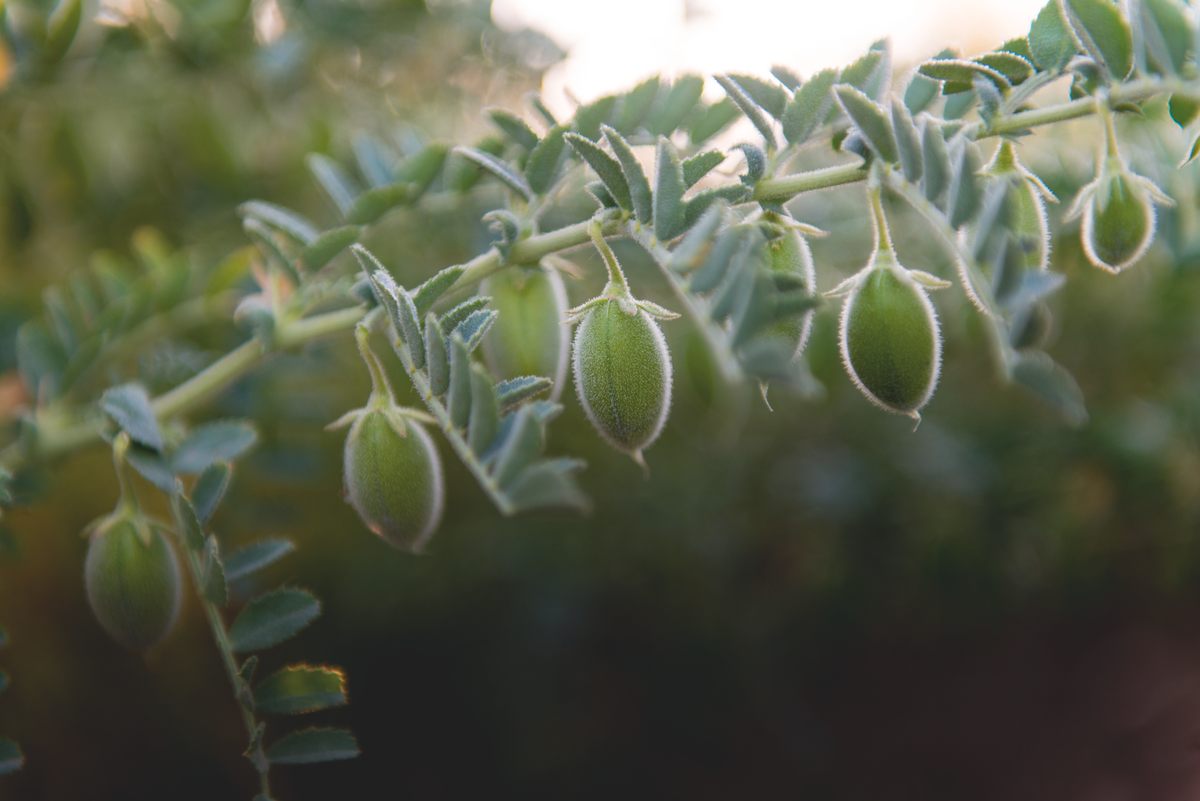 Of course a project about hummus couldn't just be "all peace and love," says Alexander, referring to the Israeli-Jewish obsession with hummus that many Palestinians see as just another form of appropriation, particularly when Israelis market it as their own invention. "It's very easy—I know that hummus is a Palestinian dish," says Alexander, who is Israeli but lives in France. "[But] I think the chickpea embodies the history of the Middle East [and] also of humanity. We began using it 8,000 years ago, and it remains with us and will be there long after us."
Palestinian-Israeli scientist and chef Nof Atamna-Ismaeel, who founded the Arab food festival A-Sham in Haifa, Israel, echoes this sentiment in her essay. Hummus "is a cosmopolitan seed that is slowly wandering the world and becoming assimilated in different food cultures," she writes. "It is a seed that has caused political storms, and yet managed to remain loved by everyone. And while everyone wants to claim ownership over hummus, it has the last laugh, because the truth is, it has ownership over all of us."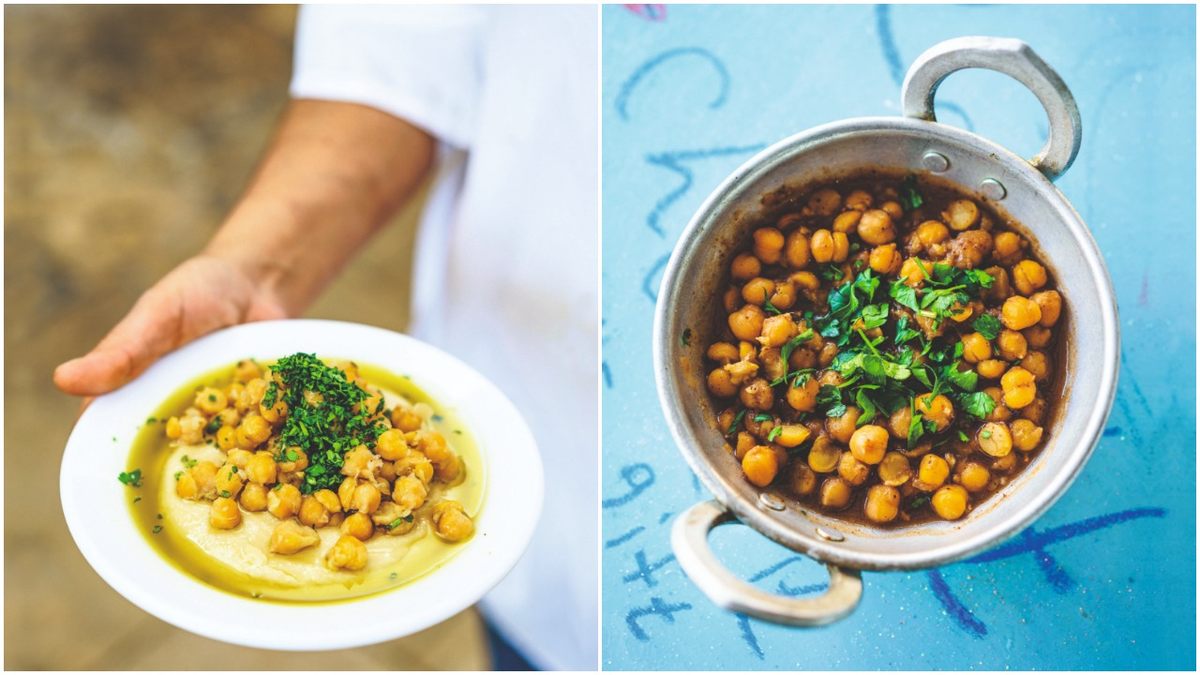 Alexander's vision of an enlightened space in which people's love for chickpeas can co-exist echoes a time only four generations ago when the region's Muslims, Christians, and Jews attended each other's religious celebrations and shared each other's food. While putting together the book was a monumental task, Alexander says that, along the way, "I discovered some amazing souls, people who made hummus always with so much love."
Hummus, he says, offers endless possibilities.
Gastro Obscura covers the world's most wondrous food and drink.
Sign up for our email, delivered twice a week.