Why a Tiny Island Created the Biggest Marine Sanctuary in the South Atlantic
Tristan da Cunha was first inhabited to keep an eye on Napoleon; now residents are looking out for lobsters.
Like most places, the British Overseas Territory of Tristan da Cunha is a community made up of teachers, accountants, mechanics, and grocers. But here, on the most remote inhabited island on earth, the weather has a funny way of rearranging the professional landscape.
"We have two dong-ringers that have a look at the weather, and if they think it's a suitable day, they'll ring the dong hanging in the middle of the village," says James Glass, who serves as Chief Islander, an elected community leader. "It's actually an empty gas cylinder." Between 40 and 60 days a year, at about 4:30 in the morning, tinny claps engulf the small village of Edinburgh of the Seven Seas, population 254. The tolls echo off a 2,000-meter cliff at the village's north end, rousing Tristanians with news of a placid ocean, and an island-wide shift in occupation.
"Plumbers, electricians, carpenters," says Glass, "on that day, they're all fishermen."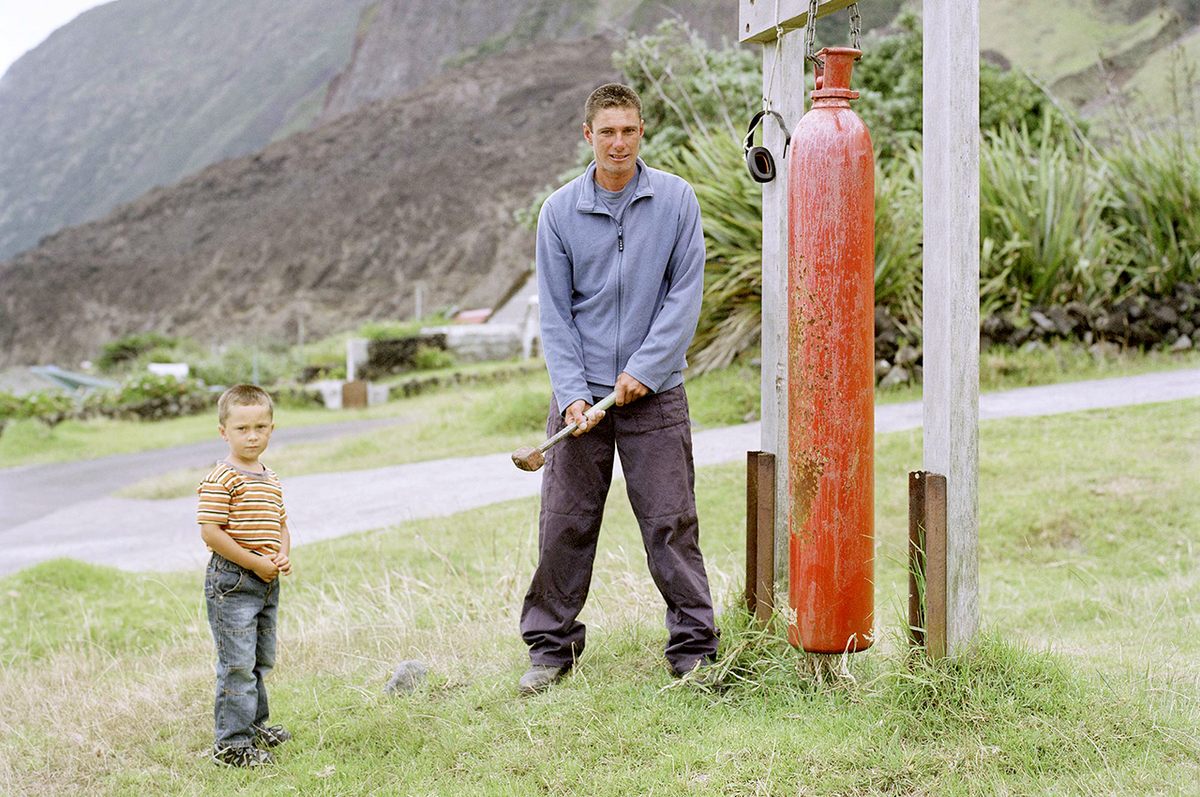 Human life on this tiny volcanic island in the middle of the South Atlantic Ocean is intimately tied to the populations of spiny lobsters that populate its surrounding waters. No one knows this better than Tristanians themselves, which is why they recently joined the UK's Blue Belt Programme—which aims to protect 30 percent of the world's oceans by 2030—in establishing what is now the fourth largest Marine Protected Zone (MPZ) in the world.
Some 700,000 square kilometers of Tristan's surrounding waters (an area about three times the size of the UK itself) are now a wildlife sanctuary, off-limits to any extractive activities. It's a boon to the UK's bold campaign and a win for oceanic health, but for an island without a landing strip, the move spells further isolation for an already superlatively remote community: The steady stream of fishing charters from Cape Town—which have long served as one of Tristan's primary connections to the mainland—are no longer viable under the MPZ. To those of us on the mainland, it may seem like a difficult decision to have made, but on Tristan da Cunha, the wellbeing of the spiny lobster is paramount.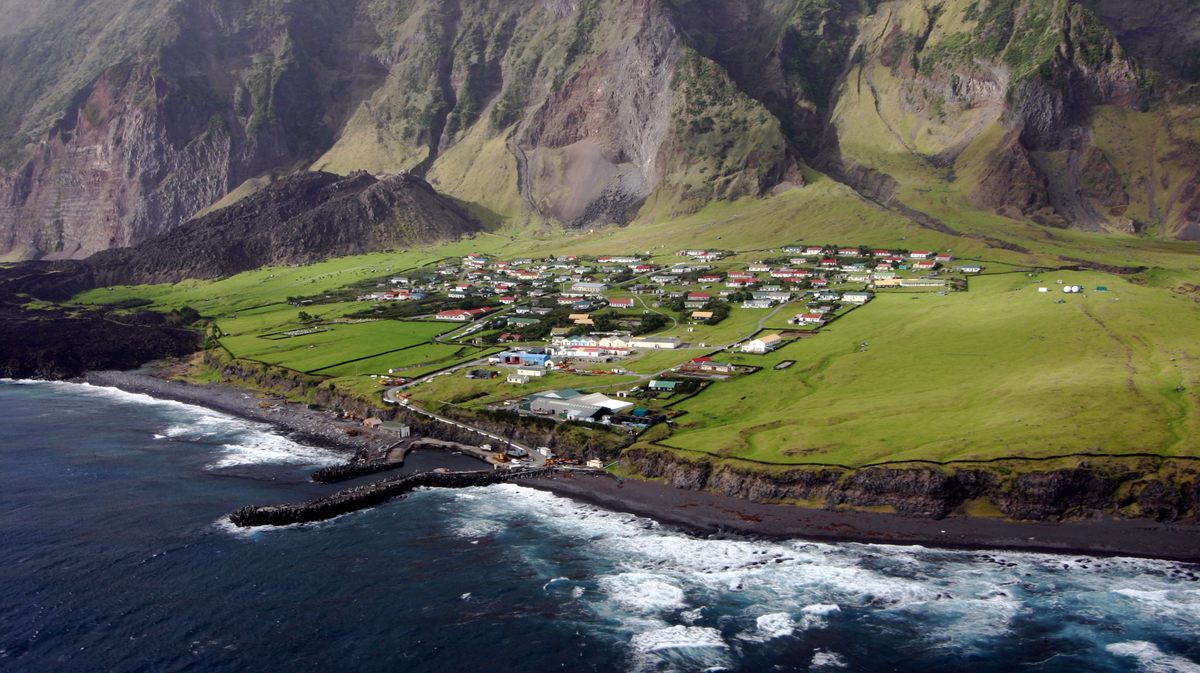 The spiny lobster is more than this island's cash cow. The Tristan da Cunha coat of arms is framed by two spiny lobsters, or what's known locally as crawfish. They're a slightly smaller, clawless cousin of the Maine lobster commonly eaten across North America and Europe, but they play an outsized role in the lives of Tristanians. The catch and sale of these lobsters accounts for 80 percent of the island's revenue, according to Glass, employing 140 men and women on each fairweather day. "Just about every household on Tristan receives some income from fishing, directly or indirectly," he says.
All told, an island smaller than the city of Boston will alone export 420 tons of lobster each year, which end up in markets from Australia to Japan to France. "We've got more markets than we've got fish," says Glass. Without a surfeit of alternative streams of income, however, stock management is critically important.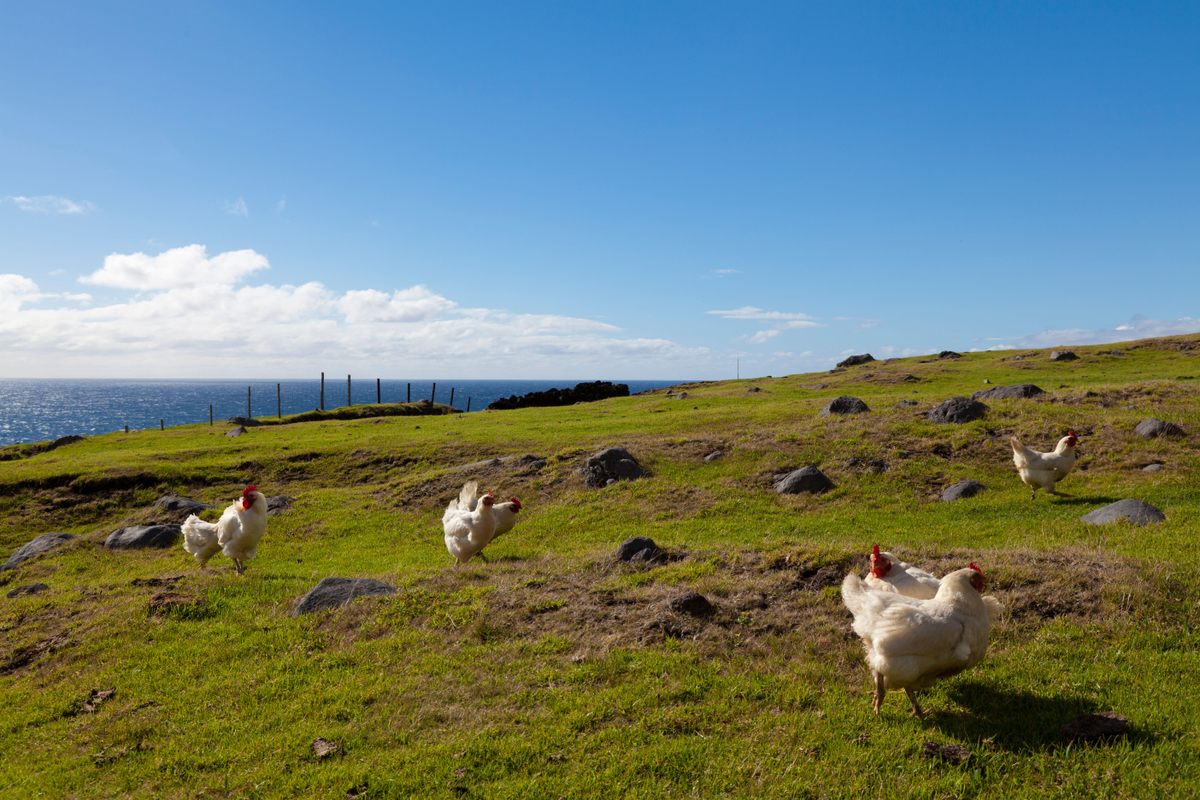 Michael Marriott is a Program Manager with the Marine Stewardship Council (MSC), an independent organization that sets a standard for sustainability in fisheries worldwide. He says nearly all MSC-certified fisheries have some conditions attached to their certification, indicating room for improvement in either stock population, extraction protocols, or environmental impact. Tristan, on the other hand, has no conditions. "The rock-lobster fishery in Tristan is scoring best practices or above in all 28 of our indicators, which is quite something. It's rare for a fishery to have none," says Marriott. "When you're that remote, I think you become acutely connected to the environment you live in—you tend to be more aware of your vulnerabilities."
Glass concurs. He has a master's in oceanography, and has spent visits abroad gaining fisheries experience and learning about conservation measures to implement at Tristan. He says Tristanian fishing stands alone in its approach to extraction: "The general attitude [elsewhere] is 'If I don't catch it, someone's gonna come behind me and catch it, so I may as well take it out.' But here it's quite different, because the fishery is so important to Tristan."
It's in that spirit of fierce environmentalism that Tristan contributes its new MPZ. Commercial lobster fishing will persist within a six-mile radius of the island, but the waters beyond are now off-limits to any extractive activities. That means revenue from fishing previously done along seamounts on the Mid-Atlantic Ridge will have to come from elsewhere. It's not the money Glass is worried about, however. "Tristan was making some revenue from the sale of those fish," he explains, "but what'll affect us more is the traffic to and from [Cape Town]."
Because there is no landing strip on Tristan, the only way to get to and from the mainland is by a week-long, 2,810-kilometer boat journey (about the distance from Paris to Istanbul). Between transporting lobster yields and the handful of fishing ventures chartered from South Africa, islanders previously enjoyed about 12 trips a year, each one able to carry 12 passengers. With the new MPZ, however, fishing charters are off the table: There will now be only eight trips per year.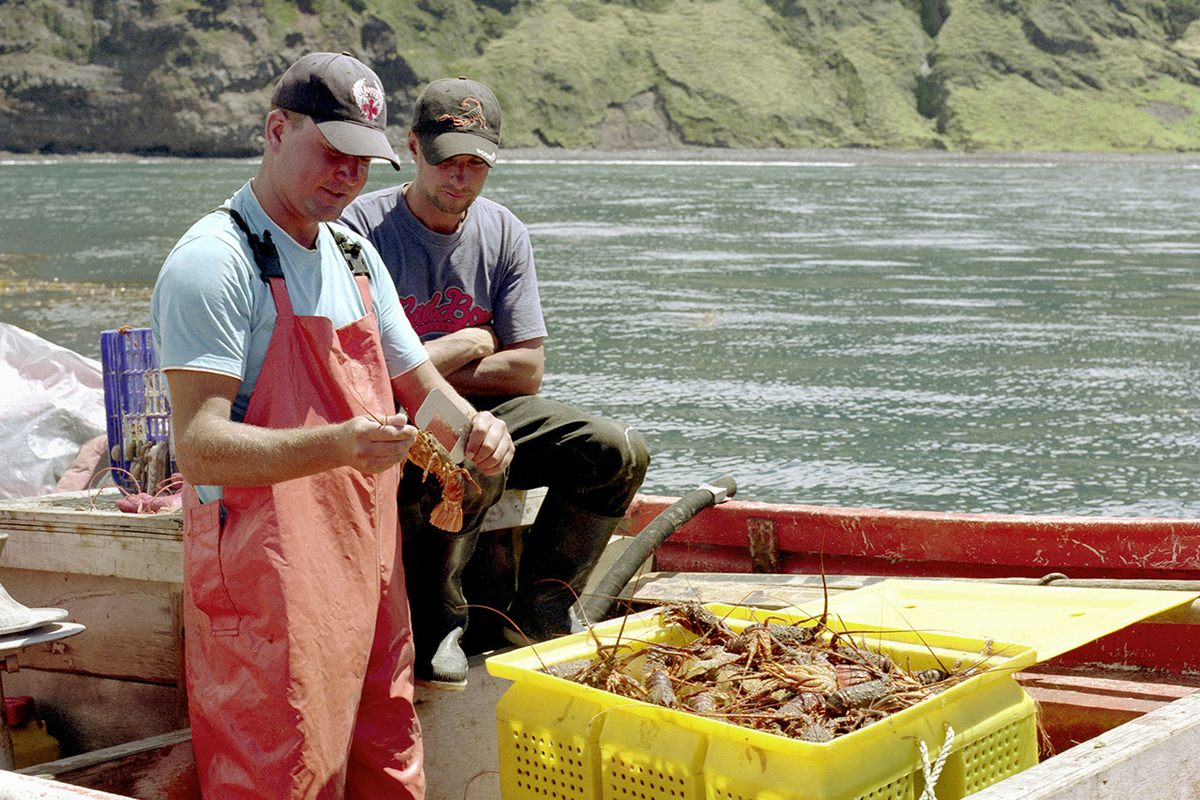 Even knowing what it would mean for their connection to the mainland, Glass says it was a "community-led, science-based" decision. Tristanians went back and forth with their local, island government on how much would be given up and what would be gained. Glass believes lost revenue can be made up elsewhere and that the MPZ will ulimately attract NGOs and wildlife researchers; Marriott says MPZ's may be a boon for adjacent fisheries. Indeed, one study projected that expanding marine sanctuaries by five percent would boost the overall future global fish catch by 20 percent.
For the foreseeable future, Tristanians have opted to further distance themselves from the mainland for the sake of their spiny lobsters. A look at daily life on Tristan, however, shows there are far worse places to be isolated, anyway.
The constitution inked by founding Tristanian William Glass (yes, same Glass) was one based on equality and cooperation. After Napoleon was imprisoned on the nearby island of St. Helena (2,437 kilometers away), the British installed a garrison on Tristan to ensure it wouldn't serve as a base for any French rescue missions. When the mission ended in 1817, Glass remained with several others to establish a collectivist utopia. Several centuries later, there is no unemployment, poverty, or homelessness on Tristan; there's neither an orphanage nor an old-folks home. "Everybody's looked after. Everybody who can work has work. And if you can't work, you're taken care of [with] an early pension," says Glass.
A year-long apprenticeship program for high-school graduates—in which young Tristanians rotate through six two-month internships of their choice—ensures every islander enters adulthood with gainful employment to their liking. "We don't want to get people stuck in a job they don't like," says Glass. "Plus it gives people a range of skills." Each new batch of students is, of course, welcome to learn fishing on fairweather days. There aren't enough fair weather days to warrant any full-time fishermen, so fishing functions as a side-hustle for those who enjoy the work on days when the bell tolls.
There's more to eat than just crawfish, too. (In fact, Glass says most Tristanians work with it too much to enjoy it.) "We have our own sheep, cattle, chicken, and we import pork," says Glass. A community vegetable patch tended by pensioners offers tomatoes, cabbage, turnips, lettuce, squash, potatoes, and more; lobster shells and sheeps wool make for a trusted fertilizer. The islanders grow peaches, plums, and apples too, but most fruit is imported (in the thick of the pandemic, the island went without fresh fruit for five months).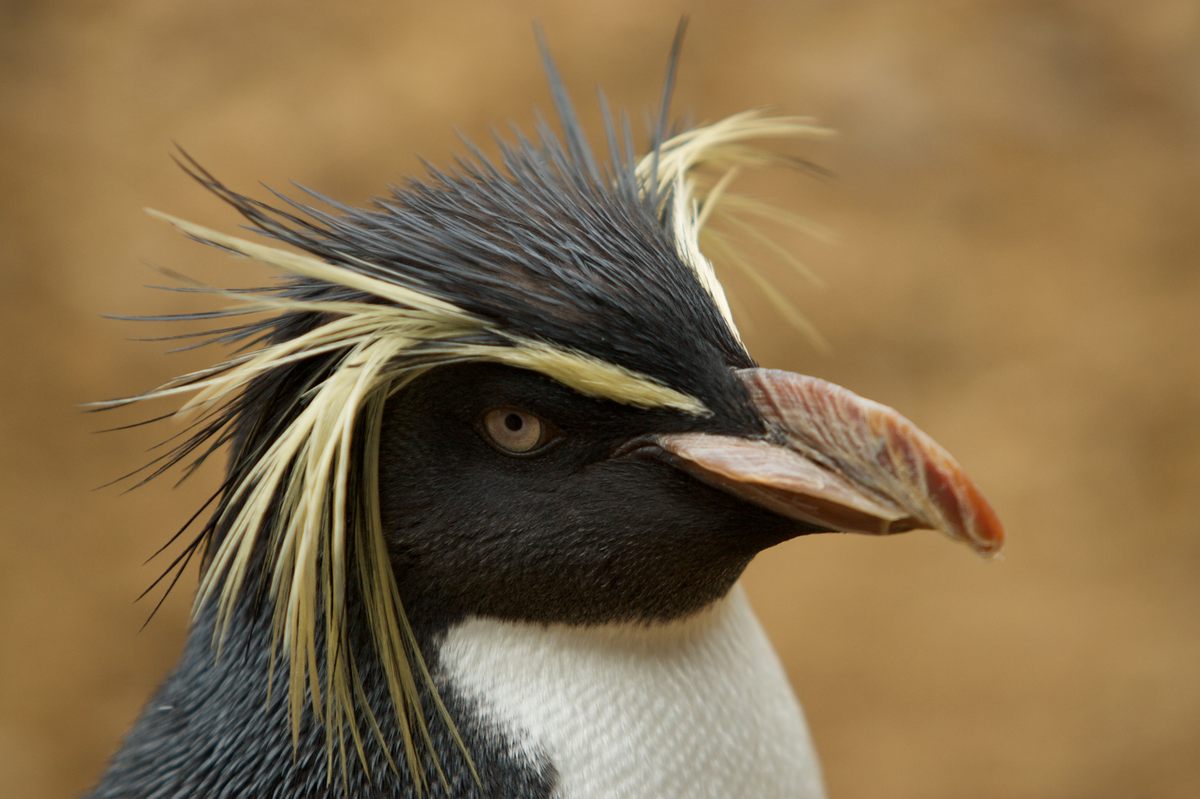 Various features of the island are named for notable historic events, including Pig Bite ("we had wild pigs here … and someone got bitten," says Glass), Deadman's Bay ("where a dead body washed up"), and Ridge Where the Goat Jump Off ("goats used to eat the bark off the trees and they'd dry up so they shot all the goats, but one ran and jumped off a cliff"). After a rat-infested ship ran aground in the 1800s, Ratting Day was born: Once a year, gangs of young men scour the island for rat nests, culling the rodents that would otherwise eat the pensioners' vegetables and collecting their tails. "The one with the longest tail gets a prize," says Glass. "The children seem to enjoy it."
There's one supermarket, one school, and one bus route, which carries pensioners to their vegetable patch, free of charge. Prince Phillip Hall holds weekly dances, but if dancing's not your thing, there's the Albatross Bar next door, likely the most remote pub on earth.
And, of course, the waters surrounding Tristan and its neighboring islands are some of the most biodiverse in our known oceans. They're home to 85 percent of the world's northern rockhopper penguins; 80 percent of the world's subantarctic fur seals; a nursery for the near-threatened blue shark; 12 species of whales and dolphins; 25 different species of seabirds; and with the new MPZ, hundreds of tons of revered spiny lobsters.
Gastro Obscura covers the world's most wondrous food and drink.
Sign up for our email, delivered twice a week.