Inside the Tour de France's Fast and Furious Feed Zone
Feeding cyclists mid-race involves a century-old method of careful handoffs.
The 2020 Tour de France was unusual for a host of reasons: a late August start, new pandemic protocols, and the absence of several well-known riders, to name a few. But it was not unusual in its results: The time difference between the winner, Tadej Pogačar, and the second-place rider, Primož Roglič, was just 59 seconds. In a race where athletes push themselves to the absolute limits of human capacity and margins for error are nonexistent, eating while biking becomes nothing less than a survival skill.
The modern Tour de France is a showcase for elite athleticism and everything that such high performance requires, including equipment crafted from advanced materials, finely-tuned technology for tracking rider biometrics, and carefully-planned nutrition. Cycling's biggest race hasn't always been the precisely-choreographed feat that it is today, but even after a hundred years, cyclists still rely on a decidedly low-tech approach to refueling mid-race: small satchels called musettes.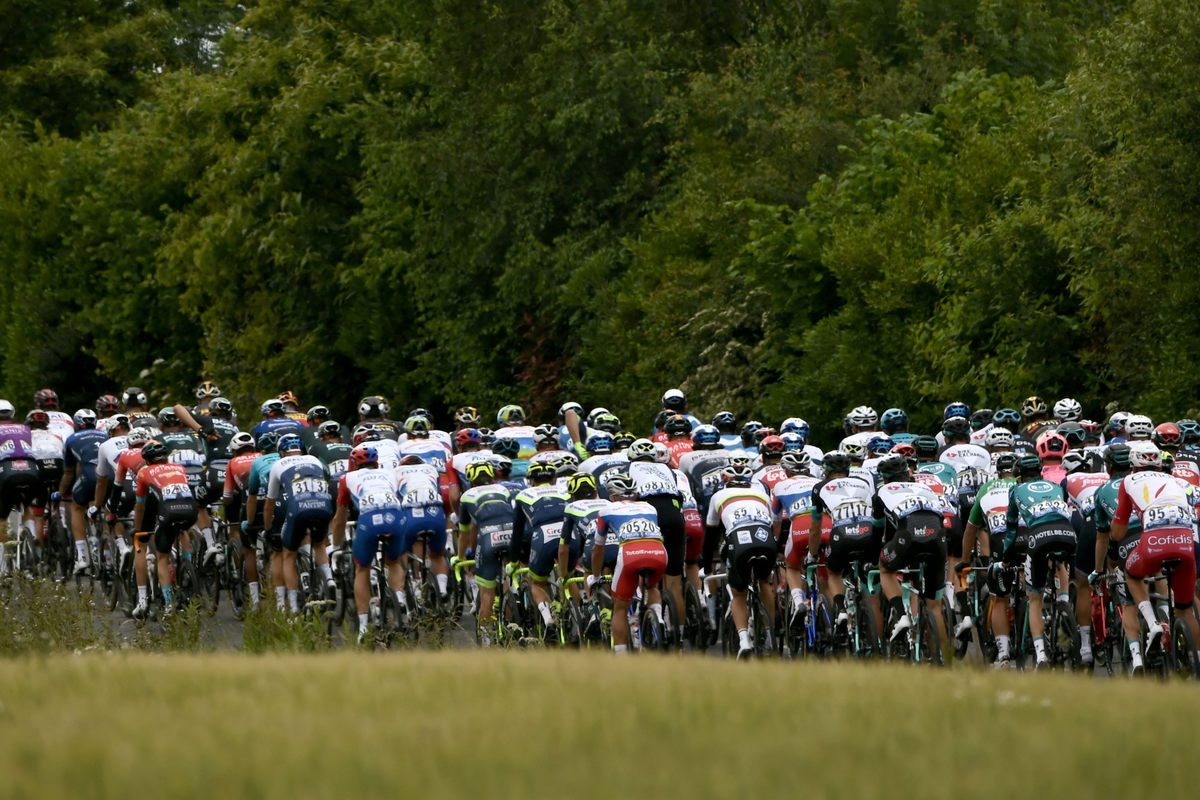 Today marks stage 11 of 21 in the 2022 Tour de France. Riders will travel just over 94 miles from the start town of Albertville into the Alps, ending their four and a half hours in the saddle with a brutal mountaintop finish at the Col du Granon. Roughly halfway through the stage, most likely on a flat stretch of road before the day's biggest climbs, team assistants called soigneurs will station themselves in a feed zone designated by Tour organizers. They will raise their musettes aloft, often hanging several from one hand by the tops of their long straps. Nearly 200 riders will squeeze to the right-hand side of the road—the Tour only allows feeding from the right—to snatch some much-needed sustenance before the alpine climbs to come.
The process, says Chris Sidwells, cycling historian and author of A Race for Madmen: The History of the Tour de France, has "the potential for great mayhem," but despite the chaos, the simplicity and tradition of the humble musette endure.
The first Tour de France was orchestrated by newspaper editor Henri Desgrange in 1903, in an effort to revive the struggling circulation of his publication L'Auto. Accordingly, the first Tour was designed for maximum spectacle: 1,500 miles over six stages, with one or more days of rest in between. The average stage length of 250 miles more than doubled the modern average of just over 100. Sixty riders began the race; only 21 finished.
Rules shifted often in the early Tours as organizers tried to find the right competitive balance, but one consistent thread was Desgrange's fixation on individualism. Modern cycling relies heavily on cooperation between riders, even across team boundaries. Cyclists take turns riding at the front of a group, or peloton, to shield fellow racers from the worst of the wind resistance and make the ride easier for everyone. But Desgrange frowned on professional teams and collaboration of any kind, meaning even sponsored riders had to participate in the early Tours as soloists. Additionally, riders had to carry all their supplies with them and arrive at the finish with any equipment they had when they started—including, for example, punctured tires. These rules resulted in some creative solutions to the problem of food.
"Right at the beginning, people could stop where they wanted," Sidwells says. One wealthy amateur named Henri Pépin, who paid two riders to pace him and take turns at the front in the 1907 Tour, dined at hotels for every meal. But such frequent stops didn't make for a competitive performance—Pepin's group sometimes took more than 24 hours to complete a stage. Moreover, eating at rural establishments along the route carried health risks. "The kitchens weren't as good as they are now—they weren't as hygienic," Sidwells says. "Food poisoning and illnesses were regular."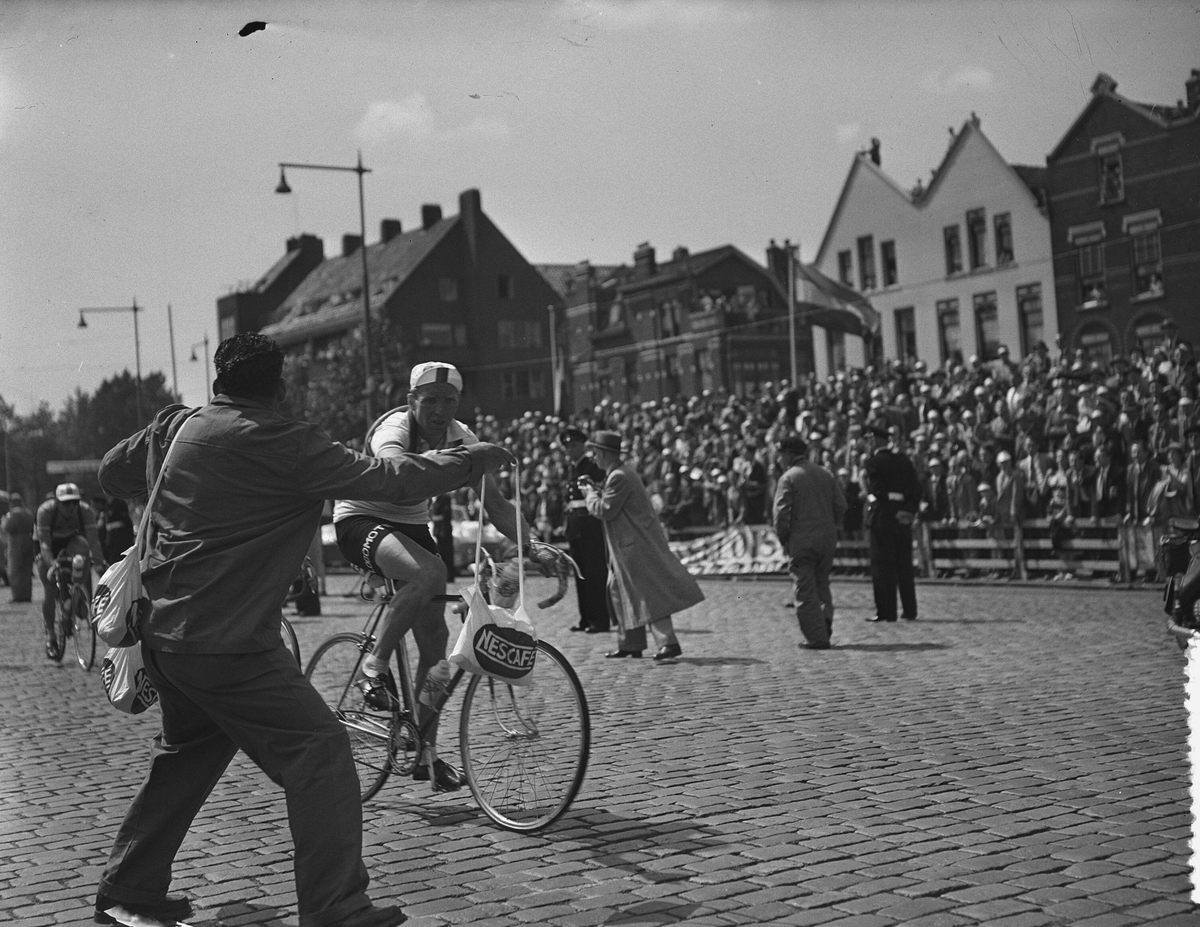 All of this points to the benefits of bringing one's own food. But riders had few options for carrying supplies. "Pockets weren't allowed in the first cycling jerseys," Sidwells explains. The need for a lightweight bag was clear. And while the exact details of the musette's introduction to the race are unknown, the timing of its arrival suggests a possible origin. French soldiers in World War I carried canvas satchels with long straps, also called musettes, as an alternative to full packs. Professional riders—many of whom fought in the war—began using musettes in the 1920s, shortly after the Tour de France's resumption from its wartime hiatus. While cycling musettes aren't identical to their military counterparts, it seems likely that the two share a lineage.
Initially, riders determined the contents of their own musettes and carried them from the start of the race. Cyclists typically ate ordinary food according to their preferences, as long as it was easily consumed on a moving bicycle. Sandwiches, cake, and flasks of port wine or other alcohol were common, even as team riding became the norm and a support staff started providing food to riders mid-stage.
Sidwells recounts how Jacques Anquetil—a cycling legend who rode (and won) his first Tour de France in 1957 and went on to become the first five-time winner—once took advantage of an uneventful race day with some unusual requests: "He wanted an omelet, freshly cooked and [served] to him in a plastic bag. He asked his teammates… to get him a cool glass of Chablis, and all that was served on the bike."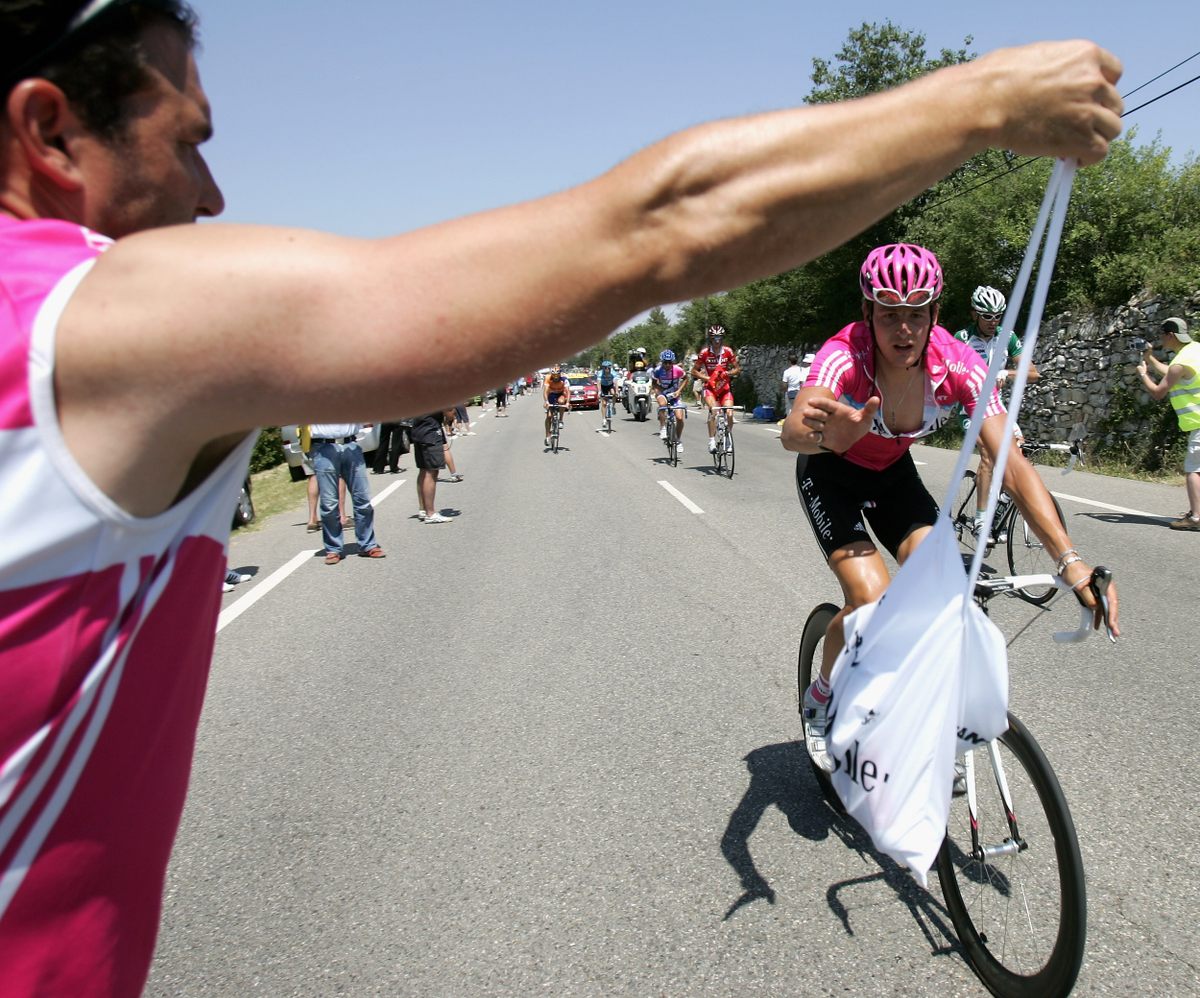 Today, soigneurs are consummate professionals with decades of experience, and teams have both rider nutrition and musette handoffs down to an art. Rider David Lozano, a nine-year veteran of UCI ProSeries' Team Novo Nordisk and an 11-time Spanish national champion in mountain-bike and cyclocross, says he trusts his soigneurs' serious experience. When they were working their first races, "I was still in diapers," he says. "So it's quite easy for us to learn from them."
Modern musettes usually contain energy bars and carbohydrate gels to give riders a boost, as well as bottles for hydration—and the occasional can of Coke, for a refreshing hit of sugar. Tour de France riders need to consume at least 5,000 calories a day to keep up with the energy they expend on the bike, so team chefs also provide protein- and carbohydrate-rich breakfasts and dinners before and after each stage.
Team Novo Nordisk's head soigneur Massimo Quero, speaking through an interpreter, says that the keys to successfully handing a musette to a moving rider are holding the bag at the appropriate height—high enough that the rider can securely grab the strap close to where it meets the bag—and making sure to follow the rider's movement with the arm. This way, the musette swings less and is less likely to touch the bike. Positioning on the road is also important; soigneurs are up early to stake out the safest spots for a handoff. But the unpredictability of a feed zone means that even with the best preparation, things can go wrong at any moment.
"I find it quite dangerous," Lozano says. "You always see something, like a bag flying, or a bottle on the ground. And then this creates some movements in the bunch, and it's easy to have mistakes." After a successful handoff, a cyclist will sling the musette strap around their neck and sort through the contents, tossing any unwanted items (and eventually the musette itself) into the eager hands of roadside fans. But riders are typically only inches from one another at any given time; a dive for a musette just out of reach, or a sudden swerve to miss a discarded bottle, can cause a domino effect that takes down half the peloton.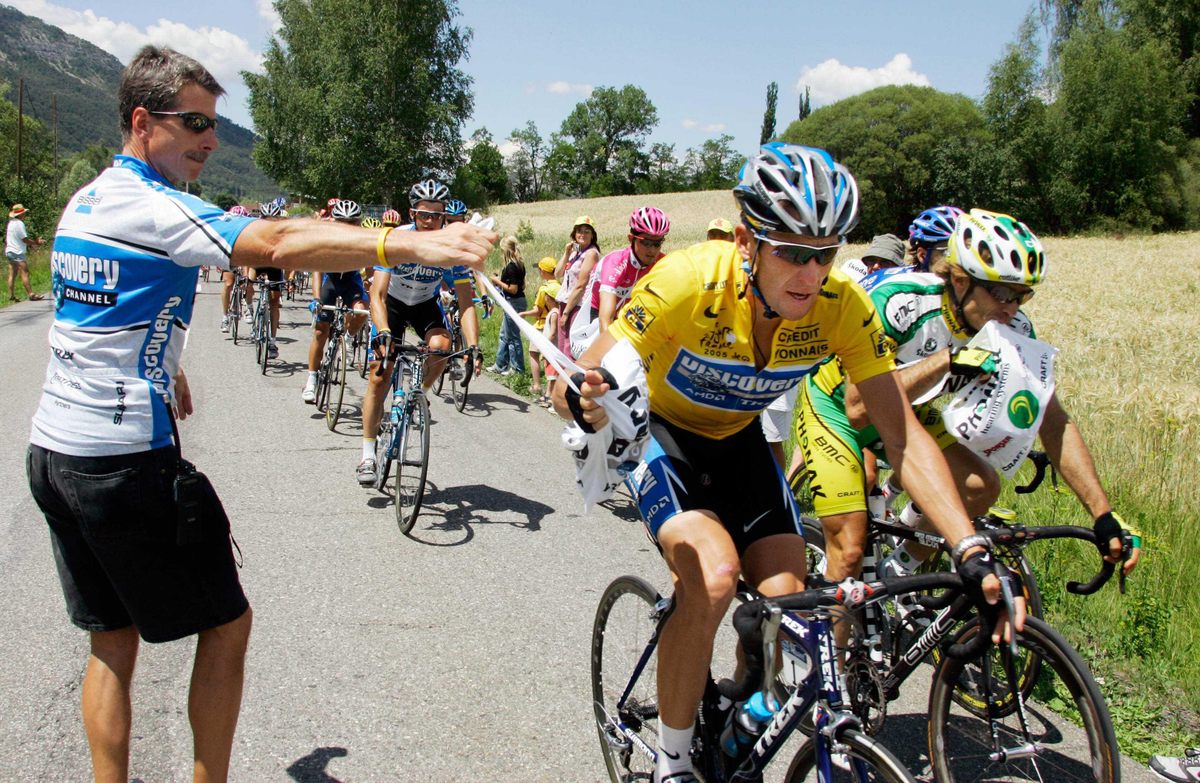 American rider Lawson Craddock famously crashed in the feed zone on the very first day of the 2018 Tour, when he hit a discarded bottle in the road. The crash bloodied Craddock's face and fractured his shoulder blade, but he continued the race, using it as an opportunity to raise funds for a hurricane-damaged cycling track in his hometown of Houston. Craddock rode into Paris three weeks later as the lanterne rouge, the last-place rider—a celebrated position throughout the Tour's history.
Other times, the musette itself is to blame. The long, thin strap is notorious for causing havoc when it meets a rider's handlebars or wheel. The danger even extends beyond the feed zone. During the 2003 Tour, just over six miles from the finish of Stage 15, Lance Armstrong got too close to the side of the road and caught the strap of a young spectator's musette with his right handlebar. He hit the deck hard, but would roar back for a stage win that—despite Armstrong's subsequent fall from grace—is still remembered as one of the most dramatic moments of the modern Tour.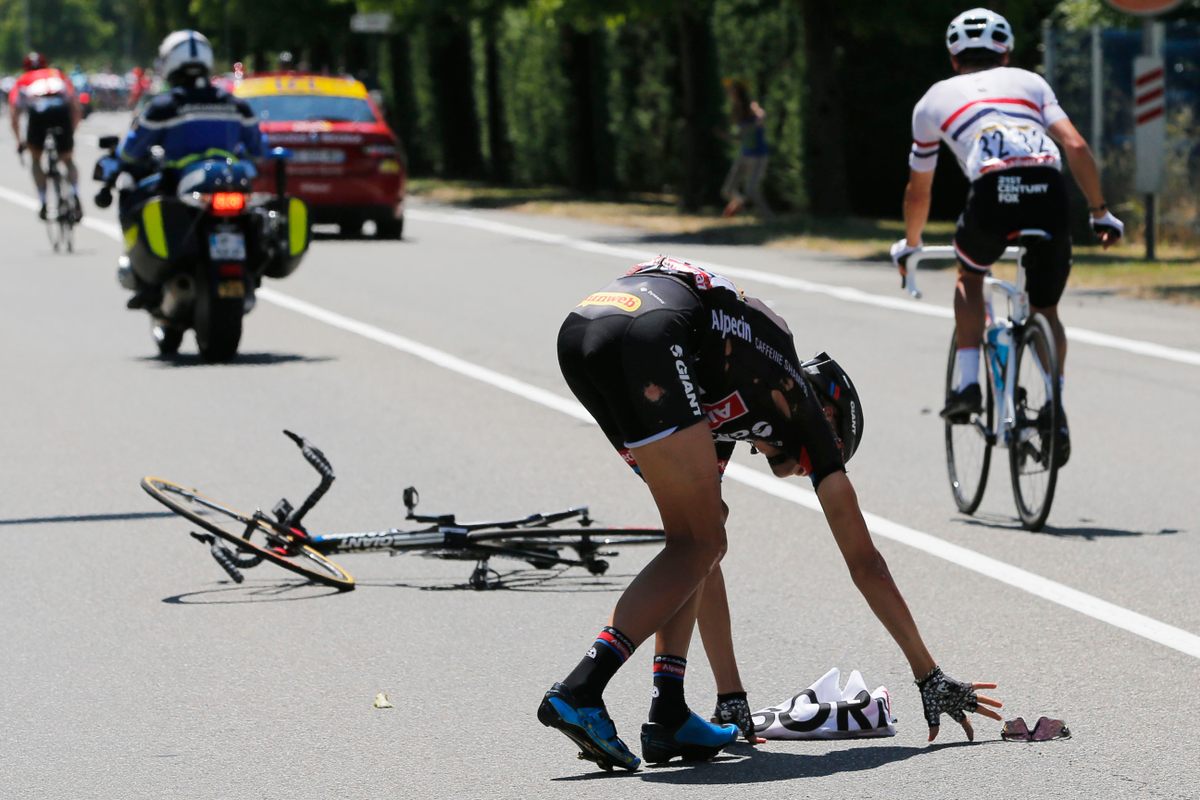 Feed zone drama has already touched this year's Tour as well, taking down longtime French favorite Thibaut Pinot on Stage 8. Another team's soigneur, seeing that he was about to miss his rider, stretched farther into the road to hand off the musette—and his fist hit Pinot in the face, knocking the Frenchman's glasses off and forcing him to ride hard to rejoin the peloton.
But even with all the risks inherent in transferring a swinging bag through a pack of moving cyclists, musette handoffs continue. Teams have occasionally flirted with other options, such as pocketed mesh vests, but none have caught on. Lozano believes that musettes level the playing field for teams with fewer resources. "For example, in [single-day race] Paris-Roubaix, they have 20 stationary feed zones," he says. "This means you need to have a lot of team vehicles—a lot of stuff. And not all teams have this possibility."
He also feels that musettes are in keeping with the down-to-earth spirit of a sport that has very few barriers between its fans and its stars. "Cycling is one of these sports that … the biggest guy on the road can stay close to a spectator. To [keep] the feet on the ground…it's more passionate," Lozano says.
"At the end, it's what makes cycling so special."
Gastro Obscura covers the world's most wondrous food and drink.
Sign up for our email, delivered twice a week.