How in the World Did Luge Happen?
The secret of the slide, from ancient Germanic tribes to tony Alpine resorts.
The Olympics are a playground not just for athletes, but for historians as well. The Games are littered with sports that only see wide television coverage—or any coverage at all—once every four years, at least in the United States. The Winter Olympics have a very particular strain of these sports. While just about every country has a climate that allows for, say, running or swimming, a comparative few have the weather, topography, and resources to have a thriving winter sports culture.
For those countries that do have both hills and snow, though, there is a near-universal appreciation of the sled. Sleds are great even without snow—they might have been used to build the Egyptian pyramids—but are particularly great at high altitudes and latitudes, to move gigantic building materials in China, or food and belongings in pre-Columbian North America. But how in the world did this utilitarian origin give us luge, what appears to be a psychotically dangerous sport that requires athletes to blast down artificial ice tubes at speeds approaching 90 miles per hour while seated on the most minimalist fiberglass-and-steel object that could be recognizable as a sled? The story takes us on a journey from Germanic tribal wars against the Romans, to aristocratic and very bored Englishmen on vacation, to the world of highly advanced sports technology.
The Winter Olympics are necessarily limited to events that can all be traced back to a select few countries with the right winter climate. The most recent Summer Games boasted a whopping 51 different events or disciplines, many of which have multiple sub-events ("Athletics" covers every length and format of footrace, hurdles, long jump, pole vault, javelin, discus, decathlon, and more). The Winter Olympics has only 15.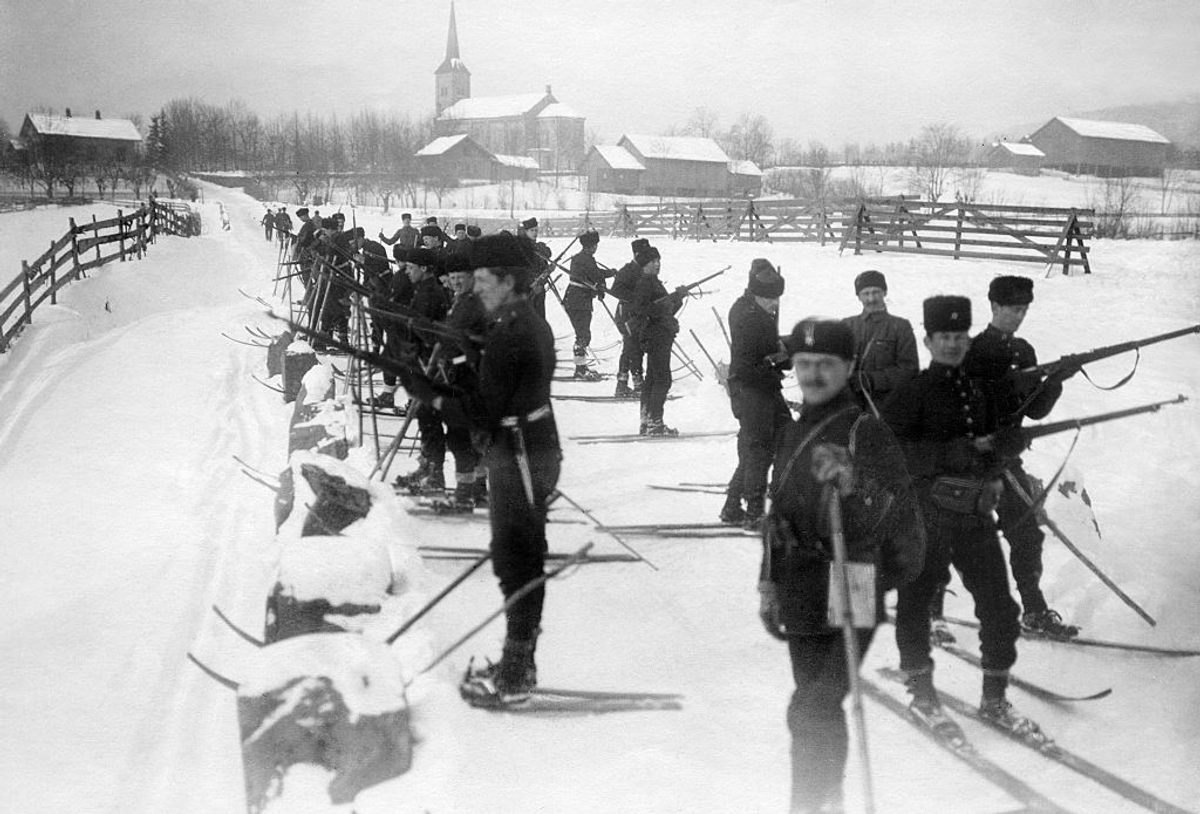 A surprising number of these winter events involve bored Scandinavian soldiers. Skiing has a basically undateable history as a form of alpine transportation, but only begins to be documented as a recreational pastime in the Norwegian and Swedish militaries in the 1700s. Several Scandinavian nations had ski regiments even then; the earliest recorded use of ski troops was during Norway's civil war, somewhere around 1200. The biathlon—cross-country skiing combined with rifle shooting—has roots in civilian hunting, but it was the Norwegian military that turned it into a competition.
Other events are really just modernized and winterized ancient games. Curling comes from Scotland, but the concept of throwing (or pushing) one object at another object is about as old as games get. Ice hockey has precursors all over the world, but using a stick to hit an object (ball, puck, whatever) is pretty fundamental.
Then there's luge. Luge is pure folly, a creation of bored, aristocratic, and sometimes destructive men on vacation. Do you remember ever being bored on vacation, and making up a game with a sibling—tossing seashells or creating an obstacle course in the hotel room? Now imagine that game ended up a heavily funded fixture at the freaking Olympics. That's luge.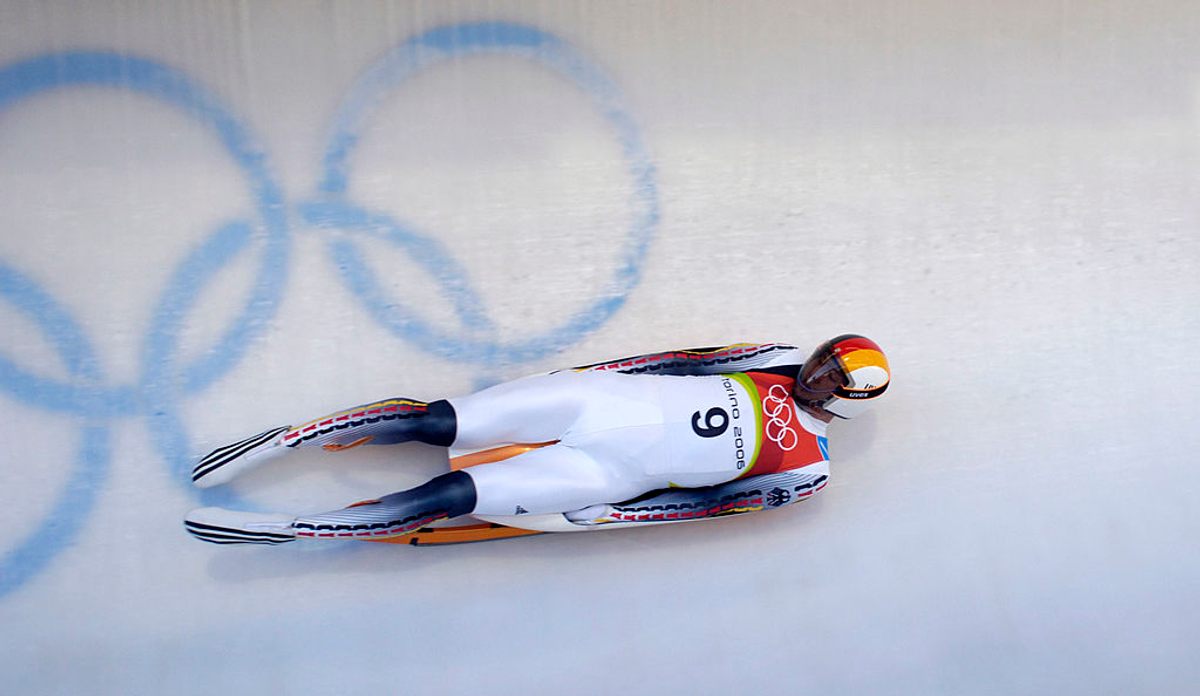 Luge first emerged in the late 1800s, in the Swiss Alps, and more specifically in two resort towns: Davos and St. Moritz. At the time, these towns were used as summer resorts by aristocrats from all over Europe for their clean, temperate, alpine air. The names and dates get a little fuzzy or disputed here, but some time, probably in the 1860s, somebody—maybe some German doctors, maybe a Swiss hotelier—decided that only operating these resort towns during the summer was leaving money on the table. Winter in the Swiss Alps is great, they thought, so how can we get people here?
Winter sports had been growing in popularity, around the same time that others—soccer, boxing—were codifying and formalizing their rules. It was the age of steam, making travel more accessible to some and leading to more formalized global structures. Kingdoms, empires, or fiefdoms were giving way to connected nations bound by a common identity of some sort. The Industrial Revolution also made many non-royals—industrialists—extremely rich for the first time. And where there are rich industrialists, there are rich and bored children of industrialists.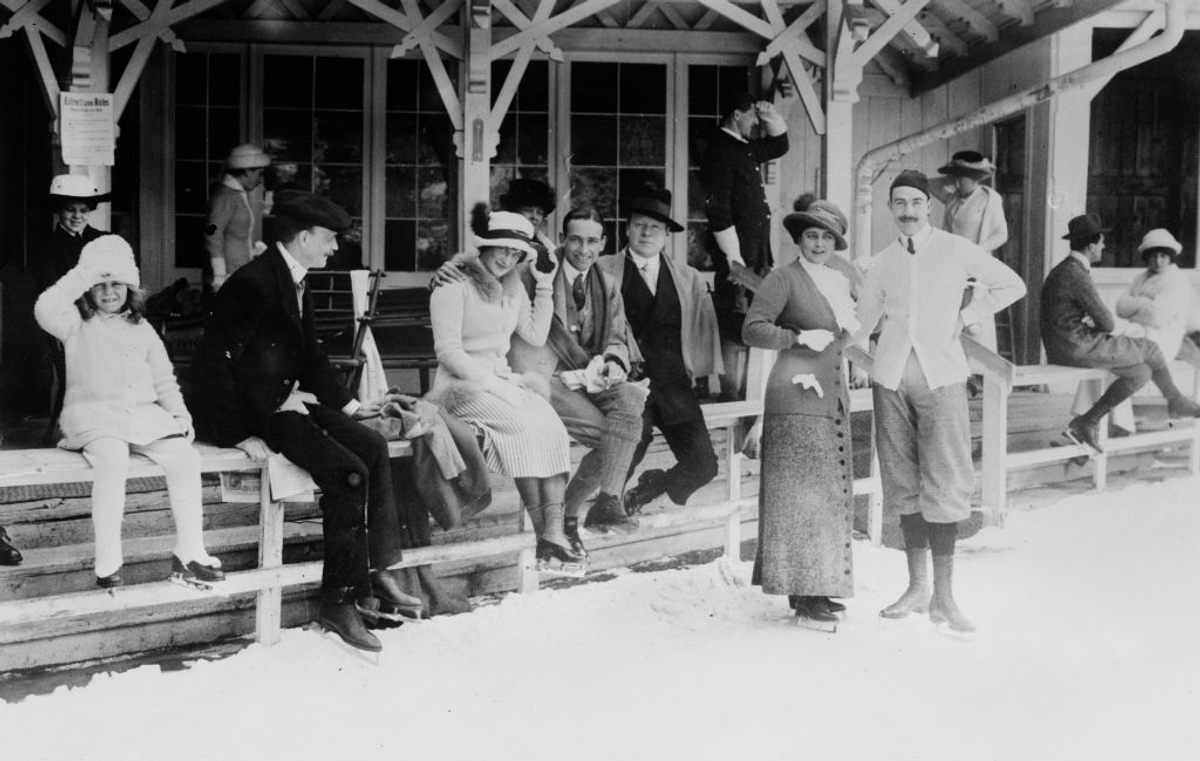 In the 1860s and 1870s, some of these rich, bored folks began to head to the Swiss Alps for winter vacation. Two excellent books on luge, which delve into the history of the sport, were written in 1894. Both were penned by Englishmen, and carry a bit of English superiority, but by their accounts, Davos had become a recreational ski resort by the 1880s. (Sir Arthur Conan Doyle, creator of Sherlock Holmes, was an early Davos skier, and publicized the sport in some of his articles.) "The nature of the Englishman is competition," writes Harry Gibson in Tobogganing on Crooked Runs. "Whether riding, driving, walking, running, or sliding down a hill he must race, otherwise the amusement palls on him."
Sledding was done at Davos as well, but early sleds were not particularly well-suited for competitive sport because, well, you couldn't steer them. Some of the earliest accounts of sledding are the (possibly apocryphal) use of shields as sleds by the Cimbric, probably a northern Germanic tribe, who slid down the sides of mountains to attack (and lose to) the Romans in 103 B.C. This idea of a sled as an unsteerable plank was pretty universal until the late 1800s.
Interestingly, the word used for sledding, even competitive sledding, by those in the Alps who were documenting the birth of the sport was not sledding or luging (the French term). It was "tobogganing." That word comes from, probably, one of a couple of Algonquin languages spoken by the residents of eastern Canada and northern New England. To these late-1800s writers, the toboggan was the overall category of equipment, and there could be many types of toboggans.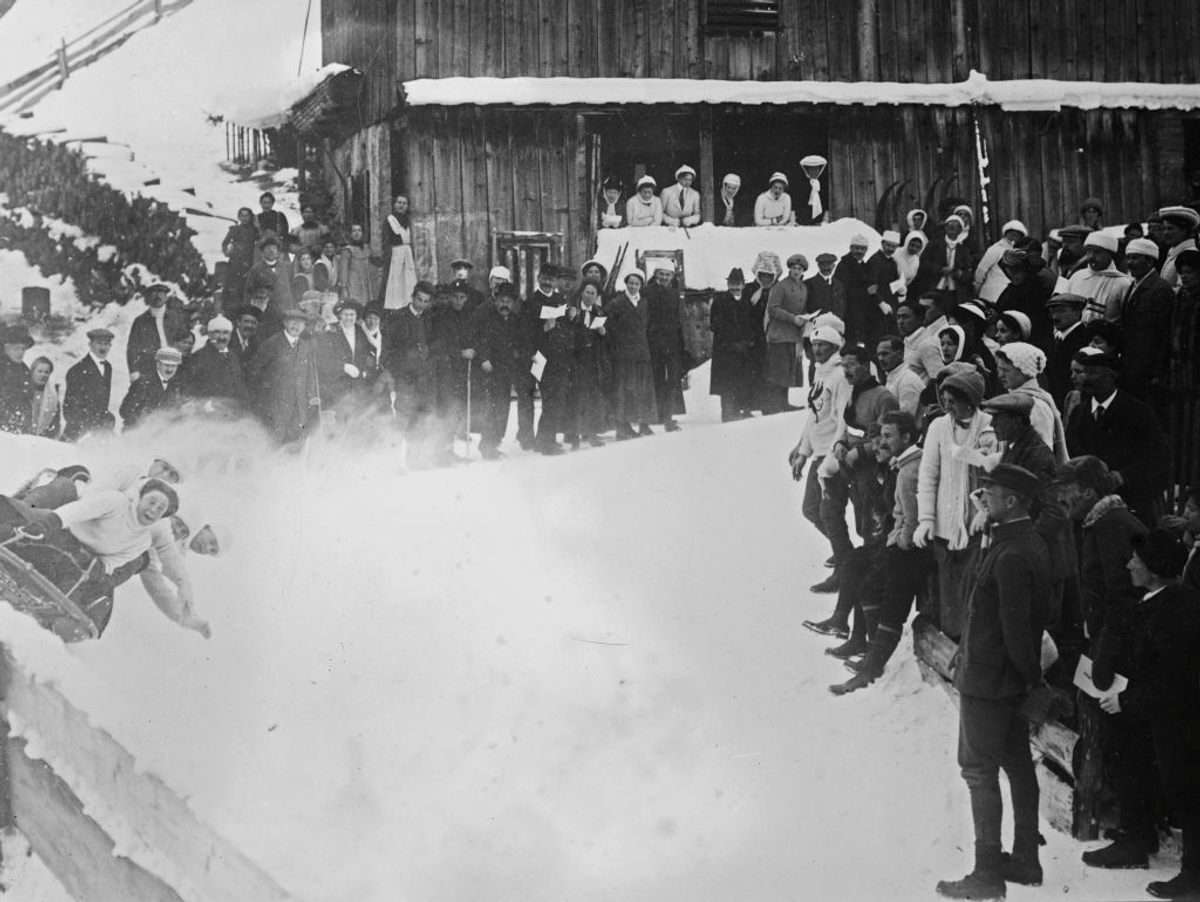 This early period of winter sports creation in the Alps drew Englishmen and Americans. In broad strokes, the Americans brought the equipment, and the Englishmen brought the ceremony. It was these tourists who, when they weren't skiing, took sleds down the picturesque mountains, often right down the main roads in town, which seems to have been very annoying for the townspeople and great fun for the tourists.
"Of all the varied kinds of sport which men in their incessant search after amusement have discovered, those which have taken the most lasting hold, and attained the greatest perfection, appear to be the various forms of rapid motion, upon earth or water, in which one man's strength or skill can be tested against another's," writes Theodore Andrea Cook in the other 1894 book, Notes on Tobogganing at St. Moritz. St. Moritz is probably the birthplace of the lineage that gave us luge. According to some accounts, it was in Davos that toboggan races had been held to the great entertainment of tourists in the early 1880s. Hotel operators in nearby St. Moritz took notice, and according to the St. Moritz Tobogganing Club, in the winter of 1884 through 1885, five guests at the Kulm Hotel formed an "outdoor amusements committee," and built a sled-racing course to compete with Davos.
This course was known as the Cresta Run. As a matter of fact, it still is. The English private-school vibe is obvious in the names within this curvy downhill track. Features of the course had names like Shuttlecock, the Battledore, and the Terrace. The Cresta Run was a phenomenal success. Every season, in the early years, four men would link arms and walk through the deep, powdery snow along a predetermined path. Then they'd go back, stomp the snow flat, craft tall banks astride the curves, and clear rubble out of the way. Initially the competitors rode what they called "Swiss" sleds, with wooden runners, on which the rider sits comfortably upright. They dutifully recorded times, awarded prizes, and probably got very drunk.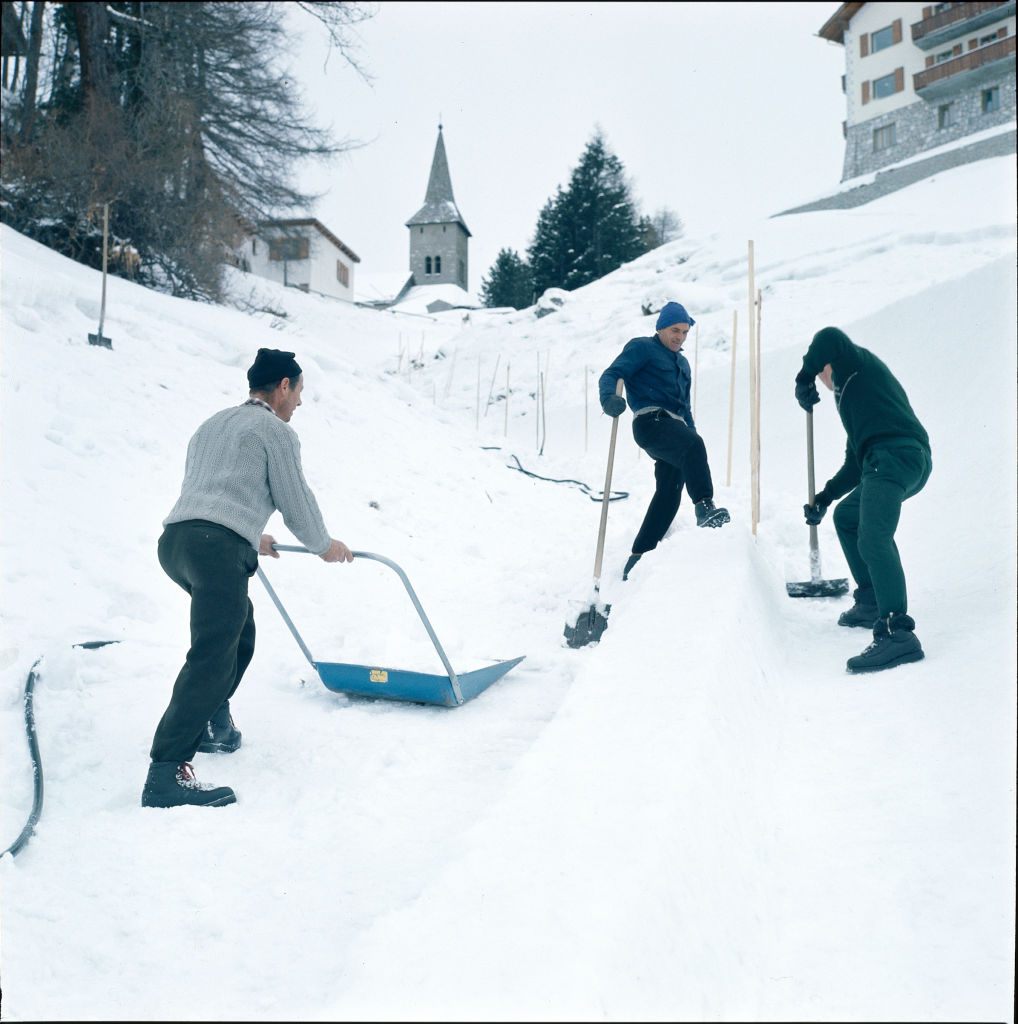 But soon there was a desire to go faster, and faster still. Here's where we get into some heavily disputed stuff. The sleds almost immediately began to evolve, with metal runners being the biggest improvement. There is no apparent consensus about who actually created or introduced metal runners, metal frames, movable seats, different steering mechanisms, and all the other improvements. The English writers from 1894 do acknowledge that some Americans had brought a metal-runner sled, which became known as the "America," but the names of those Americans are not always the same. This is also right around the time of the invention of the Flexible Flyer sled in Philadelphia, so it seems clear that the United States and its wealthy tourists were involved in the speed improvements.
One of the authors, Gibson, was sort of scornful of the New World sledders, despite their technological skill and the fact that the word "toboggan" came from natives of North America. "It is only fair to add," he writes, "that I have met Canadians whose idea of real tobogganing was to start from the top of any convenient mountain and slide forthwith to the bottom, if Providence were kind enough not to stop progress on the way."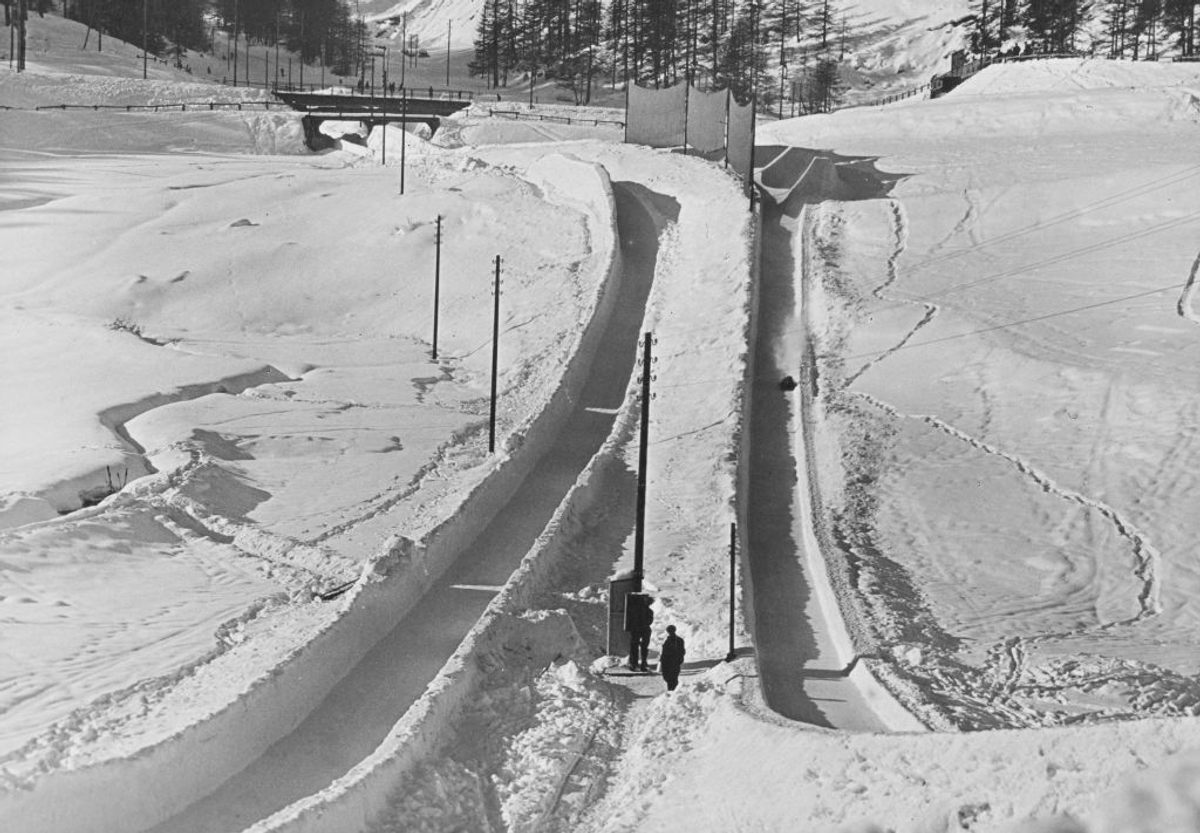 The Cresta Run was initially a sledding run, but it became so popular that it soon changed. Cook writes: "Machines going at an ever-increasing rapidity were found to wear away the banks too fast; little by little the run became not merely iced but actual ice." And that meant more speed and consistency. Soon all sled runs were constructed of ice, which was celebrated by speed junkies, and mourned by those who noted that a hilarious spill into pillowy snow is more fun than a crash on unforgiving ice.
All sorts of sled-type sports were created in these resort towns. Skeleton, which is essentially head-first luge, was just one possible way of riding a toboggan at the Cresta Run: Some sat upright, some weirdly lay on their sides, and some led with their heads. Bobsled, or bobsleigh, came about when one competitor showed up with two regular sleds hammered together to make a super-sled. Skeleton, bobsled, and luge evolved, within a few years, into separate disciplines.
The sport gained further popularity, as rich men (and some women) from all over Europe, North America, and even Australia began showing up at St. Moritz, Davos, and what became a host of other alpine ski resorts. In 1913, the first international federation of sled sports was founded. Others followed.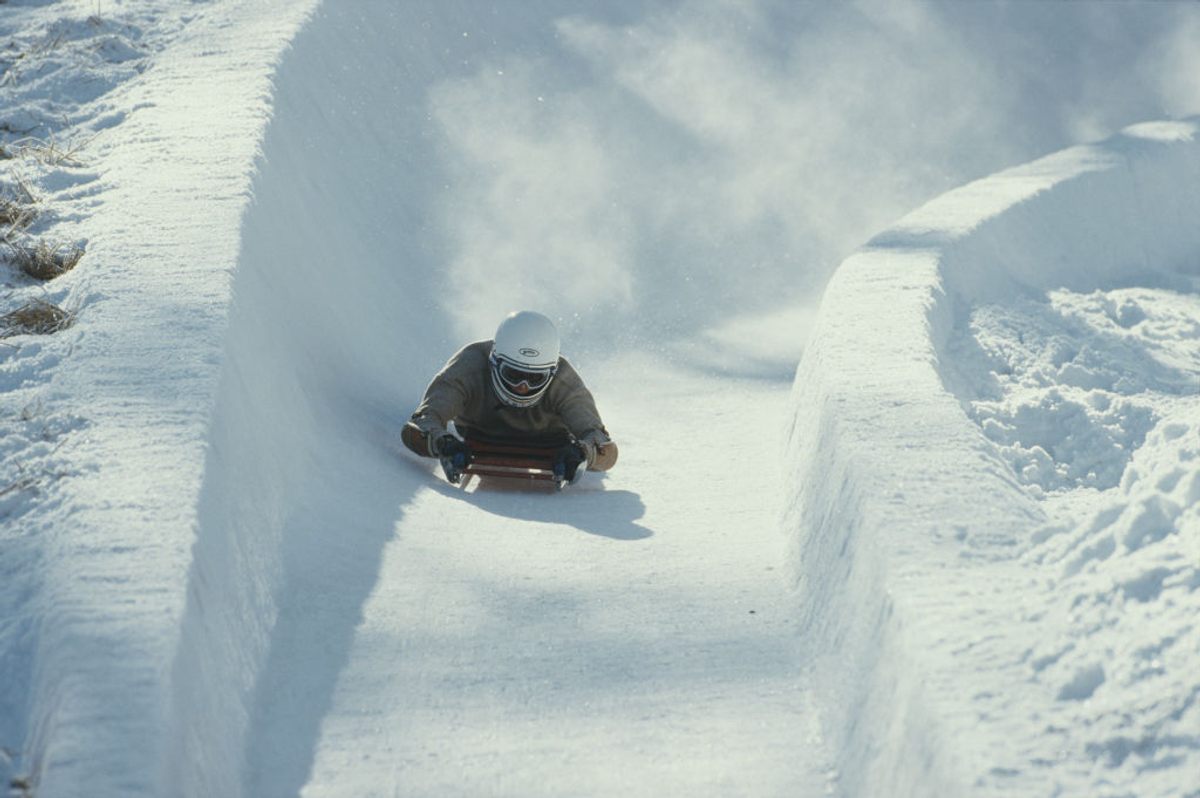 The International Olympic Committee (IOC) is in charge of deciding which sports will be held in each Games. Skateboarding and surfing made the cut in 2020 for the first time. Croquet and tug-of-war are former fixtures that have been discarded. The IOC also happens to be located, since 1915, in Lausanne, Switzerland.
In 1923, a larger and more ambitious organization called the Fédération Internationale de Bobsleigh et de Tobogganing was founded in, you guessed it, Lausanne. They immediately started petitioning to have their sports added to the Winter Olympics, which held its first event in 1924. The four-man bobsled was part of that inaugural Games in Chamonix, France, and has been part of the Winter Olympics ever since—well, except for the 1960 Games, when local officials in Squaw Valley, California, decided it was too expensive to build a bobsled course and so just … didn't.
Skeleton debuted in 1928, but was dropped until 1948, and then dropped again until 2002. Some sources chalk this up to the danger of the sport, but it seems equally or more likely due to the sport's limited popularity. The two Games it had been featured in, 1928 and 1948, were both in St. Moritz and used the original Cresta Run, sort of an ode to the town's contribution to winter sports, but this particular sled sport might have been considered too niche to be featured in Sapporo or Lake Placid or Sarajevo.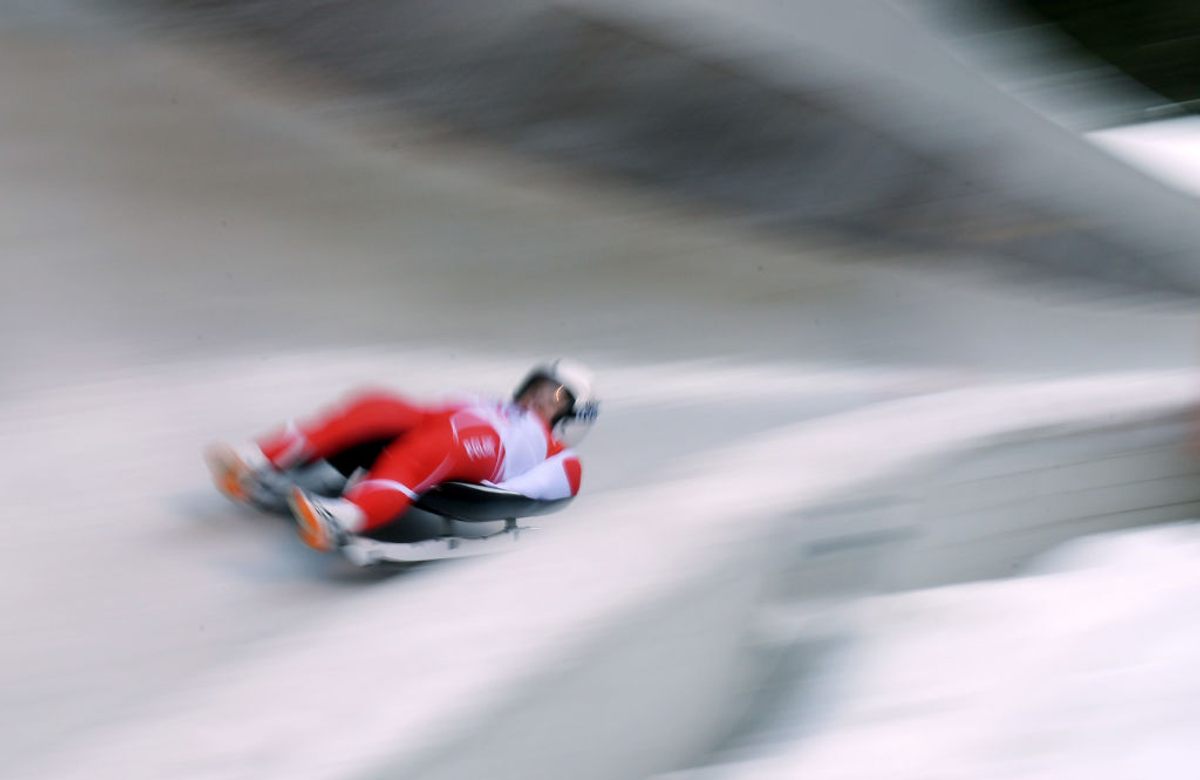 By the late 1950s, luge had surpassed skeleton in popularity and had its own organizing group, the Fédération Internationale de Luge de Course. It was scheduled to debut in 1960, but then Squaw Valley again, so it ended up making its first appearance in 1964 in Innsbruck, Austria. The Germans dominated that year.
Luge has been a fixture of the Winter Olympics ever since, and Germany a fixture on the medal podium, having produced nine of the top 10 medal winners. And this year, 2022, is the first Olympic luge without a single competitor from either Switzerland or Great Britain—the countries that, probably, started it all. The Americans and Canadians are there, though.