How to Make Taiwan's Iconic Train Bento
These convenient, compact meals have a devoted fanbase.
This recipe is adapted from a special edition of the June 5, 2021 Gastro Obscura newsletter.
Some food and drink is particularly suited for travel. Sometimes it's a coincidence, like how ginger ale and tomato juice taste way better at altitude. Other times, they're designed to be portable. Hamburgers and French fries aren't great after a few hours, but American fast food was tailor-made to be eaten inside a car.
The absolute best travel meal is one that combines form and function, that's cheap and filling, doesn't need to be heated up, and is more contained than a paper bag filled with free-flying fries. In my opinion, the meal that best combines all of these desirable features is the Taiwanese train bento.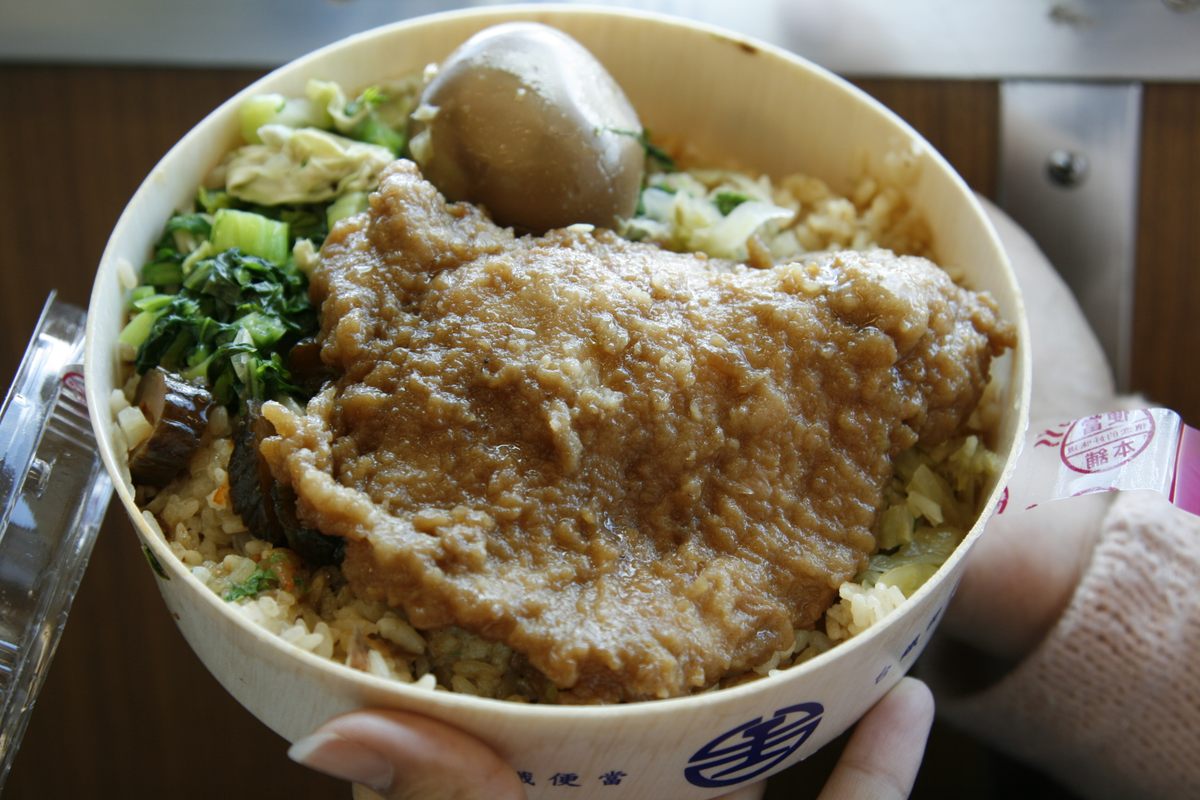 When I was young, train dining for me meant peanut butter and jelly à la Amtrak. But in Taiwan, train travel is synonymous with a wooden or paper box filled with rice, a flattened, spiced pork chop, and a sweet-and-salty, braised, hard-boiled egg. The box comes sealed up with a rubber band, and there's no need for complicated containers or compartments: The egg, meat, and accompanying vegetables squish down into the rice like the tiles of a mosaic.
These bentos are sold within the stations and train cars themselves. The country's train system dates from Taiwan's early 20th-century colonial period, when Japan controlled the island, and so do biandang, or the local version of bento. There are endless variations. But the one associated with train travel—pork, egg, pickle—is still the classic choice, though it's available at stores and stalls off the rails as well.
The Taiwan Railways Administration, or TRA, sold pork-chop bentos well into the 1900s, but discontinued them in the 1970s. A wave of nostalgia for the crispy chops spurred a return in 2000. To avoid disappointing customers who loved the pork bentos, and hadn't tasted them in decades, the TRA even consulted their retired chefs to get the flavor exactly right.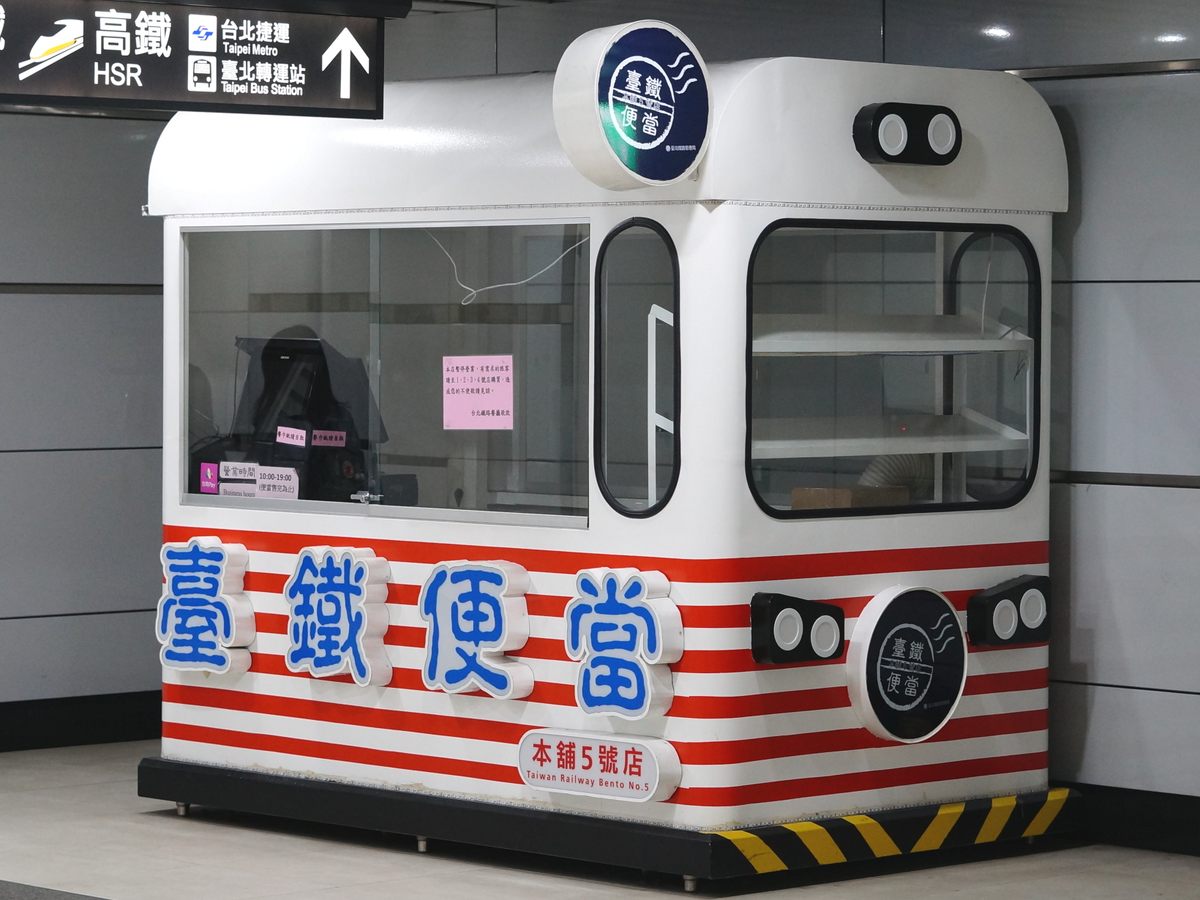 The Taiwan Railways Administration alone sells 10 million bentos a year. Sure, not all of them are pork bentos—some include fried chicken or fish—but they are so absurdly popular that two employees at Taipei's main station have full-time jobs doing nothing but smacking pork cutlets with a mallet into tender thinness.
The very moment international travel seems like a good idea, you'll find me in Taiwan at the spiritual home of the Taiwan train bento. At Fu Jing restaurant in Shetou, train superfan Chen Zhaoqiang has served tributes to famous train-line lunchboxes since 1999. The inside of the restaurant looks like a classic Taiwanese train car, complete with green leather seats and painted scenery framed by windows.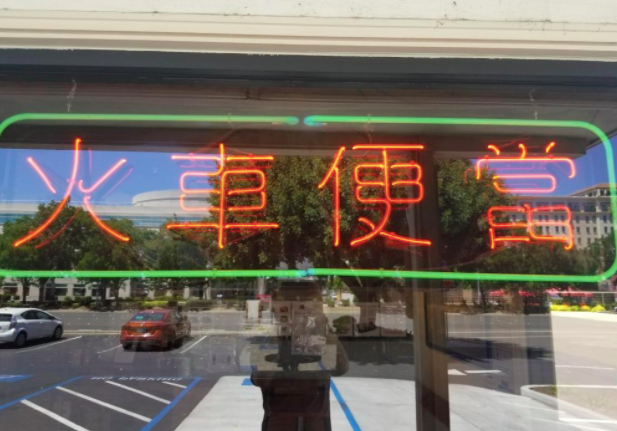 Chen comes from a family filled with train conductors, and has spent his entire life collecting train memorabilia. When he opened his restaurant, he constructed a train museum above the shop, with two stories of memorabilia dedicated to Taiwanese train culture. Everything from model trains to vintage uniforms speak to Chen's love of the rails and his dedication to the family trade, despite not actually working with trains himself. (In a 2019 interview, he told a group of schoolchildren that being a train conductor was a terrifying amount of responsibility.) So instead he sells the taste of travel, serving up chicken-leg, eel, and, of course, pork-chop bentos.
If you, like me, can't make it to Taiwan anytime soon, try making a pork-chop train bento at home. Feel free to add your own flourishes, like a floret or two of cooked broccoli or some tofu.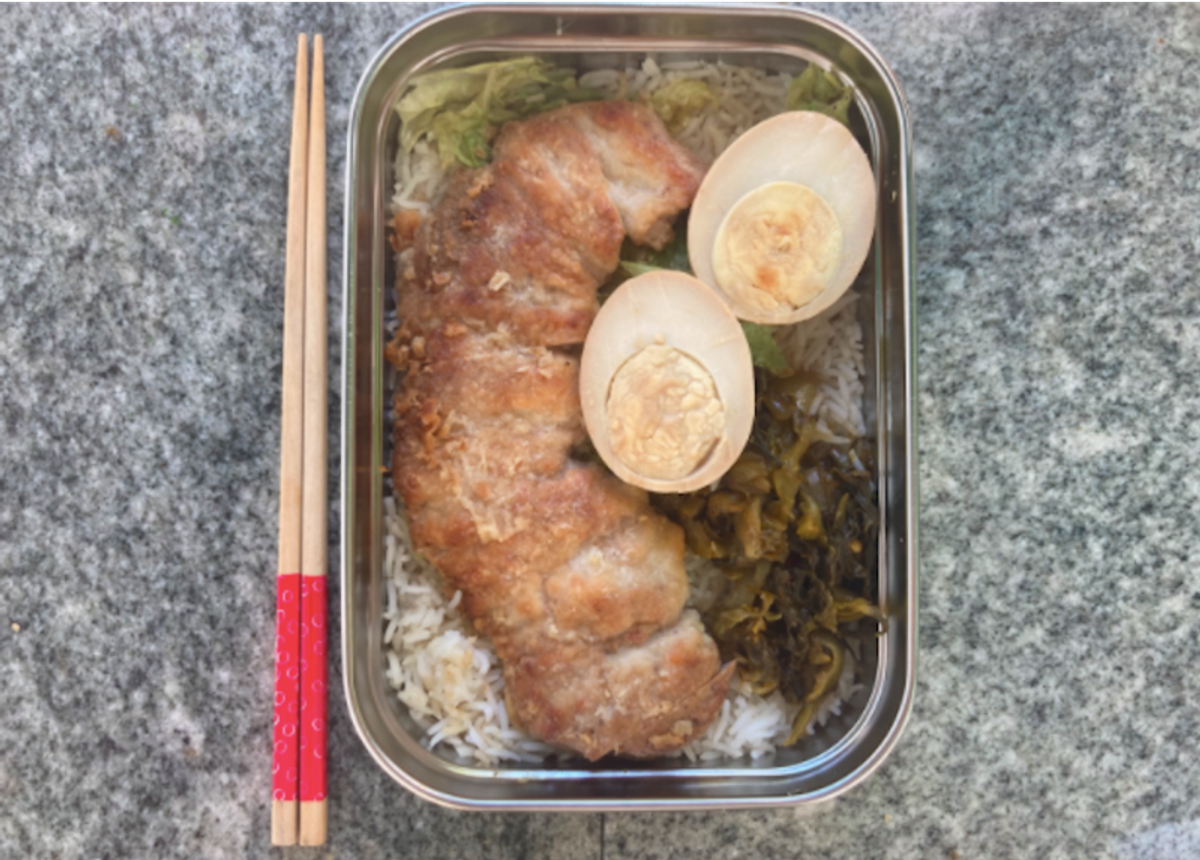 Taiwanese Train Bento
Serves 4
Ingredients
For the pork chop:
4 boneless pork chops
3 tablespoons minced garlic
2 1/2 tablespoons regular soy sauce
1 1/2 tablespoons Shaoxing rice wine
2 tablespoons water
½ teaspoon white pepper
½ teaspoon Chinese five spice
Sweet potato starch (or cornstarch, in a pinch)

For the braised eggs:
(Recipe adapted from Rasa Malaysia)

4 peeled hard-boiled eggs
3 cups water
2 star anise
1 cinnamon stick
4 tablespoons brown sugar
2 tablespoons dark soy sauce
2 tablespoons regular soy sauce

You'll also need:

4 portions of cooked white rice
Sides of your choice: sauteed preserved mustard greens, stir-fried cabbage, tofu, steamed vegetables…

Directions

1. On a sturdy cutting board or countertop, lay down a piece of plastic wrap. Set the pork chops on top, and cover with another layer of plastic wrap. Then, with a mallet or a hammer, pound the pork chops until they are thin and flat.

2. In a bowl or a plastic bag, add the garlic, star anise, pepper, five-spice, water, soy sauce, and rice wine. Then, add the flattened pork chops, making sure to cover them on all sides. Marinate for at least two hours, or even overnight.

3. Meanwhile, prepare the braised eggs. Add the water, soy sauces, sugar, star anise, and cinnamon stick to a pot. Let the mixture boil for at least 10 minutes, and make sure the sugar dissolves completely. Gently add in the eggs, and allow them to simmer for 5 minutes. Cover the pot, take it off the heat, and let the eggs soak, at least for an hour. The longer they soak, the richer the color and deeper the flavor.

4. When you're ready to assemble your lunchboxes, heat up a large frying pan and coat it with oil. Rub both sides of each chop with the starch, and add them two at a time to the pan. Cook for three minutes on one side, and one to two minutes on the other, making sure to slice into one of the chops to check for doneness.

5. Then, assemble the bentos. Fill four lunchboxes (or plates) halfway with cooked white rice. Lay a pork chop in each one, as well as an egg sliced in half. Tuck your garnishes around the chop and egg. The bentos can be eaten right away, or after a few hours on the go.
Gastro Obscura covers the world's most wondrous food and drink.
Sign up for our email, delivered twice a week.