This 110-Year-Old Steamboat Is a Floating History Lesson
"Sabino" is the oldest wooden, coal-burning steamboat that still operates in the United States.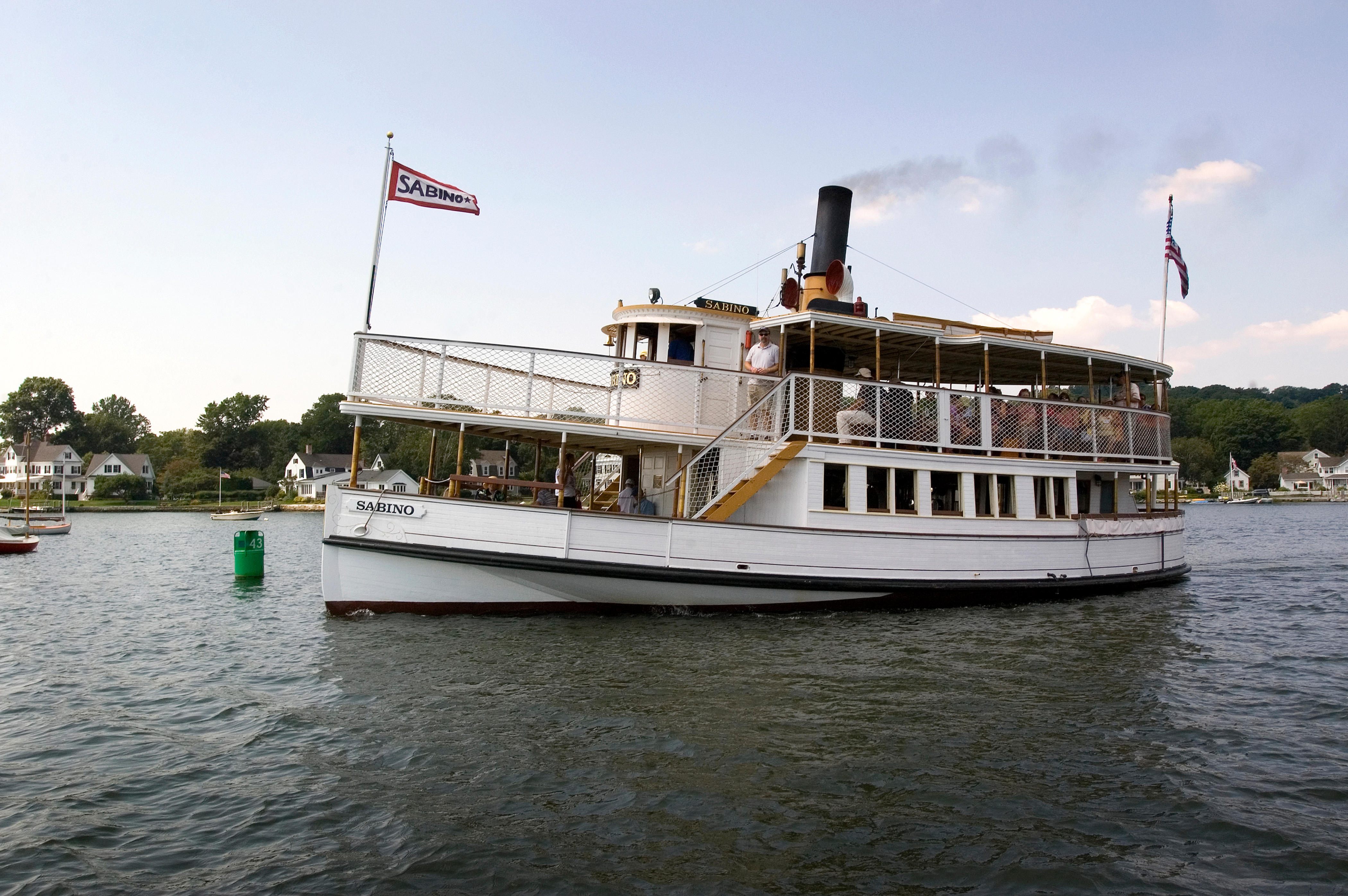 In the quiet harbor of a quaint coastal town, a vestige of America's maritime legacy grumbles in the water. Jason Cabral heaves coal chunks into a furnace, sending steam into jumping pistons that chug-chug like a train. Black smoke shoots into the sky; a whistle erupts with a scream. Sabino slips away from the Connecticut shoreline and into the Mystic River.
Sabino is the oldest wooden, coal-burning steamboat that still operates in the United States. Built in 1908, the nearly 60-foot vessel harkens to a time when the nation's highways were rivers and coastlines, not endless stretches of asphalt and concrete. Before automobiles and diesel engines swept the land, thousands of huffing steamboats like this one formed the country's transportation backbone.
Cabral, a sturdy man with a bushy goatee, belongs to a small crew of engineers and captains who keep Sabino running seasonally at Connecticut's Mystic Seaport Museum. The sprawling complex includes a recreated seafaring village from the 19th century and a towering reproduction of the Pilgrims' Mayflower. The steamboat is a living exhibit—all moving parts and machinery in an era of flat screens and automation.
"When kids come in, they're mesmerized by it. They just hang out, maybe ask questions, maybe just listen. That for me is the best part of the job," Cabral says from down in the exposed engine room, which sits in the belly of the boat. Whirs and hums drown out the sound of lapping waves. "That, and I get to get dirty and work on old machinery all day," he adds.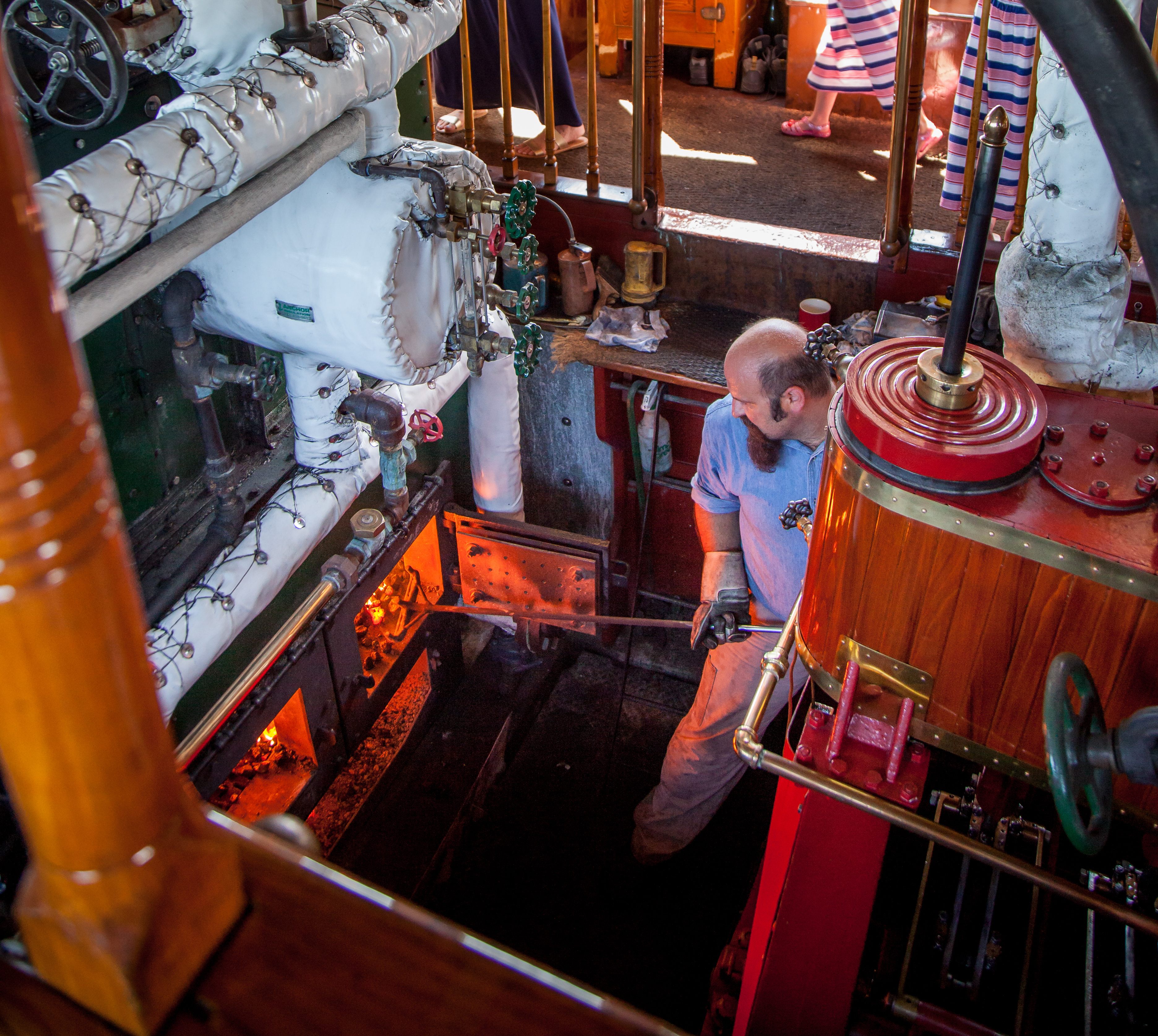 Cabral joined the team eight years ago, after he lost his job in Mystic as a land surveyor and struggled to find work during the economic downturn. He took a summer job at the seaport and never left, eventually earning his steam engineer's license from the U.S. Coast Guard. Now his hands are blackened with grease and coal dust, his arms slightly singed from bumping into boilers.
"I've become obsessed with the fire," he says, raking the blazing coals in the squat black firebox. "It gives me a puzzle every day to solve." Cabral says the goal is to build a "mature" fire—around two inches thick, preferably with blue flames—so that machinery runs smoothly without building too much pressure or creating excess smoke. The size of the rocks, the wind, and weather all affect the fire's strength.
Inside the firebox, temperatures can climb to 3,000 degrees Fahrenheit, ideal for creating steam—and, it turns out, cooking hot dogs and bratwurst for hungry engineers. During the cruise, Ryan Stokes, a young apprentice, experiments with a different snack: frozen potato perogies wrapped in aluminum foil.
A bell tinkles twice above Cabral's head. It's the captain, who's calling for more steam. Captains on modern vessels control speed and thrust by pushing buttons or pulling levers. On Sabino, David Childs can only pull strings and ring bells, instructing the engineer below to adjust the steam to go faster, slower, forward, or in reverse. Everything works on delay. Reading the waves and anticipating the boat's behavior is its own artform.
"You have to be gentle," Childs says from the pilothouse on the upper deck. "We're dancers, not muscle people." Sabino normally putters along at eight or nine knots but can climb to 13 knots.
Childs, a retiree with white hair and an easy smile, has worked at the museum for 14 years, first as a volunteer painting boats, and later as a captain on Sabino and other historic vessels. He lives at the seaport, too, spending the night on a 30-year-old fishing trawler that he sails north from Florida every summer, chugging along at "bicycle speed" up the Atlantic coast.
For Sabino's crew, another delicate balancing act is controlling the sooty plumes that escape from the smokestacks. "We try to be respectful to our neighbors," Childs says. To limit smoke, engineers touch the fire as little as possible when passing other vessels or cruising into town, and they're picky with their coal supply.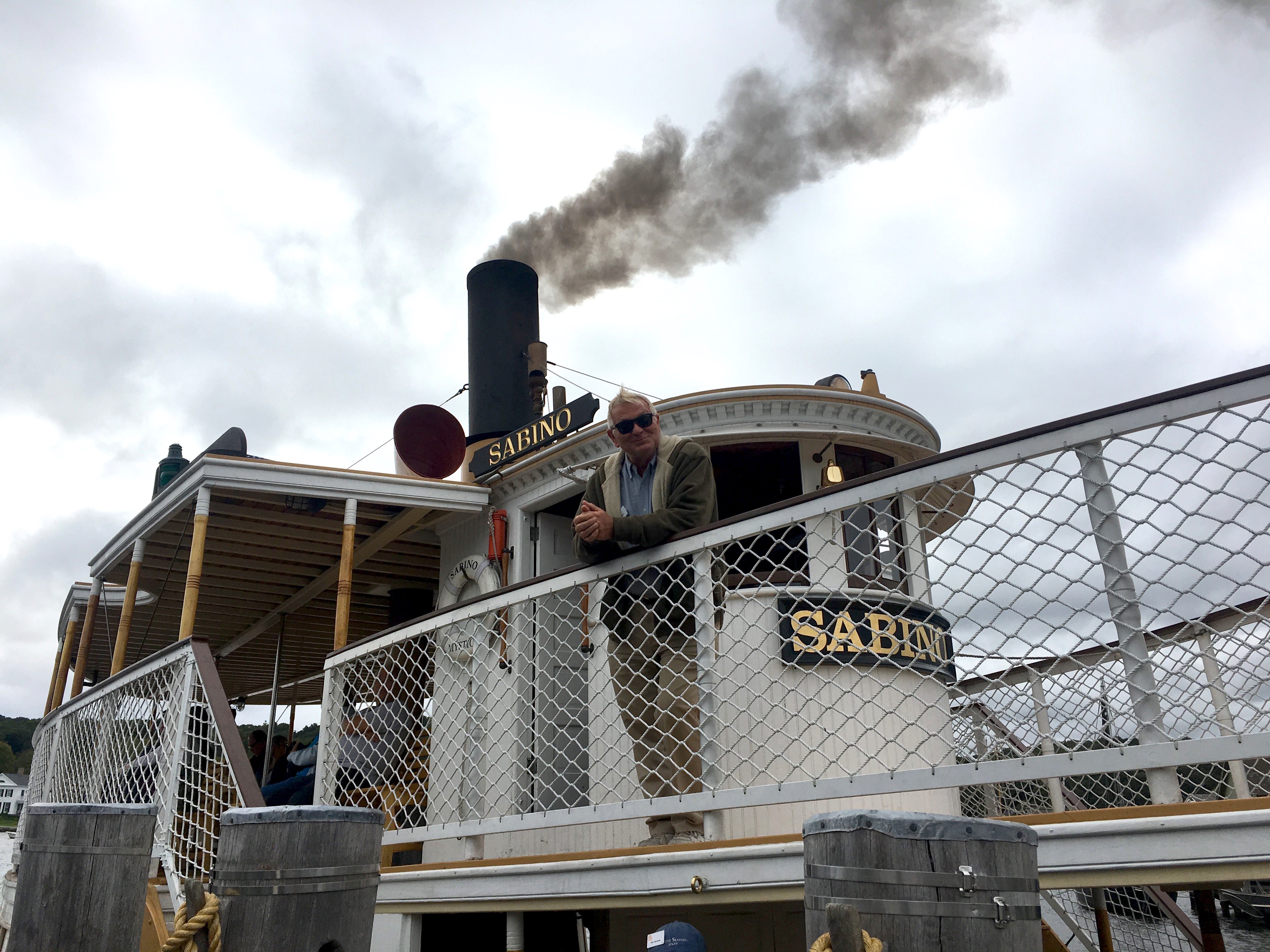 Still, Childs says he occasionally hears complaints from passersby who worry Sabino's exhaust will dirty their vessels. "We make a mistake, and a poof of smoke comes up, and everyone has a radio on their boat. So they say, 'Sabino, you did it to me again!'" he says. "But all in all, people applaud us when we go by. They love us." About 12,300 people sailed on Sabino in 2018, before the exhibit closed for the season in mid-October, the museum says.
Sabino wasn't such an anomaly when it ferried passengers around coastal Maine in the early 20th century. Smog-choked harbors and soot-lined decks were the norm for decades, until the diesel engine helped clear the air. But diesel, while an improvement, still produces air pollution and greenhouse gas emissions when burned. So now the shipping industry is working to develop vessels that don't use any fossil fuels on board, including battery-powered ferries and hydrogen fuel cell ships.
Cruising on Sabino is a reminder of how far technology has advanced since the steamboat era, and how far we've still to go. "If we can get out of that [diesel engine] to the next level, that will be wonderful," Childs says. Sabino, meanwhile, continues burning coal—about 40 tons per year, according to the museum, which doesn't quantify the vessel's pollution output. (For context, U.S. power plants devoured 661 million tons of coal in 2017.)
Back by the engine room, Cabral lifts a metal hatch on the floor, revealing heaps of black rocks that are brought on board by wheelbarrow. The coal is usually a soft, bituminous type mined from West Virginia or Pennsylvania. "Probably the most difficult thing we have with the boat is finding coal that burns right for us but doesn't put up a lot of smoke," he says. Last spring, the crew had to return a batch that was especially sooty and burned poorly.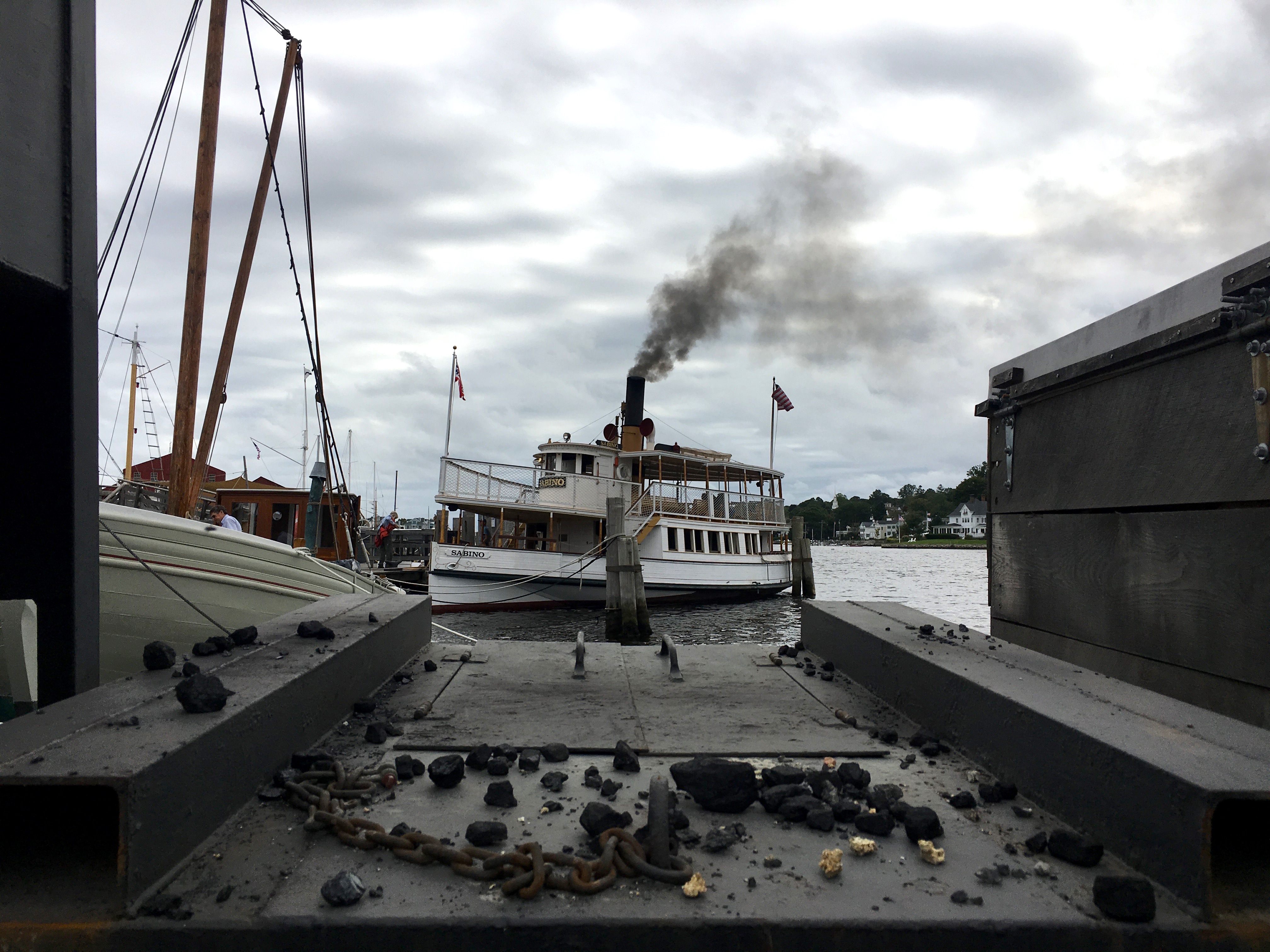 As a National Historic Landmark, Sabino isn't subject to modern environmental regulations, meaning the vessel operates just as it did 110 years ago. Dan McFadden, communications director for the Mystic Seaport Museum, says that's precisely the point.
"We keep operating Sabino with a coal-fired boiler to give people a small glimpse into the days…where boats and ships, railroads, home furnaces, and industry burned coal," he says. "There is the historic authenticity of the experience, but we also want people to get an idea of the environmental conditions that would have been present in those days, and thus encourage the promotion and use of alternative power solutions today."
He says the seaport has been fortunate over the years to find people who are committed to running steam engines and steamboats in the modern age. But keeping Sabino fully staffed, with properly licensed crew, is a constant challenge, and crew like Cabral and Childs are hard to come by.
"They're great storytellers, and they're great 'people' persons," he says. "They love talking about the boat and her history. They love showing how she operates."