On the Slopes With Montana's Avalanche Detectives
They're actually scientists. And in Bozeman, they're trying to keep people safe.
Just a few strides away from the snowmobile, Doug Chabot knew that something was off. His uphill-equipped skis sunk deep into the snow, deeper than they should have. Weak snow, he noted, as he followed the track left by his partner's skis. The two figures ascended the slope of Lionhead Ridge, a popular backcountry skiing area in southwest Montana, just north of Yellowstone National Park.
It was November 24, and snow was falling. Little had come down over the past month; some patches were so thin that Chabot, an avalanche forecaster and director of the Gallatin National Forest Avalanche Center, noticed yellow grass poking through the white. A series of cold, clear nights had changed the snowpack. In a strong snowpack, round snow crystals solidly bond to their neighbors, which means the layers of snow can bear a lot of weight before fracturing. But the early season temperature difference between the warm earth and the downright frigid air caused the snow crystals to morph into facets, delicate formations that look as if they could hang from a chandelier. "If you grab a handful of them, you can't make a snowball, they just fall out," Chabot explains. "It's like grabbing a handful of sugar or a handful of [dry] rice."
Though this wasn't a problem yet, Chabot knew it spelled trouble for the rest of the season. On steep slopes, he says, "when [snow] crumbles, it makes an avalanche." By mid February, his prediction had proved to be spot on. Four more feet of snow had fallen, burying and burdening that weak foundation. Under such stress, a skier's weight can be enough to collapse the layers, the failure spreading like dominoes in all directions, then thousands of pounds of snow begin to slide. The hillside becomes a river and the skier is swept with it, sometimes to be buried at the bottom of the slope or killed by trees and rocks on the way down. As of February 15, the U.S. has seen 24 people die in human-triggered avalanches this winter.
This is the arena of avalanche scientists, those who study the phenomenon in hopes of saving lives. The college town of Bozeman is a hotspot for this work. Meet three of the people trying to keep humans safe in avalanche terrain.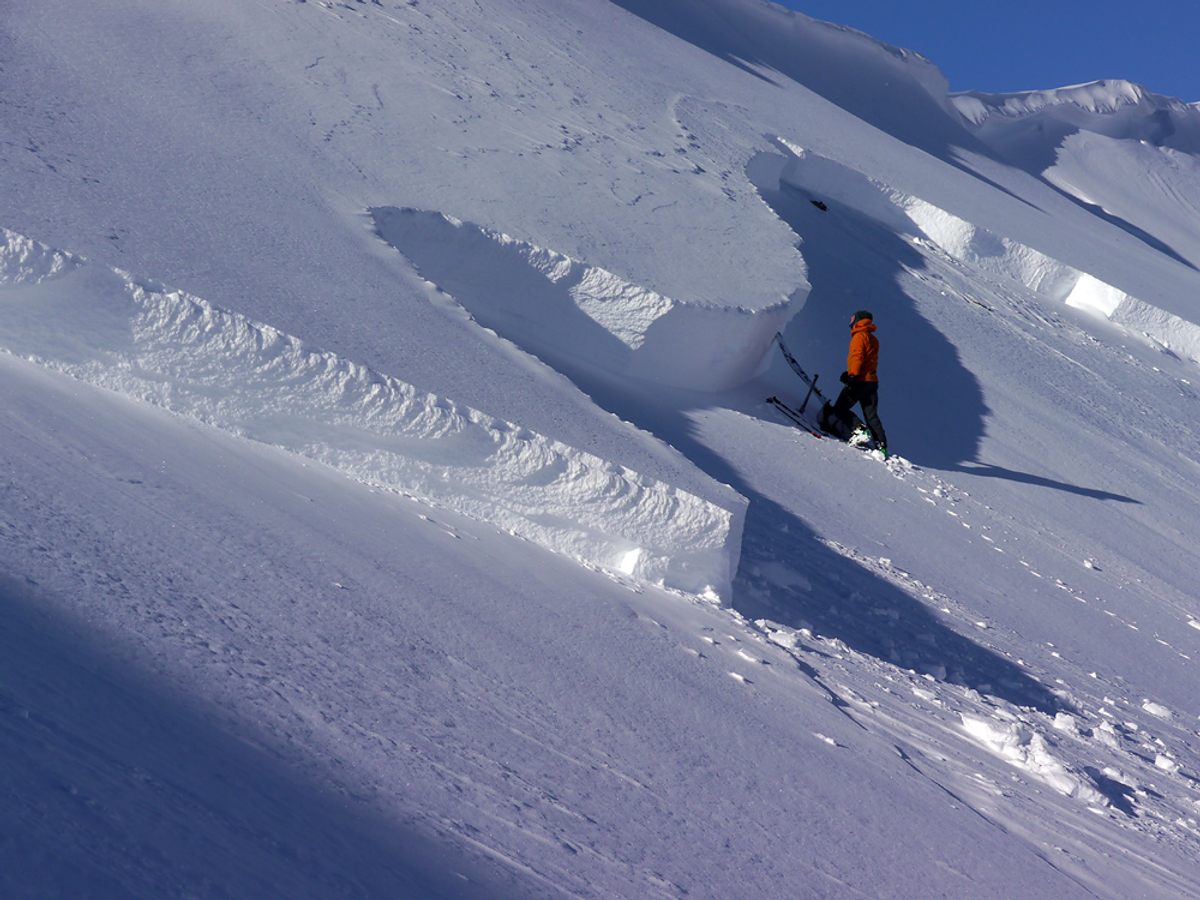 The Forecaster
For 25 winters, Chabot has traveled into the mountains around Bozeman by snowmobile, skis, or both, seeking out the region's most unstable snow.
Chabot and his team of three other avalanche forecasters work to get word out about weaknesses in the snowpack for anyone planning to recreate in what is known as the "backcountry"—anywhere outside of avalanche-controlled ski areas. At ski resorts, ski patrollers employ various techniques to remove the risk of accidental avalanches occurring in bounds, from bombing slopes with special hand grenades to compacting snow via skis or vehicles called snowcats. No such intervention takes place in the backcountry; it is the wild. Those venturing into this realm include skiers, snowboarders, snowmobilers and ice climbers. They are Chabot's audience.
Most days throughout the winter, a pair of forecasters roves the mountains around Bozeman, digging in the snow, taking measurements, testing stability, and recording videos to share later on social media and on the avalanche center website. On all seven days of a given winter week, one forecaster wakes at 4 a.m. to write the avalanche report using data gathered from the field. The forecast goes up on the website by 7:30 a.m. and, in audio form, out over the airwaves of the local radio station. The forecast filters and distills the information down to the key points, plainly communicating what backcountry-goers should look out for, how layers are strengthening or weakening, the role wind has played in transporting snow, and the likelihood of avalanches releasing that day.
"Our mission is to give people the tools to make good decisions in the backcountry," Chabot says. "We want to give people information that's relevant, that's accurate, and that they can understand."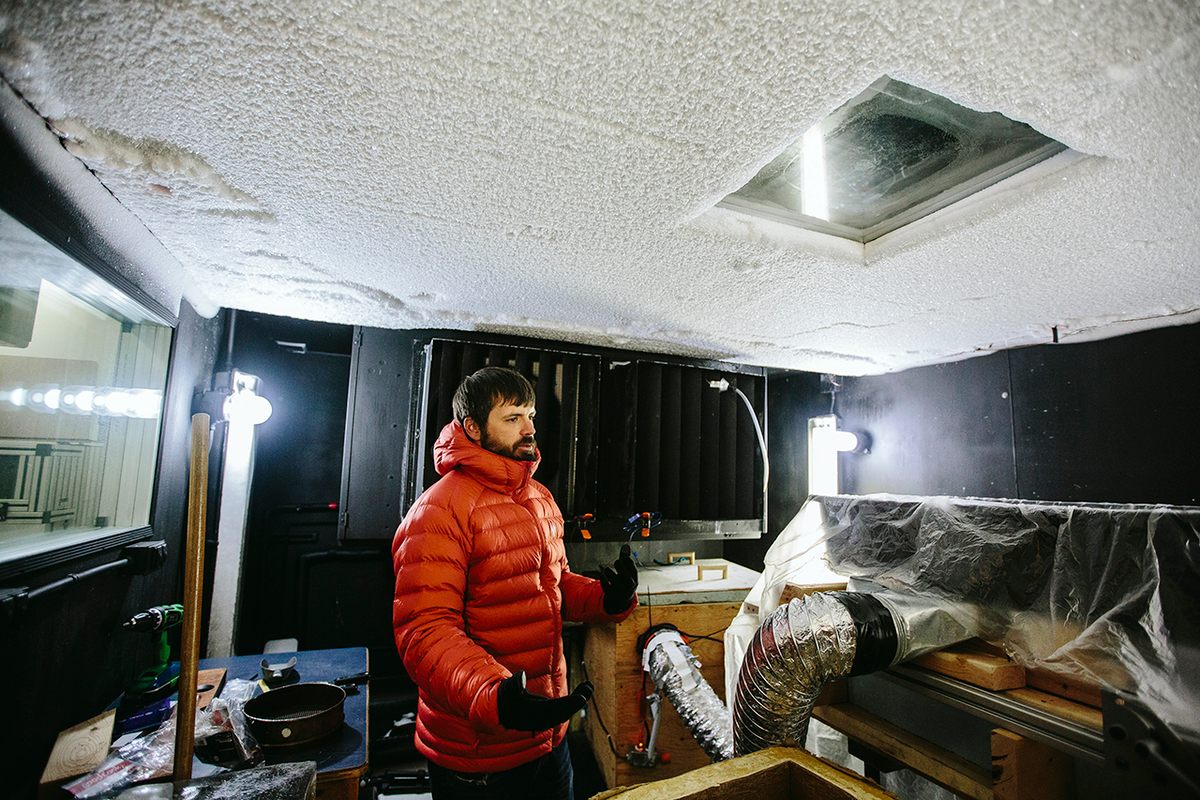 The Snowmaker
Kevin Hammonds, director of the Subzero Research Laboratory in Montana State University's Department of Engineering, was making snow long before he was a scientist. Sixteen years ago, he worked for Vail Ski Resort in Colorado, creating artificial snow when the natural stuff was lacking.
Now, he does it in the lab, with high-tech machinery able to create dendritic snowflakes, similar to what falls from the sky. The Cold Lab, as it's known on campus, is a 2,700-square-foot, $2.5 million, multidisciplinary space dedicated to studying cold substances and how materials behave in frosty environments. The lab is one of a handful of facilities worldwide that employs a $400,000 micro-CT (a CT scan for tiny things) devoted entirely to looking at snow microstructure.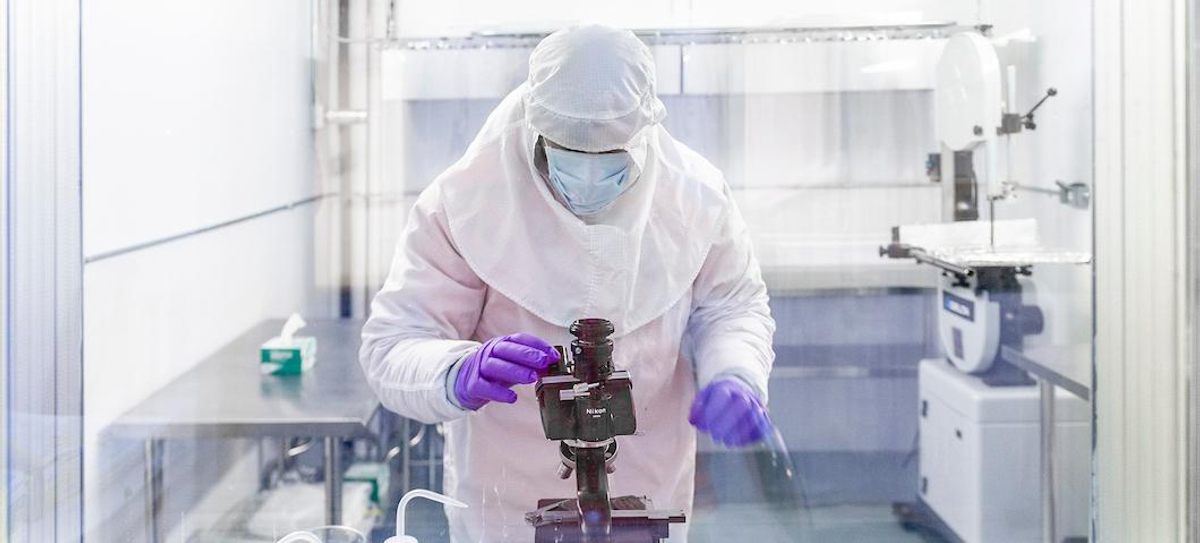 The lab allows scientists tight control over variables, so that Hammonds and his students can observe and measure what would be near impossible to capture in the field. In various cold rooms, researchers test materials such as Pykrete beams made up of sawdust and ice , or they construct synthetic snowpacks to simulate avalanche mechanics. One chamber has been used to recreate the conditions of a heavy snow followed by a cold, clear day, which can lead to "surface hoar"—a frozen dew that manifests as feathery ice fingers. If buried under another snowfall, it can become the type of weak layer that results in avalanches.
Hammonds's training in material science furnishes him particular insights into snow. Most of us think of snow as cold—but he explains that, from a material perspective, it's extremely hot. "It exists in the world near the melting point at all times," Hammonds says. "And so it behaves in ways that are similar to nuclear materials." This understanding of snow as energetic and reactive informs his approach in the lab, knowing that even minute temperature shifts can drastically change snow's behavior.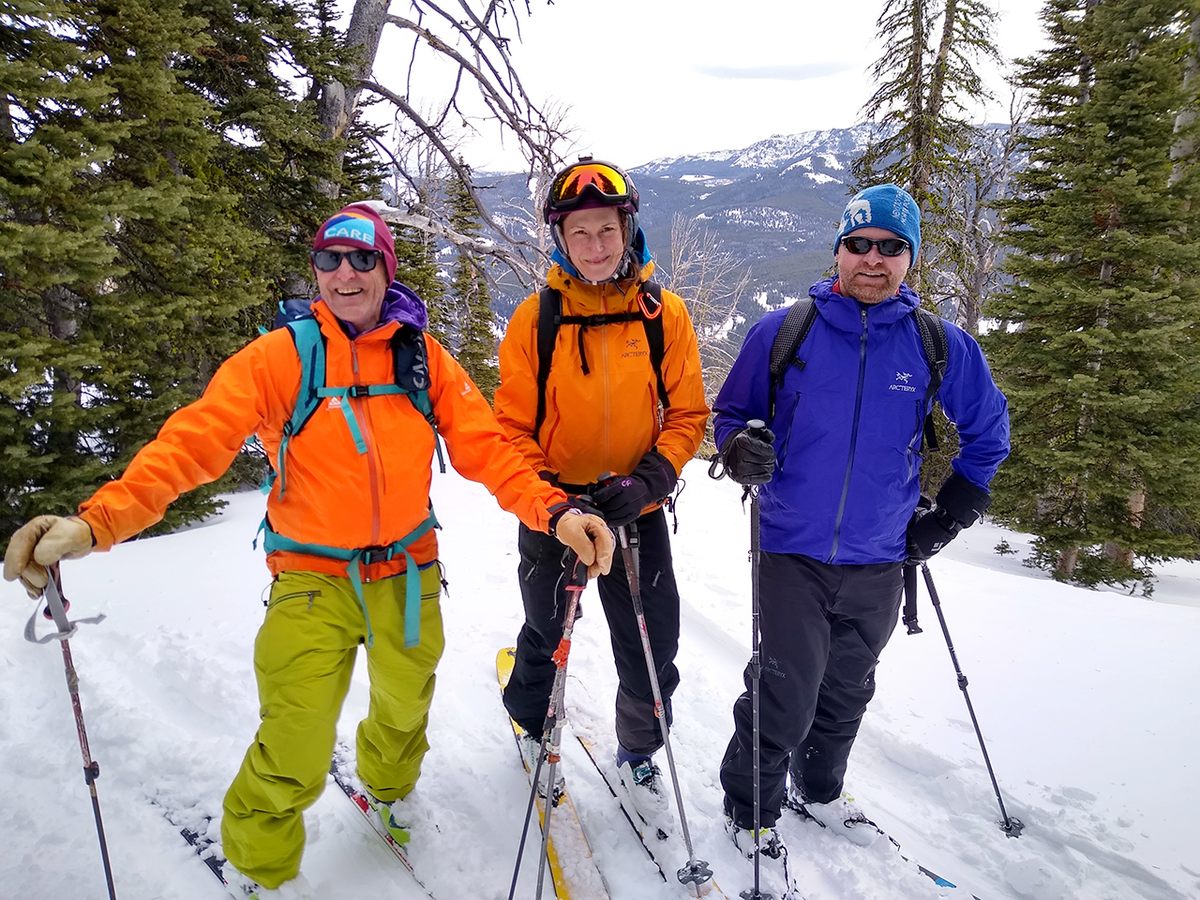 The Trail Breaker
Traditional approaches to avalanche science and education have focused on understanding how avalanches work. Jordy Hendrikx, director of MSU's Snow and Avalanche Lab, began to think this wasn't enough. He saw people who knew a lot about avalanches—even his own graduate students—get caught and sometimes killed by the phenomenon they knew so well.
"The piece that we're often missing is, how do we then implement [knowledge about avalanches] into a decision framework?" Hendrikx says. Decision-making, he determined, was an understudied portion of avalanche research. He wanted to change that.
Hendrikx partnered with MSU political scientist Jerry Johnson and behavioral economist Andrea Mannberg of Arctic University of Norway, Tromsø. Together, they're uncovering the role social dynamics and human biases play in avalanche incidents.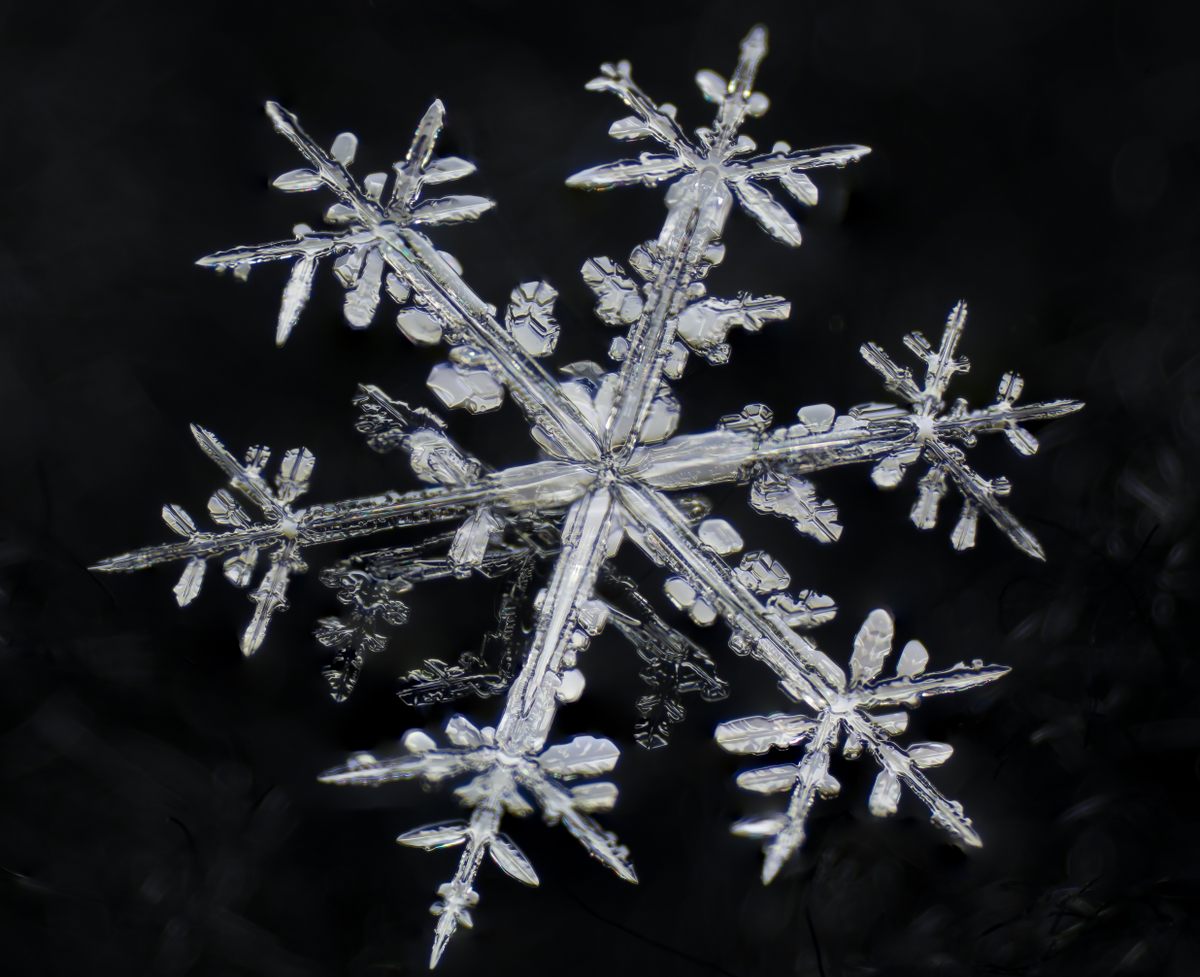 The trio recently published a paper in the journal Leisure Studies suggesting that about a third of backcountry skiers are what behavioral economists call "positional," meaning they derive satisfaction from skiing riskier "lines"—skier lingo for the route one slices down a mountain—than their peers. They're also irked to learn that their peers skied "gnarlier" lines than they did. Positional backcountry riders are prone to take more reckless lines to impress their friends, seeking acceptance and belonging. But that choice could cost them their life, or imperil their backcountry partners.
Hendrikx breaks tradition by bridging the physical and the human sciences in the realm of avalanche research, but in no way does he see his approach as more important than those of his peers. Instead, he understands that Chabot, Hammonds, and himself are tackling different aspects of the same problem: how to reduce avalanche fatalities and keep people safer in the snow.