The Mainland Distilleries Proudly Making Puerto Rico's Beloved, Illicit Moonshine
Pitorro is imbued with a history of resistance.
If you visit a home in Puerto Rico, says Angel Rivera, "the woman will offer you coffee, and the man will offer you a drink. More often than not, they will offer you pitorro." Rivera would know, considering that he's the co-founder of Puerto Rico Distillery in Frederick, Maryland, where making pitorro, a high-proof rum distilled from sugarcane and infused with fruits and herbs, is a family business.
The drink is a core part of Puerto Rican celebrations, despite the fact that only a handful of commercial distilleries make it. On the island, legal pitorro is weaker, and usually sold to tourists. Traditional pitorro is proudly illegal, produced in illicit stills, and distributed by word-of-mouth. But the same qualities that make the liquor so beloved also make it difficult to procure for the four million Puerto Ricans living in the mainland United States.
Puerto Rico Distillery and Port Morris Distillery in the Bronx are changing that. Their versions of pitorro may have tax identification numbers, but they still carry on the drink's legacy of cultural resistance.
In a Maryland strip mall surrounded by farmland, Crystal Rivera, co-founder and master distiller of Puerto Rico Distillery, makes her high-proof white rum in gleaming metal stills. Her father Angel then infuses the spirit with ingredients like raisins, prunes, and almonds, following recipes that he has used for over 40 years. Despite advice to bring the spirit below 100 proof so bartenders can use it in cocktails, the father-daughter team holds to tradition.
The result is a smooth rum redolent of molasses, the alcohol harmonizing with its sweet infusions. "Grown men tear up in our tasting room, because it reminds them of drinking with their father, or their grandfather that is no longer with them," says Angel.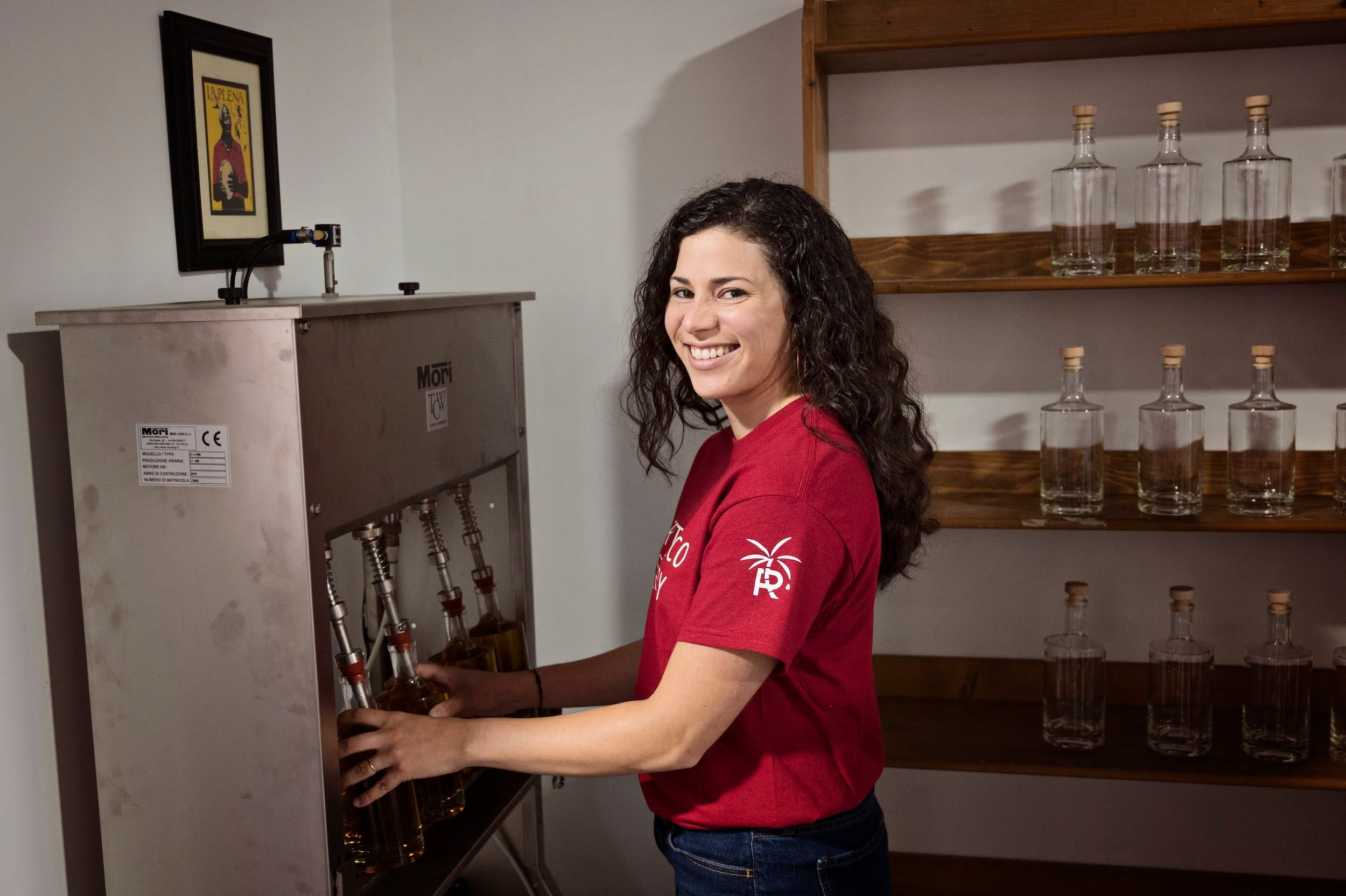 Some 250 miles north, childhood best friends Rafael Barbosa and William Valentín started Port Morris Distillery in 2011 in the Bronx, where more Puerto Ricans live than anywhere other than Puerto Rico itself. After convincing Barbosa's uncle, an expert moonshiner, to move to New York, they set up shop in a Bronx warehouse. They use mostly local ingredients, fermenting a combination of New York State apples, New York honey, and brown sugar.
When Barbosa's uncle arrived at the new distillery, he shut all the blinds in the warehouse and looked suspiciously out the window. "I said, 'you know this is legal, right?'" Valentín recalls. "We have a license to do this."
Home distillers like Barbosa's uncle have had to work in secrecy ever since Puerto Rico's lengthy Prohibition. In 1917, about two decades after the U.S. took the island by force, the federal government introduced a ban on alcohol. José Manuel González Cruz, author of "Destilando Caña; Ron y Resistencia en la Isla de Puerto Rico," notes that Puerto Ricans have been distilling rum for more than 500 years, and that by 1917, home distilling was commonplace amongst Puerto Ricans, part of a mild drinking culture woven into rituals, home remedies, and relaxation.
Rather than snuff out home distilling, Prohibition spurred enterprising Puerto Ricans to expand it, creating a network of bootleggers so vast that Frank Buckley, the federal Prohibition director of Puerto Rico, once joked that "the number of stills threatened to outnumber the mosquito population."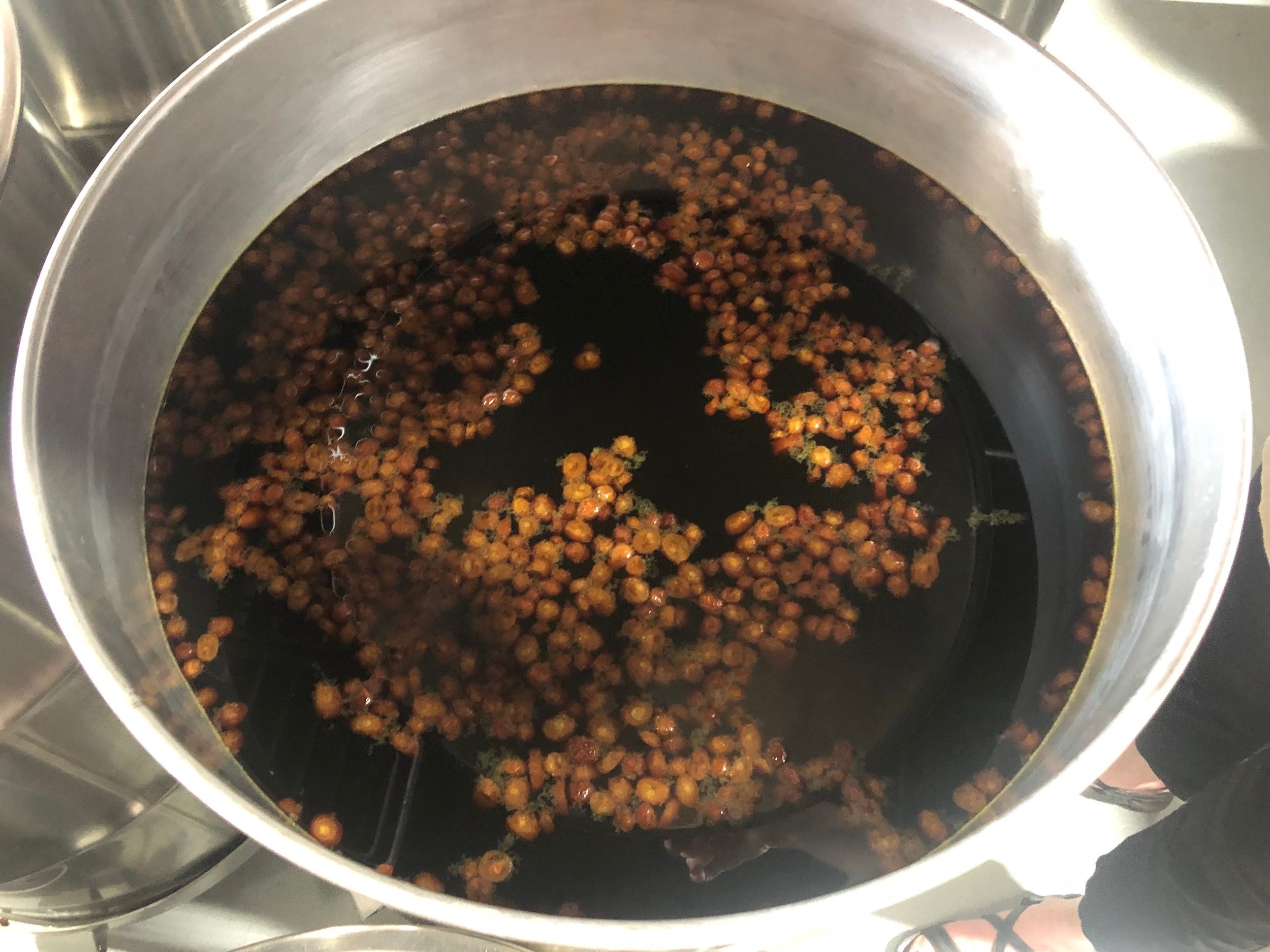 Illegally produced rum became known as pitorro, and it quickly emerged as a symbol of resistance to an oppressive American government. In the first half of the 20th century, the U.S. pushed to expand the island's sugar plantation system, where workers faced "conditions analogue to slavery," says González Cruz. Moonshining offered an opportunity to supplement meager wages and avoid leaving one's family for the plantations.
Pitorro was also part of a wider movement to preserve Puerto Rican culture just as an onslaught of government agents, Protestant ministers, and educators attempted to "Americanize" the local population. "During that time, [pitorro] was associated with something that would resist this process of acculturation, something we could hold onto," González Cruz believes.
After Prohibition ended in 1933, bans on unlicensed home distilling remained, and so too did the clandestine networks of pitorro distillers, proofers, blenders, and transporters that had emerged during the era. Professor Melissa Fuster, author of Caribeños at the Table: How Migration, Health, and Race Intersect in New York City, believes that by avoiding taxes and $500-per-gallon fines, contemporary pitorro moonshiners continue their predecessors' fight. "It is also a statement against the colonial situation in the island," she says. "Just carrying on with that tradition in spite of what that could bring you."
Puerto Rico Distillery deliberately references the craft's illicit origins, calling their pitorro Clandestino and placing a rubber band around each bottle, a nod to how mainland U.S. moonshiners prevented bottles from clinking in car trunks during Prohibition. But if they pay taxes on it, is it still pitorro?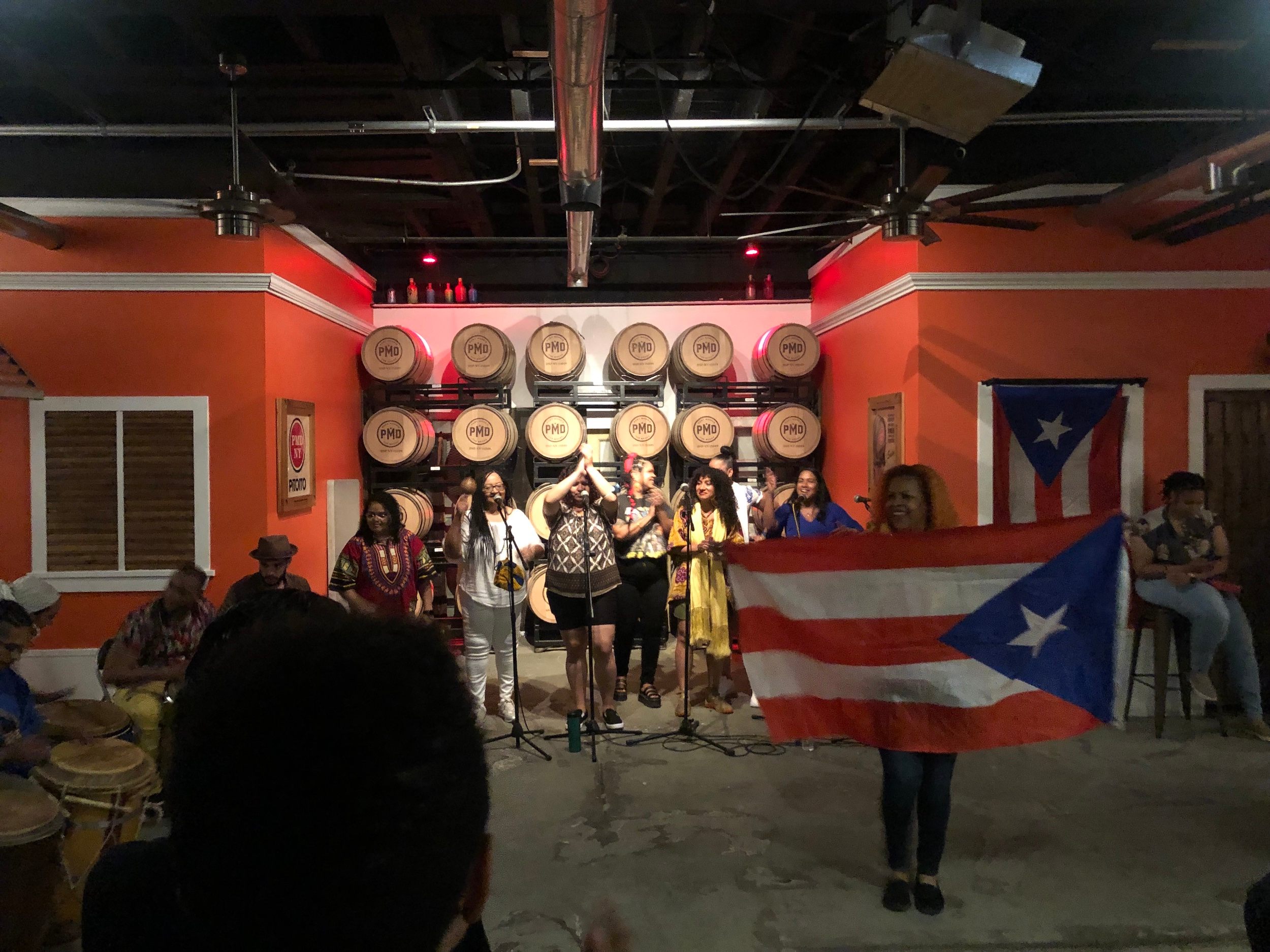 According to the Rivera family, their distillery and Port Morris Distillery are the only two sources of legal pitorro in the mainland U.S. In Puerto Rico, pitorro's allure stems in part from its illegality, but on the mainland, commercially produced pitorro makes visible a diaspora that is too often ignored.
This problem is especially paradoxical in New York, Fuster says. "Since the late 1800s, we've been going to New York along with Cubans, and we are part of the city. But then I feel like we are also invisible at the same time."
Soon after founding Port Morris Distillery, Valentín says, he and Barbosa decided to focus less on growth and more on "[making] sure our culture is represented the right way." Their tasting room's pastel-colored walls, wooden balconies, and vejigante animal masks, worn during Carnaval celebrations, remind customers of Puerto Rico. On a recent weekend, the space buzzed with people coming to watch Julie Laporte, a luminary of bomba, an Afro-Puerto Rican folk music genre, perform with Bomberxs of NYC, an intergenerational, all-gender bomba collective.
Dee, a longtime customer, says that in the face of creeping gentrification, Port Morris Distillery "gives us a chance to express who we are, freely, openly, and lovingly. Because we're not going anywhere."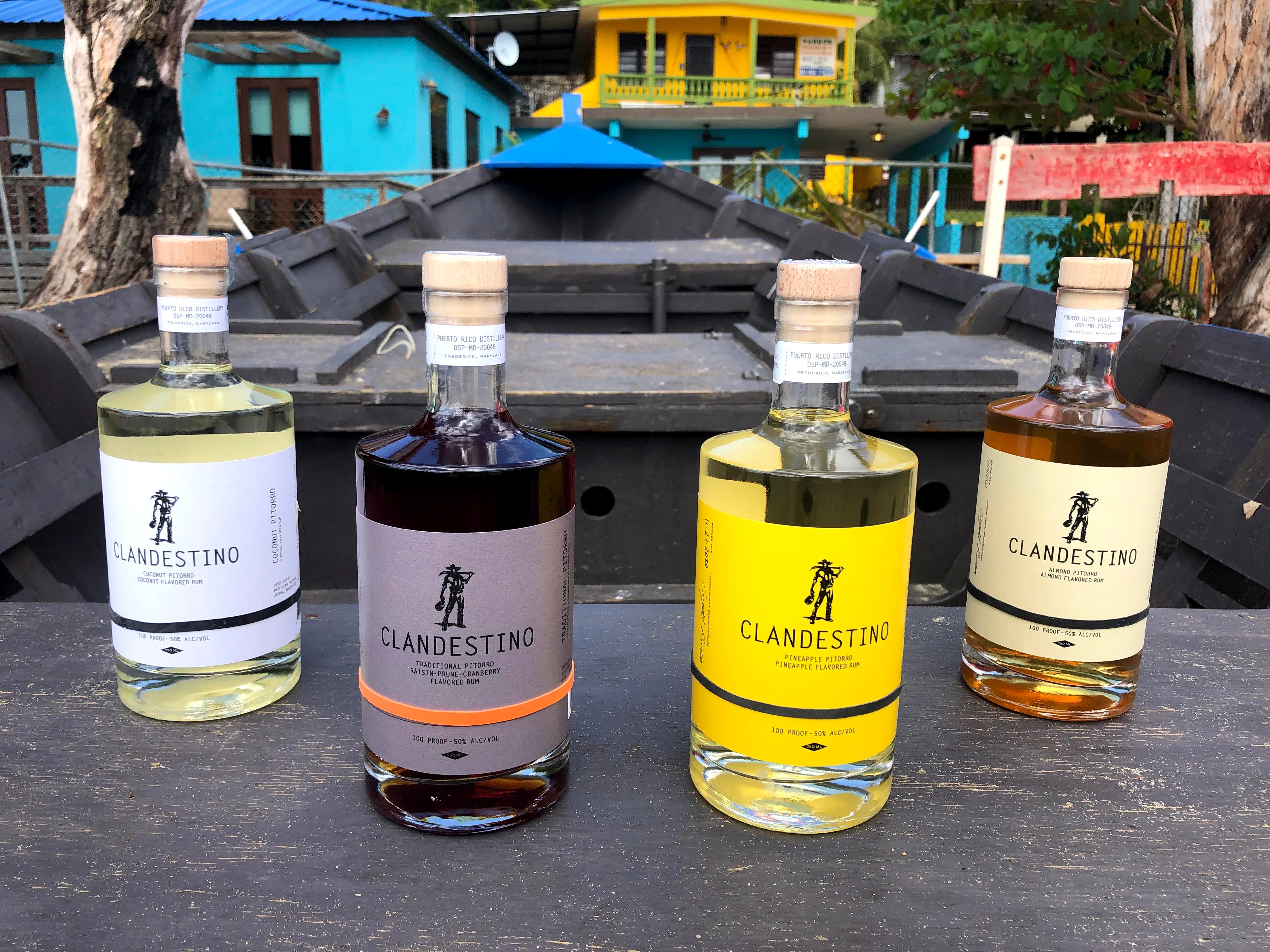 In Frederick, Puerto Rico Distillery has become a gathering spot for the smaller, more dispersed Puerto Rican population of the D.C. metro area. In fact, the distillery grew from the Rivera family's nonprofit Cultura Plenera, which uses bomba and plena, a musical genre that grew out of bomba, to build community. As they organized around Puerto Rican music, though, they felt the absence of pitorro. "I couldn't find it, so I started making it," says Crystal.
On a recent Saturday, people from all over the East Coast milled about between the white walls of the distillery's tasting room. Raul Santos, a caterer, handed off fresh servings of arroz con gandules, pernil, and yuca en escabeche. Benjamin Rodriguez, a Puerto Rican painter, drove from Pennsylvania to sell his art. Rodriguez and his wife, Noelia Saez, chatted and laughed with Michelle, a Puerto Rican woman visiting from the Virgin Islands. The trees in Rodriguez's paintings reminded Michelle of her hometown in Puerto Rico. "It feels like you know people forever, even if you just met them," says Saez.
At the same time, both distilleries count many non-Puerto Ricans among their customers. Fuster believes that pitorro is a good start to educating them about Puerto Rico's history. "I think those entry points through food can help people just to get to know us," she says. To that end, Valentín envisions that pitorro will come to symbolize Puerto Rico, in the mainland U.S. and beyond. "I'm hoping that one day, pitorro can become to Puerto Rico what tequila is to Mexico," he says. "It'll be ours, and no one can take that."
Gastro Obscura covers the world's most wondrous food and drink.
Sign up for our email, delivered twice a week.