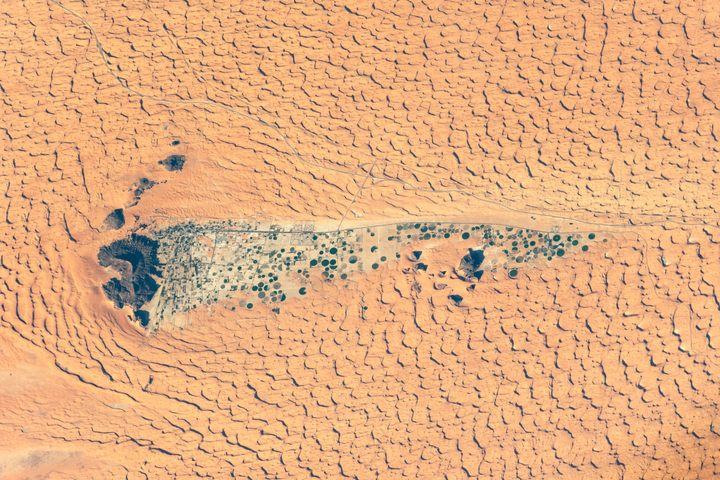 A Desert Oasis Hints at a Long History of Resilience and Exploration
On the Arabian Peninsula, Jubbah holds clues to how humans adapted in the past.
The oasis of Jubbah stands out like a smudged green footprint in the sea of dunes that is Saudi Arabia's Nefud Desert. It's fitting that the image was taken by a modern explorer, an astronaut aboard the International Space Station: The site is a testament to changing climate patterns, and to human resilience and exploration.
Thousands of years ago, when the region was considerably less arid, the basin was a lake, offering fresh water to wildlife, livestock, and humans alike. Even in times of drought, the lake remained, sustaining pastoral communities. Rock art and evidence of hearths dotting its ancient shoreline suggest long-term human occupation beginning about 10,000 years ago. Our presence in the area may be considerably older, however.
The Nefud Desert is a region that archaeologists and paleoanthropologists refer to as Green Arabia: For key periods during the story of human evolution and dispersal, climate patterns shifted and this now sun-baked desertscape transformed into an area of grasslands, rivers, and lakes. Researchers have found numerous sites with stone tools around Jubbah, suggesting Homo sapiens may have first left Africa via this green corridor. In 2018, a partial human finger bone, found nearby and dated to at least 85,000 years old, confirms that at least one population of early humans passed through.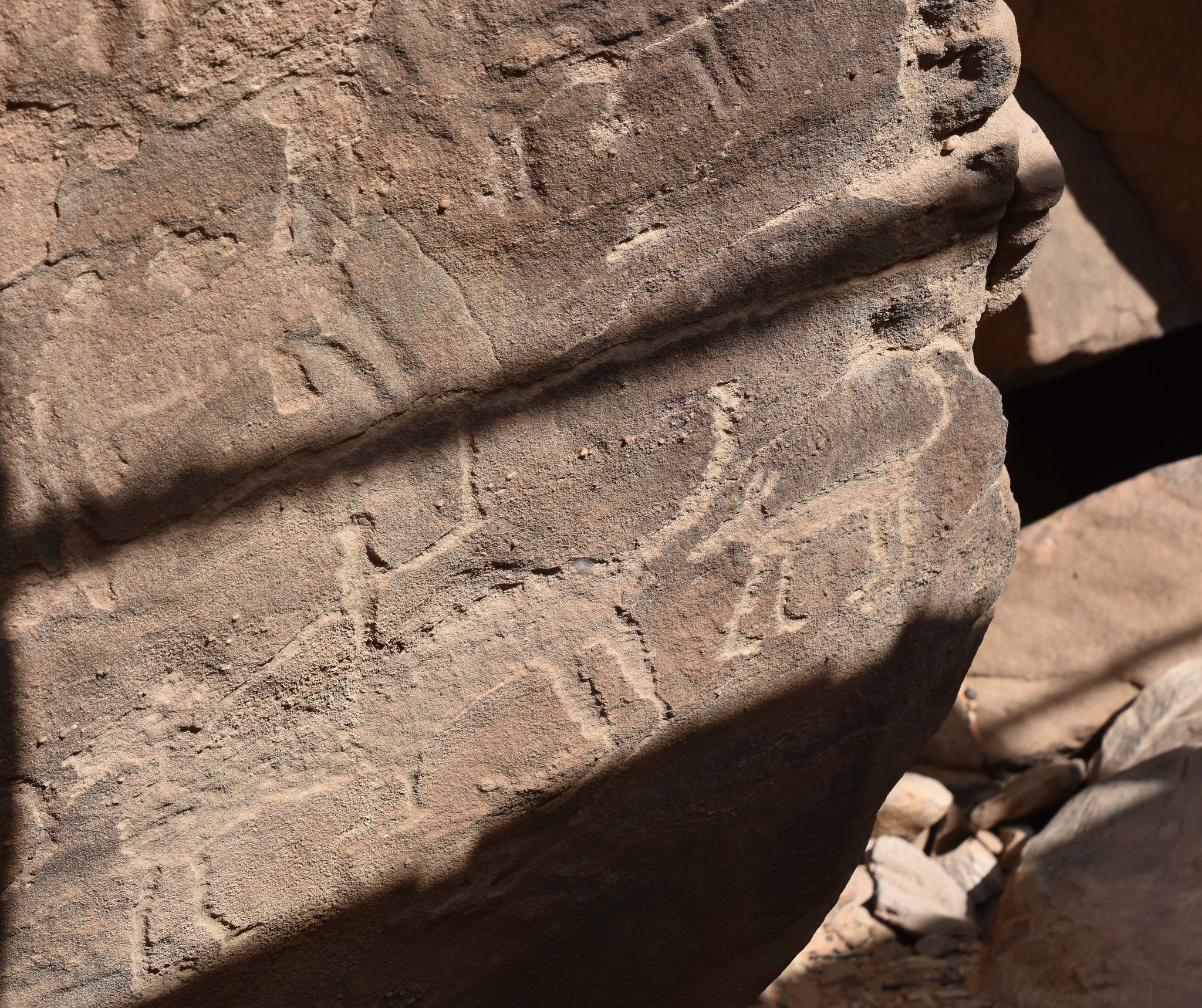 The paleolake at Jubbah, and the oasis there today, exist courtesy of a quirk of local geography. Due west of the site, the massive sandstone formation known as Jebel um Sanman, or Jabel umm Sinman, rises sharply up to 1,300 feet from the desert floor. The mountain had been the protector of first the lake and now guards the oasis settlement. Powerful westerly winds rushing across the flat desert hit the dark rock and break around it like water cleaved by a ship's bow, leaving the basin unscathed. Jebel um Sanman itself is home to some of the most important early rock art on the Arabian Peninsula, and is recognized by UNESCO. Some of the petroglyphs are of humans hunting with dogs, and represent the earliest known depictions of our canine companions in the region.