A Guide to "Les Puces": The Oldest Flea Markets in Paris
In his 1928 novel Nadja, André Breton, leader of the French surrealist movement, describes the experience of finding an object in a flea market as capable of "admitting [him] to an almost forbidden world of sudden parallels, petrifying coincidences, and reflexes particular to each individuals of harmonies struck as though on the piano, flashes of lights that would make you see, really see."
Breton illustrated the chapter in his book with surrealist photographer Jacques-André Boiffard's picture of the Saint Ouen Flea Market, which in turn became a symbol of surrealist ideology: a place full of possibilities for chance encounters.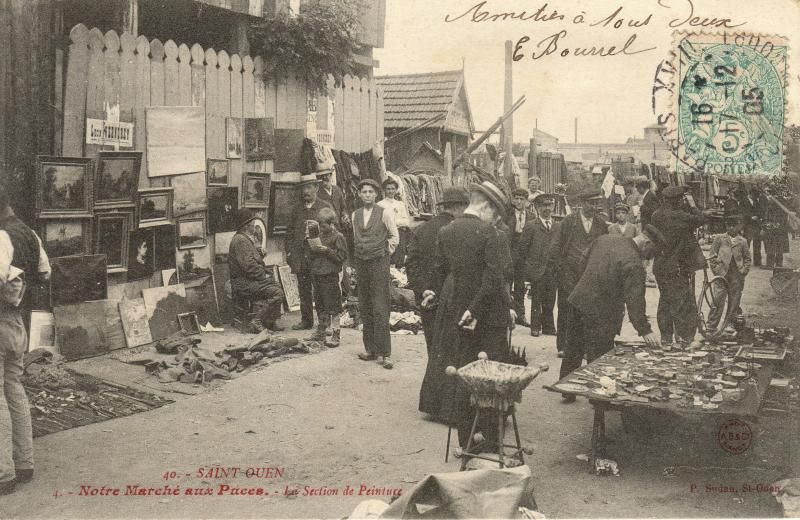 The story of the Saint Ouen flea market started in the 1870s when ragpickers, evicted from the center of Paris for insalubrity — in other words for being unwholesome and unhealthy — installed their bazaar in Saint Ouen, situated in the capital's northern periphery.
The first version of the market was truly odd. Items, usually founds in upscale Parisian garbage, were piled directly on the dirt or towered in stacks alongside the road. To rectify this chaos, Saint Ouen's municipality reorganized it in several markets along Rue des Rosiers, providing the bric-à-brac dealers with water and electricity and the possibility to rent a wooden stand to display their goods.
In 1908, with the opening of a metro station, the Saint Ouen flea market became a highly popular attraction, drawing in hundreds of Parisians each week, all thrilled by the eccentric displays and opportunity for a good deal. With a steady flow of patrons to the flea markets "Guinguettes" — a type of small bar and restaurant where one could drink cheaply — and other entertainment venues began appearing. Music, above all "manouche jazz," became a fundamental part of the faubourg or "suburban" atmosphere.
Ageless venues like La Chope des Puces hosted tremendous parties where Django Reinhardt, his Hot Club de France quintet, and generations of gypsy musicians have come to get wild and swing the place to the rafters.
Nowadays the flea market has changed, having grown more touristy, with entire sections selling nothing but t-shirts and new shoes. But don't be discouraged if you see only hippy jewelry and street-wear, it simply means you are in the wrong market.
The best "marchés" are to be found in a labyrinthine set of streets all merging to Rue des Rosiers. The most ancient — Marchés Vernsaison — remains the closest to the old time antique hodgepodge of a hundred years ago. Named after its founder Jules Romain Vernaison, this market and its tortuous alleys present an unlimited variety of randomly wonderfully odd things: Japanese woodcuts, dolls, hybrid taxidermy, China, ancient devices… the only rule being the perennial "early bird catches the worm," at least if you want to find treasures for reasonable price.
Marché Paul Bert possesses a less arcane layout and its wares are more artful. Some dealers displays, like Pierre Bazalgues', embrace a refined curiosity cabinet aesthetic, provoking astonishment and pure visual pleasure. Rue Paul Bert is itself full of surprises: after a moment of disorientation at the nearby Colonial Concept at No. 8 — a menagerie of taxidermy, fossils, and other natural wonders — you'll find a thousand and one treasures at every price on the tables of the street sealers, from 1960s french records to ex ossibus (from the bones) relics.
Visiting Saint Ouen Fleamarket on a spring Sunday, sitting at the terrace of a manouche jazz guinguette to sip an espresso, is for a lot of Parisians a highly esteemed ritual. Saint Ouen's dreamlike, surrealist beauty created through an accumulation of mysteries and amazements serves as an outdoor museum that gathers both curious objects and curious people.
Travel Notes: It is useful to get a map of the area. Try to be very discrete with your cellphone, wallet, and money in general: the way between the metro and the actual antique market is paved with thieves and gambling game encouragements.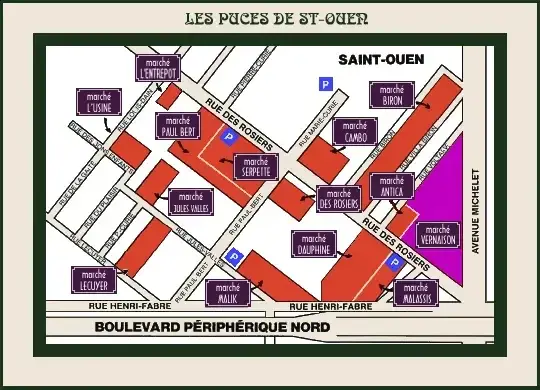 Above is a map of the various flea markets and below is a list of five of our favorite stops when visiting "Les Puces" or "the Fleas" as they are called.
No. 1: François Richard's Scientific Devices and Odd Machinery - Marche Vernaison, Rue des Rosiers, Allee 3, Stand 107
A charming flea market shop dedicated to scientific equipment and retrofuturistic objects, it is something of a holy temple for obsolete modernity and a wonderful trip down a clanking, humming, hissing and wondrous memory lane. If you have questions about anything, be sure to ask François.
No. 2: Francois Daneck 's Colonial Concept - 8 rue Paul Bert, saint Ouen, Saint-Ouen
Here is a collection of antique taxidermy and natural specimens, complete with a polar bear in the piano room, alligators on type-writers, and a general assortment of naturual wonders (all antique) beautifully arranged.
No. 3: Alain Baroux 's Antique Curiosity Cabinet - 99 Rue des Rosiers , Stand 90 - Allee 5, Saint-Ouen
An antique curios dealer and hybrid taxidermist, Monsieur Baroux sells natural history objects, exotica, and other traditional curiosity cabinet items, but his real specialty is his own creations. He transforms dusty taxidermy mounts into fantastic creatures that will make the standard two-headed ducklings and jackalopes pale in comparison.
No. 4: Pierre Bazalgues Macabre Antique Stand - Rue des Rosiers, Stand 221 - Allee 4, Saint-Ouen
Skeletons, medical artifacts, and other obscure and precious treasures are all displayed in a wooden pharmacist's cabinet. A true "memento mori" specialist, Pierre Bazalgues' eye for the morbid brings together animals skeletons, plaster écorches, and human skulls into breathtaking displays.
No. 5: La Chope des Puces: Temple of Gypsy Jazz - 122 rue des Rosiers, Saint-Ouen
After walking through the complex of 2,500 to 3,000 flea market stalls, winding your way from colonial taxidermy, through medical specimens, among mysterious science antiques, and between the skulls and skeletons, one can grow quite exhausted. There is no better place to rest the feet and drink a beer than La Chope des Puces an iconic and eccentric bar home to the original manouche jazz. If you are lucky you may catch a Gypsy Jazz show in progress!