70 Percent of the World's Macadamia Nuts Came From One Tree in Australia
Call it the Genghis Khan of macadamias.
Last summer, a shocking discovery rattled the relatively stagnant field of commercial macadamia nut research. The vast majority of the world's commercial macadamia crops originated from a single 19th-century tree in the tiny town of Gympie in Queensland, Australia, according to a new study in Frontiers in Plant Science. It's basically the Genghis Khan of macadamia nut trees, progeny-wise.
The researchers collected hundreds of DNA samples from macadamia trees in the trees' native habitat in Queensland and compared them to samples of commercially grown trees from Hawaiʻi, which produces 70 percent of the world's macadamia varieties. This comparison revealed that all of Hawaiʻi's macadamias share distinctive markers with a tiny wild grouping of trees in Gympie, suggesting that all of the state's modern crops were likely cloned out of a single Australian tree. In other words, 70 percent of the world's macadamia varieties can be sourced back to a single tree or a couple of trees in Gympie, according to a statement from Craig Hardner, a horticulturalist at the University of Queensland and one of the researchers leading the study.
"A small collection of seeds were taken to Hawaiʻi at the end of the 19th century and historical records suggest that there was maybe six trees grown from that sample of nuts that were taken by Robert Jordan and planted in his brothers' backyard in the suburbs of Honolulu in 1896," Hardner told ABC News.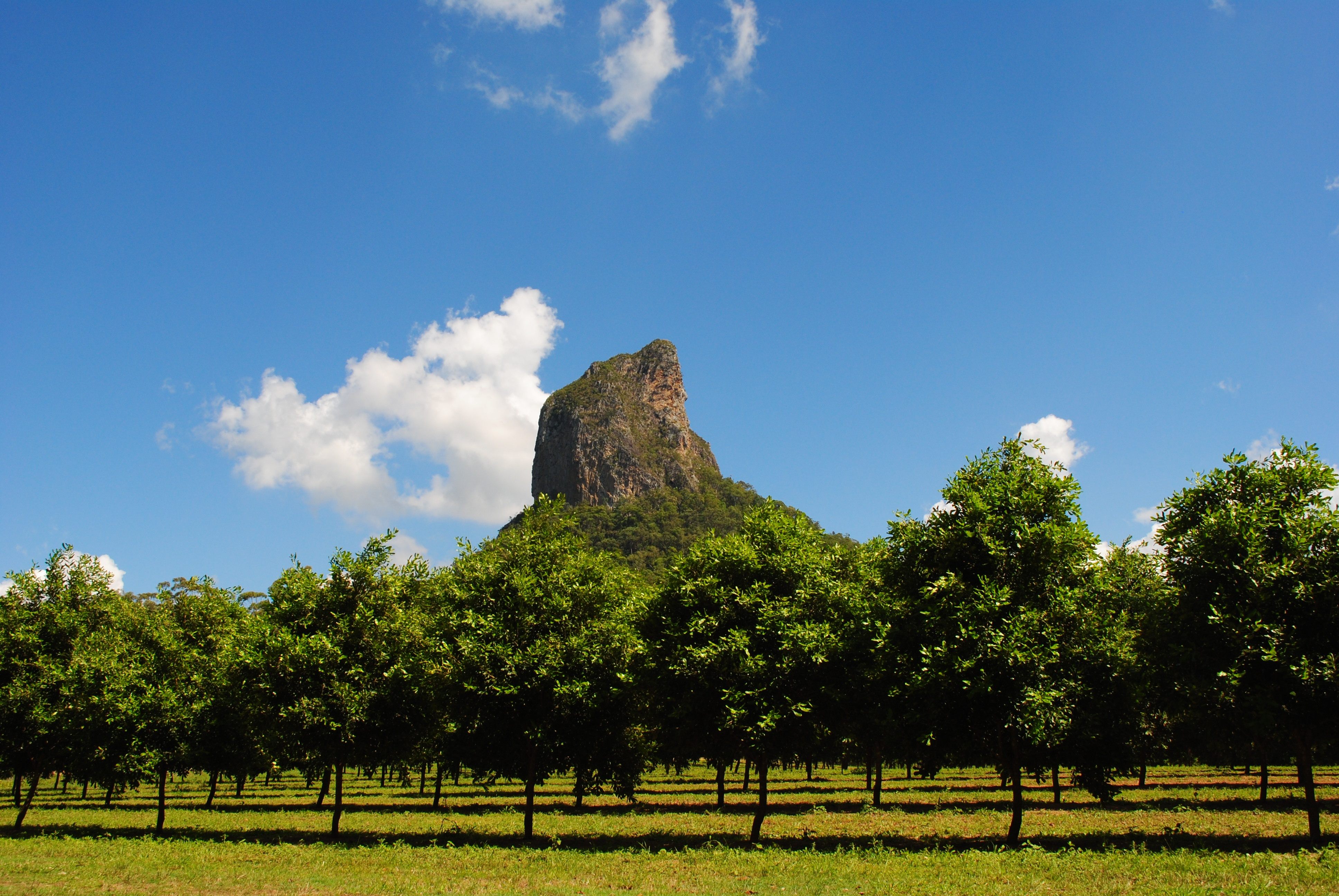 Like many tree crops, macadamias are reproduced via grafting. So commercial orchards often contain thousands of trees but just a few individuals, according to the study. This remarkable lack of genetic diversity places macadamia crops at a higher risk of succumbing to disease or changes in climate than trees with a more diverse population, according to a report in The Guardian. In comparison, wild Australian macadamias boast a rich diversity despite their narrow habitat of subtropical forest, the study found.
Macadamias are no small affair for Queensland. In the 1860s, King Jacky, the Aboriginal elder of the Logan River Clan and the world's first "macadamia nut entrepreneur," was the first to commercially market the nut to settlers. The world's oldest known cultivated macadamia nut tree, planted in 1858, still grows in Brisbane's botanic gardens. In 2017, the nuts comprised 14 percent of the Australia's horticultural exports, according to The Guardian. Queensland has paid fitting tribute to its nut-spreading legacy in the form of the Big Macadamia Nut. The nut, which stands 52 feet tall, is one of Australia's 50 Big Things, which include other fruits such as a Big Bunch of Bananas and a Big Avocado.
Of the four wild macadamia species living in Queensland today, three are threatened and one is endangered, the study notes. While collecting samples, the researchers stumbled upon one tree grown in Hawaiʻi that they were unable to trace back to the wild. So they've asked local, would-be nut-spotters to get involved in identifying old, wild macadamia nut trees that could hold this missing genetic diversity. So if you happen by Queensland anytime soon and spot the telltale strands of green nuts hanging from a tree, send a leaf sample here and you may help preserve Australia's fattiest wild nuts.
Gastro Obscura covers the world's most wondrous food and drink.
Sign up for our email, delivered twice a week.