Documenting the Beauty of Italy's Abandoned Villas
The photographer Eleonora Costi spent the last four years tracking down her country's crumbling treasures.
Four years ago, Eleonora Costi, an Italian photographer based in Florence, was skimming through a local paper when she came across an article about an abandoned 14th-century villa located just few miles north of Milan. "It sounded like a good location to take photos, so I decided to go and check it out," she says. "The first thing I remember is a vivid scent of wet wood and a haunting silence."
Originally built by the Pusterla family, the 10-acre estate was later acquired by the Cirivelli and Arconati families. During the 19th century it became known as "Villa Napoleone" after Napoleon Bonaparte used it as his headquarters during the Italian chapter of the French Revolutionary Wars. By 1879, the government had converted the estate into one of the largest psychiatric facilities in the country. It wasn't until after 1978, when a new law called for the dismantling of psychiatric hospitals, that the nearly 700 year-old estate was abandoned. No effort has been made to restore it since.

"It was dark, damp, and really quiet," Costi says. "It's a kind of surreal silence I have been feeling only in abandoned places. As if anyone could come out from behind a corner at any time."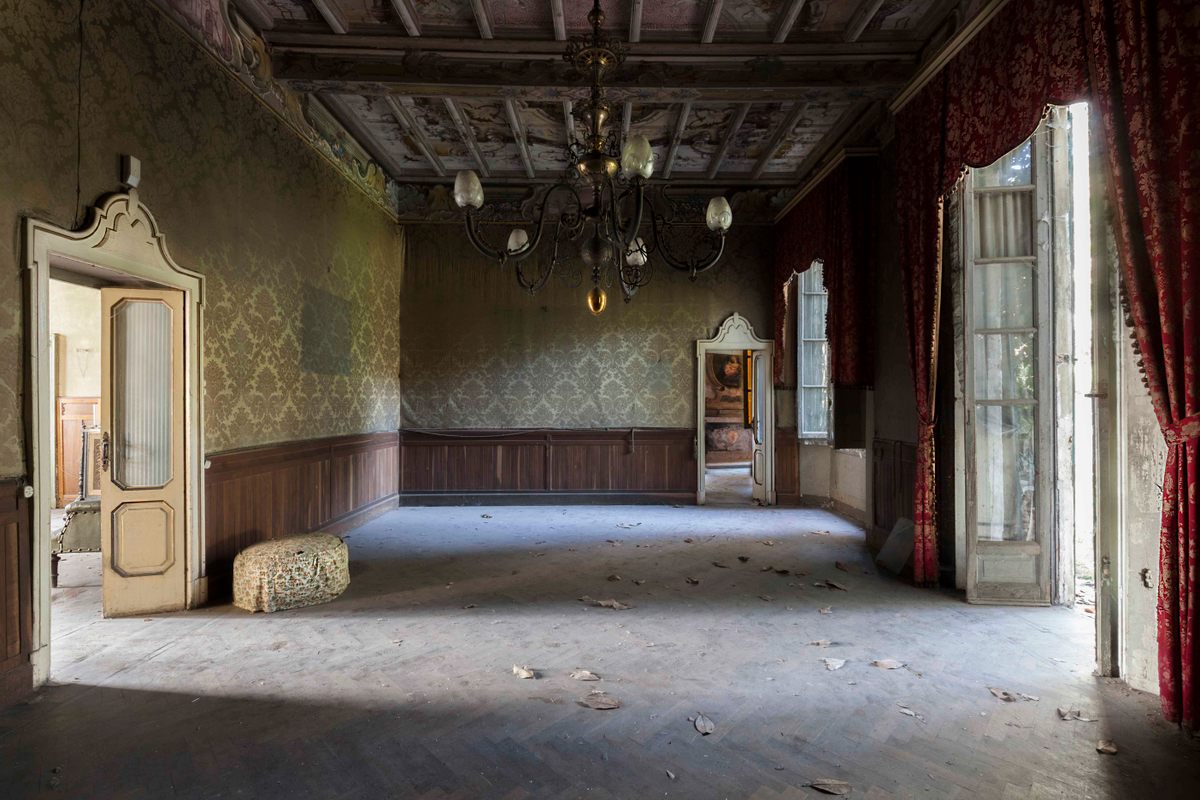 Since that first trip, Costi has visited more than 50 abandoned villas across northern and central Italy. "Once you start researching, you realize that there is a whole world of abandoned places out there."
Over the years, she's developed a varied methodology to find such hidden gems. Sometimes it's about entering the right string of keywords into Google. Other times, she searches local papers to see if anyone is mentioning a villa that is crumbling or a family from the area that used to own one. Google Earth also helps. "If you pay attention to the right kind of signs, you can spot them from above," she says. "For example, if a roof seems like it has some crumbling parts, that is usually a promising clue."
Less often she gets advice from fellow photographers. But as you can imagine, explorers interested in abandoned spots can be pretty secretive about the locations of their discoveries.
"It's not unusual to run into people during a shoot," she says. Typical encounters include photographers, writers, petty thieves looking for copper wires or marble blocks, and sometimes, owners. "I once met an elderly lady who owned one of the villas. After I complimented her house, she told me: If you like it, it's yours!"
For many Italians who inherit hundreds-year-old properties, the windfall can end up more a curse than a blessing. "Very often people can't keep up with high taxes and maintenance costs," Costi explains, "let alone financing restoration works."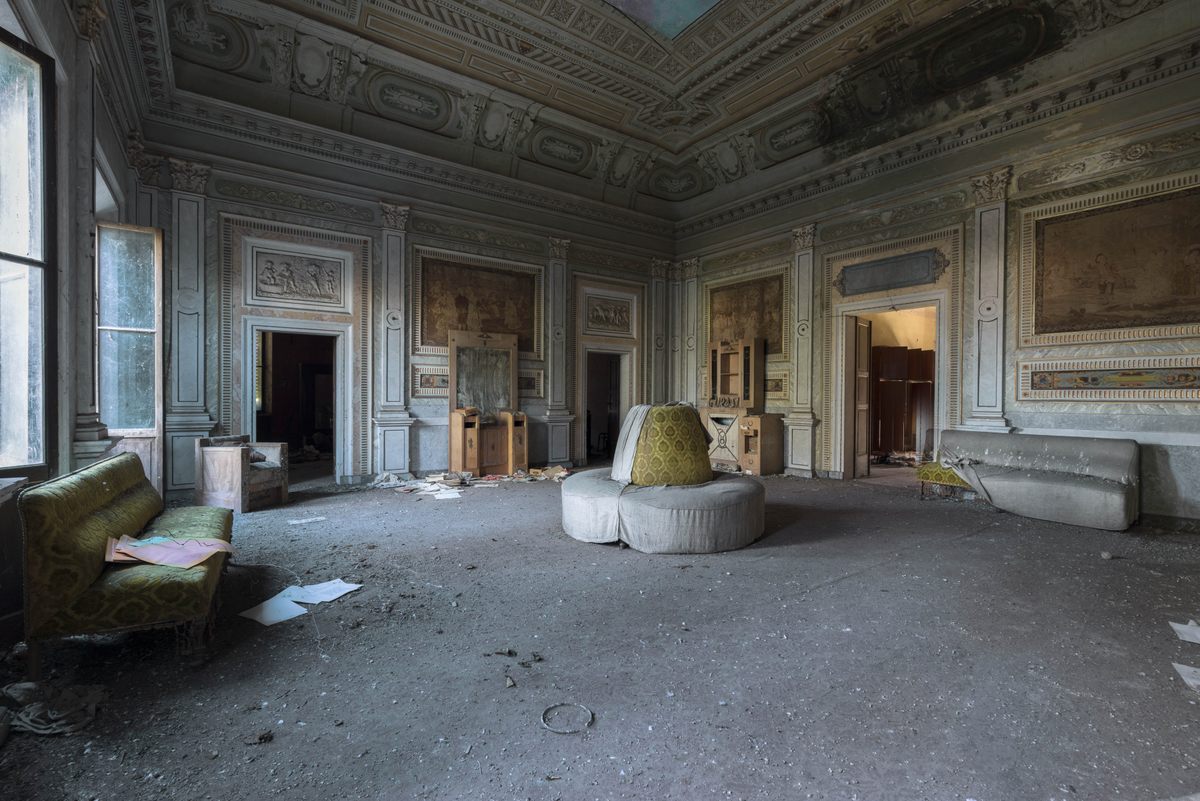 Part of what drives Costi's work is the desire to create awareness about Italy's abandoned villas, with the hope that someone might step in to preserve them.
"I know that many people find the decadence attractive, but for me what's striking about these places is the persistence of beauty," she says. "It's striking to see a fresco from 300 years ago still standing despite the neglect."
Decades of rainfall and the damage caused by earthquakes, which are not uncommon in central Italy, do eventually take their toll. "When you come into a place and see water infiltrations in its foundations, you know that there is very little one can do." In other cases, however, restoration efforts can make a difference.
"My favorite villa so far is one I photographed two years ago, just outside Milan," says Costi. When the photographer first visited it, this particular mansion was in pretty bad shape. Walls were cracked and parts of the ceilings had collapsed on the floor. But thanks to intensive renovations it has since been restored and a family now lives there. Costi's photos were used in the online ad seeking a buyer. "Sometimes a good photo can help," she says.
That was the case with Sammazzano castle. For decades, most people had no idea that a few miles outside of Florence lay a semi-abandoned Moorish-style castle built by an eccentric prince in the mid 19th century. But in recent years, partly thanks to social media campaigns that circulated stunning photos of its interiors, more than 50,000 citizens signed public petitions to demand its restoration. Last June, the castle was sold to a Dubai-based company for €15.4 million. "The government did not do much," Costi says. "But at least now everyone knows about it."

Finding the best spots to capture sumptuous interiors or decadent facades is clearly an important part of Costi's work. But so is the ability to imagine how these places used to look, sound, and feel when they were still inhabited. "Sometimes I try to capture a detail that can suggest something about the people who used to live there," Costi says. A couple of years ago she entered a villa that was probably owned by an artist, as she found a room filled with just an easel and paints. "Everything in there, from bed sheets to newspapers to kitchenware, looked like it was left exactly as it was."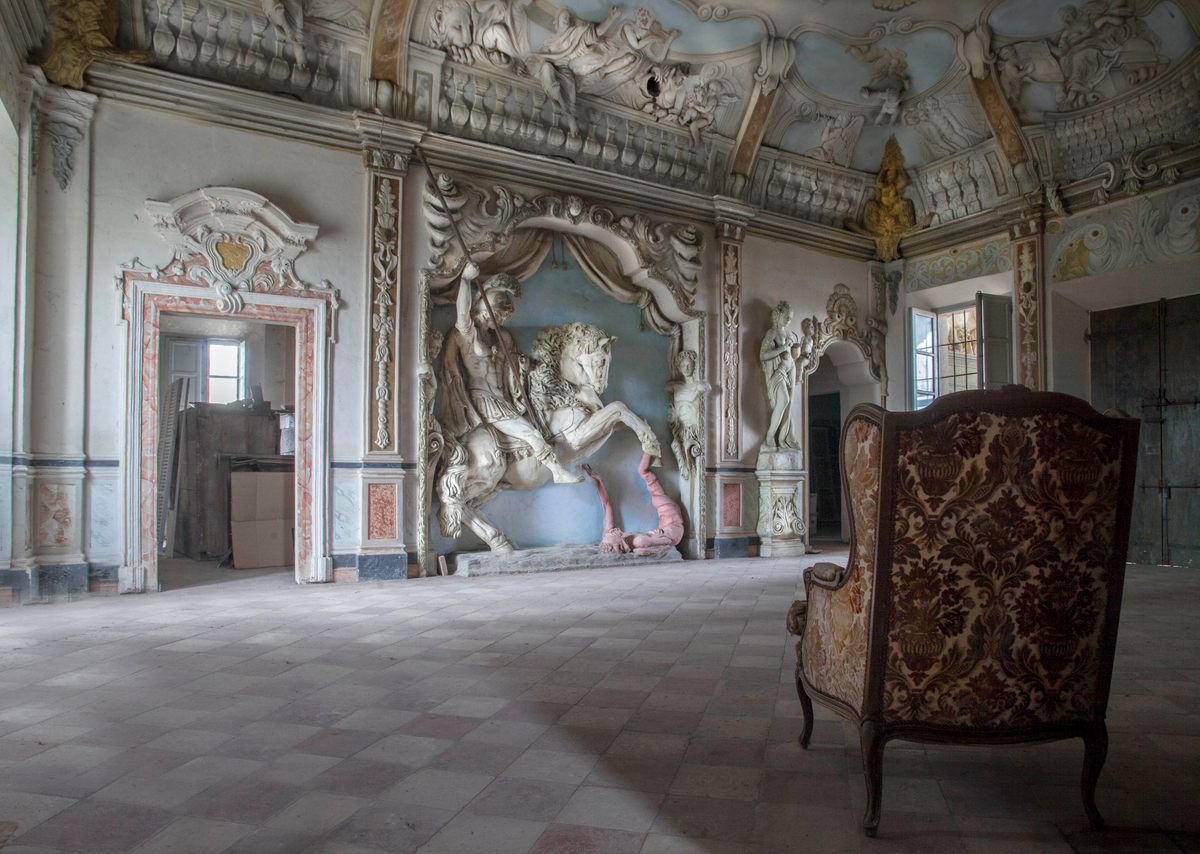 The feeling, she says, is almost like traveling back to a moment frozen in time. "I can barely scratch the surface of these long-lost private worlds, but can't help but feel a sense of nostalgia for a time that's gone and will never come back."