Welcome Back, Hunger Stones
In the past, the appearance of these rocks has portended bad famines, good wine, or nothing at all.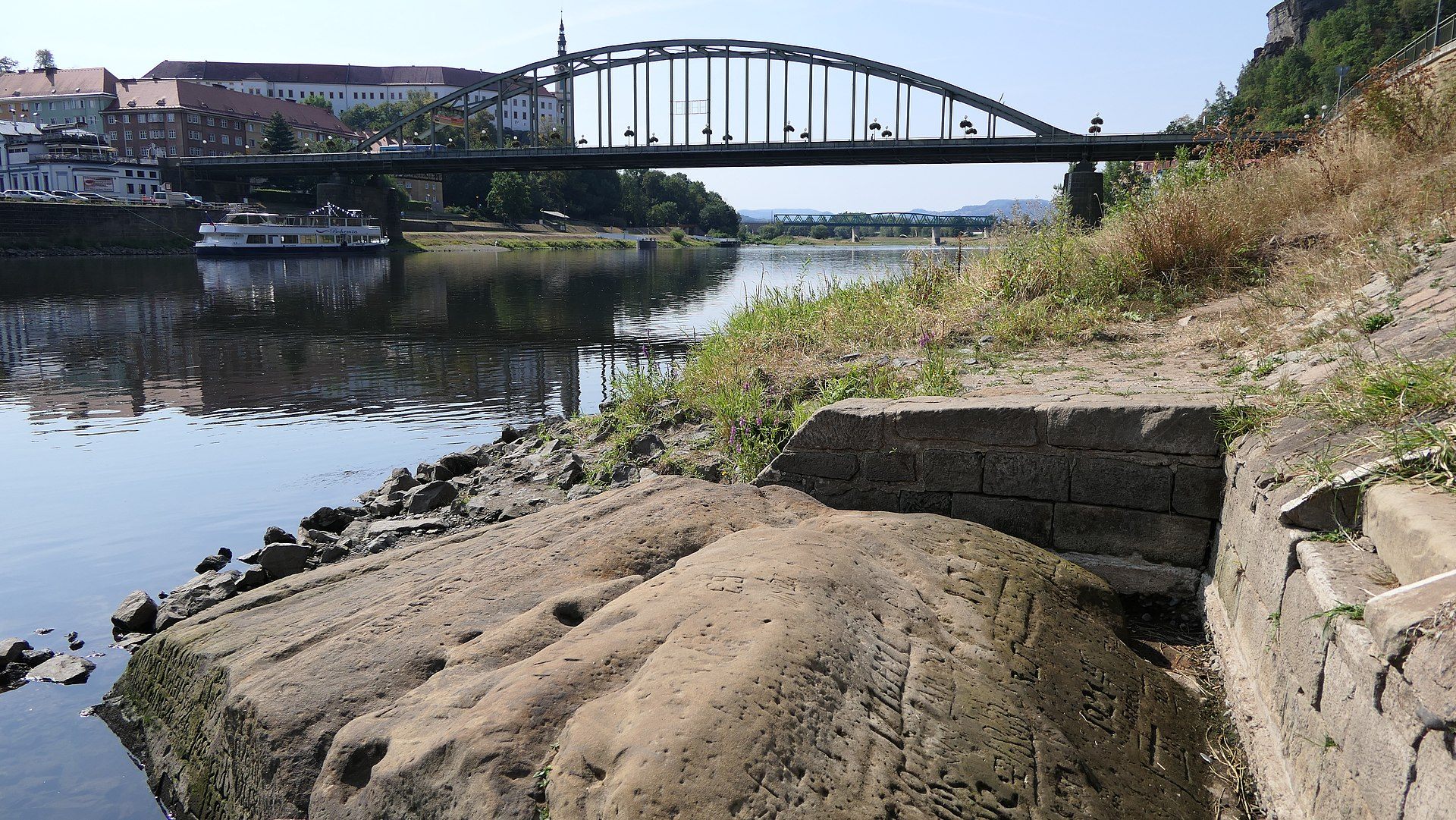 Bad news, everyone: The stones are talking again. As the Associated Press reported in late August, the "hunger stones" of Děčín, Czechia—riverside rocks carved with the dates of past droughts, as well as portentous inscriptions of doom and gloom—have surfaced in the Elbe River.
Hunger stones have been found as far afield as Pennsylvania, but they're most common in Czechia and Germany. They only come out when the water level is low, and this year's Central European heat wave has been enough to make over a dozen of them visible along the Elbe. Travelers on or around the river are now greeted by messages like "We cried—we cry—and you will cry" and "If you see me, weep."
Use of these stones dates back to at least the 1600s, if not earlier. They are conduits for messages from the past: warnings of the famine, heartache, and decreased mobility that droughts could bring. But every time they crop up, they're viewed through the lens of the present, too. Here are a few ways the international media has reacted to the appearance of hunger stones over the past hundred years.
1. Hunger stones are celebrities.
"Famous 'Hunger Stone' Appears In Elbe River" (The Lincoln Star, 1918)
2. Hunger stones present an opportunity to reflect on the advantages of modern life.
"Because inhabiants of drought-stricken districts can in this age call upon the food supplies of more fortunate areas, the 'hunger stones' may be said to have lost most of their prophetic significance." (syndicated article in The Tyrone Daily Herald, 1932)
3. The appearance of hunger stones is connected to personal responsibility.
"Needless to say, there are innumerable legends woven about the rock, and all of them are sad… mothers frighten their children with 'If you don't eat the crust of your bread you'll someday see the Hunger Stone.'" (The Springfield News-Leader, 1915)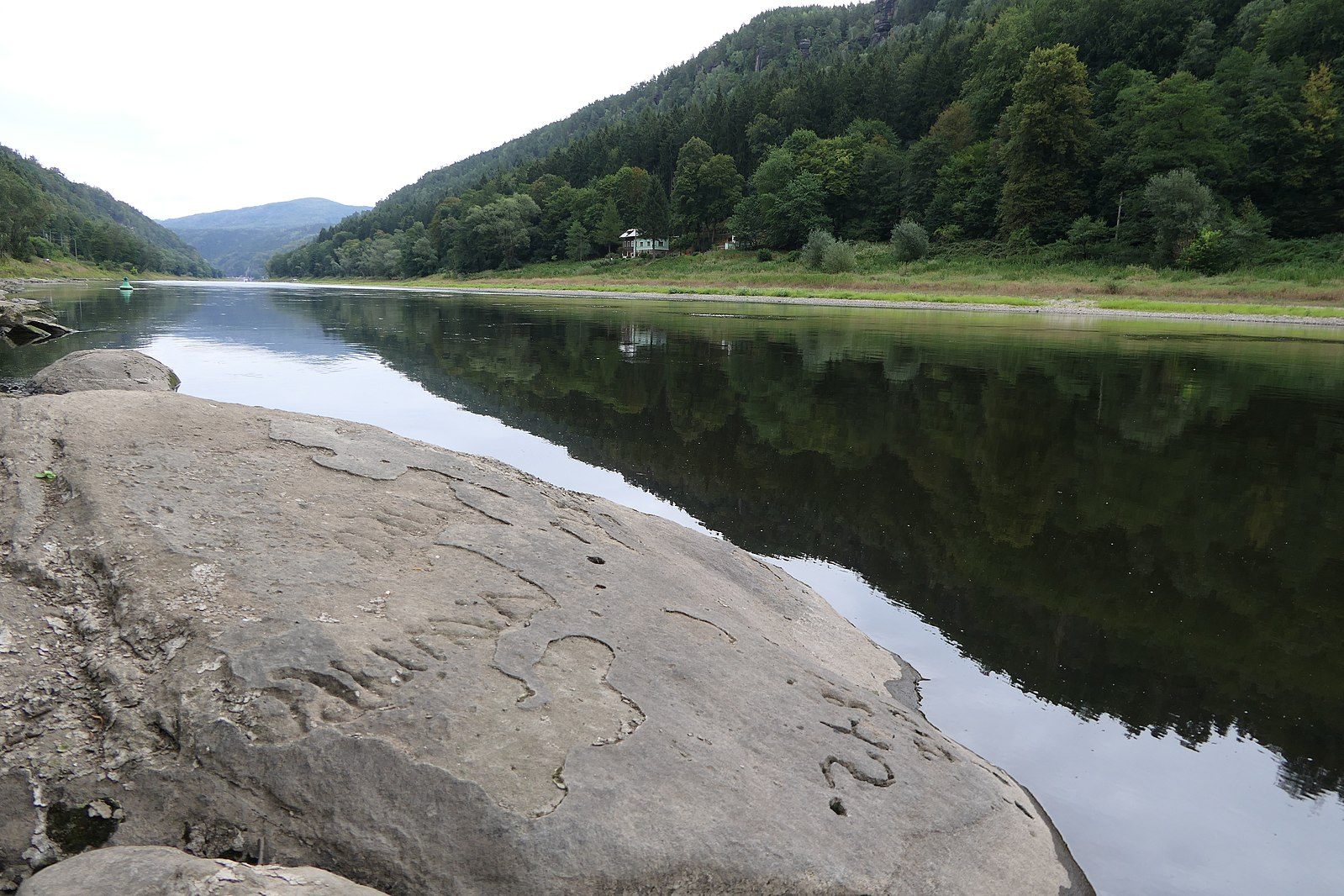 4. It's best to keep your hunger stones under wraps or risk a faux pas.
"'Hunger Stone' of Germany is Showing" (Jackson Daily News, 1918)
5. Hunger stones are metaphorically convenient.
"The legend runs that when the waters of the river fall away so as to bare the stone, calamity comes upon Germany… the truth of the prediction has been verified time and again, and now, once more has come true, for the water has reached the lowest level known for five centuries and so most certainly has Germany herself." (Albury Banner and Wodonga Express, 1919)
6. Hunger stones give us permission to panic.
7. Hunger stones are a good thing, actually!
"The water in the Rhine is so low that the famous 'hunger stones' are visible in various places. This means, as the experience of centuries has proved, that the 1928 wines will be unusually good. One of these stones was last visible in 1911 and 1921, and both these years brought famous vintages." (syndicated article in The Daily Notes, 1928)