Meet the Glowing 'Worms' of the American South
There is a lot to learn about Orfelia fultoni, the only bioluminescent fly in North America, but its larvae put on a show.
I turned off my flashlight and waited in the dark. Pale blue pinpoints began to appear, speckles that grew brighter the longer I stared. But they weren't stars. I wasn't even looking up. I was standing with a group in a gap in a wall of sandstone known as Hazard Cave. We had walked through sinking sand and up a small rise to the cave's back wall. Everyone had come to witness a distinctive nocturnal spectacle: "glow worms."
On that spring night in Pickett CCC Memorial State Park on the Cumberland Plateau, about two-and-a-half hours northeast of Nashville, Tennessee, we weren't looking at actual worms. The spectacle came from the larvae of Orfelia fultoni, the only bioluminescent fly in North America. Found generally around mountains and valleys from Kentucky to Alabama, O. fultoni larvae live in moist areas, usually deep inside caves or around their openings. They can also be found in dirt or on moss, tree roots, and logs; they've even been found inside manmade stone tunnels. Unlike fireflies, which glow from one end, these grub-like larvae, which fit easily on a fingertip, produce most of their light from each transparent end of their bodies.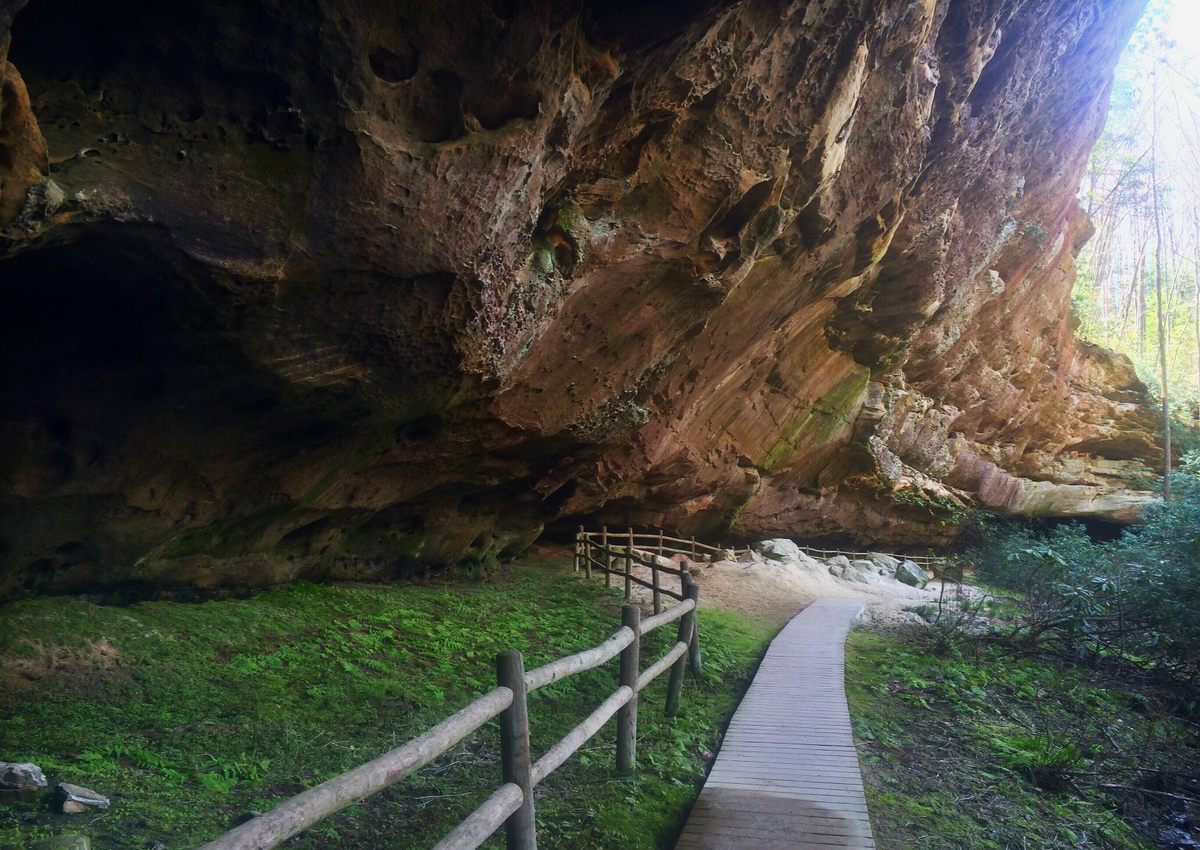 O. fultoni glow to attract flying insects to the mucus-covered webs they produce. Lynn Frierson Faust once witnessed a larva attacking some unfortunate prey. Faust, a firefly expert who has worked with National Geographic and BBC Nature, and wrote the guidebook Fireflies, Glow-Worms, and Lightning Bugs, has monitored two populations of these creatures for decades, and even discovered a previously undocumented population in the early 1990s. Because females return to the same place to lay their eggs every year unless the site is disturbed, she once spent a summer trying to find every colony discovered by another scientist, Thomas Barr, in the 1940s and 1950s. On one of these excursions, "It happened in less than a second," she says, "that [larva] caught it and pulled it back so fast; I mean, it happens instantaneously."
Faust's dedication has answered some of the questions about these unusual cave dwellers, but many questions remain. Faust once raised a larva to adulthood to confirm the color of O. fultoni's eggs. An earlier scientist had observed that the eggs were black, but did not know if this was normal for the creatures. Over the course of a year, Faust tried several techniques to secure a specimen for her experiment. First she tried catching one of these mosquito-like flies as an adult. She abandoned this after realizing she caught too many other flying insects to pick out a suitable candidate. Next she gathered larvae and the soil on which she found them to preserve their webs. She regularly misted them to mimic their natural humid habitat, but again the presence of other insects in the soil concealed O. fultoni individuals. Finally she collected a glowing larva, which successfully transformed into a glowing pupa, and then an adult that laid shiny, black eggs that confirmed the earlier researcher's observations.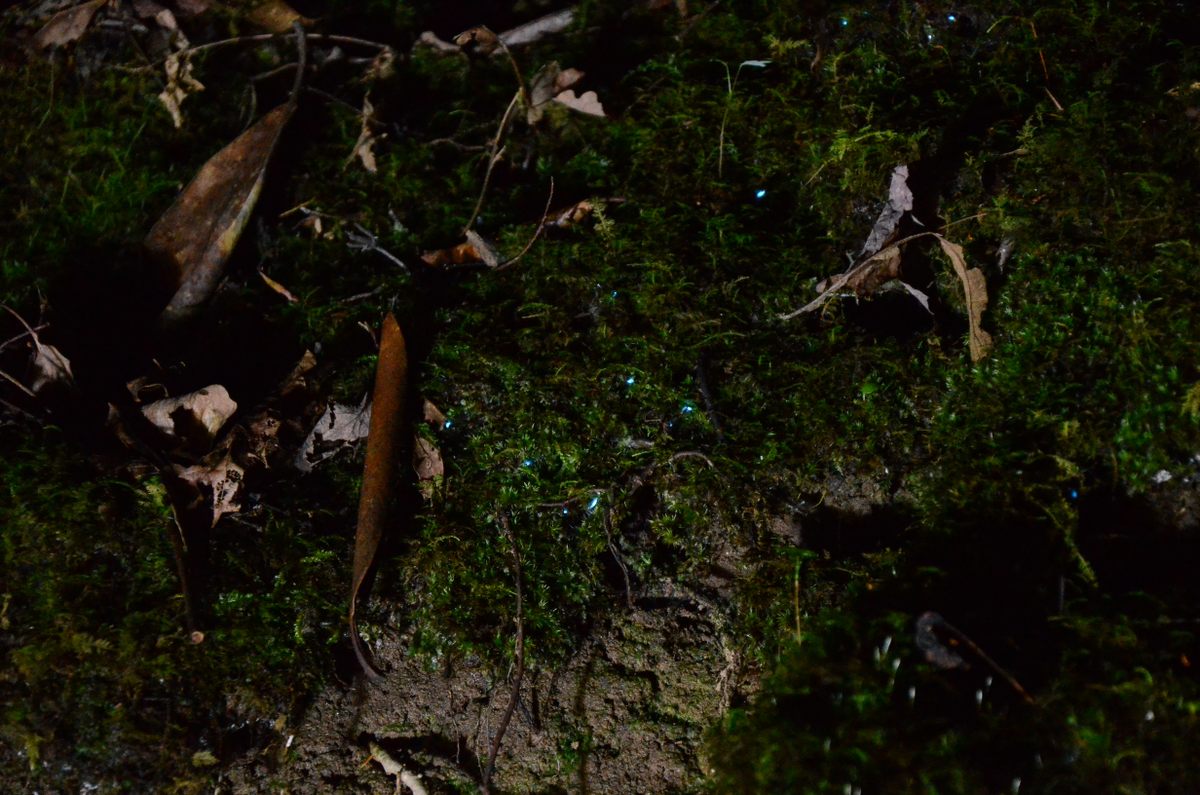 While the eggs Faust studied didn't glow, they didn't become larvae either. She wonders whether eggs that successfully hatch might actually luminesce, too. She also wonders if all larvae currently called O. fultoni are actually the same species. And she's seen how larvae that live outside of caves appear from April to early June and begin glowing at predictable times, but do some inside caves glow all the time? She's noticed that the larvae inside caves appear not to glow as brightly as those outside. Is this a real difference or a trick of our eyes? An earlier researcher's work suggested that spiders are attracted to O. fultoni colonies because the blue light attracts prey to their own webs. Is this true?
Like Faust, Vadim Viviani has been fascinated with glowing insects for decades. As a child, he saw a firefly near his home in Brazil and wondered, "A living organism can produce light? Why? So many questions arose in my mind, and since then I just started to look for fireflies everywhere." Now a biochemist and molecular biologist at Brazil's Universidade Federal de São Carlos, he has dedicated his career to studying the phenomenon.
Bioluminescence is seen around the world (especially in the oceans). It is an example of convergent evolution, in which organisms independently evolve similar traits. In fact, about 40 groups of organisms have developed the ability to produce light, and because each developed this skill independently, each uses different chemical processes. While all bioluminescence can be generally described as the result of a reaction between enzymes called luciferases, substrates called luciferins, and oxygen, the exact nature of these chemicals differs among organisms, with oxygen as the only common ingredient. For example, even though Australia and New Zealand's famous glow worms (from genus Arachnocampa) are in the same family as O. fultoni, they don't produce light the same way. Viviani and his colleagues are working to identify and clone the genes responsible for bioluminescence in O. fultoni. While this light is dim when seen in person, it is the bluest produced by any insect.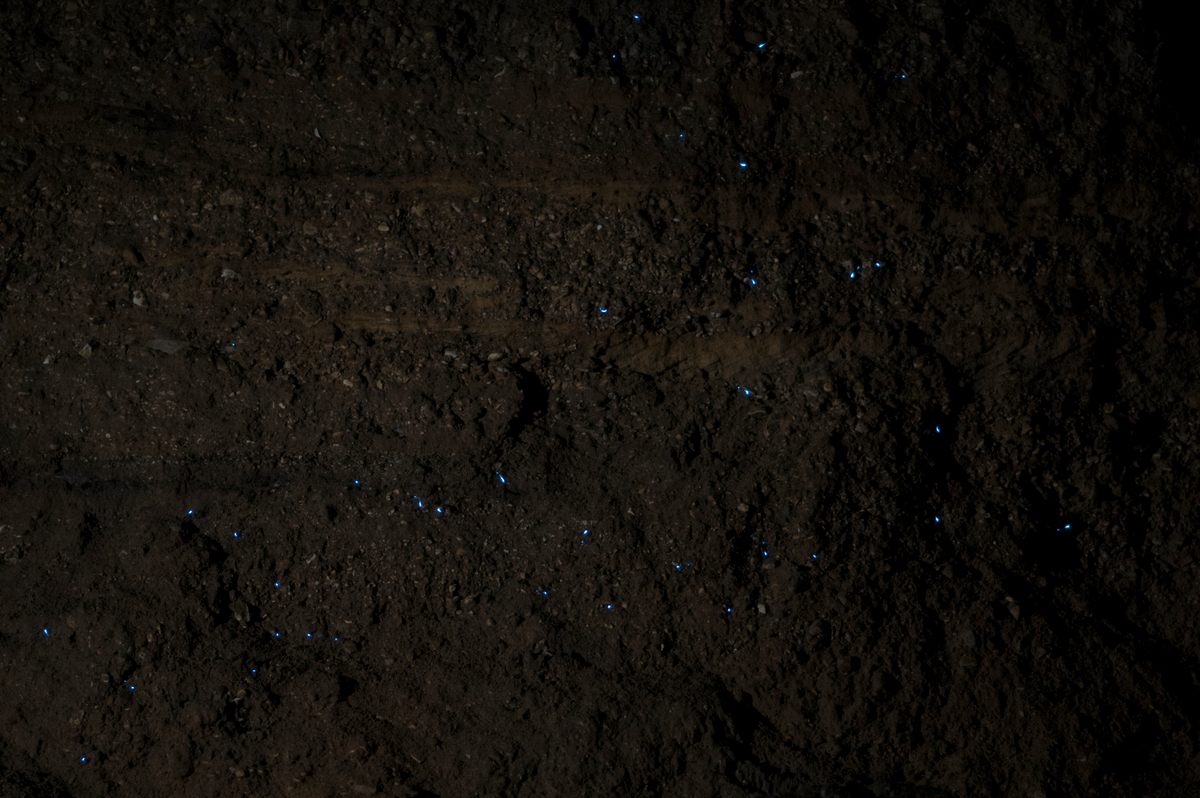 Understanding the process of bioluminescence has many applications, particularly in biosensors, which have been used to track the progress of viruses or cancer, identify pollutants in water, detect the presence of heavy metals in cells, and much more. But for Viviani, it's not this utility that keeps him motivated. "[It's] passion—I love bioluminescence," he says. And judging by the enduring popularity of watching and photographing fireflies, visiting bioluminescent waters such as Mosquito Bay in Puerto Rico, and "glow worm" tours at Pickett and other places in the region, it's clear that he's not the only one.
Perhaps people are simply attracted to the beauty or to the experience itself—a change in perspective caused by enveloping darkness and silence. Deprived of the senses by which we interpret reality, standing before flecks of light seemingly suspended in air, visitors can imagine themselves either floating in infinite space among the stars or towering above a world far below.
For whatever reason, we're attracted to these lights like the prey O. fultoni hunt. For Faust, that's a good thing: "It sucks people back into nature, which we desperately need."