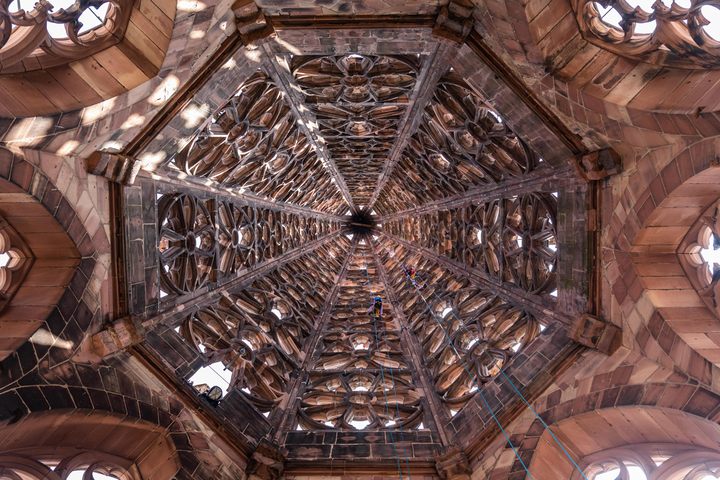 Caring for the Soaring Beauty of a Centuries-Old Stone Cathedral
The stonemasons of the Freiburg Minster in southern Germany go to great lengths—and heights.
Staring up from directly below into the kaleidoscope of stone that makes up the cathedral tower of Freiburg Minster is like gazing into the unblinking eye of some fantastical beast. A Swiss art historian in 1869 described it as having "the most beautiful spire on earth," and the awe the tower inspires could be from its soaring height of 380 feet or its massive, lacy stone filigree that opens to the sky.
This architectural marvel, along with the cathedral's accompanying elaborate doorway and whimsical gargoyles, was built in the Middle Ages by a workshop of talented stonemasons known as the Münsterbauhütte. Today the Münsterbauhütte still exists and is made up of approximately 15 members—stonemasons, sculptors, technicians—who care for and restore the cathedral's ancient stonework, which has survived both centuries and bombings during World War II. Their most important responsibility is to examine the building, stone by stone, for any new cracks and splits that could affect the structure's stability or injure people with falling fragments. One of the stonemasons' yearly tasks is to get up close and personal with the spire, hundreds of feet off the ground.
Modern technology has aided these efforts in recent years through the use of portable scanners and 3D printers to help with restoring stone parts or documenting statues. Yet much of the work of the Münsterbauhütte is historic in nature—masonry techniques used for generations—and copies of sculptures and parts are still made with traditional tools to preserve the character and look of the stone. The combination of old and new helps preserve the wondrous views that have astounded visitors since medieval times. But surely the skilled and fearless team is thankful for modern helmets, safety lines, and harnesses.