Before the Easy-Bake Oven, Toy Stoves Were Beautiful and Deadly
They burned real fuel and caused real damage.
In Little Men, the sequel to Louisa May Alcott's Little Women, the once-tomboyish Jo gives a miniature kitchen to her niece Daisy. The centerpiece was a real iron stove capable of cooking "for a large family of very hungry dolls." But the best of it, writes Alcott, "was that a real fire burned in it, real steam came out of the nose of the little tea-kettle, and the lid of the little boiler actually danced a jig, the water inside bubbled so hard."
When I was ten, I read that chapter over and over. Fiercely envious of Daisy, I begged my parents for a kitchen like hers. Of course, they said no, and I had to content myself with an Easy-Bake Oven. But the idea of giving a 10-year-old their own wood-burning stove is not as fantastic as it may seem today. In 1871, when Little Men was published, such toy stoves actually existed. At the time, says Michelle Parnett-Dwyer, a curator at the Strong National Museum of Play, "a lot of little girls were being pushed into domestic play." For young girls of relative means, a toy stove could accustom them to future responsibilities. Yet too often, such toys proved to be phenomenally dangerous.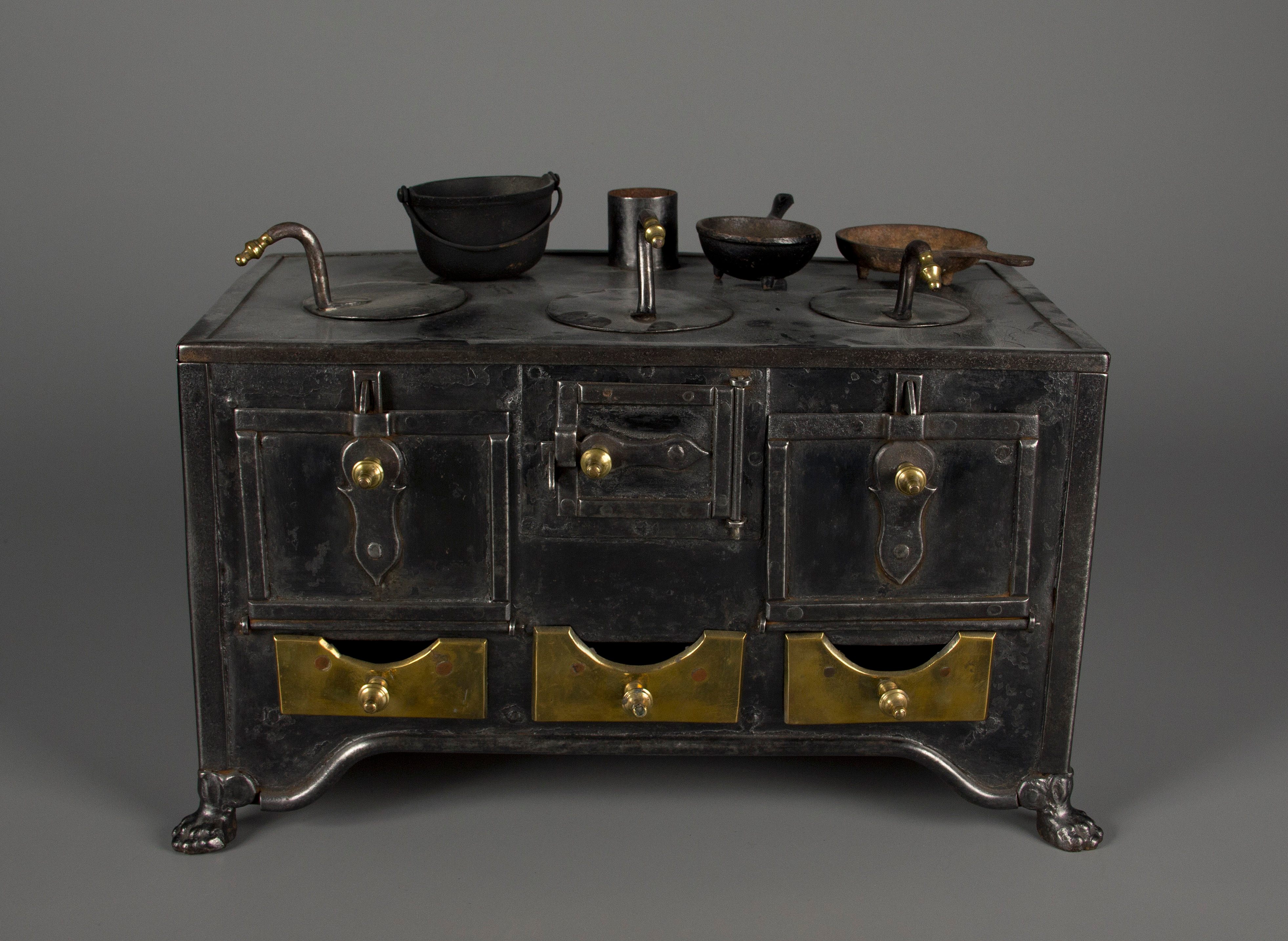 In the 19th century, wood and coal cookstoves, as opposed to open-hearth cooking, spread across the United States, writes historian Priscilla J. Brewer. Toy stoves soon followed, many of them exact replicas of full-sized stoves. Some stove companies constructed them by simply minimizing the proportions. This resulted in some of the positively baroque miniature stoves housed in the Strong's massive collection of children's toys and games in Rochester, New York. Many were cast with elegant designs, just like their larger counterparts. Later, says Parnett-Dwyer, both large stoves and toy versions came in gleaming, expensive nickel-plating.
Many families who could afford an elegant toy stove likely hired a cook for their real kitchen. But cooking was considered a valuable skill for even adult women of means, who could then teach hired help to prepare household dishes. In Little Men, Jo pretends that Daisy is her new cook and playfully instructs her on how to do the shopping and prepare meals.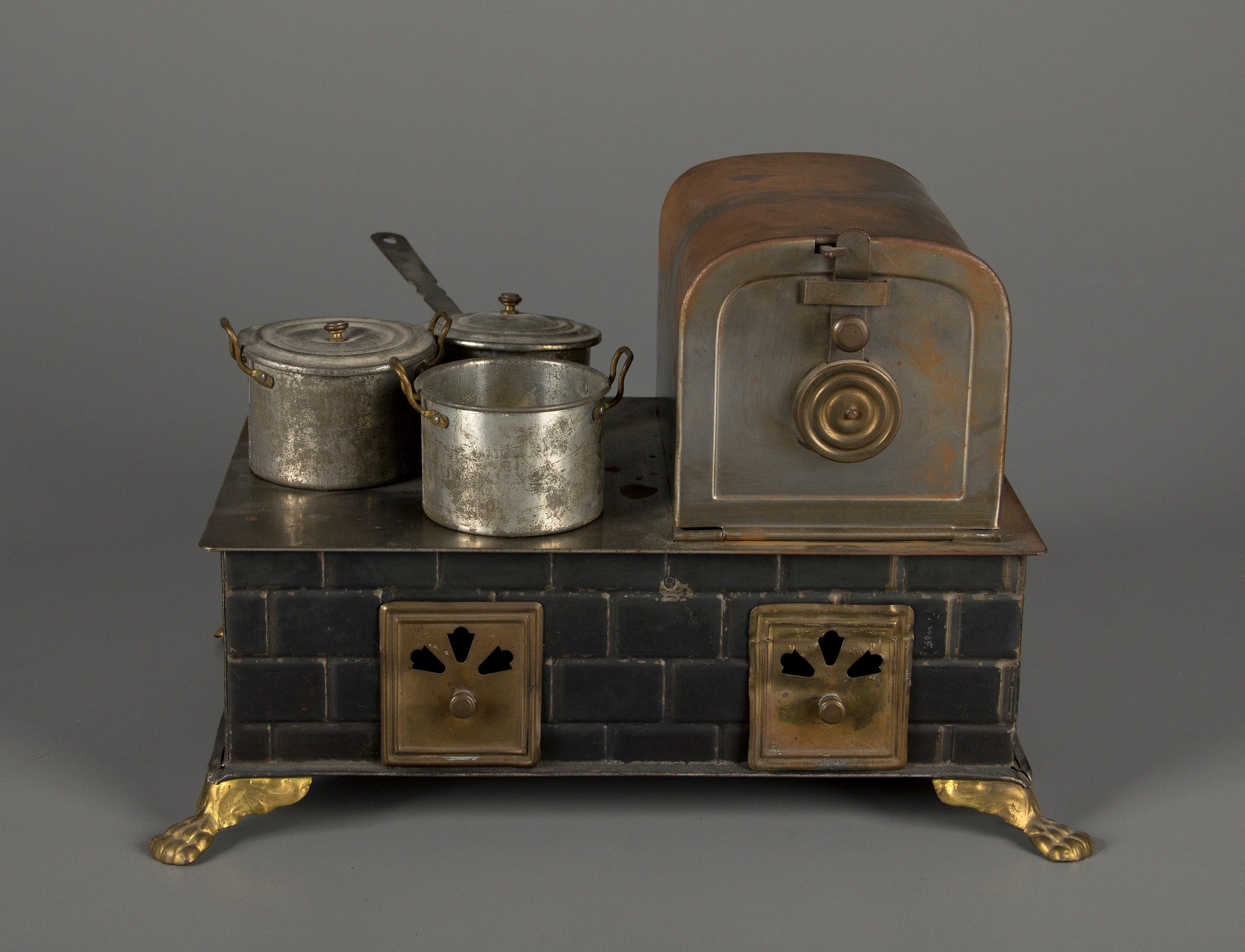 There were other reasons for parents to buy functional stoves for their daughters. As Parnett-Dwyer notes, not all families who could afford tiny stoves for their daughters had the money to hire domestic servants. Plus, the publication of Alcott's book coincided with a movement for more women to cook for their families: the beginning of home economics. Unlike the ease of modern appliances, using coal and wood cookstoves was laborious, especially since they were difficult to clean, maintain, and operate. Thus, Brewer writes, it "was best to learn this process in childhood, since cooking proficiency came only with long experience."
While the picture painted by Little Men enthralled me, the reality was more perilous. In September of 1890, Louisville's Courier-Journal recorded that while several children were playing with a toy stove, one of them, Ellen Hanson, "caught fire and was almost burned to death before she was rescued and the burning clothes extinguished." Ellen survived, but with severe burns and her hair singed away.
According to Parnett-Dwyer, "There's so many reports of children being injured," or even dying, from playing with toy stoves. In a case reported in newspapers around the nation in December of 1909, six-year-old Minnie Comin from St. Louis poured a bottle of kerosene into her toy stove, then lit it with a match: "as she had often seen her mother do in a real stove." The stove exploded, and the child ran to her mother in flames. Minnie perished, and her mother was fatally burned. Her father was injured trying to extinguish them both.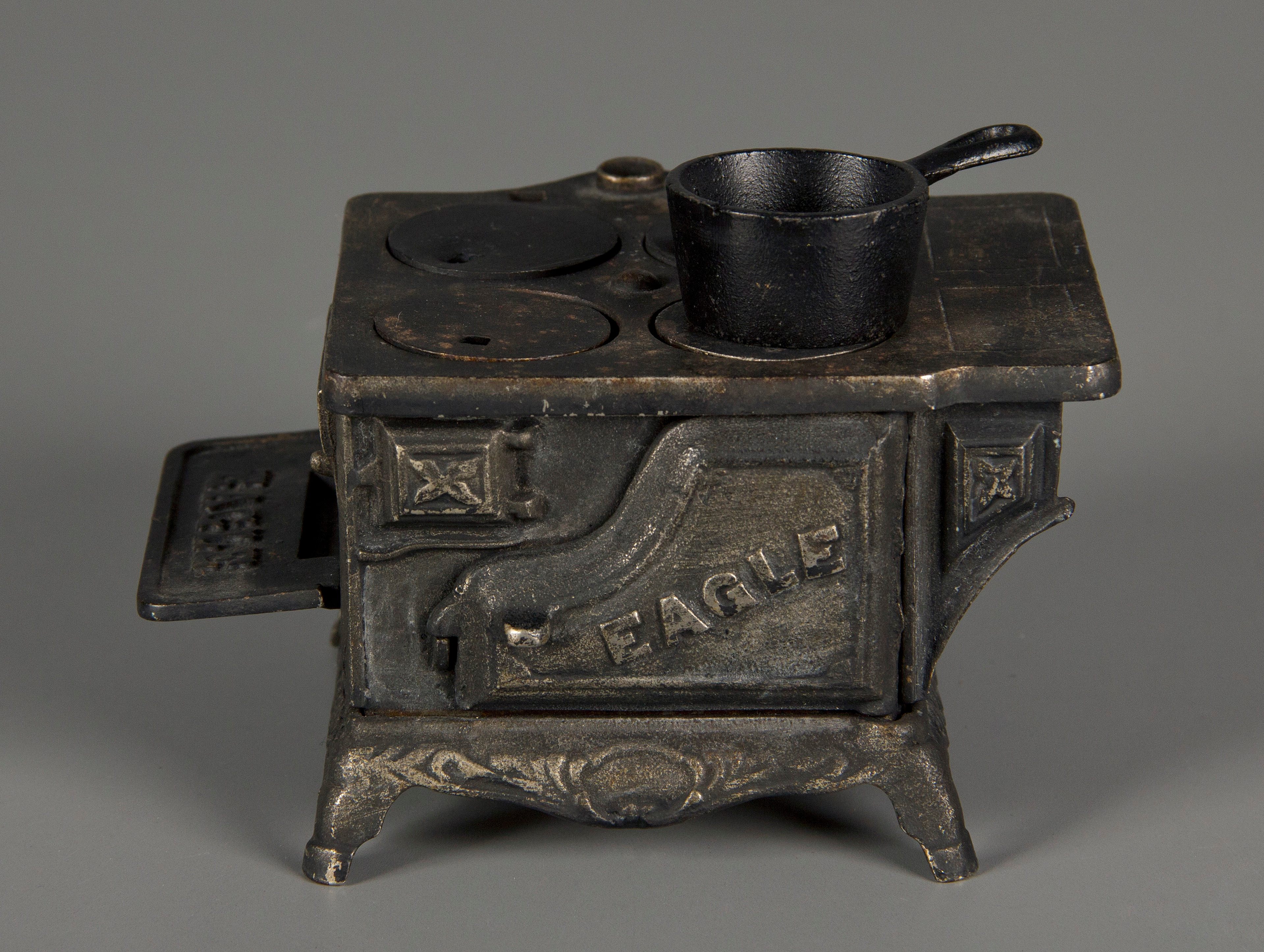 When oil and gas stoves emerged in the early-20th century, children's stoves mimicked the trend. One particularly spectacular stove in the Strong collection is a curlicued pillar from 1920, with the words "Superior Gas Range" displayed across the front. "It does work," Parnett-Dwyer told me, when I expressed surprise. "It was really functioning as an oven, and it had a stove top that actually burned gas. So a kid could use it to cook over an open flame."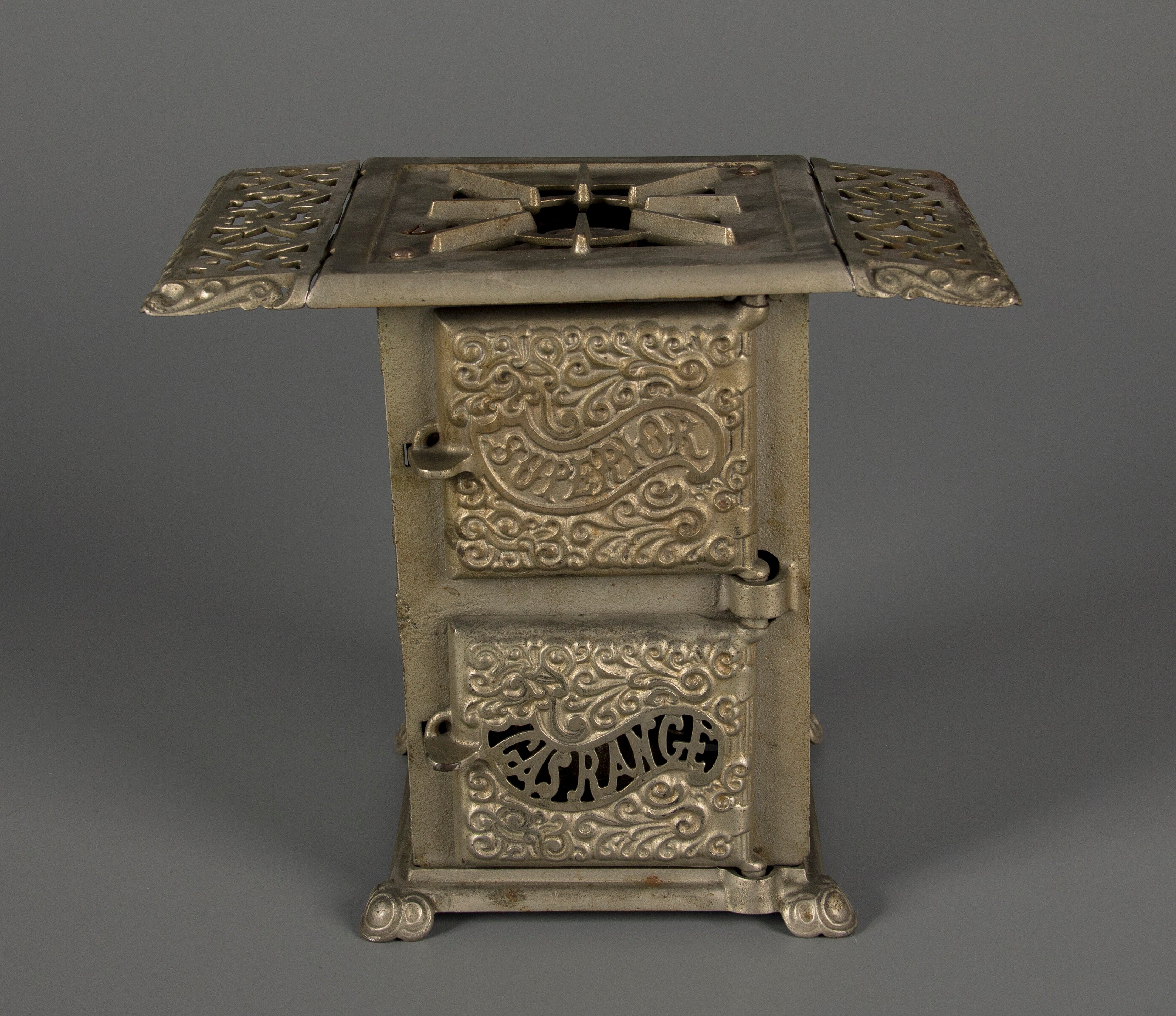 Of course, non-functional stoves could also be a boon. One 1914 advertisement assured parents that a toy stove was "Harmless" and "not to be lighted." According to Parnett-Dwyer, it was around this time when parents and toy companies caught on to how dangerous these playthings could be. "Then you start seeing the electric toy stove," Parnett-Dwyer says. "Which is still dangerous, but not as bad." A toy electric stove advertisement boasted in 1925 how it attached "to the house current" and possessed "two burners and a real oven."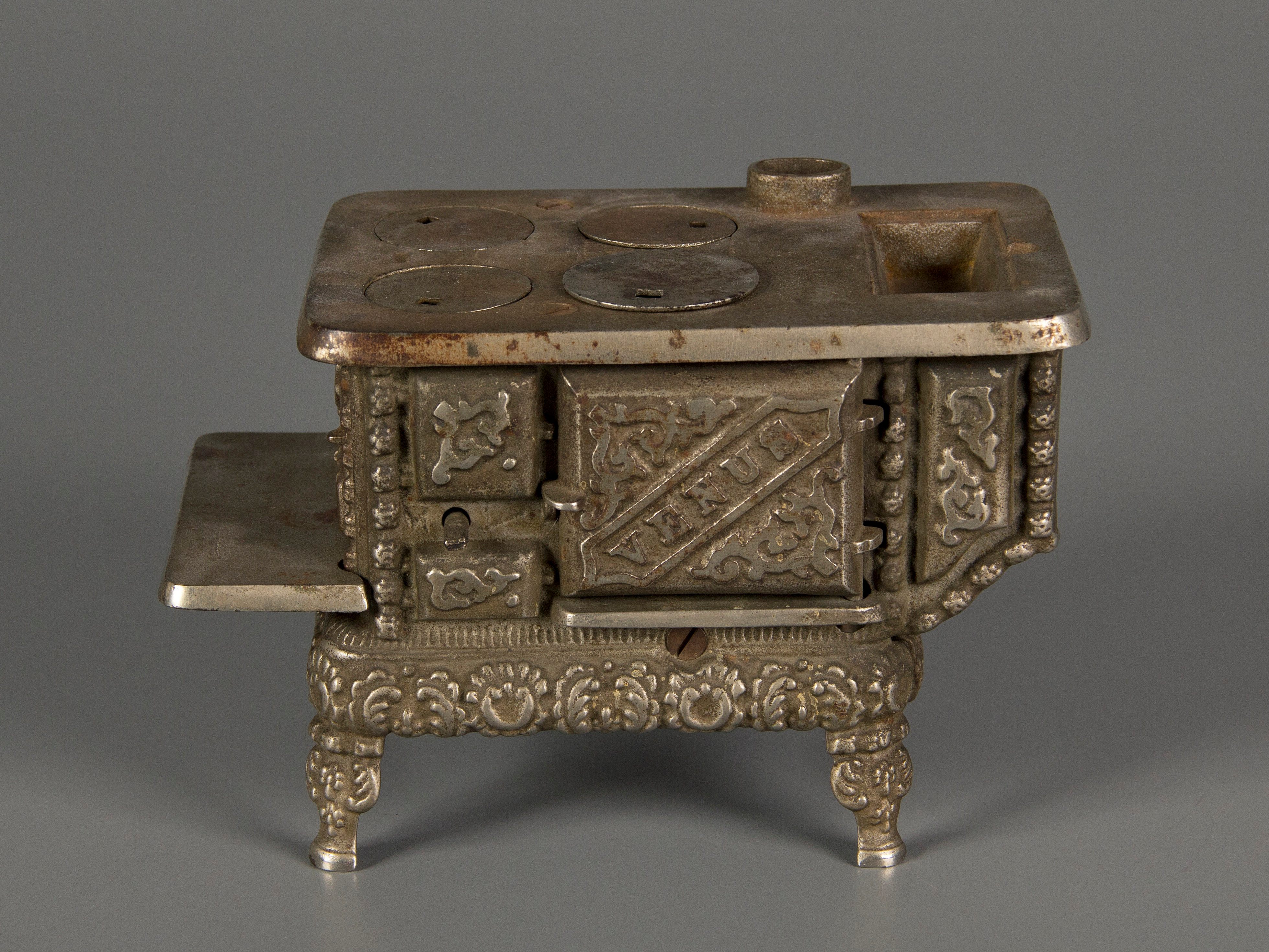 Today, the Easy-Bake Oven dominates. One name kicked around for the toy, released in 1963 by Kenner Products, was the "Safety-Bake," which would have been a change from past toy stoves' glamorous and evocative names such as the "Venus," "Fairy Gift," and "The Queen." The Easy-Bake lacked a working stovetop, removing some of the risk factor, and, until 2011, it cooked food with much-safer light bulbs secreted deep inside their plastic chassis. (The phasing in of cooler fluorescents and LEDs prompted a redesign with an electric heating element.)
While it's easy to be horrified at the parenting of the past, Parnett-Dwyer points out that toy stoves are representative of the times when they're made. Childrearing has changed dramatically over the last century. "Back then we were still thinking of children as little adults," she says. The mentality often was "you have to learn how to do this because this is part of our family work."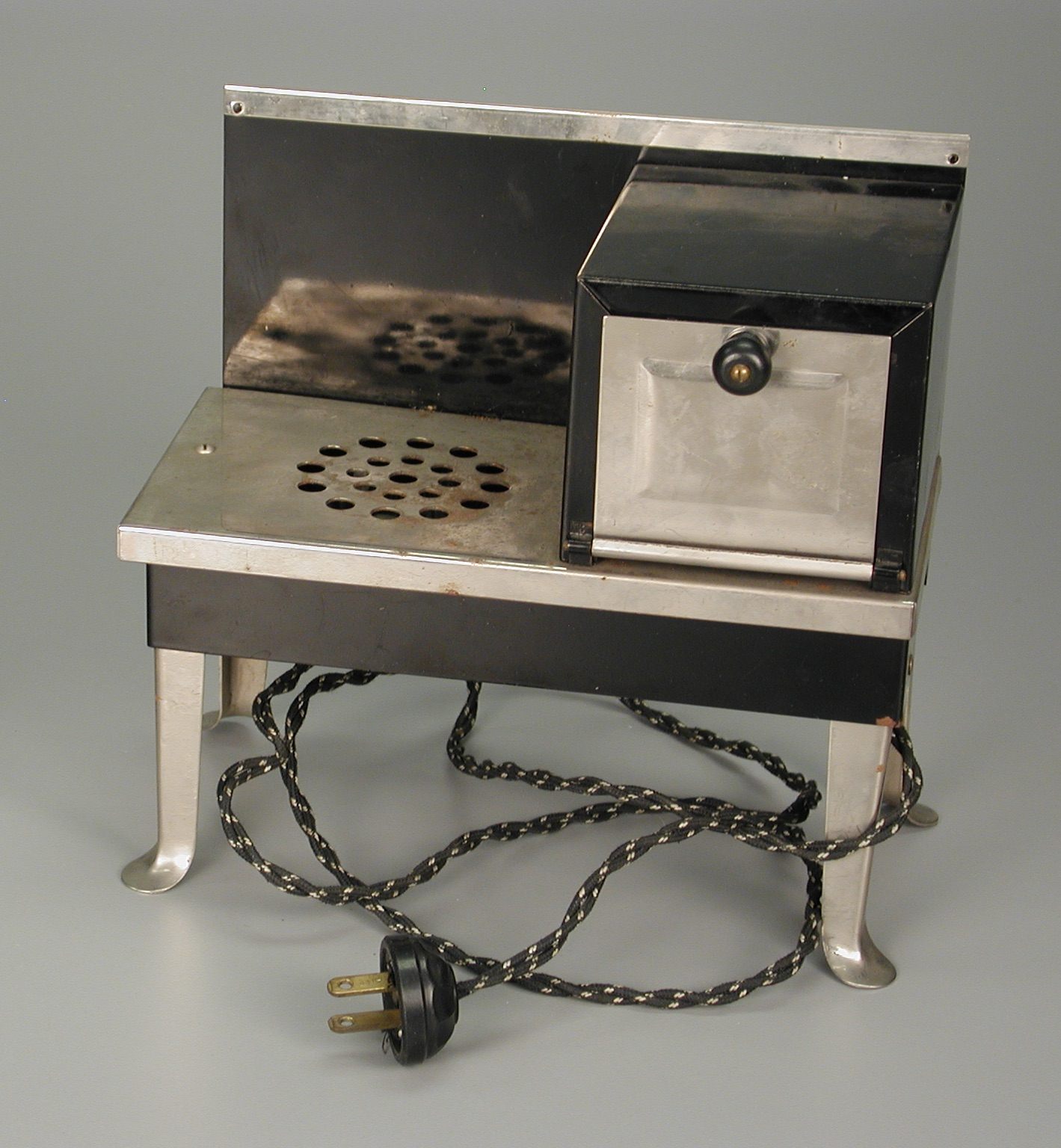 Toy stoves could be both plaything and teaching tools. During much of their history, "the idea of play wasn't necessarily a central part of a lot of children's lives," says Parnett-Dwyer. (While children still played regardless, "it's not necessarily something that a parent was consciously promoting.") Instead, toy stoves were a practical purchase for parents seeking to acclimate their daughters to future roles as housekeepers and caretakers. Even today, there's still a pernicious gender gap in the United States when it comes to household chores such as cooking, with both women and girls spending more time on such tasks each day than men and boys.
Despite the fact that it wasn't the cast-iron coal stove of my dreams, I still loved my Easy-Bake Oven. Long before I was allowed to touch the stove in the kitchen, I plugged it into the front porch outlet and baked button-sized cookies on tiny round pans. "I was thrilled when I got [an Easy-Bake Oven], and I'm not necessarily a great cook and don't feel any sort of domestic obligation in the kitchen because of it," says Parnett-Dwyer. For some children, cooking is simply interesting. "It's just a fun way to play," says Parnett-Dwyer. "It's sort of like taking your mud pie to the next level."
Gastro Obscura covers the world's most wondrous food and drink.
Sign up for our email, delivered twice a week.