6 Groundbreaking Women You Didn't Learn About in History Class
Meet the painter, the pilot, the author, and other "firsts" who paved the way.
It's almost hard to imagine all the things women once weren't allowed to do, by custom or by law: smoking in public, wearing pants, owning property. But for every forbidden act, there was one woman who stood up to be the first to do it anyway. There was the 16th-century Italian nun Plautilla Nelli, the first woman to paint a scene of the last supper; Bessie Coleman, the first Black woman to earn a pilot's license; and 67-year-old Emma Gatewood, the first woman to thru-hike the Appalachian trail alone, in sneakers. All these women had to be remarkable so that women today can more easily follow in their footsteps. As Atlas Obscura continues to write a new history of women, here's a list of some of our favorite female firsts.
Emily Ford is also the first person of color to complete the freezing winter hike.
Just a few days before the end of 2020, Emily Ford set out to thru-hike the 1,200-mile Ice Age Trail. The trail zigzags across Wisconsin through swampy bogs and snow-covered hills along what was once the ​​southern edge of the glacial advance into North America. Before Ford set out in 2020, there had only been one documented person to complete the trail. It would take Ford almost 70 days to reach the end. In this Q&A, Ford talks about contending with wolf hunts, minus-40-degree-Fahrenheit weather, and how she feels about becoming a role model.
Plautilla Nelli, a 16th-century nun, taught herself to paint monumental works of art.
Teaching yourself to paint in the 16th century was a challenging task. Teaching yourself to paint a 23-feet-wide and six-and-a-half-feet-tall canvas with the help of assistants and scaffolding was an even more challenging task. But that's exactly what Plautilla Nelli accomplished with help from her cloistered sisters. Though her name was largely lost to history, her impressive work withstood a French invasion, 450 years without restoration, and several moves before finally finding a permanent home in the Santa Maria Novella Museum in Florence, Italy.
Aloha Wanderwell was deemed the "Amelia Earhart of the Automobile."
After her father died in World War I, Aloha Wanderwell ached for action. She'd later write in her memoir, "I wanted a career and I wanted to become the man of the family." Then at 16, she saw an ad in the Paris Herald that read, "Brains, Beauty & Breeches — World Tour Offer For Lucky Young Woman." Wanderwell jumped at the opportunity. She spent the next 15 years traveling the world in a Model T Ford with her pet monkey, Chango.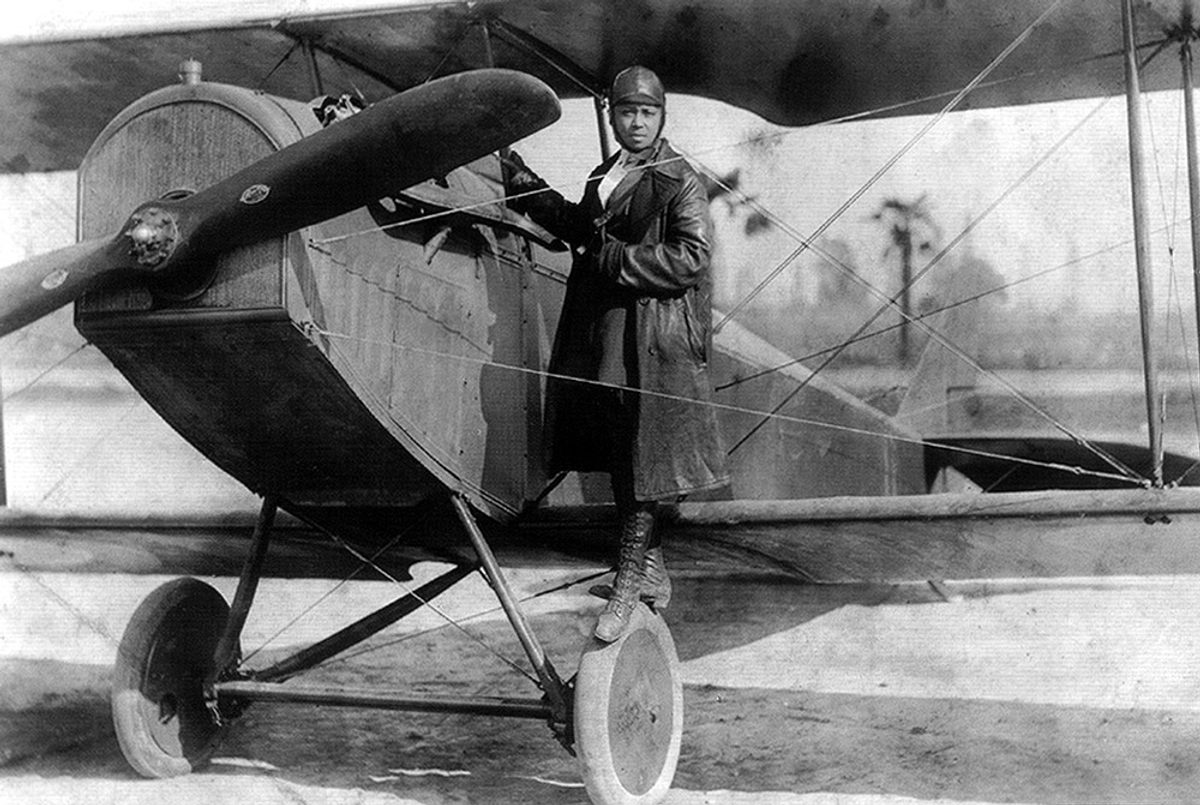 Bessie Coleman got her flying license two years before Amelia Earhart.
Growing up in rural Texas decades before the civil rights movement, many people told Bessie Coleman that she wasn't allowed to fly planes. She took their warnings as a challenge. She learned to fly at a French school since no school in the United States would take a Black woman on as a student, and at 29 years old, Coleman became the first Black woman to receive her pilot's license. She'd later soar across the skies in the US performing daring stunts like barrel rolls and figure-eight loops.
At 67, Emma Gatewood set out from Georgia's Springer Mountain with sneakers and a small duffel bag.
The Appalachian forests were a place both of hardship and refuge for Emma Gatewood. Unlike most thru-hikers of the Appalachian Trail, Gatewood had grown up in the mountains and valleys of Appalachia. She had worked on family farms and hid from her violent husband in its forests. It was only after she secured a divorce that Gatewood began her adventures on the AT as a "lark." Armed with nothing more than a pair of sneakers and a small duffel bag, Gatewood managed to accomplish what no other woman before her had even attempted.
Julian of Norwich wrote Revelations of Divine Love, the first book attributed to a female author in English.
In a way, it's fitting that Julian of Norwich is remembered by the name of the church she resided in, St. Julian's Church in Norwich, England. For most of her life as an anchorite, she lived cloistered in a small room attached to the church's wall devoting her life to secluded religious devotion. Despite their isolation, anchorites were powerful in their way, and Julian of Norwich became one of the group's most powerful. She was revered for her divine visions and in either the 14th or 15th century, she wrote Revelations of Divine Love about those visions—making Julian of Norwich the first recorded woman to write a book in the English language.