A New Archive Digitizes More Than a Century of Black American Funeral Programs
A chronicle of lives lived from before the Civil War to today.
A funeral is, among many highly emotional things, an opportunity to consecrate someone's life as historical fact, and to commit that truth to the public record. But what happens once those records—and the memories of those who witnessed those rites—are themselves lost within history?
A new initiative by the Georgia Public Library Service (GPLS)* is attempting to address that problem. In May 2020, GPLS introduced a digital archive of some 3,348 programs from funerals of Black Americans who died, all freely available in the Digital Library of Georgia. (The archive will continue to grow in years to come.) It is a compendium of photos, prayers, and guest signatures that span the pre–Civil War South to the present day. And it's a "treasure trove" for genealogists, says Tammy Ozier, president of the Atlanta Chapter of the Afro-American Historical and Genealogical Society (AAHGS), which contributed to the archive.
Even a cursory look through some of the programs reveals deep historical currents. Take, for example, Dr. J.W.E. Linder, who died in 1939 and whose memorial service was held in 1940. According to the program from the memorial service, Linder's father was "Congressman George W. Linder, of the Georgia House of Representatives during the Reconstruction Period." Just a generation or two removed from slavery, Dr. Linder had also been appointed, before his death, as "a goodwill envoy to the forthcoming pageant in Jackson, Miss., which commemorates 'Seventy-five Years of Progress' by the Negro," according to the program from his memorial service.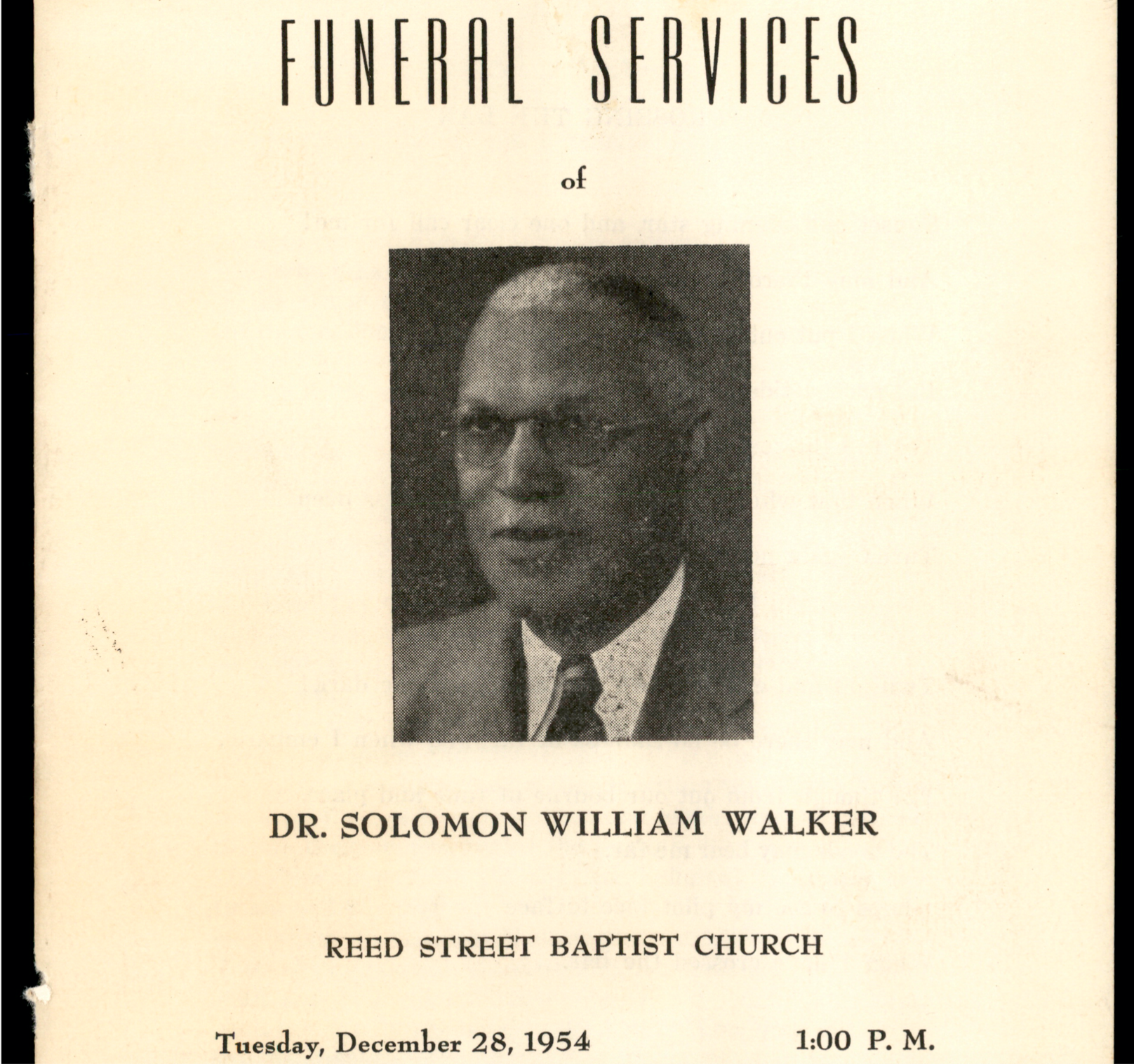 Solomon William Walker, meanwhile, founded The Pilgrim Health and Life Insurance Company for Georgia's underserved Black population. As a young man, according to the program from his 1954 funeral, Walker "grew tired of paying his insurance premiums into a white company in which his dollars were robbed of their power to employ colored men and women." Walker's funeral program also attests that "[h]is higher education was received in the great university of life, for he was the very embodiment of the quotation: 'All life is a school, a preparation, a purpose; nor can we pass current in any higher college unless we are willing to undergo the tedium of education in this lower one.'" Speaking of education, the archive also includes the 1941 funeral program for Samuel Howard Archer, once president of Atlanta's historically black Morehouse College.
Through the decades, unique features jump out. Derek Mosley, a contributor to the archive and an archivist at the Auburn Avenue Research Library on African American Culture and History, points to two programs that stand out to him as unique, from very different eras and for different reasons. First, Judge Austin Thomas Walden, the first Black municipal judge in Georgia since Reconstruction, had his benediction delivered in 1965 by Reverend Martin Luther King Sr. Second, a 2016 program from a triple funeral (for three people, including two children, killed in a car crash) is formatted as "A Passport to Heaven," rather than as a traditional service program. Mosley says he is not aware of any programs in the archive for people who were killed by racist violence, but he says that such violence likely wouldn't be listed in the programs anyway. For many Black Americans, says Mosley, funerals "are celebrations of a life" and not strictly mournful, and "funeral programs tend to reflect that."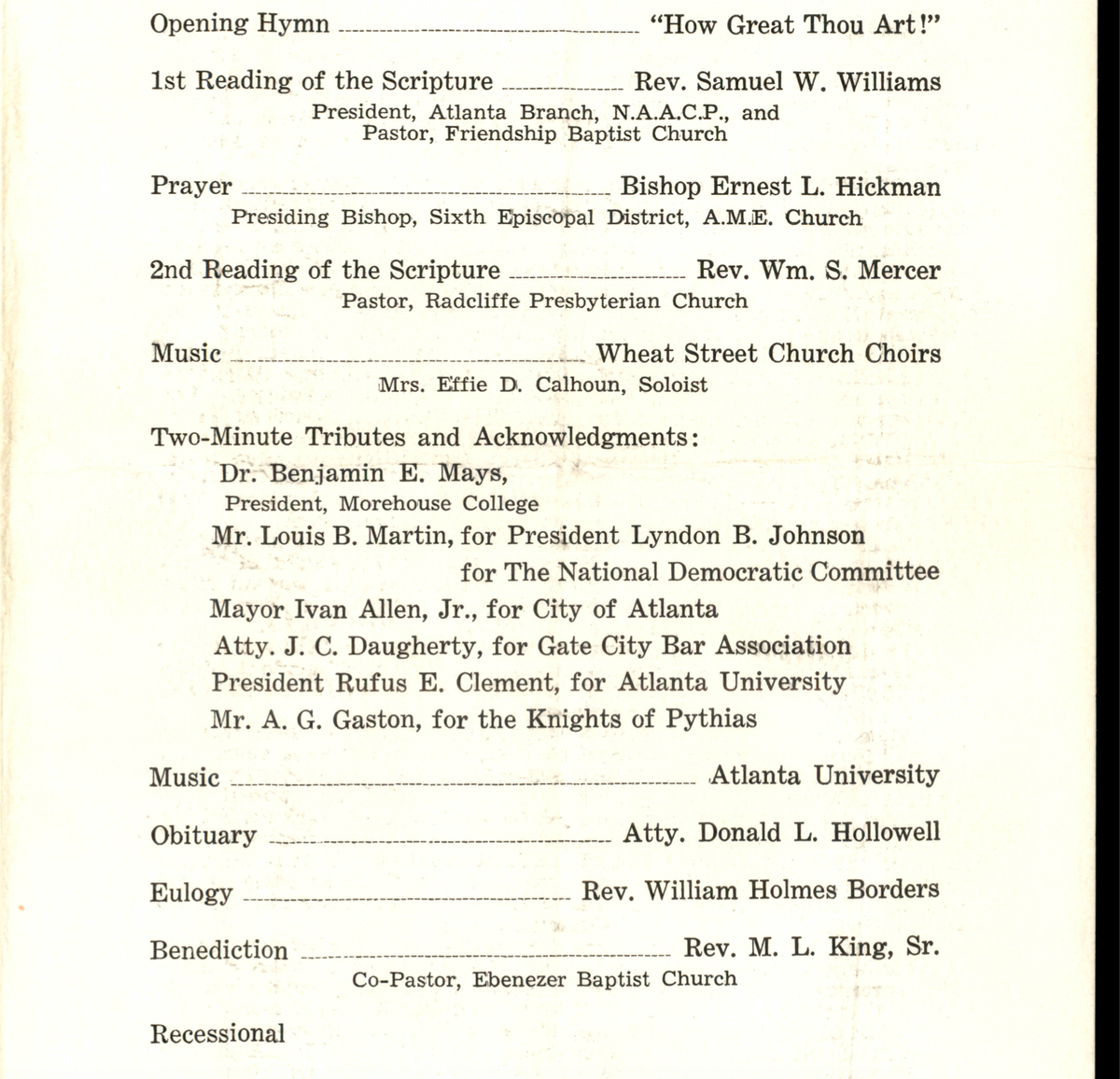 Ozier, of the AAHGS, says that funeral programs can be very helpful to genealogists looking to complete family histories. Because programs typically name the deceased's family members, researchers can use them to locate next of kin or descendants. She adds that the AAHGS regularly works with neglected Black American cemeteries, and that relatives traced from funeral programs can provide information about people buried in these cemeteries that may lack other records. She says that she'd like to see historic city directories digitized in a similar archival initiative, and both Ozier and Mosley agree that digitized archives of Black American church records would prove immensely useful to researchers.
But ultimately, says Ozier, the main takeaway from an archive like this is simple. "Everybody has a story," she says. To her, as a researcher, even the quickest asides in family conversations have opened up questions, and taught her things she didn't know. Funeral programs can tell some of those stories, but there's no need to wait for them. "Talk to elders," says Ozier. "Talk to your people, have family conversations, you might find a nugget or surprise in there."
* Correction: This story originally attributed the archive to the Digital Library of Georgia. It is available on the Digital Library of Georgia, but the initiative was driven by the Georgia Public Library Service.