How an Apartment Balcony Became One of Italy's Best-Known Stages
Nothing—not city fines, a pandemic, or home renovations—can stop the music.
First come the punk riffs from Maksim Cristan on his electric guitar, then the operatic vocals from his partner Daria Spada, a discordant but thrilling mix of old and new, classic and experimental. The balcony concert has begun. In the courtyard of an apartment building in the historic center of Turin, in northern Italy, an intergenerational crowd—from adolescents to pensioners—moves to the music. The atmosphere is festive and cathartic.
Early in 2020 videos flew around the world of Italians coming out to sing on their balconies at the start of the pandemic. Too soon the music stopped in many places—but not here. Unlike those impromptu serenades and many music venues around the world, Cristan and Spada's Concertino dal Balconcino has survived and thrived amidst the COVID-19 pandemic—and the legal challenges that threatened to silence the musicians.
Spada and Cristan first turned their balcony into a stage more than 10 years ago. Each Sunday afternoon, they perform their own unique punk-opera mix or host other local artists. What started as a fun experiment became something much more for the couple and the community. Thousands of people have attended the concerts over the last decade, turning this tiny apartment balcony into a unique, alternative art institution in the city that is known as a "little Berlin" for its avant-garde arts scene.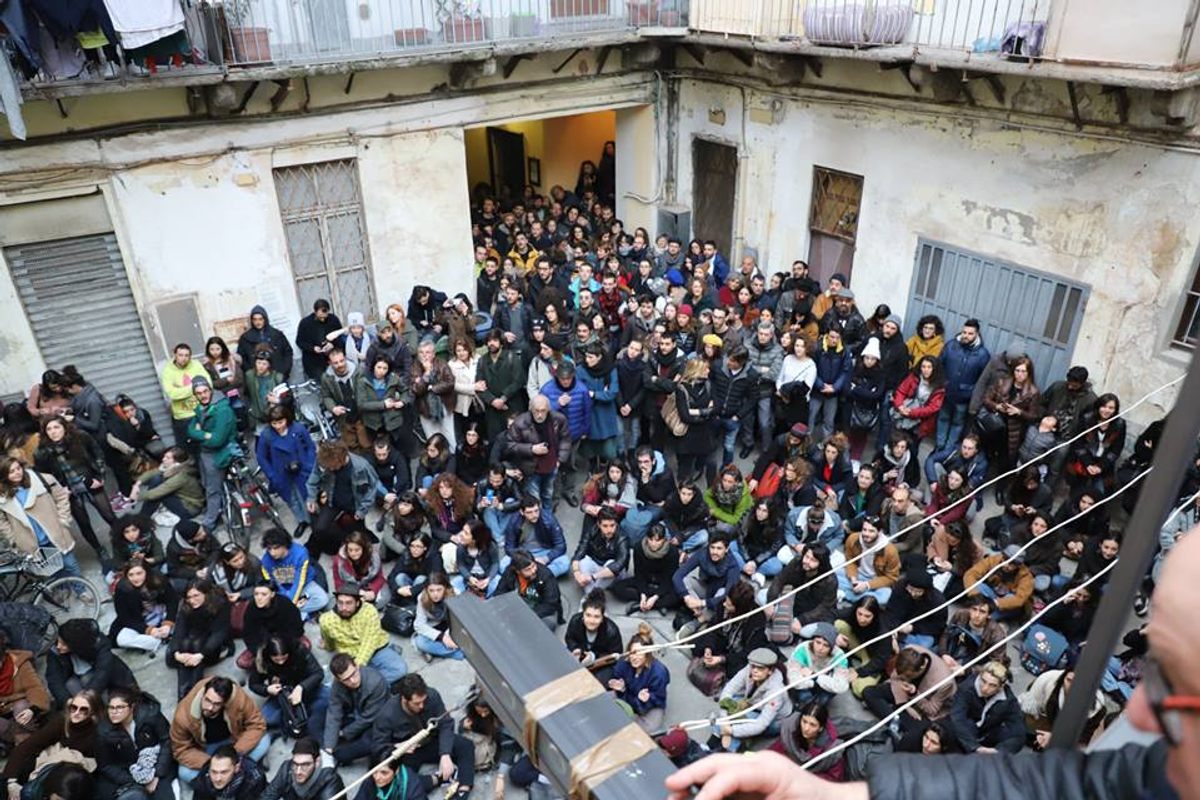 "Throughout the years, this has evolved from a simple event that could last or not, to a real cause. From the moment we were attacked by institutions, keeping this event alive has gained a symbolic importance," Spada said after performing at an early December 2021 New Year's Eve concert. (It was unclear if the city would allow such festivities later in the month due to COVID-19.)
In 2016, the couple were fined more than $1,300 for "exceeding the decibels" allowed in the area by singing too loudly. The next year, they were charged by the city prosecutor's office for disturbing the public peace, a crime in Italy. "This has become our battle," Spada said at the time.
Despite those obstacles—or perhaps because of them—their balcony concerts gained a high profile in Italy. By 2019, when local authorities in the city forced the couple to temporarily shut down their event while the court case was pending, they had become so well-known that the national public broadcaster, Rai, invited them to perform on TV instead.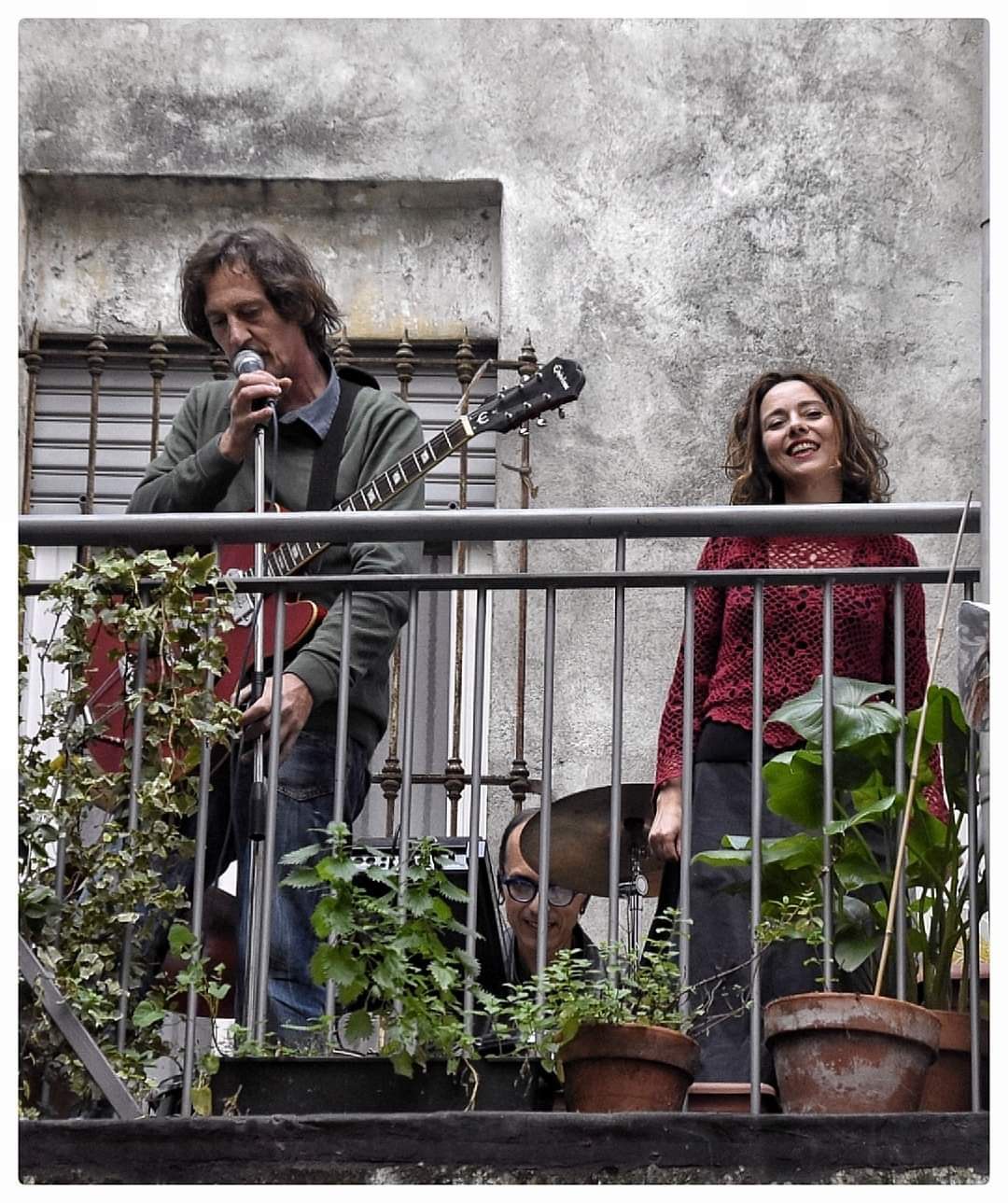 Finally, in spring 2021, Spada and Cristian were acquitted of their outstanding charges—disturbing the peace with their music. After three years of hearings, Turin's public prosecutor closed its case. The investigations hadn't revealed any harm but rather concluded that the Concertino dal Balconcino was a "rare cultural activity."
If they had been found guilty the couple could have faced up to three months in prison, as well as fines—and Spada says it would have set an "unlivable" precedent for the city. Instead, the result was "a victory for culture," she says proudly, a confirmation that "singing from a balcony is legal," and that "having a singer as a neighbor is valuable, just like having a neighbor who is a dentist."
It is "not a disturbance, but a pleasure," says Elena Costanzo, a lawyer who supported the couple in their court case. "The pandemic proved the importance of singing from balconies, moments of coming together, of art. It absolutely must continue."
Throughout, Spada and Cristan have been supported by concert goers as well as other musicians, artists, poets, writers, and intellectuals in the city. One of these fans is Carlo Molinaro, a local poet and novelist who has attended their concerts for nine years. "The importance of this project grew over time," he says, explaining how "there was an explosion of popularity first through word of mouth and then via social media."
But the attention hasn't changed the event, Molinaro says. "The core of it is that it is a very free space," he explains, which shows that there can be "things of good quality that don't go through regular, official channels." And, he says, "despite becoming kind of famous, that spirit is still there." There are still no tickets to the concerts. Events are advertised on social media, and attendees must show up at the couple's building and ring their doorbell.
The couple won their court case and some newfound respect from the city government, but the Concertino dal Balconcino remains on uncertain footing. The building in which Spada and Cristan live and the balcony from where they perform is in Turin's historic Quadrilatero Romano neighborhood. It's one of the oldest parts of the city, with narrow lanes dotted with restaurants and bars, and buildings that are in various states of decay or repair.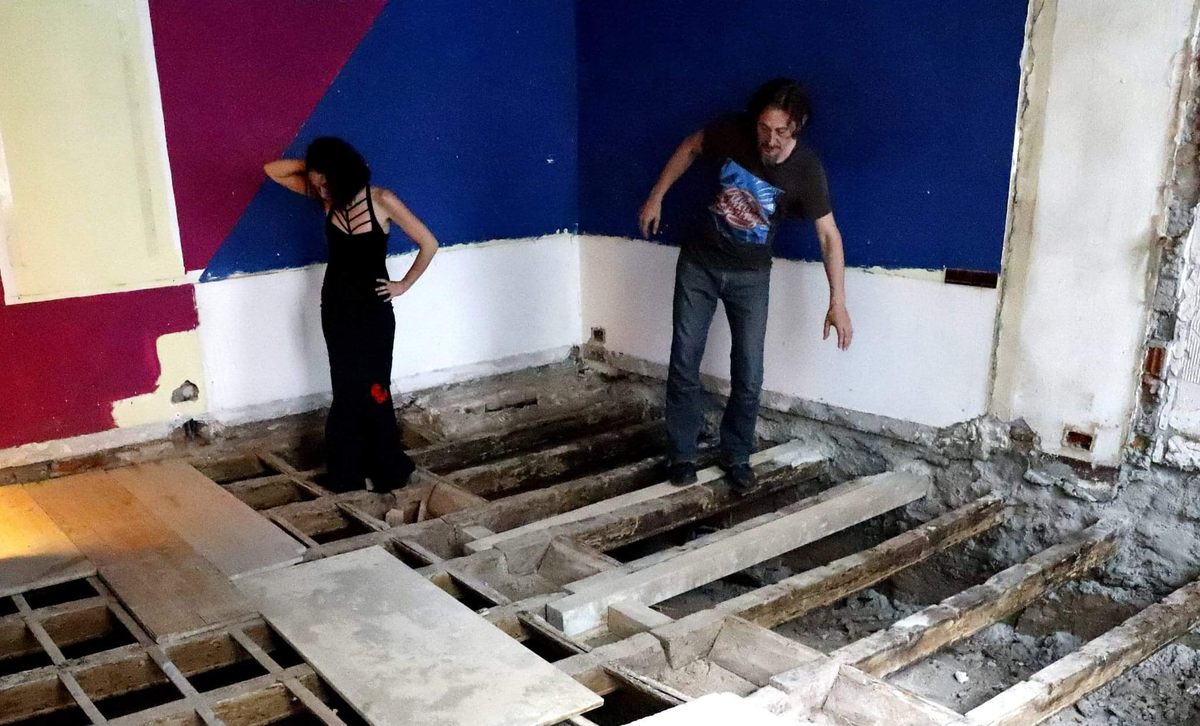 Spada and Cristan now face the steep costs of replacing the crumbling floor in their studio apartment, which doubles as the concert's backstage area.
It hasn't been easy to maintain this institution–but it's already outlasted five Italian prime ministers, and, it seems, survived COVID-19. It is a showcase of persistence, as well as creativity, a tiny balcony with a disproportionate impact on cultural and social life in the city.
Matteo Boggi attended one of the couple's concerts in December 2021. "I'm new to this," he said, "but it's great, especially during the pandemic. I wish that other people did similar things, it would help to make this period more livable."
"What disturbance?" he asked, surprised to hear the performers had been charged with a crime. "They are just making music on a Sunday afternoon for about an hour. I can't believe that anyone would take them to court for this."