How Two 18th-Century Lady Pirates Became BFFs on the High Seas
Mary Read and Anne Bonny were the most feared pirate queens in the Caribbean.
The fact that Anne Bonny and Mary Read ever crossed paths at all is almost unbelievable. Of the thousands of pirates active in the Caribbean during the 17th and 18th centuries, we know the names of just two female marauders. In 1719, the pair would forge an improbable friendship that would start on the high seas and end less than two years later in a damp, dark jail in Spanish Town, Jamaica.
If the splendidly named 1724 tome A General History of the Robberies and Murders of the Most Notorious Pyrates is to be believed, Mary and Anne's lives diverged early on from most women of the period. According to author Captain Charles Johnson (believed to be a pseudonym, possibly for Daniel Defoe), "the odd incidents of their rambling lives are such, that some may be tempted to think the whole story no better than a novel or romance."
Born in England, Mary Read was brought up by her mother as a boy–her dead brother, in fact. Mary's mother had originally married a sailor and had a son. When her husband was presumed lost at sea, she had an affair with another man. She soon became pregnant with Mary, and left the house of her mother-in-law to hide the birth. Mary's brother died soon after she was born, and her destitute mother came up with a plan. She pretended that Mary was the dead boy and asked her mother-in-law to take care of them financially. The ruse worked.
According to Johnson, after her grandmother died, Mary was sent to work as a boy page for an aristocratic French woman. But "growing bold and strong, and also having a roving mind," she ran away and "entered herself onboard a man-of-war," still dressed as a teenage boy.
Over in Cork, Ireland, Johnson claims that Anne Bonny experienced a similarly odd childhood. Born in 1702, Anne's father was William Cormac, a married lawyer who had an affair with his maid, Peg. If Johnson is to be believed, Cormac dressed young Anne as a boy clerk at his law firm for reasons of economy and trickery. Eventually, William decided to start a new life in America with Anne and Peg. They settled in the Carolina colonies, and the family prospered.
Anne, now clothed as a girl, grew into a teenager of "fierce and courageous temper." It was rumored that she killed a female servant during a fight, and beat up a man who attempted to rape her. When she was sixteen, Anne ran off to the Caribbean with a shady sailor named James Bonny.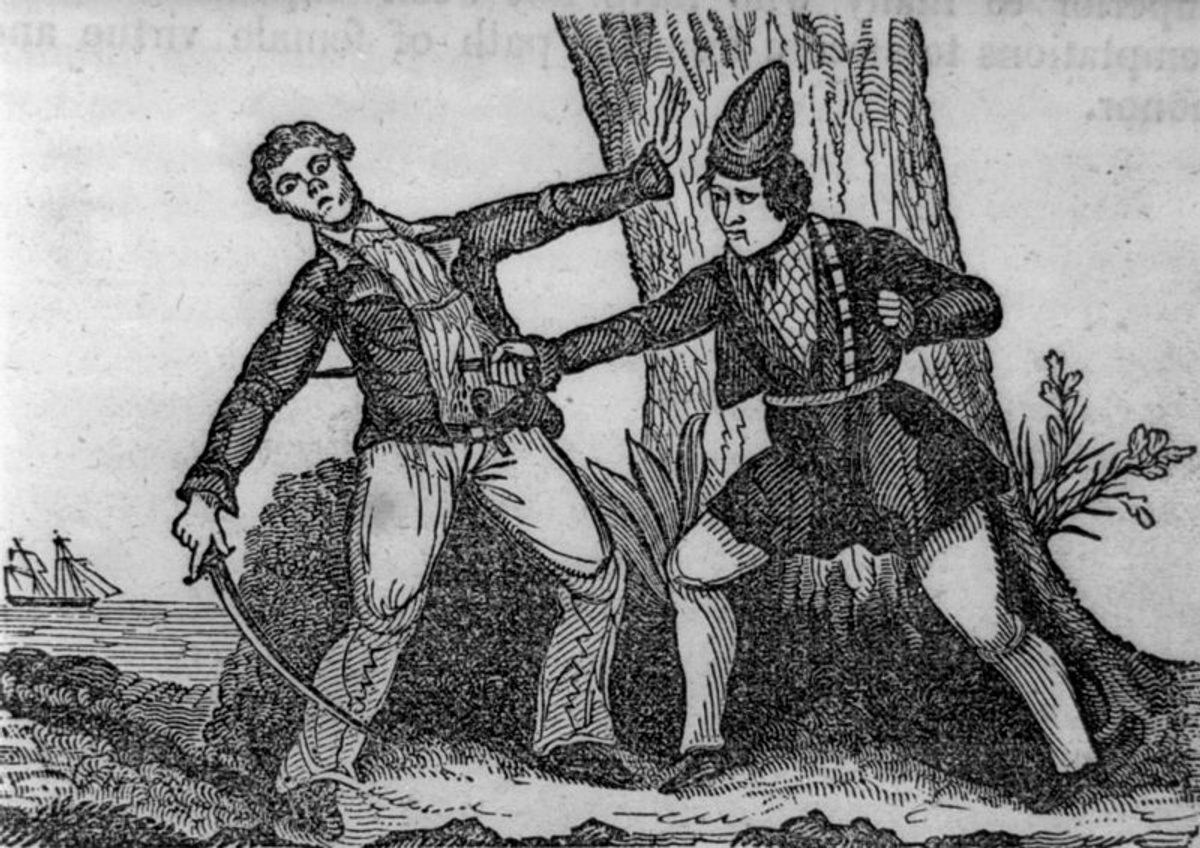 While Anne made do in the notorious pirate's haven of New Providence Island, Mary served valiantly as a foot soldier in the Flemish army. She soon fell in love with a fellow soldier, and after revealing her true sex to him in a tent, they were married. They left the army and opened a popular inn in Holland. But her husband soon died, and Mary was left destitute.
Once again, she assumed a male identity and ended up on a merchant ship bound for the West Indies. Her ship was soon overtaken by pirates, and Mary joined the crew. Though she would later say that "the life of the pirate was what she always abhorred," and that she "went into it only upon compulsion," her actions showed otherwise. Over the next few years, she proved herself to be a fearless bandit with excellent navigational skills, thriving in a brutal, exhausting world.
For her part, Anne continued her wild, reckless ways. She soon began an affair with a small-time pirate named "Calico" Jack Rackham. Known for his flamboyant clothes, it was said he seduced Anne much like he overtook a ship, with "no time wasted, straight alongside, every gun brought to play, and the prize boarded." Anne soon ran off to join him in a life of piracy and plunder. It was rumored that she would often board a targeted ship dressed as a woman, flirting with the captain while she secretly cased the joint. Later, when Calico Jack's crew boarded the vessel she'd be among them, dressed as a man with guns blazing, coolly threatening that if they made a noise, she would "blow out their brains."
The fateful meeting of these two "fierce hell cats" occurred when Calico Jack's crew overtook the ship Mary Read was currently crewing. Mary joined Calico Jack's gang. Legend has it that Anne became attracted to the feminine man with the high pitched voice. When Mary revealed her true gender to Anne, it only deepened their friendship–which some say turned to romance.
In a fit of jealousy, Calico Jack threatened Anne that he would "cut her new lovers throat." To appease him, Anne and Mary let him in on Mary's secret–and many say the three entered into a piratical ménage à trois. Captain Thomas Dillon reported that when the women were raiding his sloop, "both [were] profligate, cursing and swearing much, and very ready and willing to do anything on board."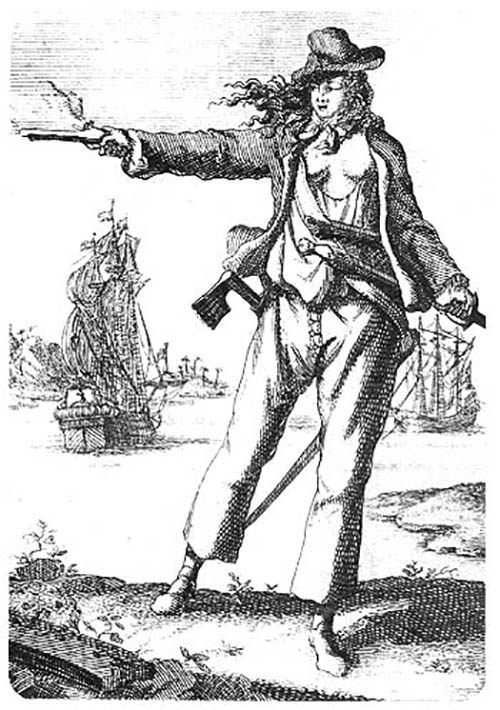 Transcripts of their subsequent trial survive. Ship passenger Dorothy Spenlow recounted her experience with Anne and Mary:
Two women, prisoners at the bar, were then on board the said sloop, and wore men's jackets, and long trousers, and handkerchiefs tied about their heads; and that each of them had a machete and pistol in their hands, and cursed and swore at the men, to murder the deponent; and that they should kill her, to prevent her coming against them; and the deponent further said, that the reason of her knowing and believing them to be women then was by the largeness of their breasts.
Personal drama on board continued. According to Johnson, Mary fell in love with a sweet, inexperienced sailor. When another pirate challenged him to a duel, she picked a fight with the pirate and scheduled an earlier duel with him. She shot the pirate dead.
According to Johnson, one of the gang's prisoners asked Mary, then disguised as a man, why she had chosen this brutal way of life:
Where her life was continually in danger by fire or sword; and not only so, but she must be sure of dying an ignominious death, if she be taken alive? She answer'd, that as to hanging she thought it no great hardship, for, were it not for that, every cowardly fellow would turn pyrate, and so infest the seas…if it was put to the choice of the pyrates, they would not have the punishment less that death, the fear of which, kept some dastardly rogues honest.
Calico Jack's gang roamed the seas and minor ports of the Caribbean, targeting mid-sized commercial ships. After they raided a ship called the William, Captain Woodes Rogers, Governor of the Bahamas, issued the following proclamation on Sept 5, 1720. It was reprinted in the Boston Gazette:
Whereas John Rackum, George Featherstone, John Davis, Andrew Gibson, John Howell, Noah Patrick, and two Women, by name Ann Fulford alias Bonny, & Mary Read, did on the 22nd of August last combine together to enter on board, take, steal and run away with, out of this Road of Providence, a Certain Sloop call'd the William, Burthen about 12 tons, mounted with 4 great Guns and 2 swivel ones, also Ammunition, Sails, Rigging, Anchor, Cables, and a Canoe owned and belonging to Capt. John Ham, and with the said Sloop did proceed to commit Robbery and Piracy … the said John Raceme and his said Company are hereby proclaimed Pirates and Enemies to the Crown of Great Britain, and are to be so treated and Deem'd by all his Majesty's Subjects.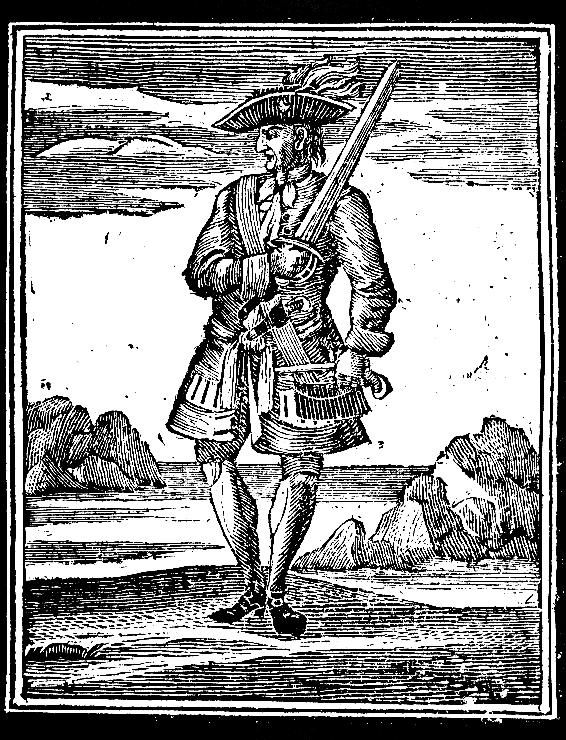 There was a bounty on Calico Jack's crew, so the governor of the Bahamas sent several sloops out to find the bandits. A captain by the name of John Barnett finally caught up with them in Negril Bay. When Barnett boarded the pirate ship, he found only Anne Bonny and Mary Read ready for a fight. Their crewmen were all drunk below deck. It was reported the women yelled, "Come up, you cowards, and fight like men!" Instead of fighting, many of the pirates surrendered. The next morning they were all taken to the Spanish Town Jail. The adventure was over.
On November 17, 1720, Calico Jack and ten of his men were sentenced to death. Anne and Mary were tried separately, at a later trial. The day he was hung, Calico Jack had a special visitor: Anne. According to Johnson, "by special favor, he was admitted to see her; but all the comfort she gave him was, that she was sorry to see him there, but if he had fought like a man, he need not have been hang'd like a dog."
Mary and Anne were tried on November 28th and were found guilty of piracy. Sir Nickolas Lawes, governor of Jamaica, pronounced the following sentence:
You Mary Read, and Anny Bonny, alias Bon, are to go from hence to the place from whence you came, and from thence to the place of execution; where you shall be severally hanged by the neck till you are severally dead. And God of his infinite mercy be merciful to both your souls.
But the women saved their special trump card until they were sentenced. It turned out they were both pregnant. After an examination proved this claim, the pair were allegedly kept in adjoining cells to await the birth of their children. Mary Read died of a fever before her child was born, and was buried on April 28, 1721, in the Jamaican province of St. Catherine.
Anne Bonny's fate is unknown. Some say her father bailed the then-19-year-old out of jail and brought her to Charleston, South Carolina, where she married a man named James Burleigh and had many children. There is also a legend that the two women escaped together to Louisiana, where they spent their old age recounting their romantic exploits on the high seas–but this is highly unlikely.
What seems pretty indisputable is that their legendary friendship helped them through their highest highs and lowest lows. Even tough pirate chicks need a BFF.