8 Plane Wrecks That Have Become Their Own Memorials
These abandoned airplanes lie where they landed.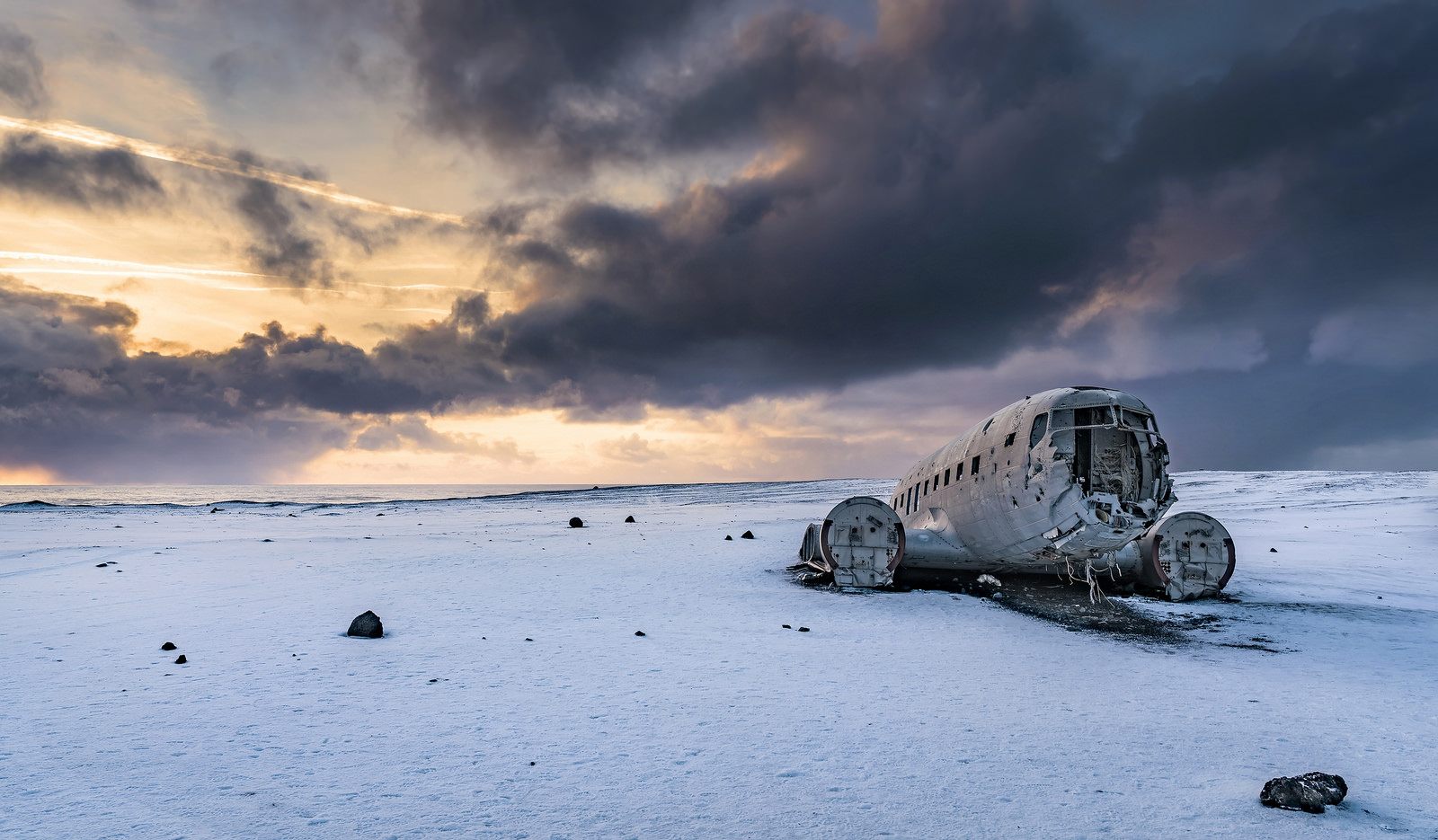 Visit the lonely beauty of crashed planes. (Photo: Lenny K Photography/CC BY-SA 2.0)
It might seem counterintuitive given how expensive they are to produce, but it is not entirely uncommon to leave the wreckage of downed airplanes right where the plane landed.
Some flights go down over remote, inaccessible spots that make it difficult to recover the remains. Other planes are left as a memorial to those who died in the crash. No matter the reason for their abandonment, many of these hidden wrecks can be visited by anyone with a will to traverse a little wild terrain. Here are eight remote airplanes that are still sitting where they crashed, waiting to be rediscovered. 
1. Atka B-24D Liberator
Atka Island, Alaska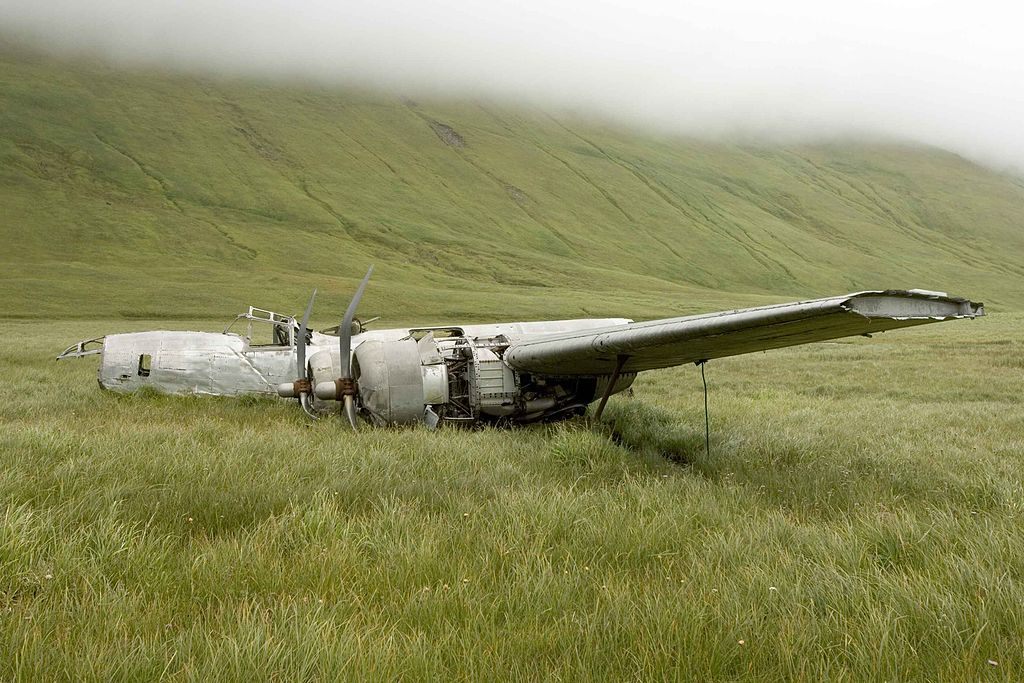 Not bad for a crash landing. (Photo: Steve Hillebrand/Public Domain)
Sitting in the middle of an Alaskan field since 1942, this silver plane was purposefully crash landed when the airmen's original landing zone was compromised. The plane hit the ground relatively safely considering the lack of a proper runway. The only injury was a broken collarbone suffered by one of the officers on board.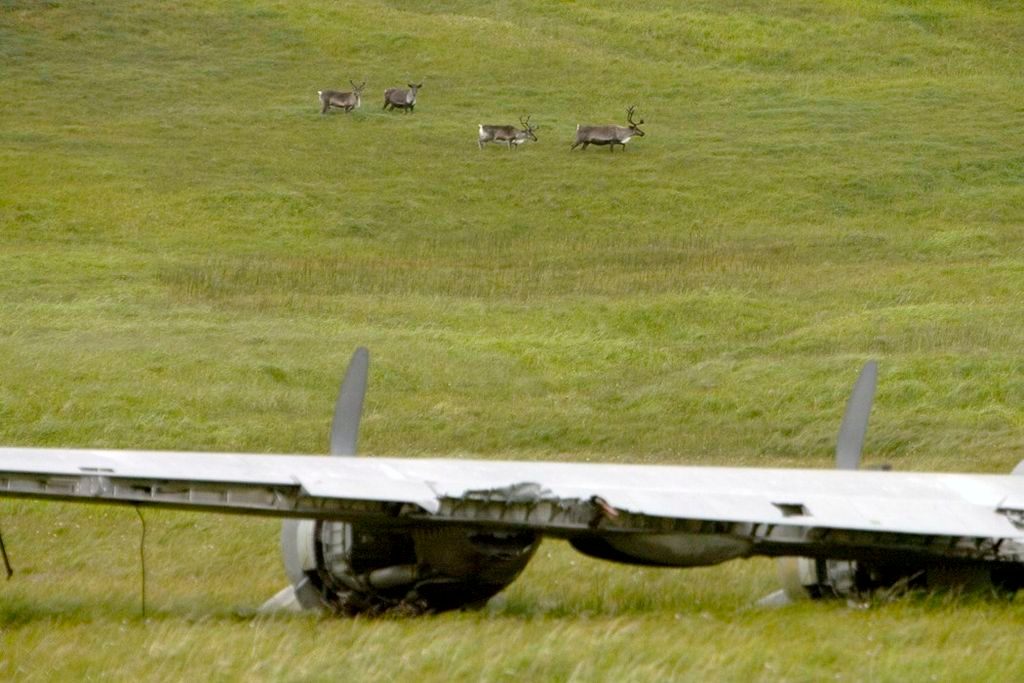 (Photo: Steve Hillebrand/Public Domain)
2. The Humphreys Peak B-24 Wreckage
Coconino National Forest, Arizona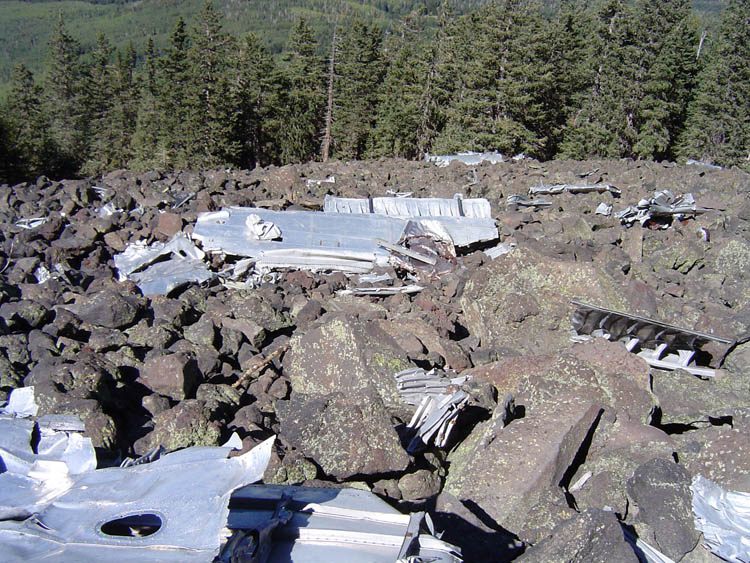 This wreckage has sat on the peak for decades. (Photo: zards/Atlas Obscura)
Hidden away among a field of boulders on the slopes of the highest peak in Arizona are the chrome scraps and engine parts of a U.S. Army B-24 that crashed into the peak in 1944. The spot where the plane crashed is relatively inaccessible, so the wreckage was left where it lay. The remains can still be reached by committed hikers.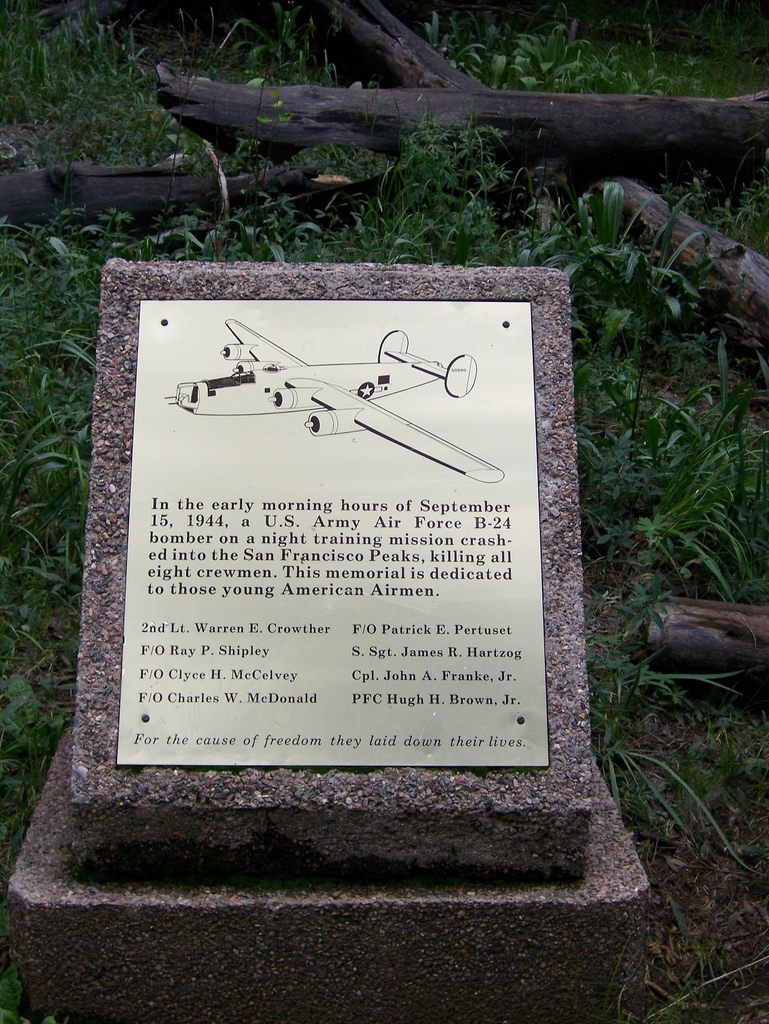 The plaque dedicated to the crewmen who died in the crash. (Photo: Andrew Petro/CC BY 2.0)
3. Remains of a Wellington Bomber in Simiane-la-Rotonde
Simiane-la-Rotonde, France  
The largest bit of the wreckage still remaining. (Photo: Luke J Spencer/Atlas Obscura)
Barely noticeable beneath the thick green brush of a valley in Southern France are the remains of a Royal Air Force Wellington bomber that tragically crashed there in 1944 (a sad year for aviation). The plane went down during a World War II bombing run, after it was hit by anti-aircraft fire. Now its twisted metal remains still lie in the valley. Those who died in the crash are remembered by a quintet of stones with little plaques bearing their names.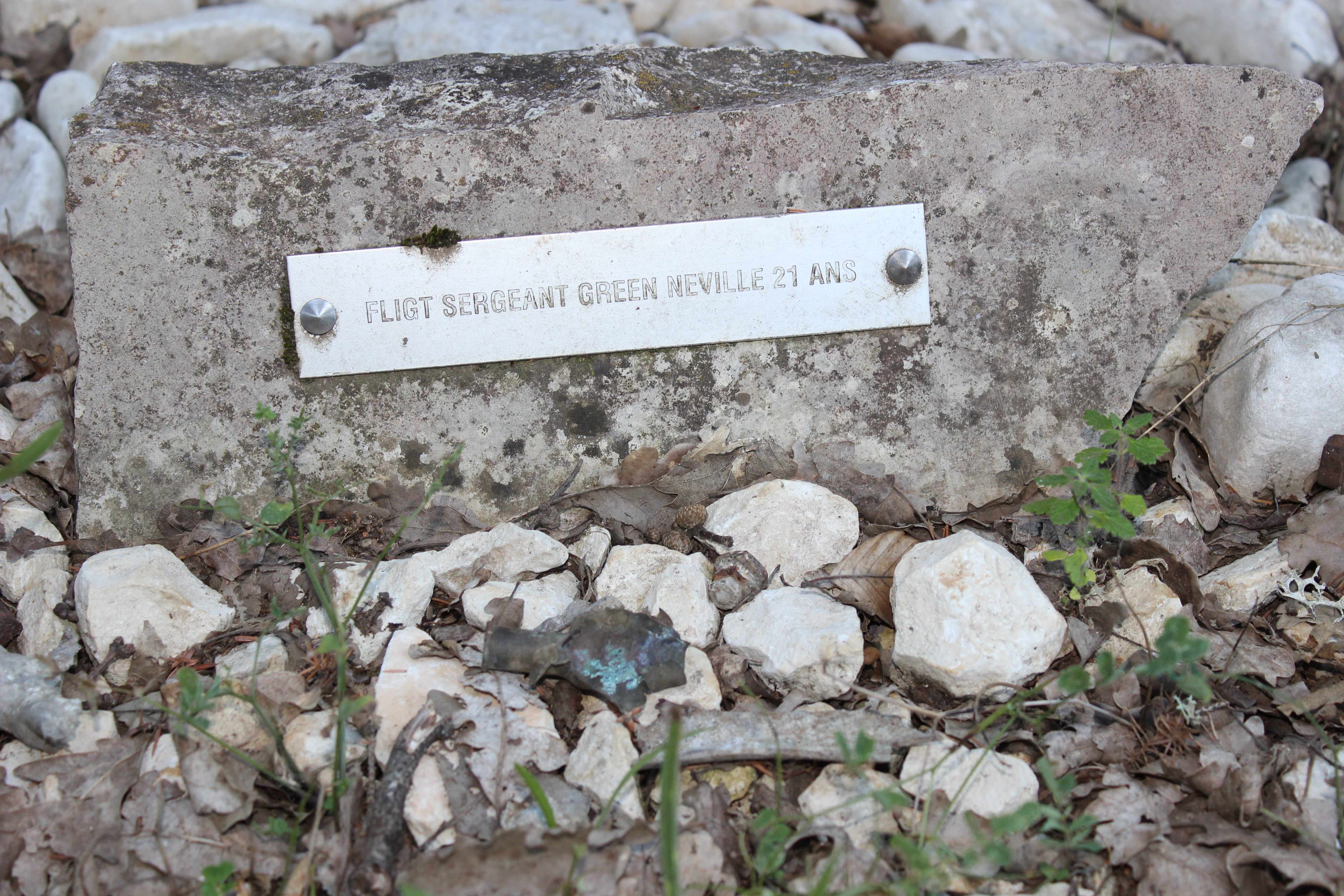 (Photo: Luke J Spencer/Atlas Obscura)
(Photo: Luke J Spencer/Atlas Obscura)
(Photo: Luke J Spencer/Atlas Obscura)
4. The Wreck of Air Aruba P4-YSA
Willemstad, Curaçao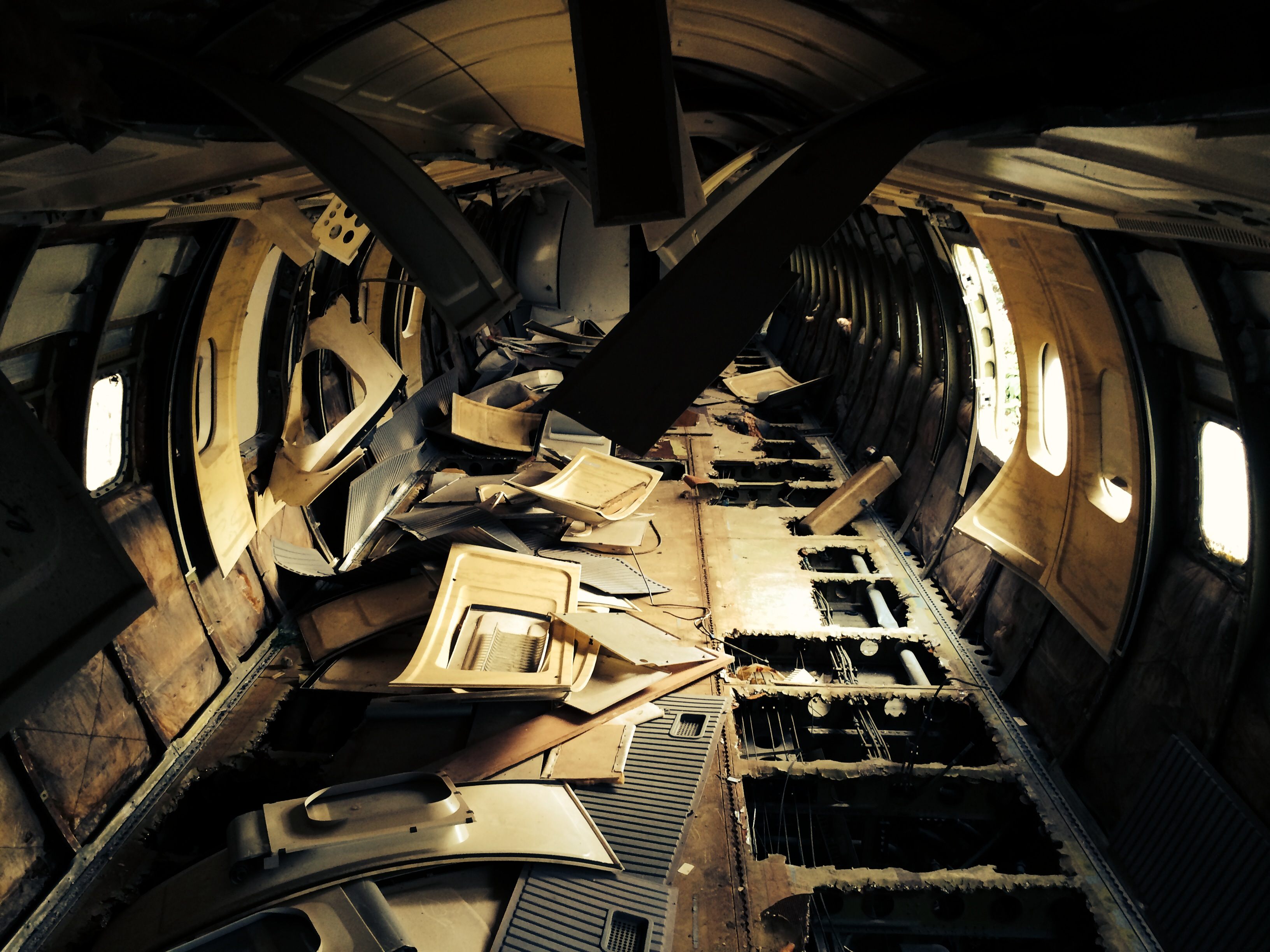 No smoking. (Photo: Luke J Spencer/Atlas Obscura)
Rusting away in the jungle of the Dutch Caribbean island of Curaçao, the wreck of Air Aruba P4-YSA seems like something Indiana Jones might stumble upon. How this plane arrived in its current tropical home is unclear, but it seems likely that the remains were left in the jungle after the plane came down elsewhere. Regardless of how it got there, the abandoned debris is still in relatively good condition, and can be explored by anyone willing to track it down.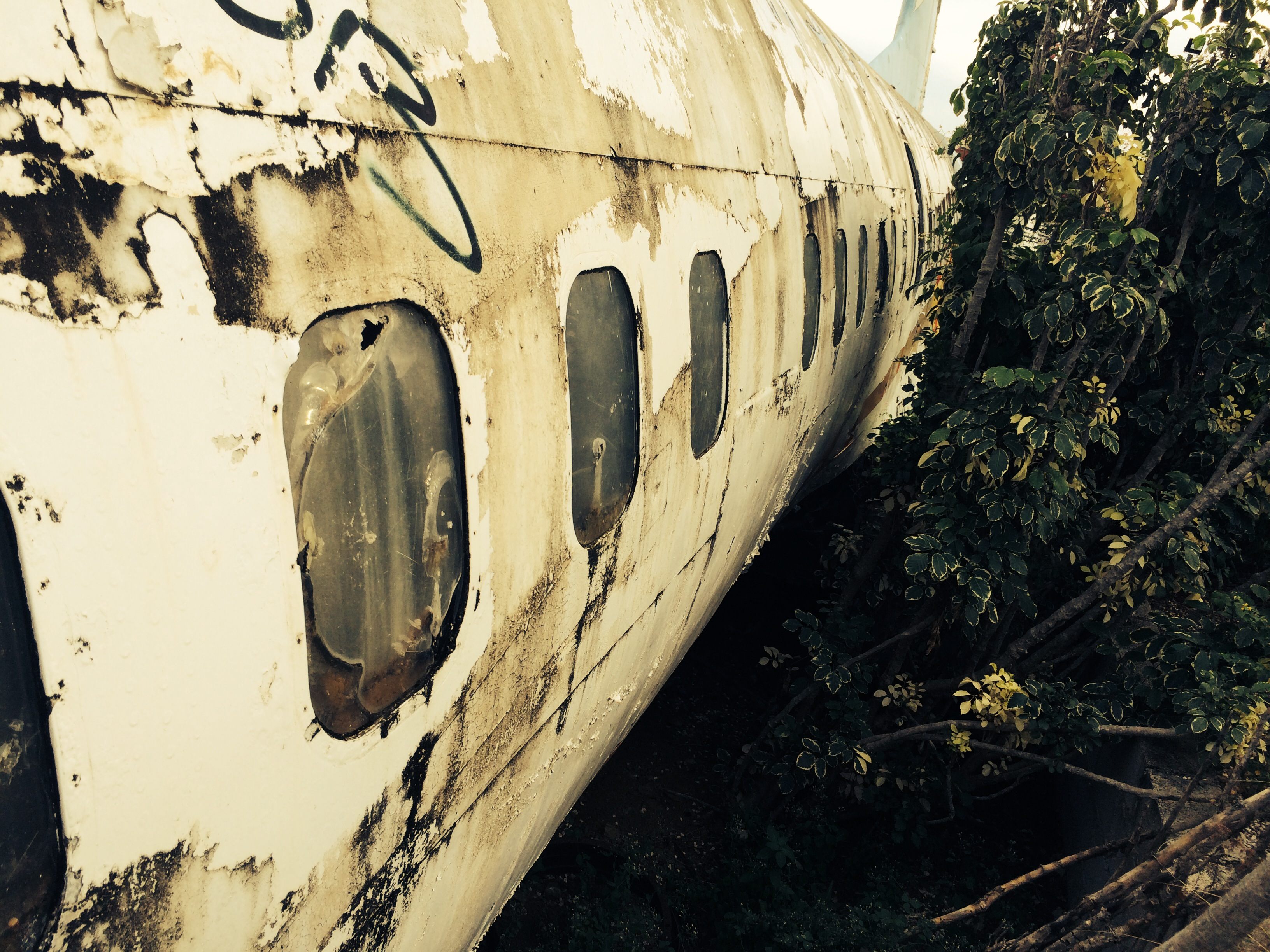 (Photo: Luke J Spencer/Atlas Obscura)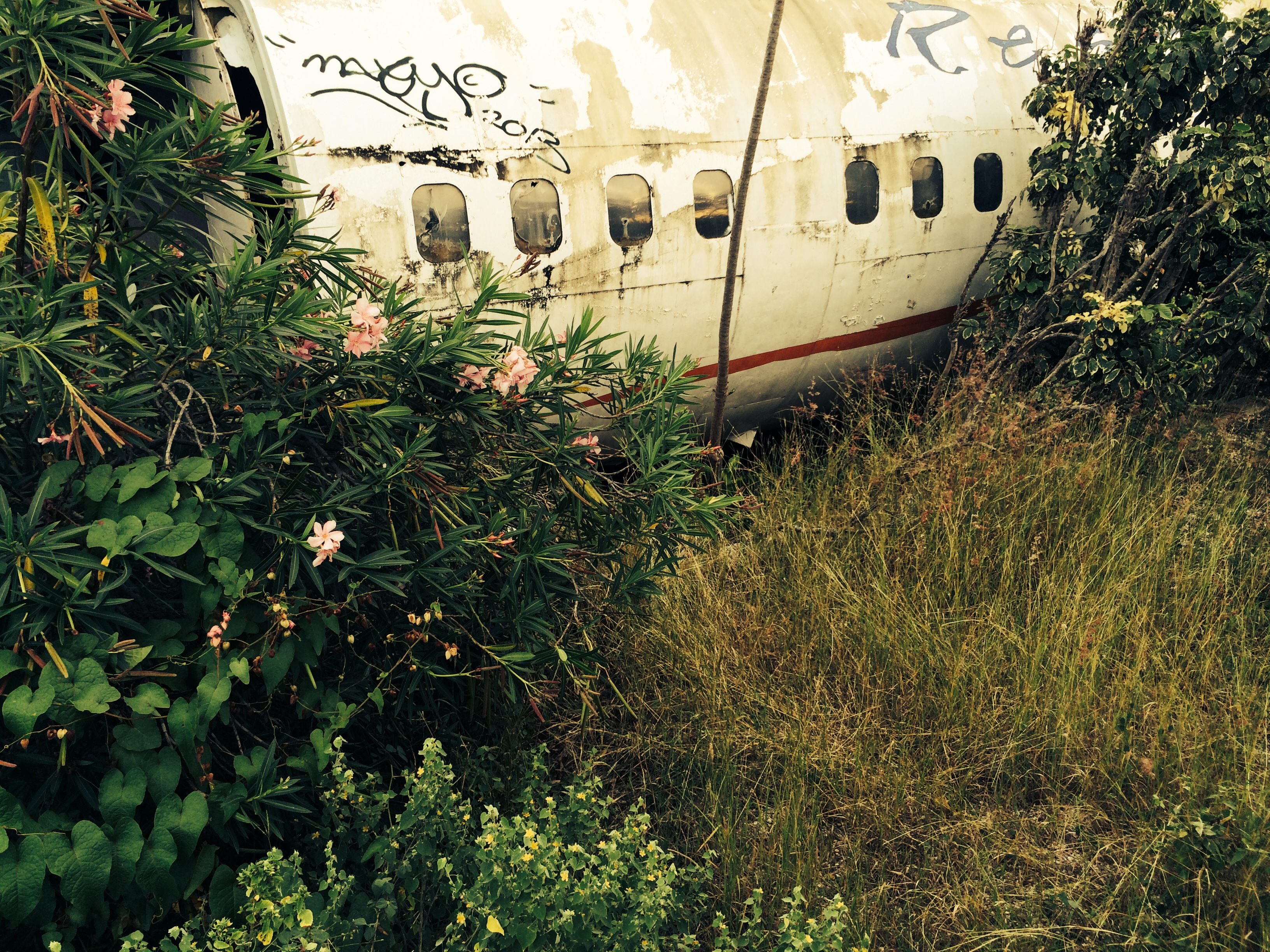 (Photo: Luke J Spencer/Atlas Obscura)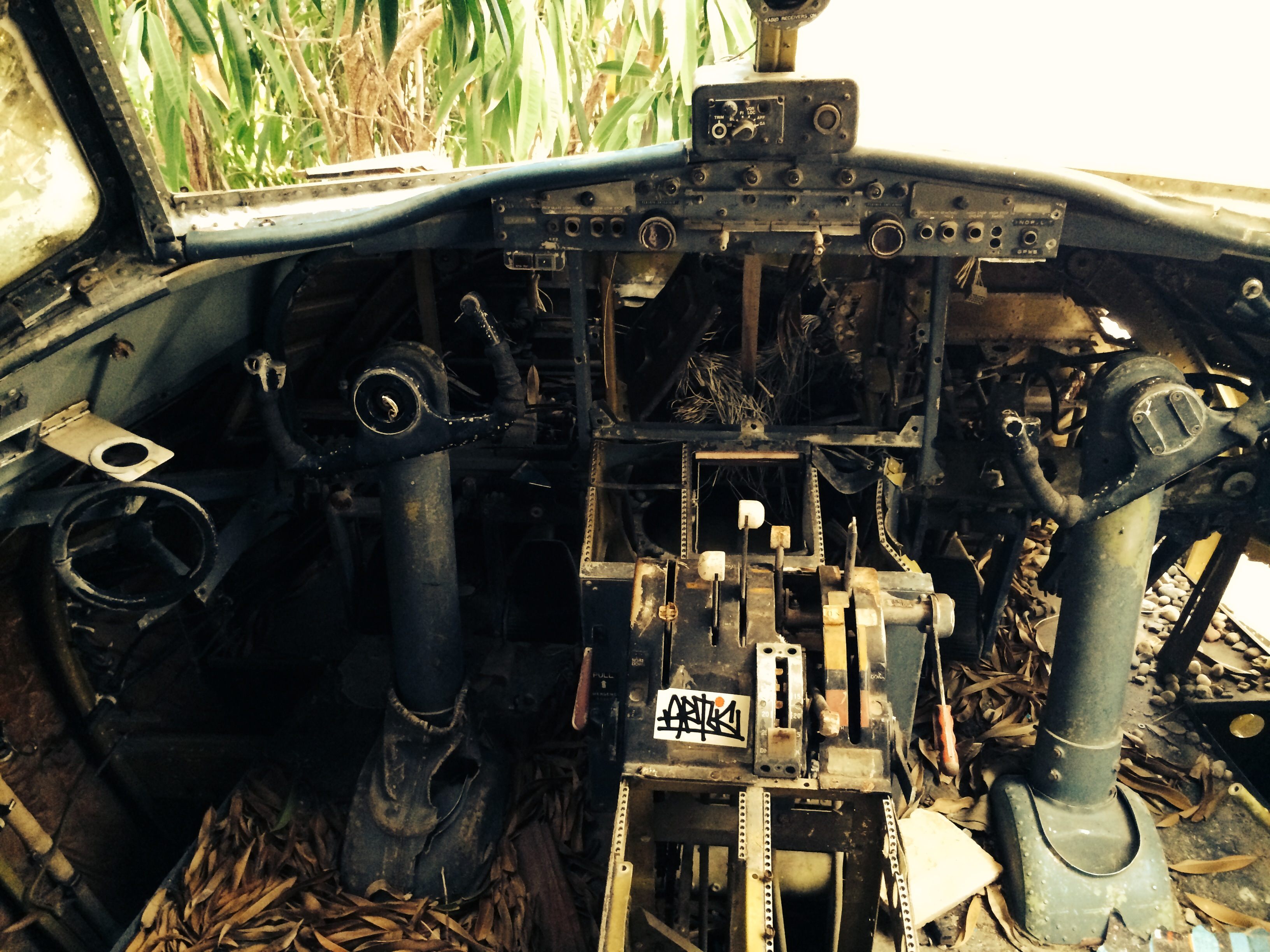 (Photo: Luke J Spencer/Atlas Obscura)
5. U.S. Navy DC-3 Wreckage
Iceland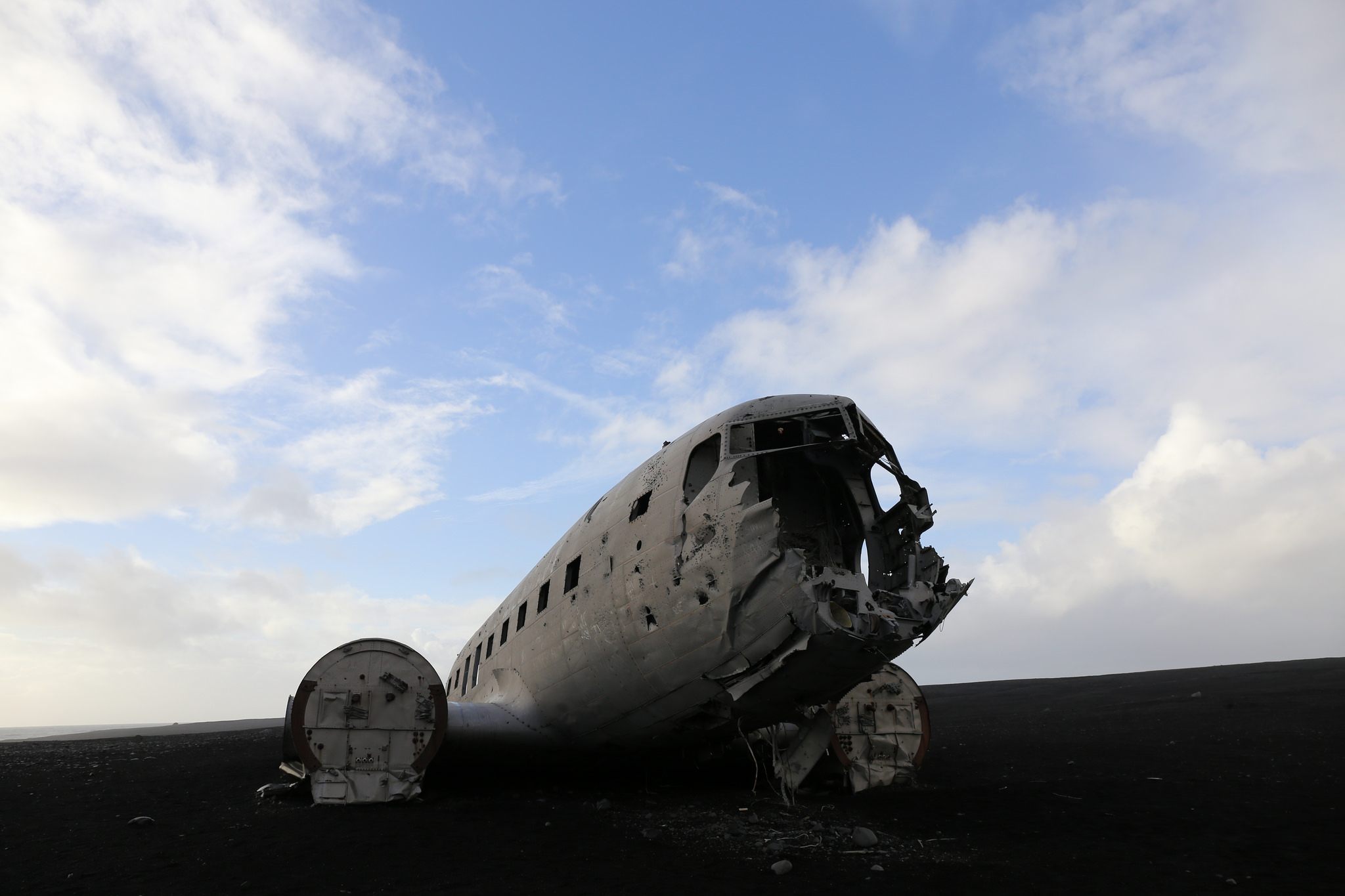 Black sand, wrecked plane. (Photo: Gordon Cheung/CC BY 2.0)
While this military wreck has been receiving a bit more attention lately, the downed DC-3 rotting away on the black sands of Iceland's Sólheimasandur Beach has lost none of its haunting atmosphere. The plane crashed back in 1973 for unknown reasons, although the leading culprit was an empty fuel tank. Luckily, it remained mainly intact, and is now a permanent fixture of the volcanic beach, which is otherworldly enough on its own.
(Photo: Veronique/CC BY-SA 2.0)
(Photo: Veronique/CC BY-SA 2.0)
(Photo: john.purvis/CC BY 2.0)
6. TWA Flight 260 Crash Site
Albuquerque, New Mexico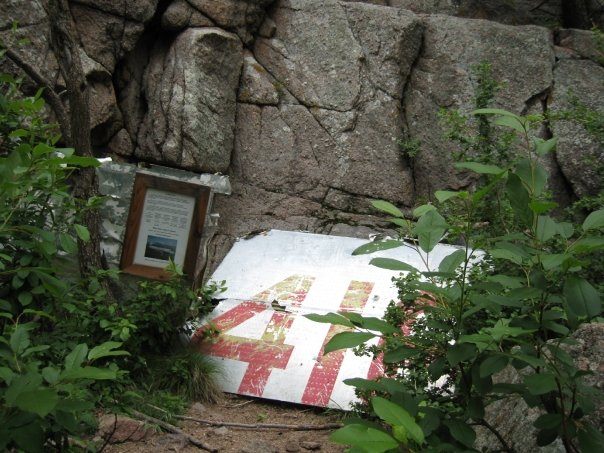 The wreckage remains as a memorial. (Photo: philcrater/Atlas Obscura)
The wreckage from a commercial plane crash that killed 16 people still sits at the impact site as a memorial to the tragic accident. TWA Flight 260 left Albuquerque on a short trip to Santa Fe, New Mexico on February 19, 1955, but quickly came crashing down into the nearby Sandia Hills. Initially, the accident was thought to be caused by pilot error, but the true reasons for the crash are unknown. A large panel from the plane now sits next to a plaque in what is known colloquially as "TWA Canyon."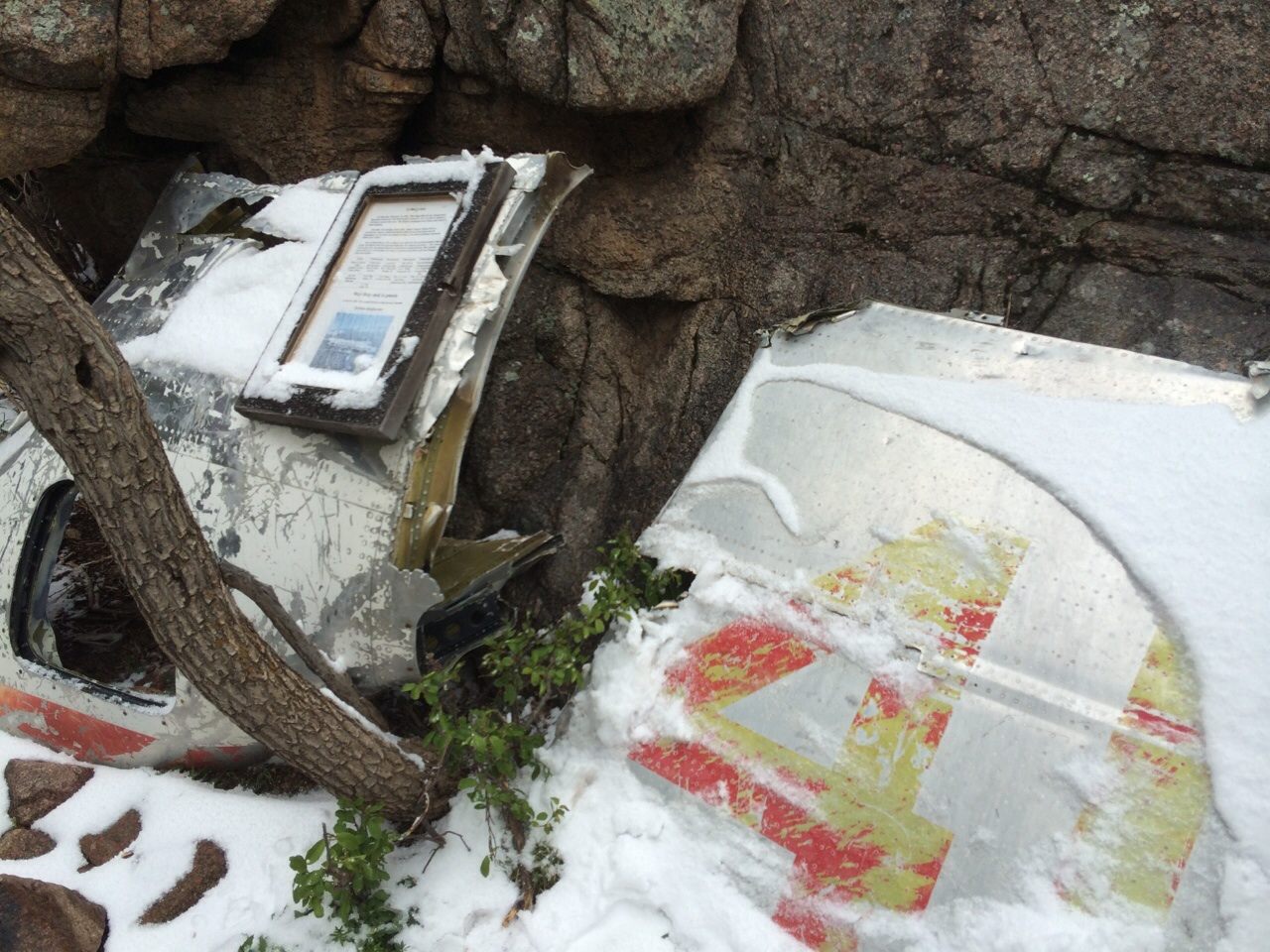 (Photo: philcrater/Atlas Obscura)
7. Corsair Plane Wreck Dive Site
Honolulu, Hawaii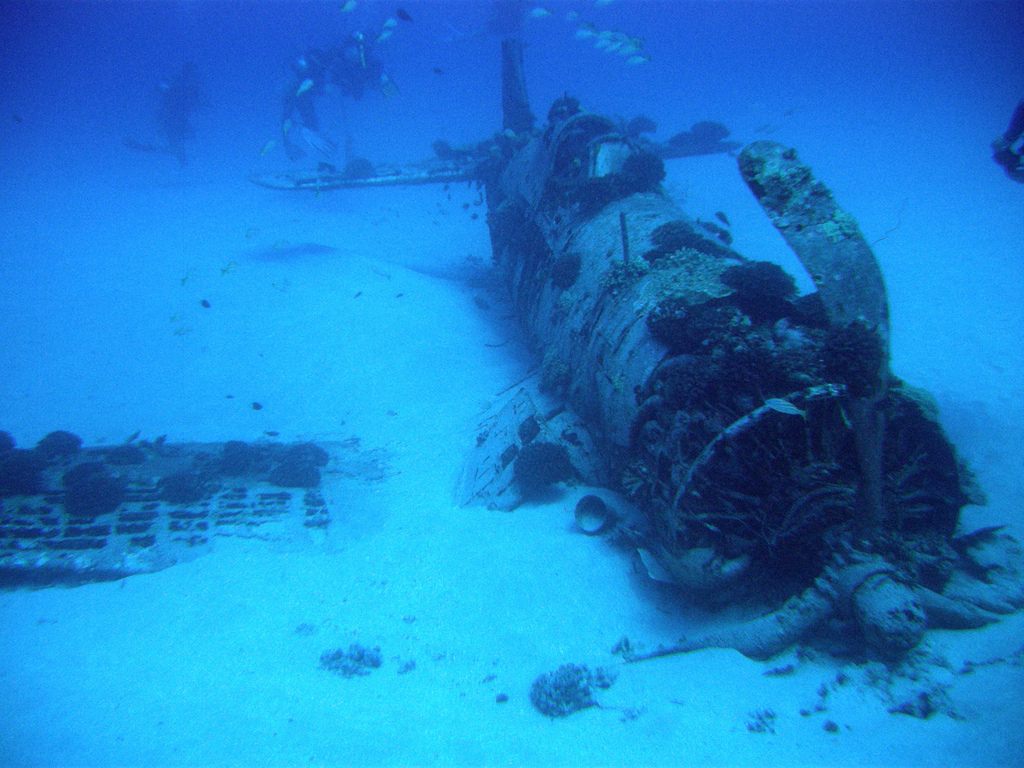 Underwater treasures. (Photo: Matt Kieffer/CC BY-SA 2.0)
Not all airplane wrecks are hard to get to because they are in some far-flung wilderness spot. A great number of planes can be found beneath the waves of the ocean, often attracting scuba divers. Many wrecks are purposefully sunk to create diving features, but the remains of this Vought F4U Corsair actually went down during a routine mission in 1948. When the engine failed, the pilot made a water landing, where it sank in the same spot it sits today.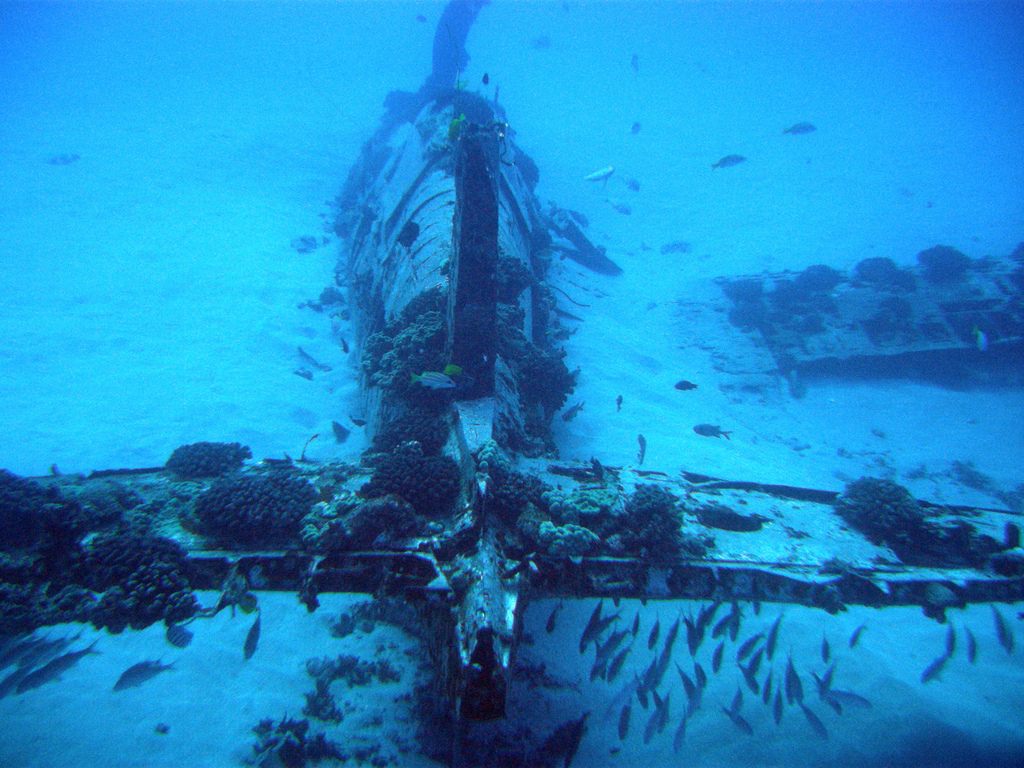 (Photo: Matt Kieffer/CC BY-SA 2.0)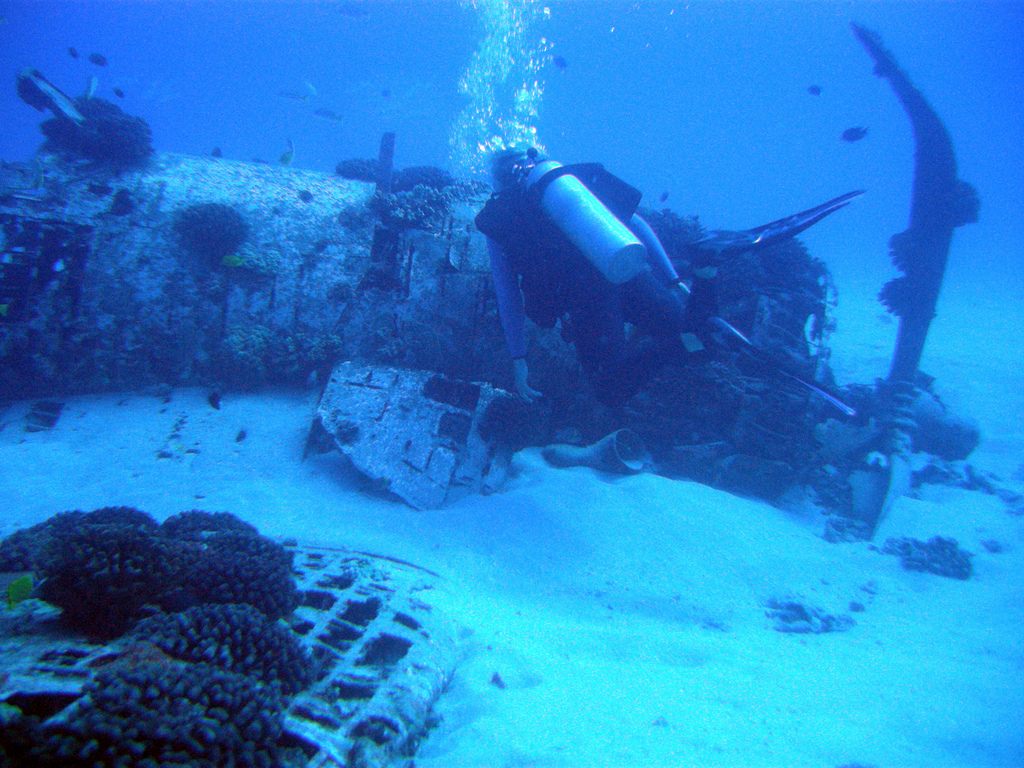 (Photo: Matt Kieffer/CC BY-SA 2.0)
8. The Mystery Wreck of Heritage Park
Mission, Canada
No one is sure where this wreck came from. 
Stuck in the branches of an otherwise unremarkable tree in Mission, British Columbia's Heritage Park are the mangled remains of what appears to be a single-seat airplane. While the exact origins of the twisted metal is unclear, there is graffiti scratched into it that dates itself back to 1971, so it's at least a few decades old.
(Photo: Sam Reeve/Atlas Obscura)