All
United States
Maine
Portland
The Atlas Obscura Guide To
Portland
6 Cool, Hidden, and Unusual Things to Do in Portland, Maine
Updated November 24, 2021
Unusual Attractions in Portland
In partnership with KAYAK
Plan Your Trip
In partnership with GetYourGuide
Unforgettable Experiences Nearby
Atlas Obscura Itineraries
7 Places to Glimpse Maine's Rich Railroad History
Maine is widely known for its mottled red crustaceans and stony-faced lighthouses, as well as bucolic towns and the top-notch hiking outside of them. But before all that, Maine was all about one thing: trains. As America industrialized in the 19th century, there was an insatiable demand to build and a hunger for lumber. Maine had plenty of it, and the state's rivers became swollen with the fallen bodies of pine and spruce, much of which was hauled by rail. Trains did the heavy lifting to coastal hubs including Bangor and Ellsworth, and by 1924, there was enough railroad mileage in Maine to get from London's King's Cross station to Mosul, Iraq. Over the years, some of the old cars were fashioned into eateries, but many were simply abandoned in the woods. Now, relics of Maine's railroad history are scattered in museums, restaurants, and more.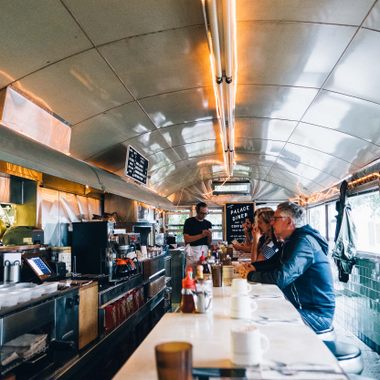 Explore Portland, Maine
Portland Leaderboard
Places Added
Places Edited
Join the Ranks!
Improve the Atlas with edits and photos.
Places Visited
Join the Ranks!
Visit a place in Portland.
See Fewer Ads
Become an Atlas Obscura member and experience far fewer ads and no pop-ups.
Learn More