AO Edited
Ponyhenge
No one really knows how these old hobby horses got here, but the herd keeps growing.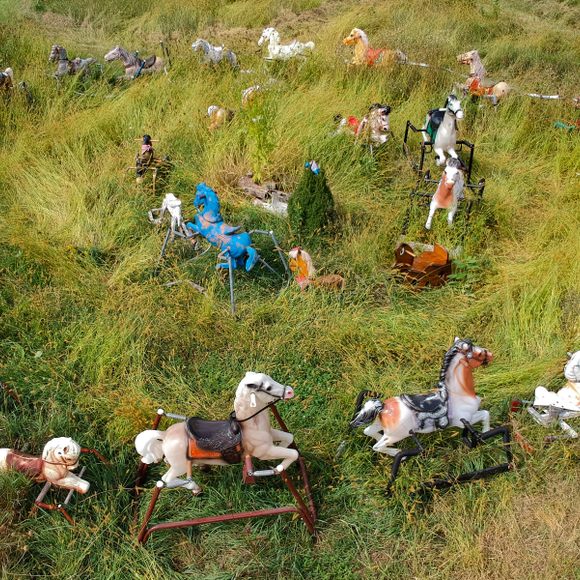 View all photos
Aerial shot of the field
On a small slice of wide-open pasture in the town of Lincoln, Massachusetts, broken-down rocking horses, plastic ponies and other assorted horse toys have been holding court. As if by magic, ponies have been proliferating along this winding country road, resulting in the peculiar "Ponyhenge."
The plastic and metal horses started arriving anonymously sometime in 2010, with the placement of a lone hobby horse along picturesque Old Sudbury Road, about 15 miles west of Boston. How and why the rusty little fellow appeared is a mystery, even to Lincolnites who've been around a while. One story has the first horse hanging around after a kid's short-lived lemonade stand, another that he was left over from a Christmas display.
Whatever the real story might be, after the first one appeared things started to get strange. More horses—hobby horses, rocking horses, and horse figurines—began appearing at the site. They are periodically rearranged, sometimes in a circle, sometimes in rows like race horses. Other times they are simply scattered and knocked around, as if they've come back from a long night of carousing.
The herd has been growing faster of late, with twice as many horses put out to pasture as there were a couple of years ago. Oddly, no one takes them away—the arrangement only morphs and grows, much to the delight of the family that owns the land. As the owner told the Boston Globe in 2015, "There was something lovely about it being anonymous, and now every time we go away, another one appears."
Know Before You Go
Lincoln is about 15 miles west of Boston. Follow Rt-117 going west and turn left onto Old Sudbury Road. Ponyhenge will be about half a mile down on your left (just after you pass Boyce Farm Road). For GPS directions, set the address to "39 Old Sudbury Rd. Lincoln MA". 
While it's on privately owned land, Ponyhenge is open to anyone who wants to visit.
Community Contributors
Added by
Edited by
---
Published
June 30, 2016
---
Edit this listing
---
In partnership with KAYAK
Plan Your Trip
No purchase necessary. Winner will be selected at random on 07/01/2023. Offer available only in the U.S. (including Puerto Rico). Offer subject to change without notice. See
contest rules
for full details.