Kakku Pagodas
This unique temple complex remains off the typical tourist trail.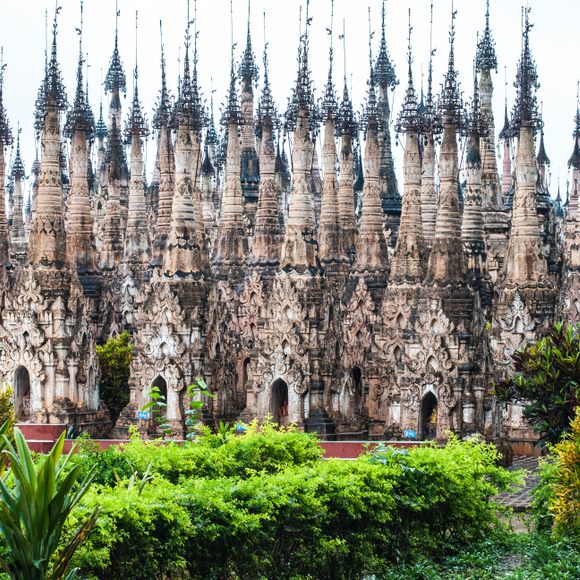 View all photos
Kakku Pagodas.
Kakku Pagoda offers a unique alternative to the plentiful temples spread throughout Southeast Asia. Visiting this extraordinary site takes time and effort.
While most of Kakku's stupas were built in the 17th and 18th centuries, the largest is believed to have been built in the 12th century during the reign of Alaungsithu, King of Bagan, as part of expanding religious sites across his empire. Since then, two main architectural designs have created a distinct forest of 2,478 needle stick pagodas that reach out to take the shape of Buddha's footprint.
From the main stupa, where wisps of omnipresent incense smoke perfume the musty air, visitors can walk through the small channels within rows of smaller stupas, each breathtaking in their nuanced designs, many featuring stucco reliefs in differing forms of veneration. While the renovation is ongoing, plenty of the stupas suffer from varying degrees of weathering and damage from the odd earthquake that blights many temple complexes within Myanmar.
Due to its remoteness and location within Shan State, visitors are few, although the authorities have created a reflecting pool for photographic delights. Thankfully, unlike at other more famous temples, there isn't the need to wait for hours to get that cover shot.
Know Before You Go
Tours are available from the Inle area. If traveling independently, admission to the site is US $3 and a compulsory, but knowledgeable, Pa-O guide costs $5 payable at the tourism office in Taunggyi. From there a taxi will take you and your guide on a bumpy two-hour ride to Kakku Pagodas complex.  
Nearby, a café will refuel you after the long journey and offers local delights and trinkets.
Community Contributors
Added by
Edited by
---
Published
May 2, 2019
---
Edit this listing
---
In partnership with KAYAK
Plan Your Trip
No purchase necessary. Winner will be selected at random on 10/01/2023. Offer available only in the U.S. (including Puerto Rico). Offer subject to change without notice. See
contest rules
for full details.