Hawa Mahal (Palace of Winds)
The 953 windows undoubtedly make this the world's most beautiful screened porch.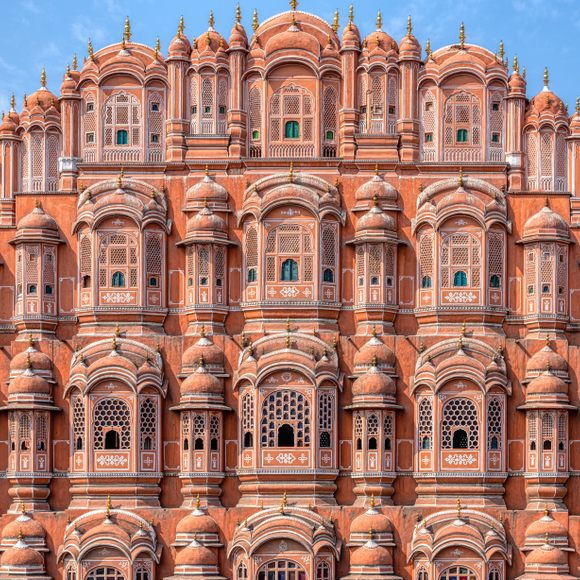 View all photos
Sir Edwin Arnold thought Hawa Mahal was "a vision of daring and dainty loveliness, of storeys of rosy masonry and delicate overhanging balconies and latticed windows. Soaring with tier after tier of fanciful architecture in a pyramidal form, a very mountain of airy and audacious beauty through the thousand pierced screens and gilded arches of which the Indian air blows cool over the flat roofs of the very highest house." As quoted in, Delhi Agra Jaipur, by Surendra Sahai. See more at https://kimcarpenterphotos.smugmug.com/Hawa-Mahal-Jaipur-India/.
The 953 windows covering the lace-like facade of the Palace of the Winds were designed to allow the ladies of the royal court to watch the drama of the streets unobserved behind their delicate latticework.
Known as Hawa Mahal in Hindi, the Palace of the Winds was constructed in 1799 for Maharaja Sawai Pratap Singh as part of the women's section of the enormous City Palace at the center of Jaipur. The facade we see from the street is essentially an enormous screened porch, one room deep in most places.
The palace's distinctive rosy color comes from the natural sandstone from which it is built which also gives Jaipur its nickname, "The Pink City."
The Palace of the Winds is considered one of the finest examples of Rajput architecture in India. 
Community Contributors
Edited by
---
Published
January 10, 2013
---
Edit this listing
---
In partnership with KAYAK
Plan Your Trip
No purchase necessary. Winner will be selected at random on 01/01/2024. Offer available only in the U.S. (including Puerto Rico). Offer subject to change without notice. See
contest rules
for full details.