What We'll Do
In this two-part workshop, learn the art of nature printing using autumn leaves—exploring the history and philosophies that accompany the technique as you go. 
Course Description
In this mixed-media workshop, join artist and plant enthusiast Latifat Apatira to learn a centuries-old printmaking technique that combines plant-pressing, botanical printing, and hand coloring. We'll briefly look at the history of nature printing as a functional tool for botanists, explorers, physicians, and apothecaries dating back to the 16th century. After a printing demonstration, participants will experiment with creating hand-pressed compositions with ink and paper, using colorful autumn leaves found in their own neighborhoods. Finally, we'll move on to the last phase: hand-coloring our prints with watercolor paints.
The botanical nature printing process is unassuming and approachable; no previous art experience is necessary to achieve fulfilling results—only a love of plants. Capturing the various forms of flora from your own community can be relaxing, meditative, and heart opening. By the end of our time together, you'll not only have several prints of your neighborhood plants and the tools and techniques to continue printing, but also a greater awareness of the botanical world around you.
Syllabus at a Glance
This course includes two total sessions, each lasting 2 hours.
Session 1 (Saturday, 10/14, 3–5:00 PM ET)| The Roots of Nature Printing: History, plant blindness, demo, and printing your leaves
Session 2 (Sunday, 10/15, 3–5:00 PM ET)| Adding Color: Sharing our experiences, color demo, and hand-coloring
Between Sessions
Outside of class, participants will be encouraged to create additional botanical prints using foliage found in their neighborhood, as well as to briefly journal/reflect about their experience: Did you notice anything surprising about the plant you selected? Why did you select the plant you did? How did you think the print would turn out, and what surprised you with the process?
Course Materials
Most supplies required for this course can be found at local arts and craft stores such as Blick or on Amazon, and shouldn't exceed $50.00. Once acquired, they should supply you with a much greater quantity than you'll use during class, so you'll be able to continue making botanical nature prints on your own after the course ends. 
Black oil-based block printing ink (you will need oil-based ink and NOT water-based ink if you want to watercolor your prints)

Dabber/Dauber (you can purchase it   OR make your own DIY version: a woven make-up cotton-round taped to an old medicine bottle)

Freezer paper for palette (or wax paper will work too)
Paper towels
Scissors
Tweezers
Autumn leaves: The more color, the better, but you should choose a leaf that's freshly fallen or plucked from the tree. You don't want a leaf that's already dry and crunchy; it should still be somewhat fresh.
Pricing Options
In addition to full-price tickets, a limited number of no-pay spots are available for this course. Please note that these tickets are reserved for those who would not otherwise be able to take this course and who expect to attend all sessions. No-pay spots are distributed via a randomized drawing two weeks before each course begins. For more information and to apply for a no-pay spot, please click here. To learn more about our pricing model and randomized selection process for no-pay spots, please visit our FAQ page. 
Community Guidelines for Students
Please take a moment to review our community guidelines for students, which aim to share our classroom ethos and help set the stage for the best possible learning experience.
Atlas Obscura Online Courses
Atlas Obscura Courses offer opportunities for participants to emerge with new skills, knowledge, connections, and perspectives through multi-session classes designed and taught by expert instructors. To learn more about our current course offerings, please visit www.atlasobscura.com/online-courses. For answers to commonly asked questions, check out our FAQ page here.
Founded in 2009, Atlas Obscura created the definitive community-driven guide to incredible places across the planet and is now an award-winning company that shares the world's hidden wonders in person and online.
Where We'll Be
Once registered, you'll receive a confirmation email from Eventbrite that will provide access to each class meeting. Please save the confirmation email as you'll use it to access all sessions of your course via Zoom.
About Your Instructor
Latifat Apatira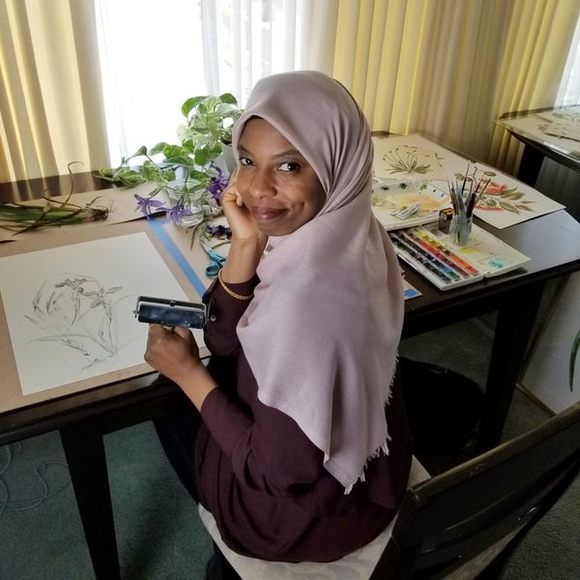 Latifat Apatira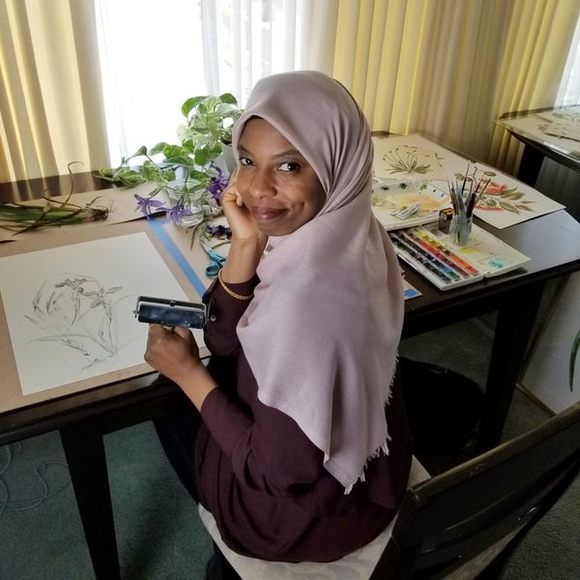 Latifat Apatira is a plant enthusiast and artist. Raised in northern California, she spent her youth exploring the expansive rural areas of the San Francisco Peninsula. Her fascination with the natural world directly results from the wonders produced by observing the peninsula's oak woodlands, coastal scrublands, and redwood forests.

In 2018, she participated in a nature printing workshop and fell in love with the art form. Since then, she has served the community through plant and garden print commissions and her work has been displayed at several group and solo exhibitions throughout California, including the San Francisco Botanical Garden's Helen Crocker Russell Library of Horticulture. Her prints and writings have been published by the Parks Stewardship Forum and The Permanente Journal. She is a member of the international Nature Printing Society, the California Society of Printmakers, and the American Society of Botanical Artists.
What Else You Should Know
This is an interactive, small-group seminar that meets over Zoom. Students may be encouraged to participate in discussions, work on assignments outside of class, and workshop projects with their instructor or classmates. Due to the interactive nature of this course, we strongly recommend students attend as many live sessions as possible. Within 72 hours after each session meets, students will receive access to a recording of the live session, which they can watch for up to two weeks after the course concludes.
Instructors may use Google Classroom to communicate with students outside of class. While students aren't required to use Google Classroom, instructors may use this platform to post resources, discussion questions, or assignments. This platform also offers a space for students to connect with one another about course material between sessions. 
We provide closed captioning for all of our courses and can share transcripts upon request. Please reach out to us at experiences@atlasobscura.com if you have any questions, requests, or accessibility needs.
Group Size
There are 35 spots available on this experience.