Utrecht Just Wheeled Out the World's Biggest Bike Parking Garage
The structure will hold 12,500 bicycles—and some cyclists fear it's still not big enough.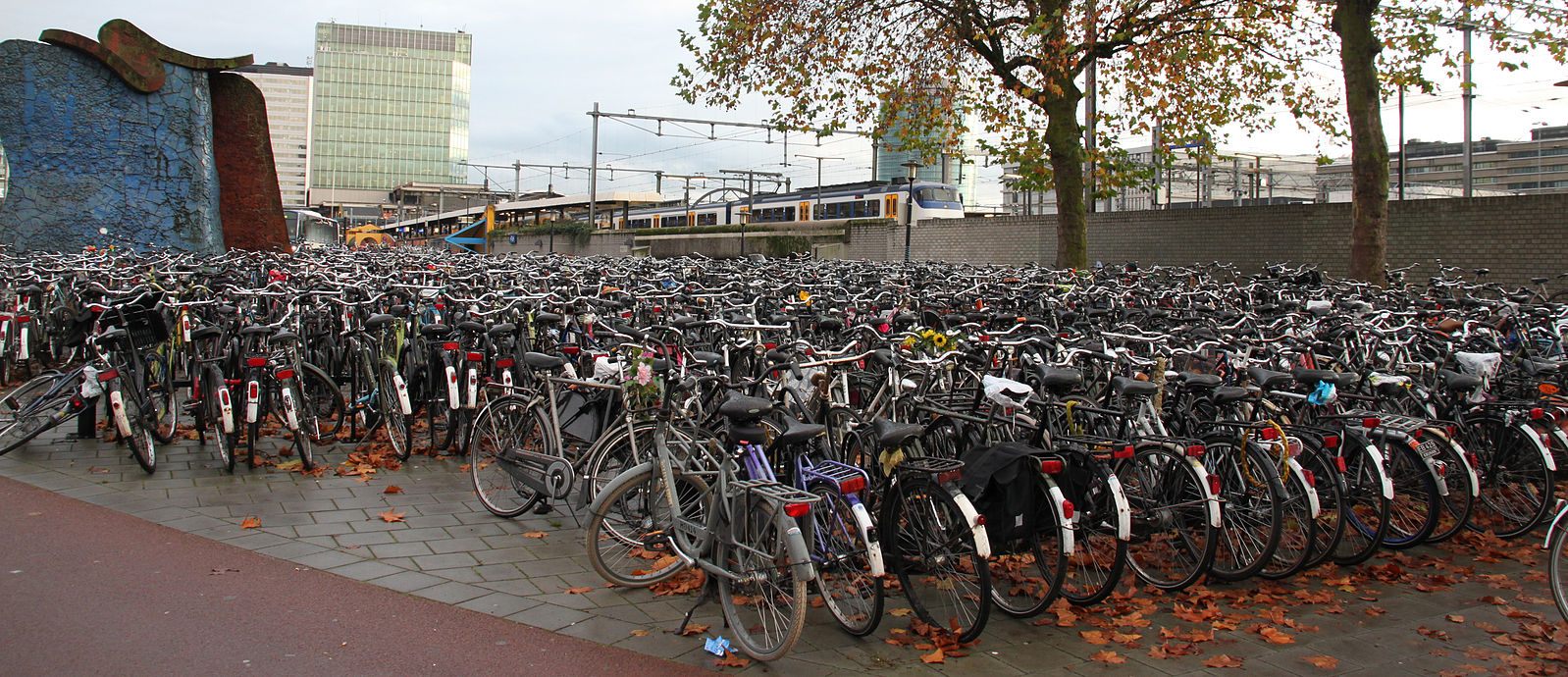 There are more bicycles than people in the Netherlands, and most of them get used pretty regularly. If you're hanging out with someone there, and they've traveled fewer than 4.6 miles to meet you, there's a 43% chance they did so by bike.
These numbers, and the infrastructure changes that have enabled them, mean better health and fewer motor vehicle accidents. But they also present a problem: where is everyone going to lock up?
Yesterday, August 7, the city of Utrecht unveiled one solution: what will be the world's largest bike parking garage. Located underneath the central train station, where 40% of commuters arrive by bike, the garage is about 184,000 square feet—the size of the Kennedy Center.
Largest bike parking in the world opened this morning in #utrecht. Including a 600+ 'OV-fiets' bike sharing location. pic.twitter.com/dTwk6x5TLS

— Philip Boontje (@philipboontje) August 7, 2017
By the time it's finished, at the end of 2018, it will fit 12,500 bicycles—a solid 3,500 more than the current record-holder, Tokyo's Kasai Station, which also boasts automated bike parking machines. Photos show what looks like a standard car garage, with riders following arrows from level to level until they find a skinny, bike-sized spot.
As the Guardian reports, though, some people think even this might fill up too fast. "By the time the politicians have made their decisions, and by the time things are built, there are more people cycling," cycling organization spokesperson Martjin van Es told the outlet.
Those in charge of the garage don't entirely disagree. After it's fully functional, project manager Tatjana Stenfert told the Guardian, "we will have to do some research and find more places for the bikes."
"It never stops," she said.
Every day, we track down a fleeting wonder—something amazing that's only happening right now. Have a tip for us? Tell us about it! Send your temporary miracles to cara@atlasobscura.com.