Whatever Floats Your Boat – or Tank
Nebraskans have come up with an ingenious way of cooling down along the state's many waterways.
Every first Saturday in March, dozens of people take to the waters of the Middle Loup River—just north of Mullen, Nebraska—in tanks. Not military or storage tanks, but large and sturdy water tanks that are an essential piece of equipment for keeping animals hydrated here in America's heartland. They also come in handy for river floating. For instance, the Polar Bear Tank Race is an annual fundraiser that's been attracting participants from as far away as Europe for well over a decade. Teams dress in themed costumes that often incorporate their vessel (think lobsters in a pot, or cowfolk hunkering down in a corral), and compete for either bragging rights or entertainment—though it's typically a bit of both—in temperatures that have dipped as low as zero degrees.
"There is nothing more Nebraskan than taking a tank, adding a little ingenuity, and turning it into something fun," says Sydnee Nel, a Nebraska resident who tanks annually with North Platte's Dusty Trails River Outfitting, one of more than a half-dozen outfitters that offer the sport. And really, in a state that's home to more than three-times the number of cattle to people, reutilizing water tanks for cooling down on hot summer days makes perfect sense. Especially since Nebraska has more than 80,000 miles of rivers and streams. It's a quirky thing to do, but unconventionality is a big part of this Midwest state's charm.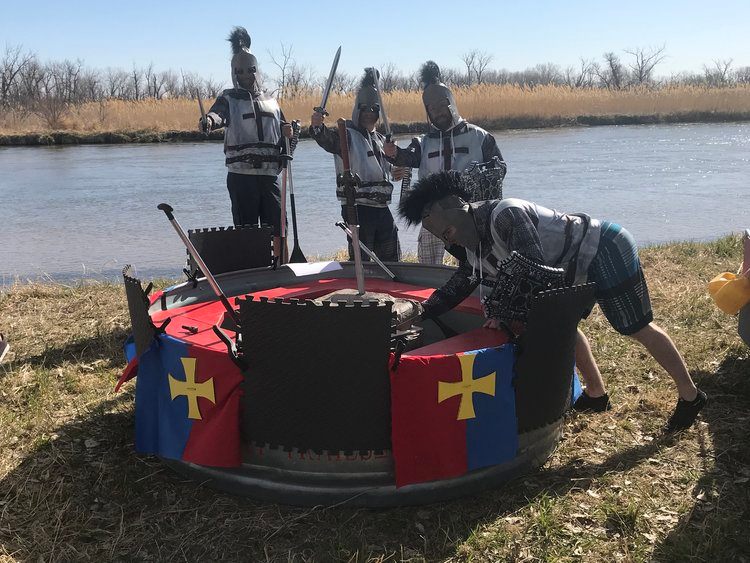 In the years since 1854, when Nebraska first became a U.S. territory, there have undoubtedly been local ranchers and farmers who utilized their tanks for a relaxing float. However, most local residents agree that Glidden Canoe Rentals, a company offering river adventures in the Nebraska Sandhills, pioneered the activity in 2004. "It started out like any good idea around here," says Patty Glidden, who co-owns the company with her husband, Mitch, "in a bar over drinks. Someone said, 'you know those stock tanks hold water, we oughta see if they float on water.'" Although their plan took a few years to gain momentum, once it did, 'tankers' were flocking to the river in droves.
The sport is especially prominent in the state's Sandhills region—a nearly 20,000-mile expanse of towering sand dunes that can reach up to 400 feet high and cover a quarter of Nebraska. Not only are they home to the planet's largest remaining intact, temperate grassland—bursting with species like sand bluestem, blue grama, and prairie sandreed—but it sits atop one of the world's biggest aquifers, which helps transform the whole area into a lush, emerald-green landscape come June and July. This also means that the handful of rivers originating in the region, such as the Middle Loup and Cedar, are sand-lined and spring-fed, qualities that keep the waters clear, with constant flows and unwaveringly cool temperatures—the ideal spot, even when summer temperatures topple 100 degrees Fahrenheit.
In fact, the best rivers for tanking are slow-moving and scenic. Take Nebraska's Calamus River, which meanders among the Sandhills in the state's central region. Or the Middle Loup, a wildlife and birders' paradise. You can often spot white deer and mule deer grazing along its banks, and an occasional river otter or two lazing on their backs in the water. During spring months, more than a half-a-million sandhill cranes migrate over the river to "fuel-up" on waste corn in Nebraska's Platte River Valley. Red-winged blackbirds, orioles, finches, and plenty of bald eagles are also par for the course.
"Last year around mid-June, we had a group of tankers from Vermont who spotted adult eagles teaching their newborn chicks how to fly," says Cay Ewoldt, owner of tanking outfitter Sandhill River Trips. "They'd load the babies on their backs, take them high up into the air, and then drop them—basically circling them all the way down until they reached the water. Then they'd pick them back up and do it again."
Ewoldt runs Sandhill River Trips out of a grocery store in the tiny town of Thedford. "It's a no-brainer," says Ewoldt, "tankers can load up on snacks and then hit the water, all in one stop." Although Ewoldt's own tanks fit four-to-five people, others can fit as many as eight. Not only are they spacious, but their flat-bottoms make them ideal for shallow waters. Some are made of galvanized steel, others polypropylene—a type of rigid thermoplastic—and many of them feature rolled rims. This is to protect animals from injuring themselves while they're drinking water, but it comes in handy for safeguarding humans, too. Although most outfitters provide paddles, they're really just used in case a tank gets stuck on some rocks and for pushing off shore. "Because tanks are circular it's tough to coordinate paddling," Ewoldt says. Instead, tankers just let the river do the work during excursions that run anywhere from two to six hours.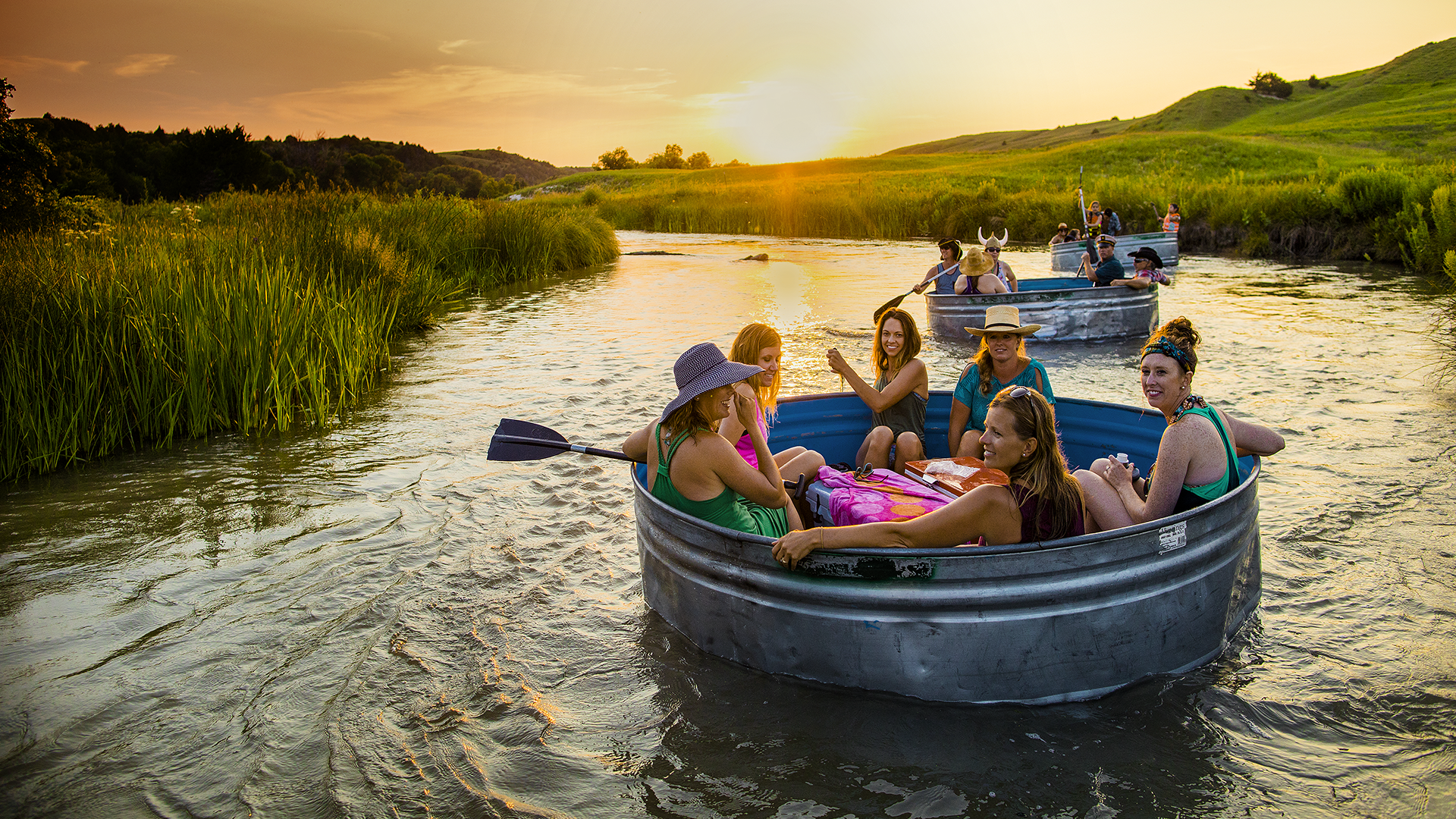 However, thanks to a little Nebraskan ingenuity, every tanking experience is different. There are outfitters that equip their tanks with lawn chairs for a leisurely river ride, while others feature customized built-in benches. Sandhill River Trips uses recycled feed buckets for tankers to sit on that they put in place just before the tanks set out. Tank 'N' Tube River Rides, which runs trips along the Elkhorn River near Waterloo, have specifically crafted picnic tables within their tanks, perfect for playing cards, drinking beers, and watching the world float by. Others, like Crazy Rayz Tanking in Spalding, provide their own campsites, so that tankers can make a weekend out of it.
Of course, there are also Nebraska's local characters that help make each tanking outing unique. Take Remy, the black lab who loves swimming alongside tankers with Sandhill River Trips, often for the entire eight-mile length of their journey. "He'll sit on the front porch of his place," says Ewoldt, "and as soon as that first tank comes down the river he'll jump in and swim alongside whoever's in front. Many people think he's a stray, but he is not. He's also very well fed." When the bus comes to pick up tankers at the end of their trip, Remy boards it with them. "He then walks up to the front of the bus as they approach his home," says Ewoldt, "the driver will open the door, and he'll head back up to his porch. It's an annual tradition."
Although Memorial Day through Labor Day is indisputably high season, tanking is technically a four-season sport. As long as you don't mind a little cold, there's plenty to see along Nebraska's rivers in the shoulder seasons. For instance, the banks of the Middle Loup pop with shades of blues, purples, and pinks in the springtime, when wildflowers like bluebells and penstemons are in bloom. During autumn, the color palette turns to reds and maroons.
Still, most Nebraskans outside of the Polar Bear competitors steer clear of river tanking during winter, when it can be downright freezing outside. Nebraska may be a quirky place, but its residents are sensible.