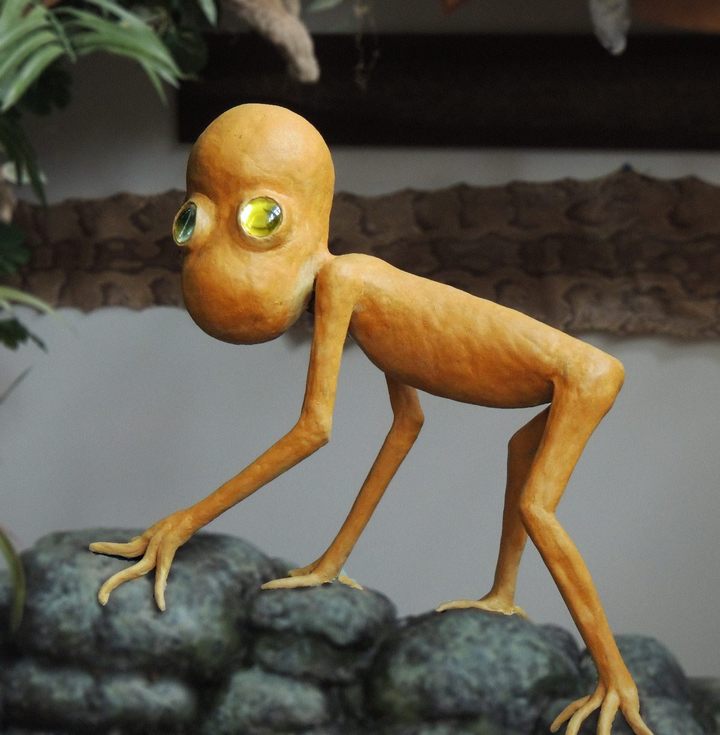 Take a Podcast Tour of Some of the World's Most Unusual Museums
Visiting some of our favorite very specific collections from the last two years.
Not every museum needs to be a massive, encyclopedic affair. Some of the unusual museums we've covered on The Atlas Obscura Podcast house million-dollar cars, (what some believe to be) evidence of the existence of cryptids, antique vibrators, the mementos of broken relationships, and much, much more. What they all share is a passion for what they have on display. Join us on a tour of some of the world's most unexpected collections and the stories behind them.
In February 2014, a 40-foot-wide, 30-foot-deep sinkhole appeared in Bowling Green, Kentucky, swallowing eight rare vehicles in the collection of the National Corvette Museum. The gaping hole has since been filled in, but you can still see the unlucky cars.
When Croatian artists Olinka Vistina and Drazen Grubisic called it quits, they created the Museum of Broken Relationships in Zagreb, where the mementos of their time as a couple would remain together, even as they went their separate ways. In the years since, countless others have donated often-unexpected relics of their own ill-fated romances to the collection.
The one-room Flagg Grove School, now in Brownsville, Tennessee, has become a museum dedicated to its most famous student: Tina Turner. The musician helped to fund and design the project, and donated memorabilia from her storied career. Though Turner has never been able to visit the museum, her biggest fans visit Brownsville the last weekend of September every year for Tina Turner Day.
It's easy to dismiss Bigfoot, the yeti, the Loch Ness monster, and other cryptids as fodder for The X-Files. But the International Cryptozoology Museum in Portland, Maine—with its unrivaled collection of mysterious objects—shows that when investigations into unknown creatures are done right, they can have real scientific value—and be a lot of fun.
This San Francisco museum displays approximately 100 vibrators in chronological order—from the late 1800s to the 1970s—on its walls to illustrate a surprising story of health care, technology, and sexuality. "In 1917 in the United States there were more electric vibrators in homes than there were electric toasters," says museum curator Carol Queen. "That's how common they were. They were not secretive."
Nepal's more than 100 distinct ethnic groups have produced upwards of 1,300 different musical instrument designs—and some 650 of them are on display in the Nepali Folk Musical Instrument Museum in Kathmandu, including what is believed to be the world's largest sarangi, a traditional stringed instrument.
Forget the Strip. Las Vegas, Nevada, was once the preferred tourist destination for watching weapons of mass destruction explode. The Atomic Museum (previously known as the National Atomic Testing Museum) is a memorial to that time, with more than 12,000 artifacts that tell the story of the Nevada Test Site and the nation's nuclear program, as well as its impact on city and its surrounding communities in the 1950s and 1960s.
After his legendary career in jazz, Louis Armstrong retired to a house in Corona, Queens, which has now become a museum preserving his legacy. Much of the original furnishing remains, and you can feel the artist's presence in the space; his music plays throughout the house, along with recordings of Armstrong talking with friends and practicing trumpet. It all makes it feel as if the jazz great, who died in 1971, is still in residence.
The Atlas Obscura Podcast is an audio guide to the world's wondrous, awe-inspiring, strange places. In under 15 minutes, we'll take you to an incredible site, and along the way you'll meet some fascinating people and hear their stories. Join us daily, Monday through Thursday, to explore a new wonder with cofounder Dylan Thuras and a neighborhood of Atlas Obscura reporters.