Unplug at This West Texas Telephone Museum
The Danner Museum is a tribute to the phones of yore and the air-conditioning of today.
We love to kvetch about how much privacy we have signed away: the data we offer up to corporations in exchange for basic services; the possibility that an anonymous hacker might be reading our personal texts and observing our private dramas from his mother's basement.
But perhaps we are wrong to feel nostalgia for a golden age of private communication. Consider the "party line." Don't know what a party line is? You've come to the right place.
"Oh! Okay! Here's your lesson," Robert Bluthardt starts in. Bluthardt is the Museum Director of the Fort Concho National Historic Landmark in San Angelo, Texas, which includes the E.H. Danner Museum of Telephony. Though he caveats that he's not a phone expert, he's certainly an enthusiast, particularly for party lines.
Bluthardt explains that back in the day, when phone systems in most rural areas were independent, meaning they weren't hooked up to other systems, communities had a finite number of phone lines. Residents had to share the lines, which were not secure.
"So let's say you lived in Bug Tussle, Iowa, a town of about a thousand," Bluthardt says. "In order for you to make a call, you rang up the operator and said, 'Hilda! Bug Tussle!'" You shared the number you wanted to reach, and Hilda, the switchboard operator, would put your call through. But Hilda didn't necessarily hang up after that, Bluthardt continues. "She could hear the whole thing. And if your line was a 'party line,' there might be five or ten other citizens on that line. If they picked up the phone trying to call the operator, they would hear the call you were doing. It was basically a soap opera."
Maybe we have been wrong to value privacy. Maybe we should be chasing radical transparency in our communities' small dramas, and the resulting entertainment.
Bluthardt only occasionally gives tours of the Danner Museum; most visitors shepherd themselves around. The museum celebrates a pre-Apple golden age of communication, displaying phones and equipment such as wooden push phones and even a rare "gallows frame" phone, a wooden-framed experimental transmitter and receiver invented by Alexander Graham Bell in 1875, only five of which were constructed. There are classic rotary dials, trumpety earpieces like the one James Stewart and Donna Reed share in It's a Wonderful Life, and even a Mickey Mouse phone.
The museum is named for a less famous phone enthusiast, Elmer Danner. Danner was a general manager at General Telephone, or GTE Southwest, which had its regional offices on Johnson Street in San Angelo. A lot of distance separates West Texas's cities, and San Angelo, relatively central, was a natural hub. Danner was a GTE "lifer," Bluthardt says, who worked with the company for decades. He began gathering telephones and equipment in his office, and his hoard grew into the collection that is now on display at the museum.
The Danner Museum is as much a monument to the shifting tides of corporate interests as it is to telephony. In 1990, when Danner retired, he and GTE decided to loan the collection to Fort Concho. There, GTE would create and staff a museum that would be open to the public. Danner's collection was moved into one of the officers' quarters, and a staff member paid by GTE ran the museum.
Over time, budgets were reduced. GTE cut the salaried staffer but continued to provide annual funding. When Verizon bought GTE, that allocation disappeared. And about 15 years ago, Verizon simply gifted the city the museum. Many GTE veterans who wanted to see Danner's collection preserved still lived in San Angelo, so the city agreed to take it over.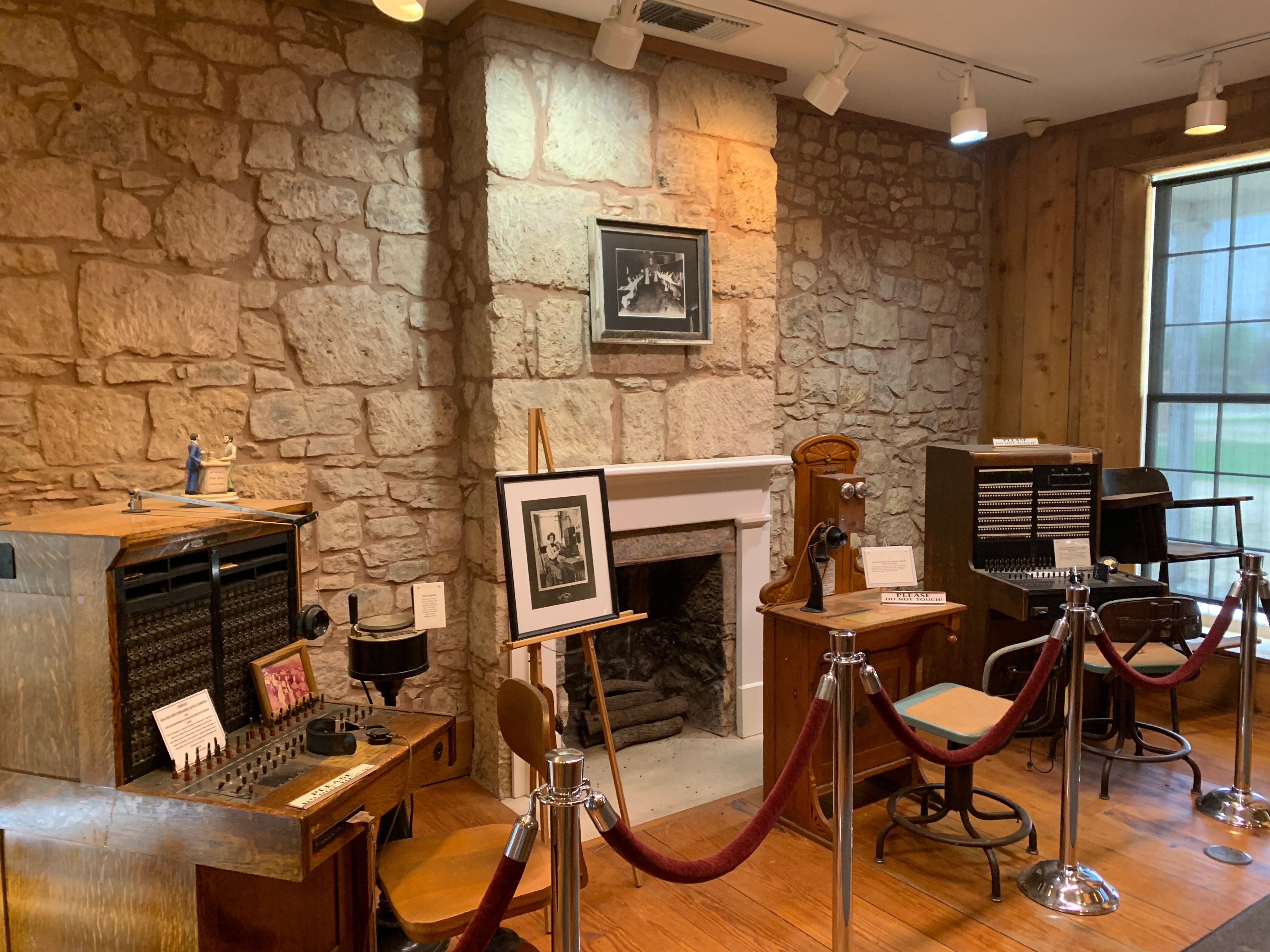 Now the museum is mostly a curiosity for visitors to Fort Concho, a former military base established in 1867 and converted into a museum in 1929. Bluthardt does sometimes encounter members of a "small, ardent core of people" on a quest to see the great telephony museums of America. Bluthardt estimates there are about 200 such museums across the country but, he says, "it's a niche market, similar to sports museums, fire museums, or museums that are dedicated to a famous actor or personality."
The Danner Museum's appeal seems more universal than that, however, given the oppressive predominance of smartphones. A stroll through the devices on display is an antidote to the smartphone apocalypse. A rotary dial phone, after all, would never inform you in the middle of the night, à la Instagram, that your ex-boyfriend got engaged to a beautiful pastry chef—unless, of course, you happened to be on a party line at an inopportune moment.
The Danner Museum also offers another more primal draw. Touring Fort Concho, which spans 42 acres and includes some of San Angelo's oldest structures, involves a great deal of time spent outdoors, and the Danner Museum has one of the best air-conditioning systems on site.
"When you walk into the phone museum and the temperature drops thirty degrees," Bluthardt says on a 109-degree summer day in San Angelo, "I don't care if you're showing tin cans. It's just a very popular exhibit."