The FBI's Social Media Policies for Agents Are Ham-Fisted Yet Smart
In so many words: Never tweet.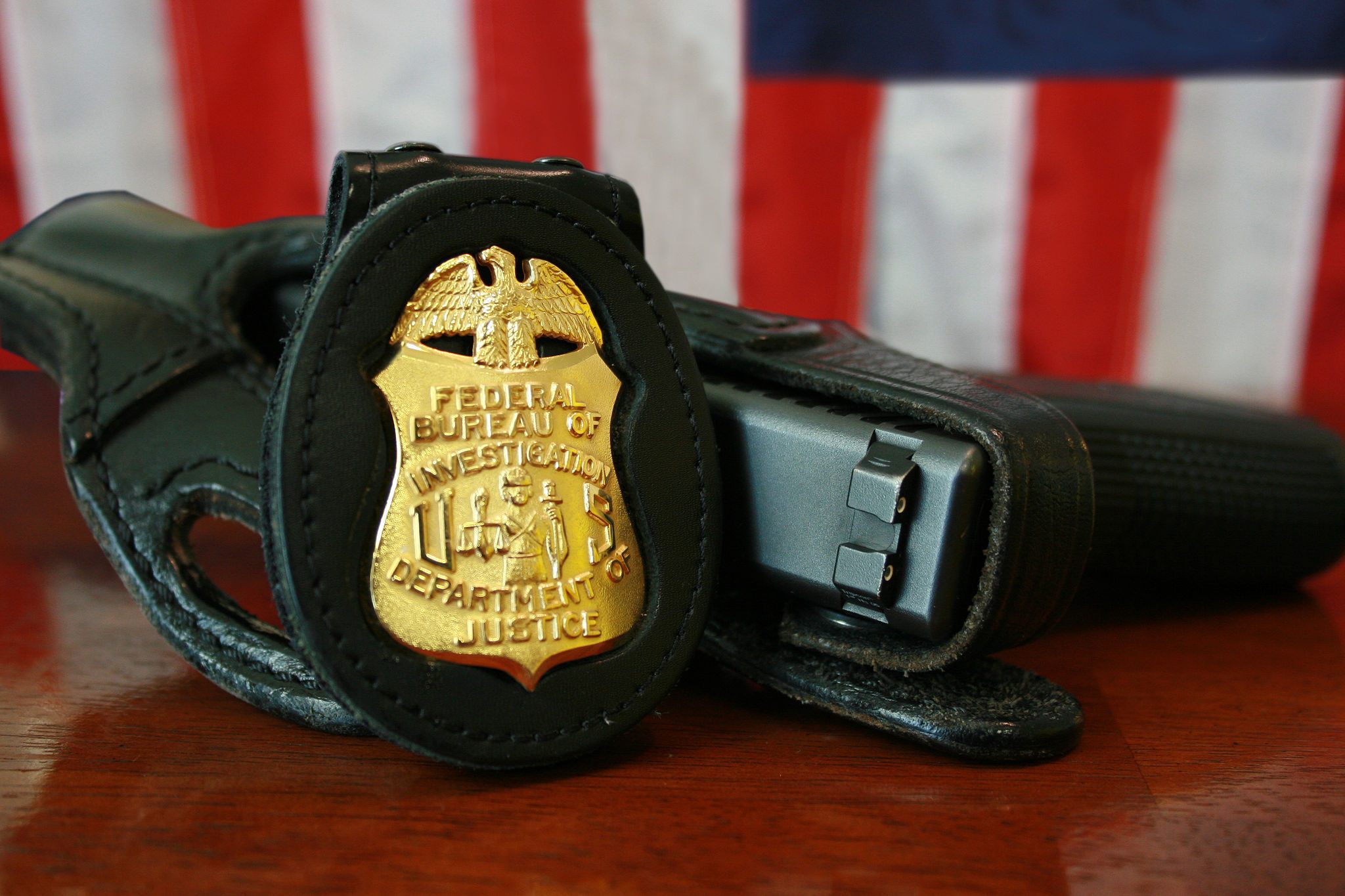 (Photo: Federal Bureau of Investigation/Public Domain)
FBI Special Agents are humans, like the rest of us, and they are probably tweeting, and posting stupid photos to Facebook, and maybe sharing memes there as well. 
But they also work for the FBI, which means that the rules of the road are a bit different. Recently, Atlas Obscura requested the social media policy for FBI personnel under the Freedom of Information Act. Last week, the bureau responded, giving us a 30-page document from 2012 that outlined the FBI's guidelines.
The guide covers most of the services we know and love, like Facebook, Twitter, and LinkedIn, but, owing to its age, doesn't mention things Snapchat, Instagram, or Tumblr. Regardless, the rules, broadly stated, would probably apply anywhere. 
And, in this age of oversharing, the rules are actually pretty smart. In short, the FBI says: never tweet, or, if you do, think long and hard, since the FBI's first rule of using social media, it turns out, is don't talk about the FBI. 
"They should refrain from disclosing on any section of their user profiles that they work for the FBI or the Department of Justice," the guide states. "FBI personnel must also consider each word that they post, as these posts will remain indefinitely in cyberspace."
FBI personnel also can't use FBI computers or internet to access social media. And, among other things, the guide says, they shouldn't post about where they go, what kind of work they're doing, or talk about the bureau's "weaknesses, vulnerabilities, or loopholes," according to the guide. (That last one seems obvious.) Many of these rules apply even after an employee has left the agency, the guide says.
Also: tell your kids to stop tweeting that their mom or dad is an FBI agent. Not cool.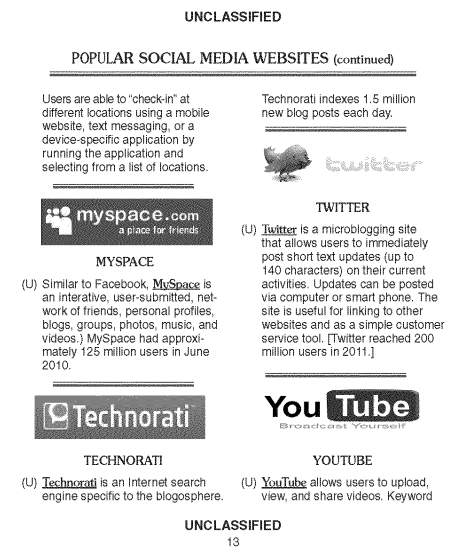 The guide also gives brief and surprisingly non-embarrassing (for 2012) descriptions of a multitude of social-networking sites, like LinkedIn ("the world's largest professional network on the internet"), Twitter ("a microblogging site that allows users to immediately post short text updates"), and Facebook ("allows commentaries, virtual gift exchanges between friends, and photo posting with captioning and commentaries"). 
Better is the glossary, which defines various internet terms, many of which, in 2016, seem self-evident. There's avatar, for example, which the FBI defines as, "Graphical images representing people within the social media arena." All true. The blogosphere is "a term used to describe the totality of blogs on the Internet, and the conversations taking place within that sphere."
Then there's the definition of conversation, which closes with this (mostly) true statement: "A popular (mis)perception of bloggers is that they rant on a virtual soapbox without knowing who is listening."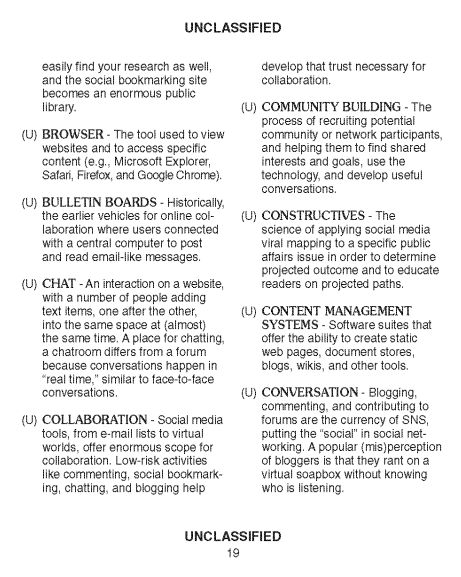 On the appeal of social media for reasons other than broadcasting your location or complaining about your employer: "Social networking and media are potentially attractive to those who want to revive representative democracy, to those who promote participative approaches, or to both." 
Representative democracy is dead? Huh. 
Maybe best is the definition of troll: "A hurtful yet possibly valuable person who, for whatever reason, is simultaneously obsessed with and annoyed/offended by everything written on a particular blog."
It strikes me that "hurtful yet possibly valuable" is as apt a description of social media as one can hope to find. Thanks, FBI. You can read the complete guide here.