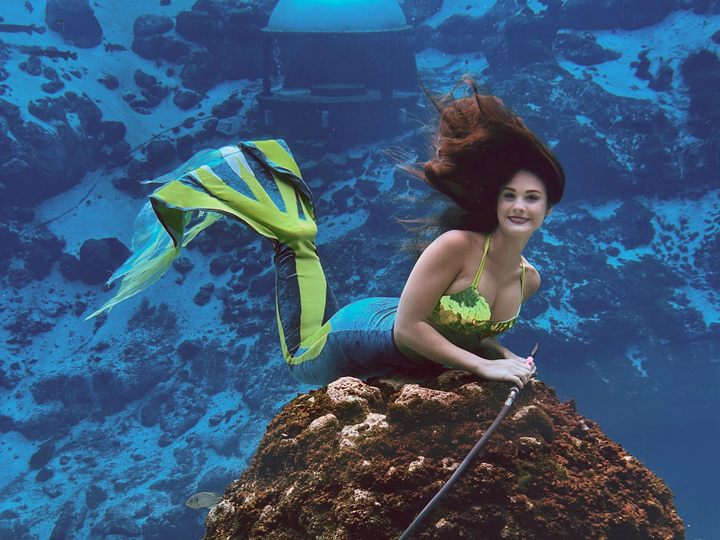 The City of Live Mermaids - Only in Florida
A childhood dream come true on the Gulf Coast is also an ode to roadside Americana and a love letter to Florida's natural beauty.
The good news is that mermaids are real. They're on the Florida state payroll as such, but to them, it doesn't feel like work at all. The bad news is they don't travel. They perform in one place only, a venue of unthinkable circumstance whose singularity cannot be understated. "No one could ever duplicate what we have here," says John Athanason, gazing from a submerged 400-seat theater into one of the deepest freshwater springs on earth.
Weeki Wachee Springs State Park, the City of Live Mermaids, is home to the World Famous Weeki Wachee Mermaids, a troupe, tradition, and attraction in their 75th year. Their fame is of course due in large part to their abilities as performers: using a subtle breathing mechanism developed in the 1940s, the mermaids enact spellbinding, hour-long shows entirely underwater without the bulk of scuba tanks, delivering a cleverly convincing portrayal of actual mermaids at play.
But the living, breathing backdrop itself plays no small role, either. Instead of a man-made tank, the mermaids' "stage" is the 250-foot deep mouth of the Weeki Wachee River, a first-magnitude spring home to an abundance of manatees, turtles, and fish, from which over 100 million gallons of crystalline, mineral-rich water flows into the Gulf daily. "Everything in the water here is wild, they're performing in an open waterway," says Athanason, who was a long-time Marketing and PR Manager at Weeki Wachee. "As a viewer, you're actually the one in a tank."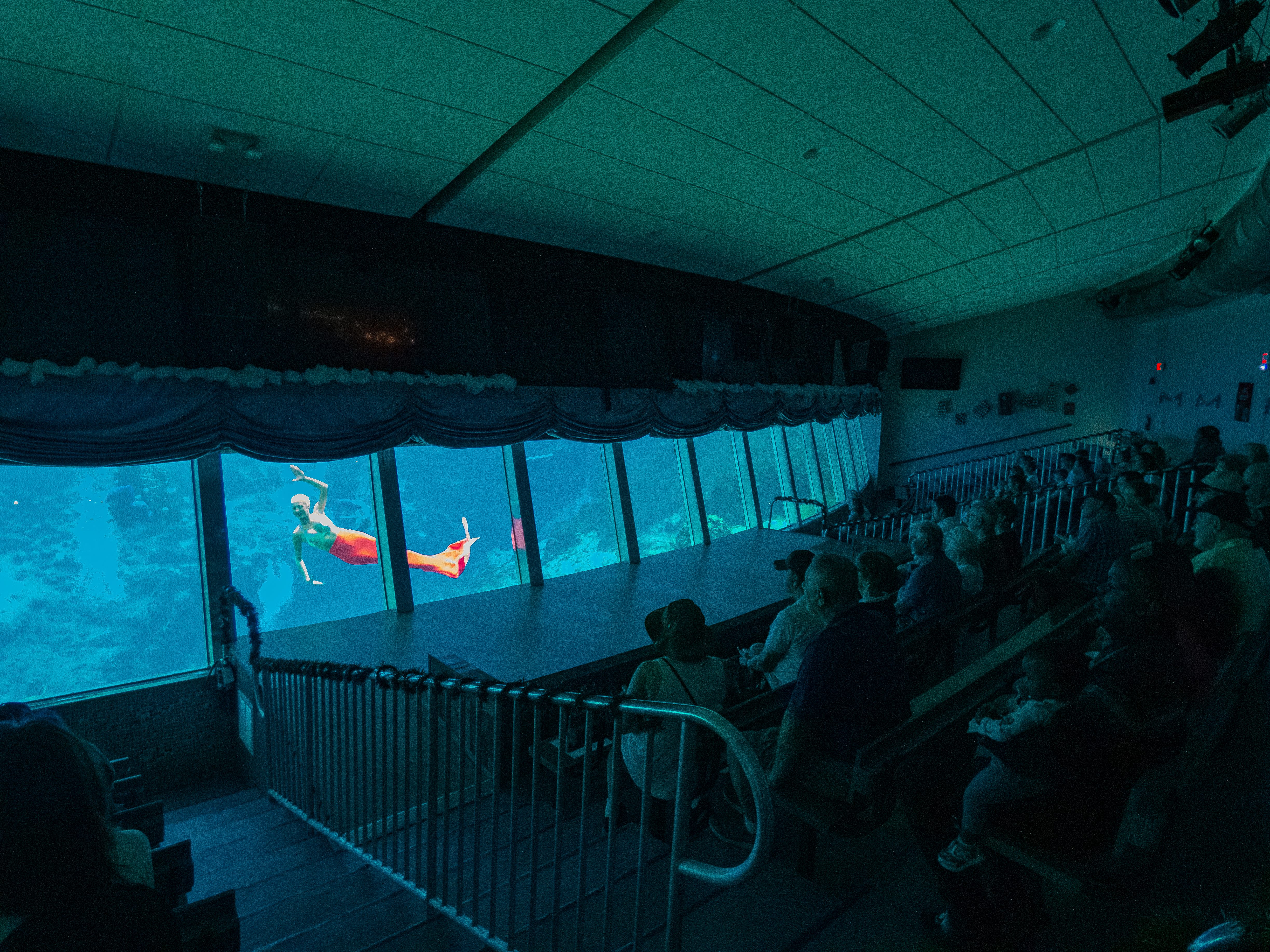 While it's an ambitious construction project "grandfathered in" from the 1940s, it bears none of the ruinous ecological effects you might expect from such a predicament (the park's practices were, in fact, commended by one 2019 study). Instead, its unique origin story has cemented a remarkable local tradition in time, alternately sparking and re-awakening childhood dreams along Florida's Gulf Coast.
Before the theater, before the mermaids, there was Newton Perry. "He had this vision of taking synchronized swimming completely underwater—sort of an underwater ballet," says Athanason, and scuba tanks wouldn't do. Inventor, world-class swimmer, and trainer of Navy Frogmen (precursors to SEALs), Perry instead devised a method in which long rubber hoses capped with self-regulating nozzles were hooked to air compression tanks, allowing submerged performers control over air intake.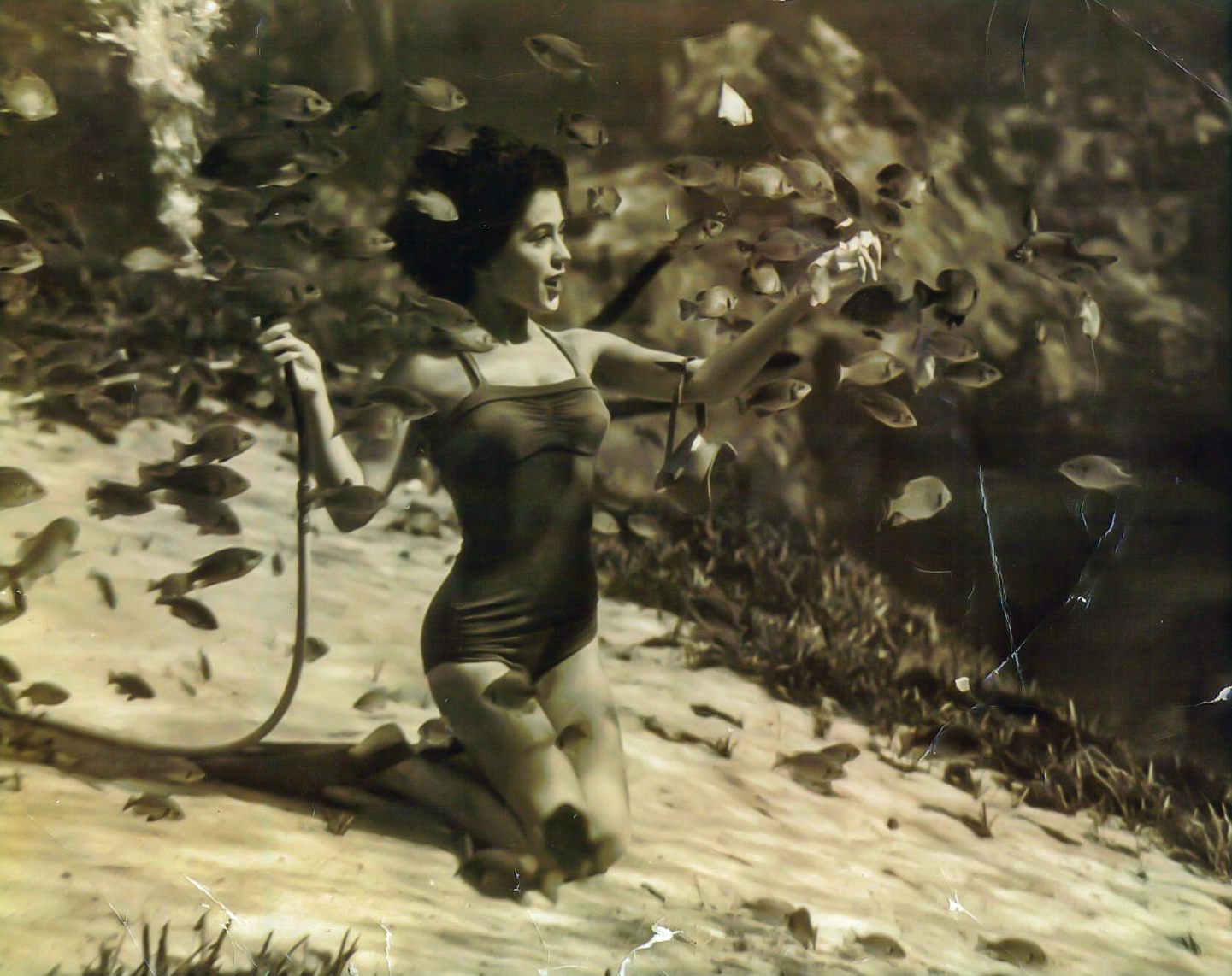 Next, he needed a stage. When Perry found Weeki Wachee Springs in 1946 along then-lonely US-19, however, it was quite literally a dump, stuffed with abandoned cars, refrigerators, and garbage. He leased the land, and along with an underwater maintenance crew, cleared out what was discovered to be a first magnitude spring—the largest classification of springs, designated to vents that discharge more than 64 million gallons of water daily (a bar that Weeki Wachee nearly doubles, at 117 million gallons per day). His team built a 40-person, water-tight theater 20 feet below the surface of the springs with windows peering into a sloping vent framed by rock features and patches of eelgrass. After recruiting and training a troupe of synchronized swimmers from St. Petersburg, Perry had underwater performers on a stage like none other.
Early shows from "The World's Only Underwater Theater" featured "Aquabelles" performing short choreographed numbers and completing a range of common activities underwater, from drinking a bottle of soda to eating a banana. Shows grew increasingly creative, incorporating weighted-down props to enact underwater picnics or classroom scenes. Without much of a nearby population to patronize the shows, however, performers were said to rush out to US-19 at the sound of oncoming cars to coax passersby into a matinee.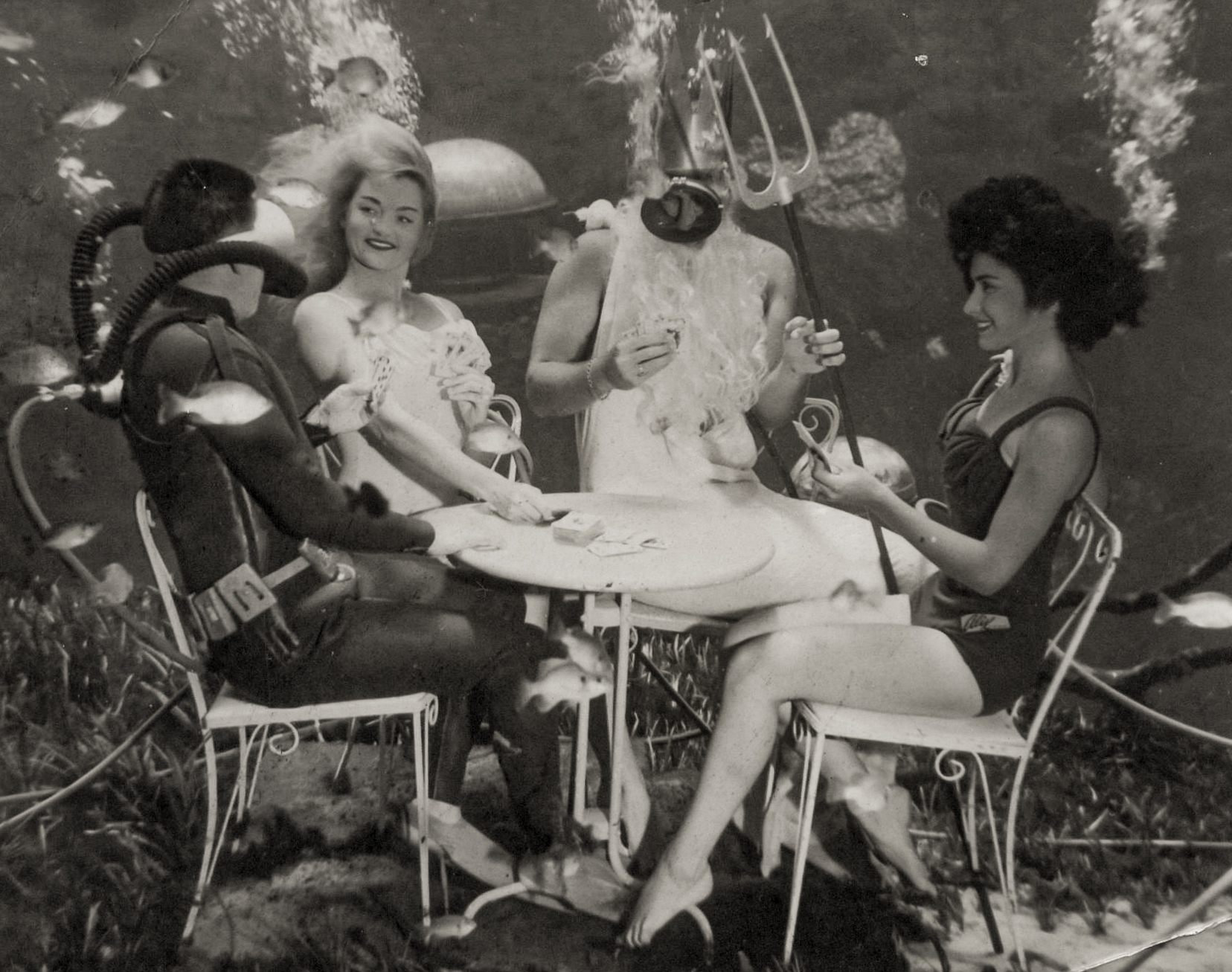 In time, as the surrounding lands were developed and the shows grew more elaborate, the mermaids made the spring a destination, such that ABC purchased the park in 1959 and began a multi-million dollar, 20-year improvement project. ABC advocated for the incorporation of a town, and in 1966 the town of Weeki Wachee (population 9, primarily mermaids) was literally put on the map.
By Athanason's childhood in the late 1960s, it was figurative as well. "When you sat down at Shoney's, and they had those little state maps of Florida—you know you had rockets going off at Cape Canaveral, flamingoes in South Florida—you always had a mermaid off the Gulf Coast, for Weeki Wachee," he says. An incorporation of the town, expansion of the theater, and maturation of the shows themselves turned the mermaids into state idols, attracting celebrities of the day, including Don Knotts, Esther Williams, even Elvis Presley. "They were iconic," says Athanason, "and, like every little boy, I had a crush on the mermaids."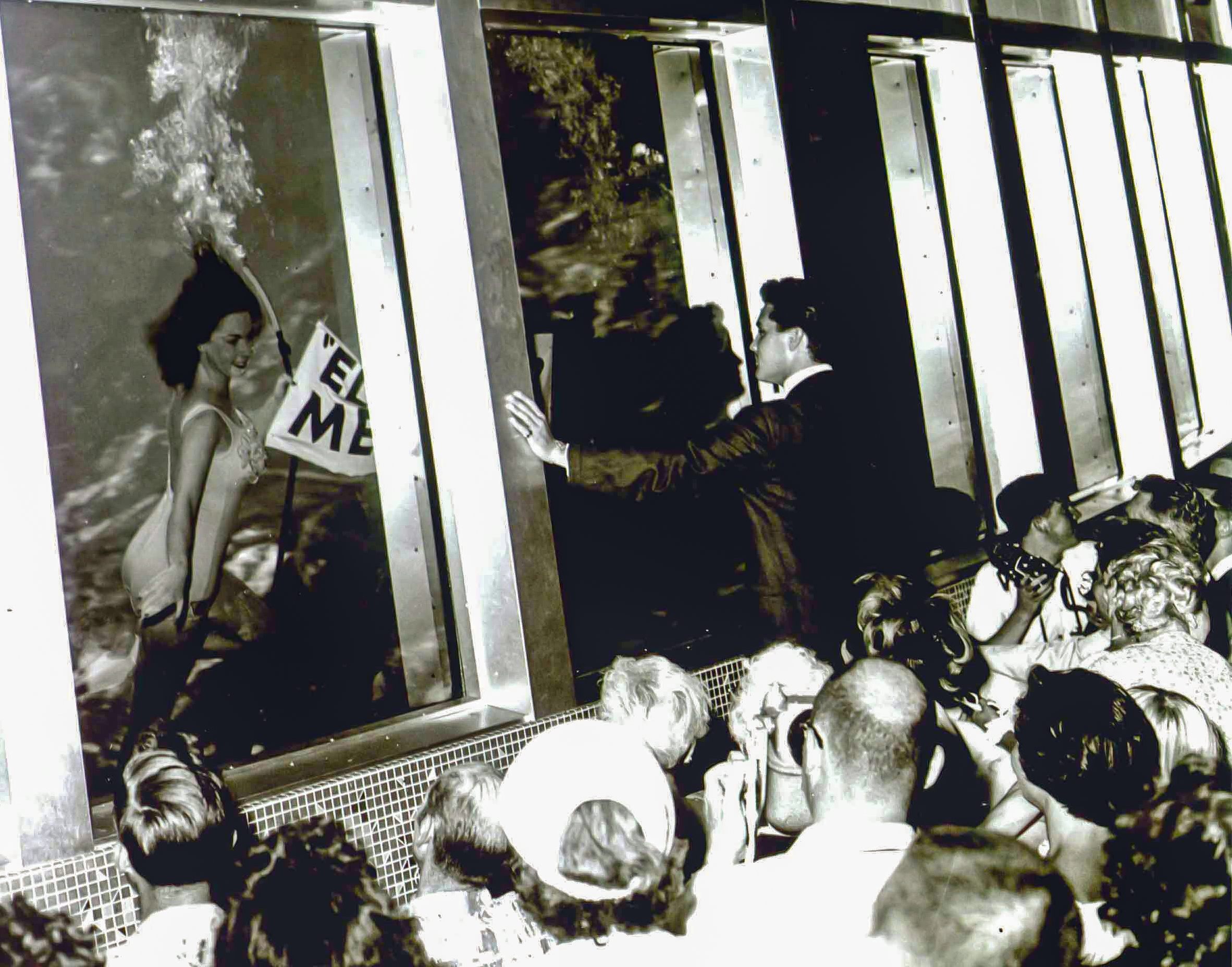 Little boys wanted them, little girls wanted to be them. "I was the kid with the pruney fingers who got in the pool the minute the sun was up," says Robyn Anderson, current Attractions Operation Manager at Weeki Wachee State Park. She saw her first mermaid show at age 12. "I was in complete awe—like how is this even real?" she says. "When we got back to the hotel my brother and I reenacted the entire show in the pool for everybody." She would go on to perform as a mermaid in her early 20s, and by 27 became the mayor of the Weeki Wachee, overseeing the transition from privately owned attraction to a state-run park. "Becoming a state park allowed us to preserve this little timepiece, this era we have, where we can take everybody back in time to revisit their childhoods," she says. But first, she had to pass mermaid auditions.
While the underwater acrobatics appear effortless from the theater, performing itself is anything but. "You want to talk about the best exercise ever? You're using every muscle in your body, it's cardio, you're breathing on an air-hose, battling an upward current (from the springs), doing four shows a day," says Anderson. Try-outs were and are still, accordingly, grueling. Applicants must swim 500 yards non-stop, upstream, in under 15 minutes—a step Athanason says nearly halves the applicant pool. They're asked to tread water for 10 minutes, and see how far they can swim underwater on one breath of "surface air." They're invited back for one-on-one interviews before performing several underwater ballet moves to test aquatic aptitude. Only then are new recruits selected to become World Famous Weeki Wachee mermaids. Like many things about the park, auditions have changed little over the decades.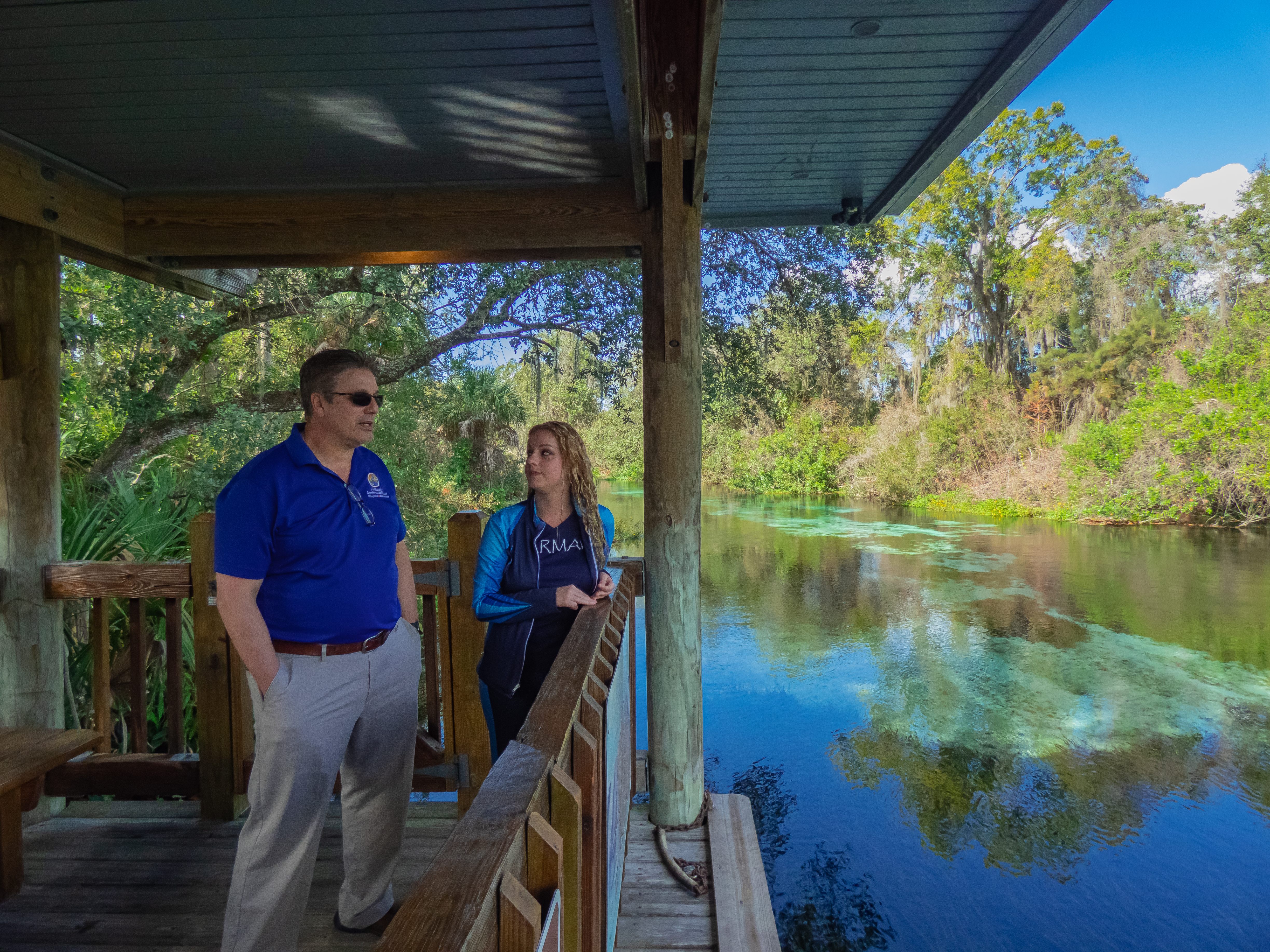 "The endurance swim was the hardest thing I think I've ever had to do," says Mermaid Lydia, a current performer at Weeki Wachee (mermaids don't have last names). She, too, grew up dreaming of a life under the sea. "I would watch Little Mermaid and wrap my legs in a blanket. I didn't know how, but I just knew I wanted to be a mermaid." While she hails from Burnsville, NC, she's far from alone in relocating for the dream-job—past performers have come from as far away as Japan to live as mermaids.
An average day starts with dry practice at around 8 AM. "We're just practicing the show on land. It looks really weird out of the water but it's how we know what we're doing," says Lydia. Then they'll pick their tails—"we have a huge closet full of tails," she says—do their makeup (waterproof), and perform the 11 AM show before breaking for lunch. After the 1:30 PM show, they'll train newer mermaids on underwater moves (it takes about six months of training before new recruits are stage-ready). After the 3 PM show, the workday is done, but to Lydia, it doesn't feel like it ever really started. "All my friends work here, we're all really close and it's all our childhood dream, so it's not like coming to a job." Whatever is demanded of the performers, Lydia says, is more than made up for seeing the kids' faces through the glass. "I can see in their eyes, they believe I'm real," she says.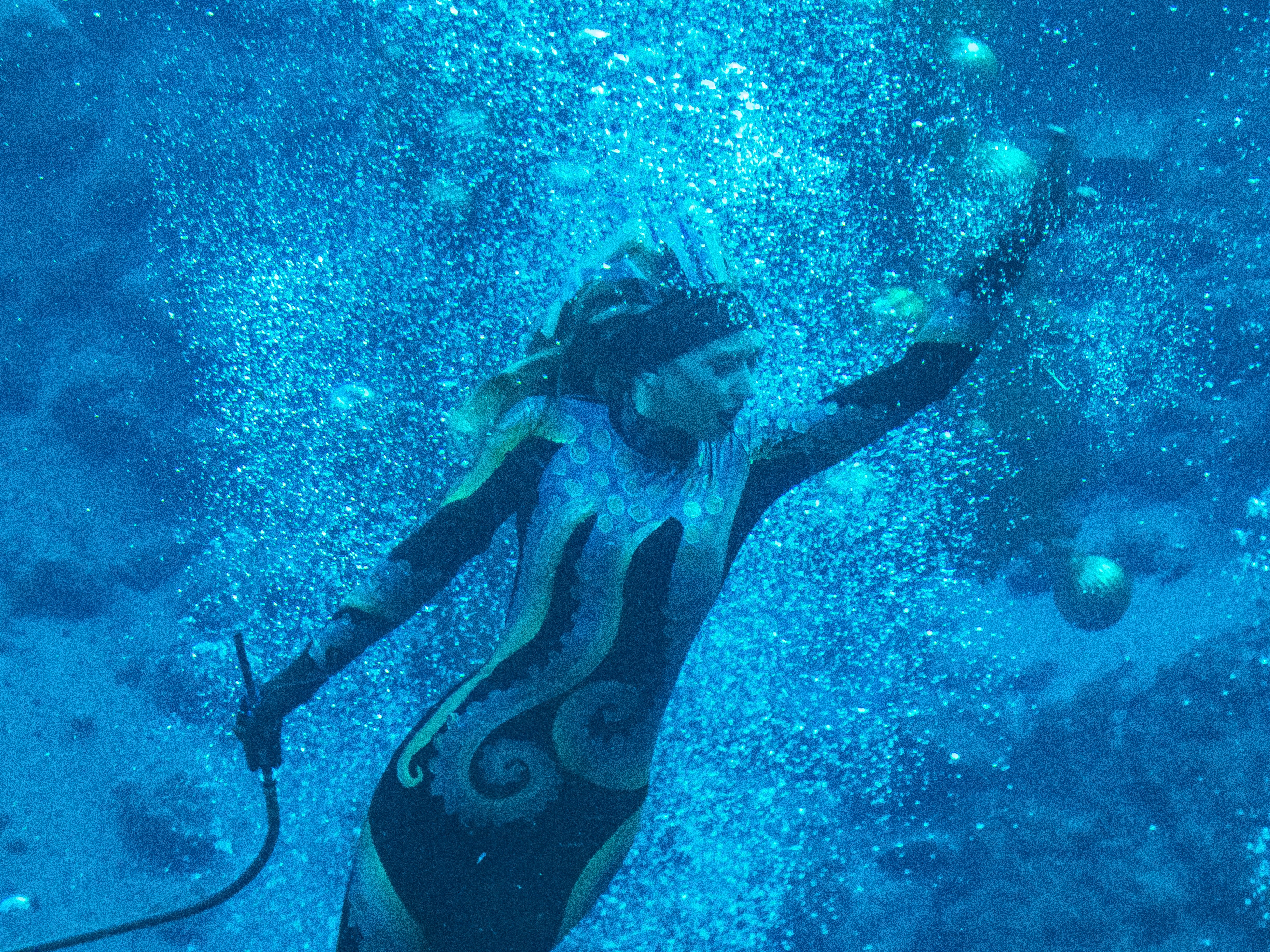 In the kids' defense, the experience is breathtaking—even by adult standards. The 400-seat theater curves gently around a 100-foot long, 8-foot high set of curtained windows. The curtains are lifted, revealing a secondary "bubble curtain," a frenzy of bubbles blown against the insides of the windows between scenes. When the bubbles dissipate, the "stage" is revealed to an audible 'ahhh' from young and old in unison. Bright Florida sun pierces the lucid waters, illuminating every corner of the spring, shimmering off sequined tails, and soaking the audience in an otherworldly bluish hue. Ambient wildlife amble around the edges of the spring, eelgrass swaying gently in the current, the odd turtle floating in and out of view. Sipping from their hoses, mermaids are casually stationed throughout the spring, which is about as deep as it is wide. From first glance, it's easy to see why Athanason, Anderson, and generations of children before and after them have believed these mermaids to be completely non-fictional.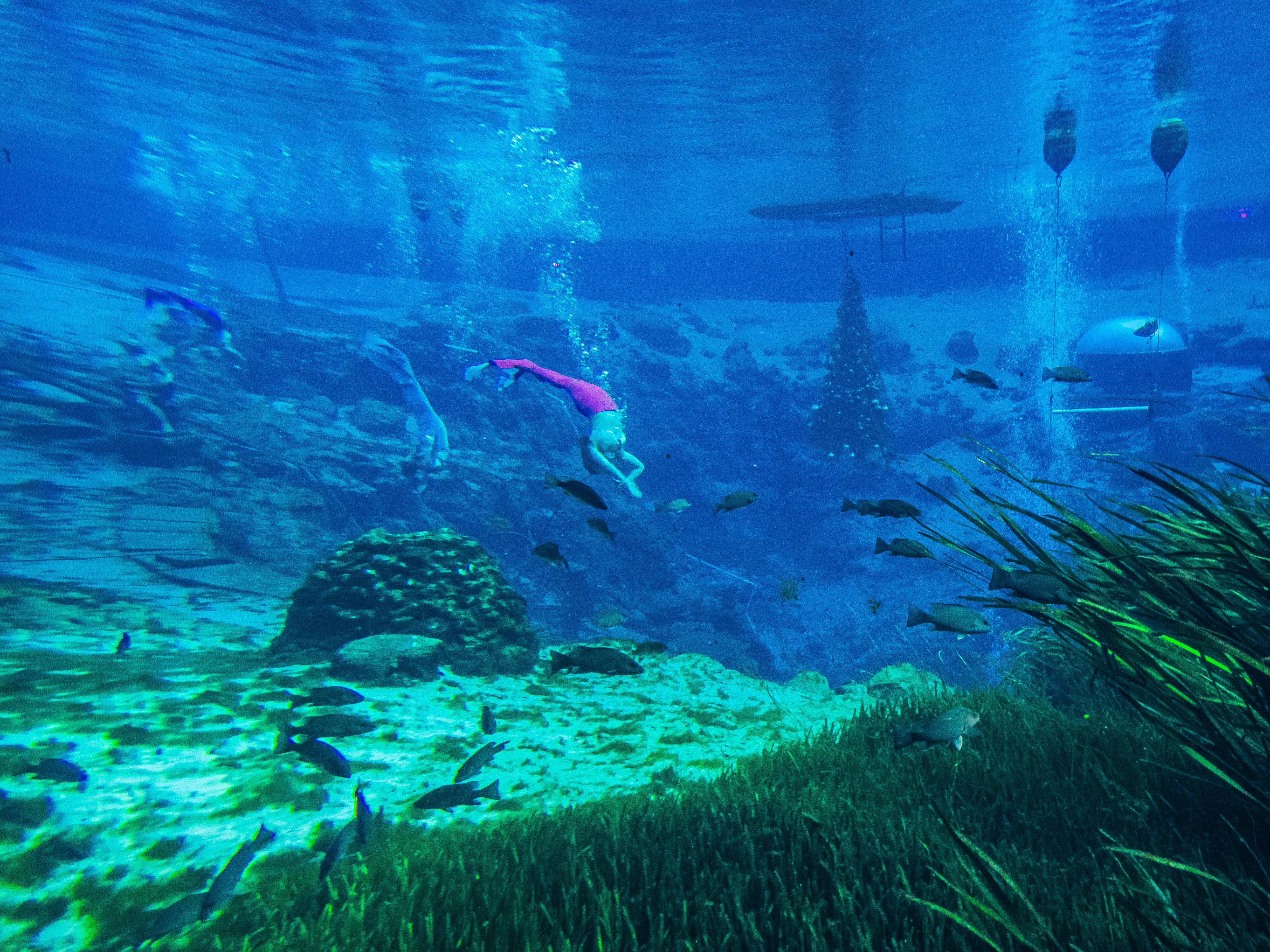 Then the show starts. Throughout the year, the group will alternately perform Wonders of Weeki (an edu-tainment show on the history of the springs and the importance of conservation), the Little Mermaid (reformatted to Weeki Wachee's unique situation), and a number of holiday-themed programs. Sound is broadcast simultaneously into the theater and through the spring, so lines and lyrics are lip-synched as they're heard. A director, stationed in a booth out-of-sight, issues guidance through the spring-facing speakers as well, choreographing the mermaids' movements. Of course, some things, like wildlife, are beyond control. "Manatees would come through all the time," says Anderson. "They stole the show sometimes but mostly just kinda let us do our thing."
Both individually and as a group, the mermaids perform an array of meticulously trained original moves, from pinwheels to "dolphins" and the signature "adagio" pose, as carved into a marble statue by the visitor center. Rather than be dragged offstage by the springs' updraft, the mermaids have mastered the current, gracefully fluttering to stay in place and execute coordinated maneuvers, hose-in-hand, donning the smiles of those living out long-held dreams. It's a pastiche of spins, fins, and bubbles whose enchantment is impossible to resist.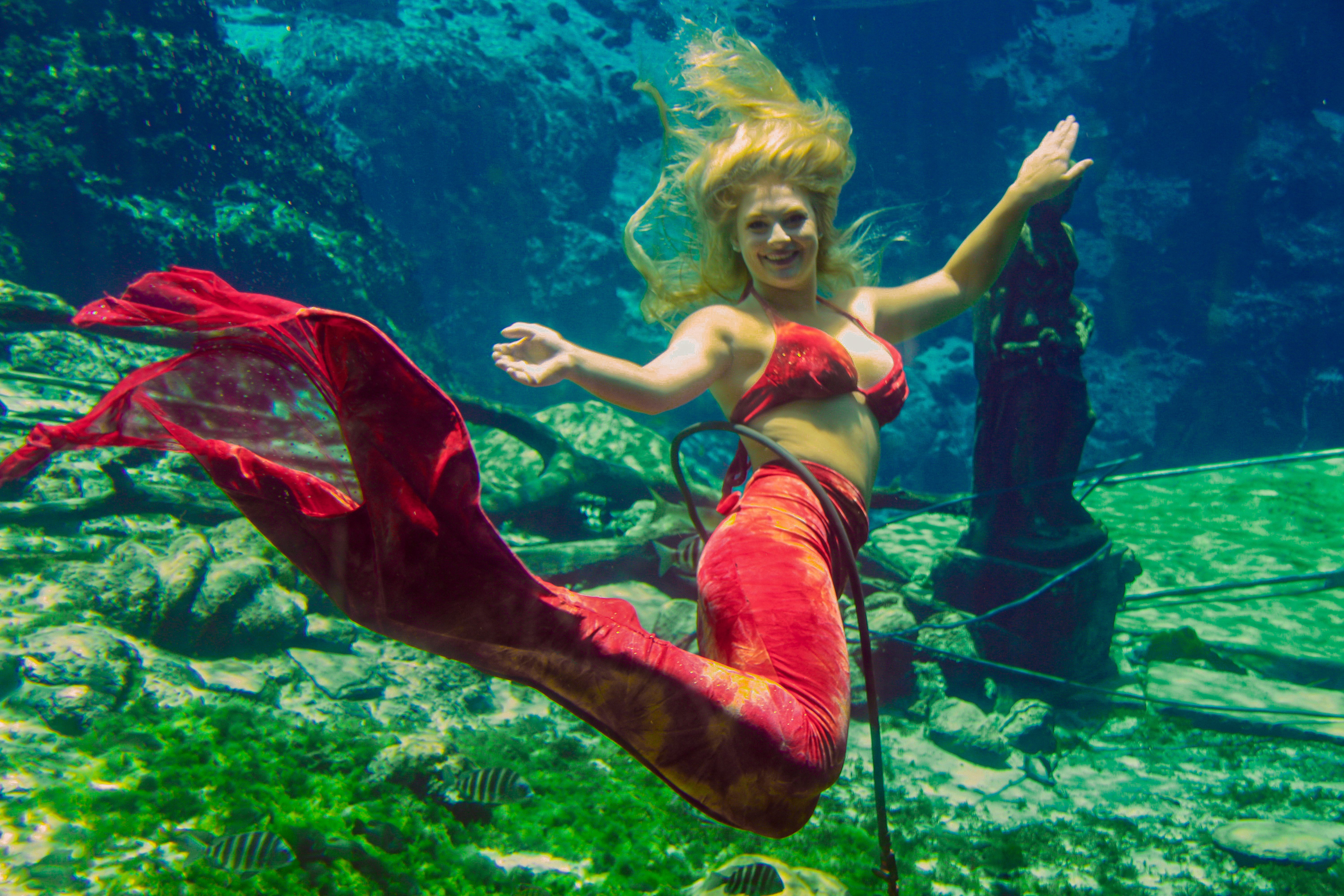 After each show, mermaids will sit for meet-and-greets and photo shoots with fawning children. Taking a photo of his two young children with a beaming mermaid, one patron, a tattooed biker, pauses to reflect. "I think I have this same exact picture of me and my sister when I was their age," he says. "Different mermaid, I guess." Indeed, it seems to be the only thing that does change at Weeki Wachee.
For an ambitious construction project undertaken in the right place at the right time, Weeki Wachee's mermaid shows have maintained an individuality unparalleled for most of a century. It's a slice of midcentury, roadside Americana happily trapped in time, a rare attraction where children can experience their parents' childhood memories almost exactly as they were first experienced. Despite more modern attractions, visitors from far and wide still flock to Weeki Wachee to see a 75-year old show performed the same way it's been done, and will be done, for decades. "We lure you in, right?" says Anderson. "That's what mermaids do."
It's easy to see that the best part about a family vacation in Florida is, well, everything.  Explore more.