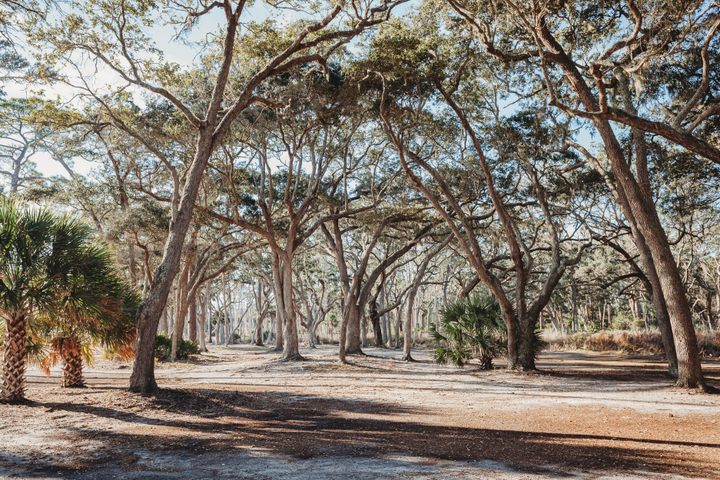 This Tiny Island Was Settled Thousands of Years Ago. It Hasn't Really Changed.
Home to 4,600-acres of natural wonderland, mysterious ancient artifacts, and Gullah Geechee history.
Nobody knows who made the ancient pottery that washes up on St. Phillips Island, a remote 4,600-acre wonderland nestled between Beaufort, SC and Hilton Head Island. The artifacts are plentiful here, appearing along hiking trails, beaches, and the island's only road that cuts through thick, undisturbed jungles between the marsh and the sea.
The impenetrable jungle terrain coupled with the strict conservation efforts of St. Phillips has prevented extensive archaeological examinations of the island.
The barrier islands of South Carolina's Lowcountry have long evoked a sense of mystery that beckons intrepid travelers. However, as this area has become developed in the last century, St. Phillips Island has managed to retain its wild splendor, thanks to conservation efforts by billionaire media mogul and conservationist, Ted Turner, and The Nature Conservancy.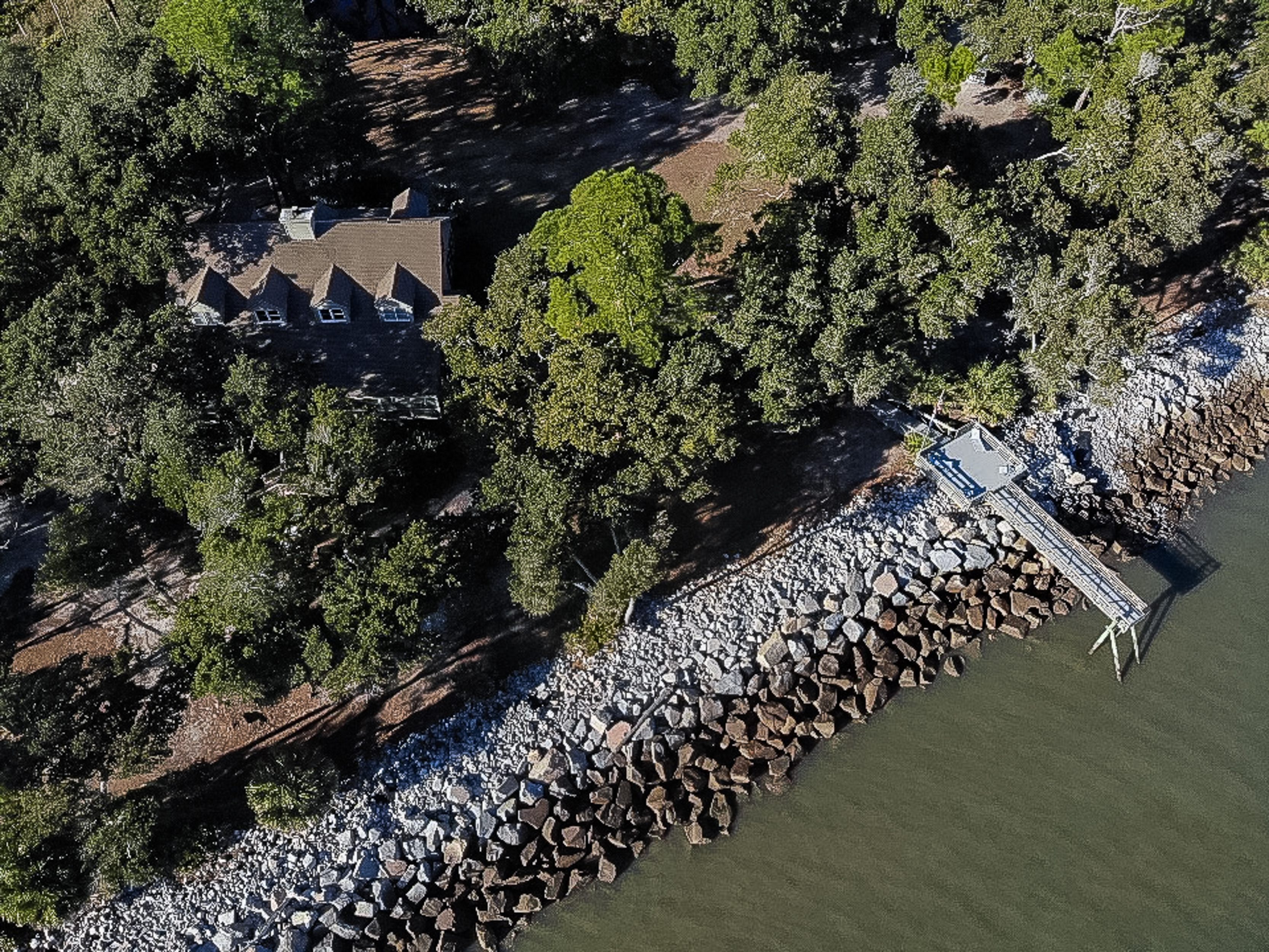 The South Carolina Lowcountry islands were home to the ancient, indigenous Cusabo peoples, 19 separate tribes who lived in the area between modern-day Charleston, SC and Savannah, GA. Among them were the Escamacu who, according to illustrated records by early Spanish colonizers to the area, once claimed St. Helena Island just to the north and presumably St. Phillips, which lies just a creek-width away.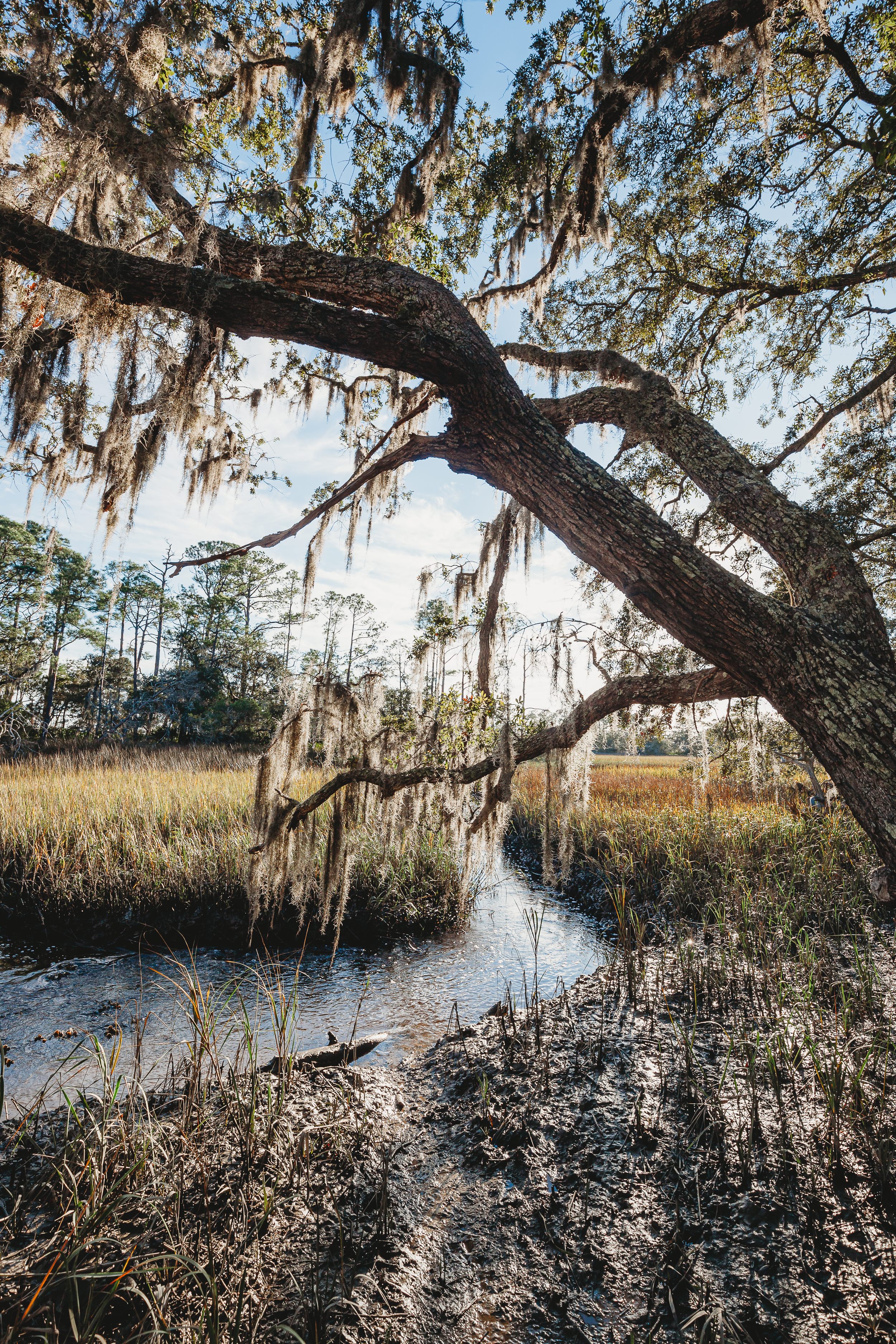 St. Helena Island is best known as the epicenter of the Gullah Geechee community, the descendants of enslaved people who once worked on local rice, indigo, and tea plantations. Evidence of these West African descendants exist across many of the sea islands surrounding Beaufort, including Hunting Island. Due to the isolated nature of their working conditions, they were able to both preserve West African cultures and develop a unique creole language – also called "Gullah Geechee" – that was rooted in both European and African vernaculars.
The Gullah made this rough terrain their home, where they maintained a unique style of cuisine, art, clothing and ornate tools heavily influenced by both the sea islands from which they found sustenance and the African communities from which they originated. Although descendants remain in the area surrounding Beaufort, SC and maintain Gullah Geechee museums, cafes, and historical sites, most of their original homesites were lost to the tides of modern colonization.
This area of the American Lowcountry is rich with stories of the victories of formerly enslaved peoples, most notably that of Harriet Tubman's return to the area to lead 300 Union troops up the Edisto River, laying siege to plantations and freeing more than 700 enslaved people, thus making her the first American woman and the first African-American to lead a military operation.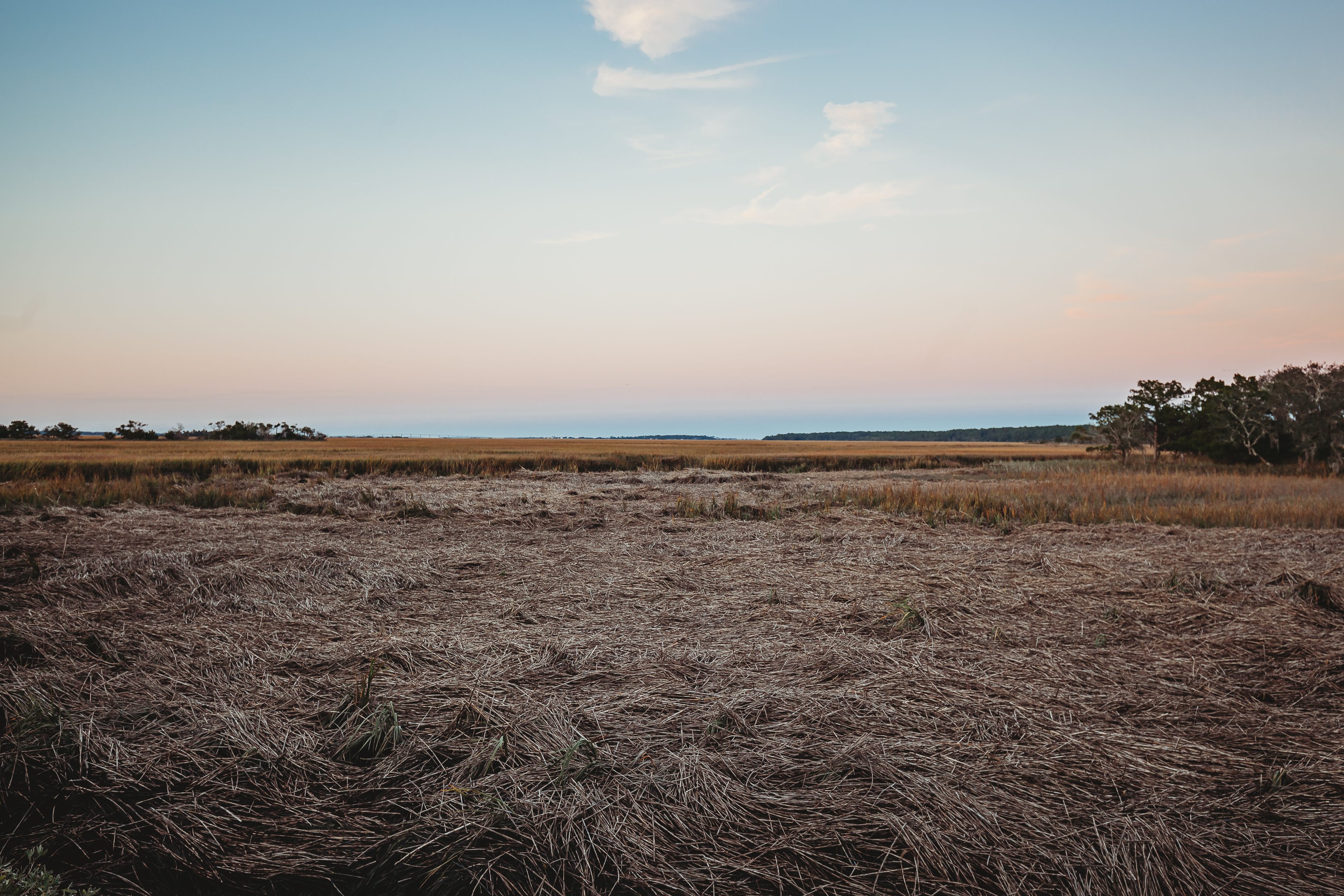 When Ted Turner purchased St. Phillips Island in 1979, it was without any electricity, potable water, or inhabitants. Once construction was complete on his small, self-sustaining island homestead, he partnered with The Nature Conservancy to help protect the remaining wilderness in perpetuity, in an conservation agreement so strict, it even limits building new hiking trails.
Turner sold St Phillips to South Carolina State Parks in 2017 and today it is maintained by Hunting Island State Park. Now, St. Phillips is open to the public year-round for vacationing and peaceful recreation. The park facilitates day trips to the island and overnight stays at the Turner House, both of which feature ecotours of the beaches, trails, and marshes of this distinctively biodiverse space. Guests are free to explore the land and help uncover the still-unfolding story of this forgotten sea island.
The Turner House is antithetical to what one may imagine when discussing a billionaire's private vacation island estate. The 2,000 sq ft home is tucked away among live oak trees behind a rock sea wall, overlooking a shore often so calm it could be confused for a lake if not for the dolphins casually gliding past.
As of 2022, the Turner House is available for guests to rent by the week. The sunny, cozy home offers plenty of space for 12 guests, featuring newly-renovated bathrooms, five bedrooms, a game room, a fully-stocked kitchen, and a sprawling screen porch, which spans the width of the building and overlooks the Atlantic Ocean from all three exposed sides.
Rental fees include groceries, ferry transportation to and from the island, all the amenities of the house and the land, as well as a full-time park ranger staying on the property as a resource for both education and emergencies. Solar panels and a small water tower outside the nearby caretaker's quarters attest to the homestead's self-sustainability; water to both facilities is potable and prepared through a process of reverse osmosis.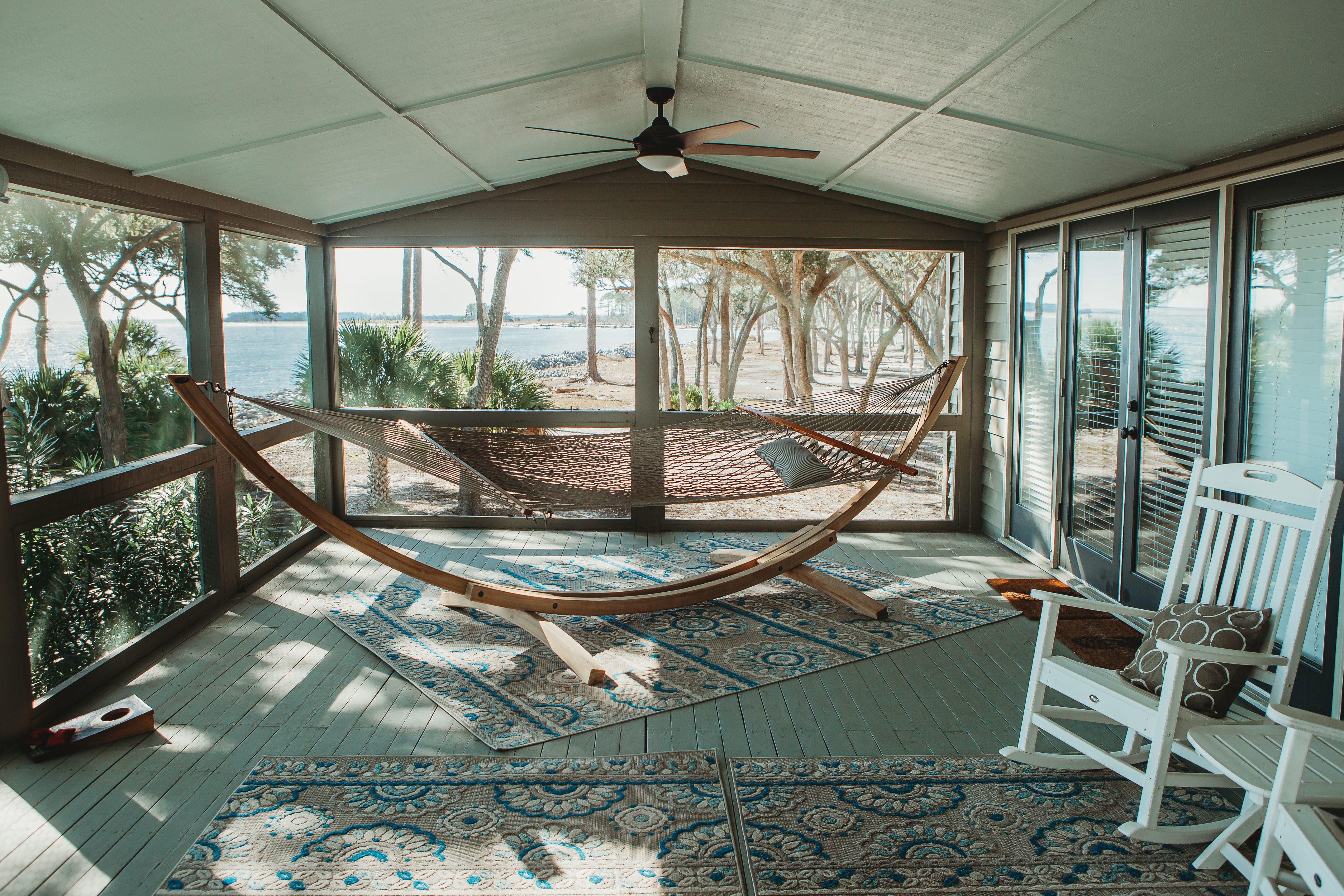 In a span of just 3.4 miles, crossing from the marshes to the sea, the island showcases five ecosystems as it follows the natural crest of an ancient dune ridge swallowed by forests. Because of rainwater ponds that developed in the dune swales, St. Phillips Island acts as a blended habitat for both freshwater and saltwater biomes, all of which have had millennia to flourish and evolve, untainted by modern human intervention.
"What's so unique about a barrier island like this," explains Olivia Hirst-Wilson, Operations Manager at Hunting Island State Park, "is that, just in that four-mile stretch [of the island's width], we go through so many little ecosystems: low marsh, high marsh, freshwater ponds, maritime forest, and beach."
These environs create ideal sanctuaries for the variety of species that take shelter on the island and makes it an ideal spot for a wide variety of recreation options. Aside from beachcombing, guests to the island can enjoy swimming, hiking, fishing, biking, and kayaking.
Birding here is particularly spectacular as migratory birds flock to the island for a mid-journey rest during their annual treks. St. Phillips hosts sanctuaries for bald eagles, who seek out the enormous old-growth pine trees that support their massive nests. Of these endangered nests, Hirst-Wilson explains, "They just don't exist in many places anymore."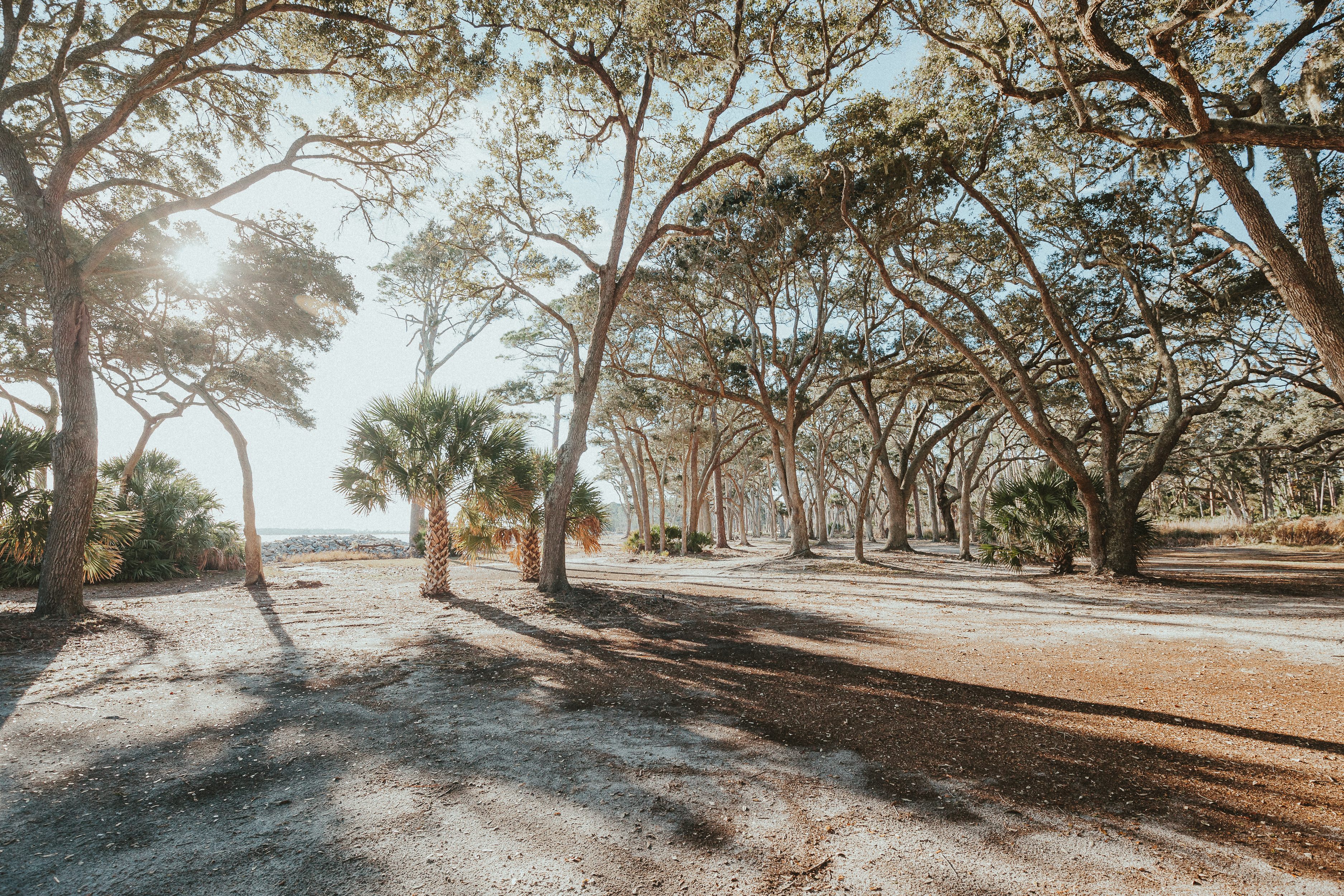 Among the island's most fascinating features is a rapidly-eroding oceanfront forest known as a "boneyard." Where shifting tides have destabilized the root systems of maritime forests, the remaining live oaks and pines collapse upon each other at the shore.
"Boneyards are natural," says Hirst-Wilson. "They've been a part of the barrier island ecosystem before the Industrial Revolution, but sea level rise and human interference are impacting the rate at which boneyards are changing."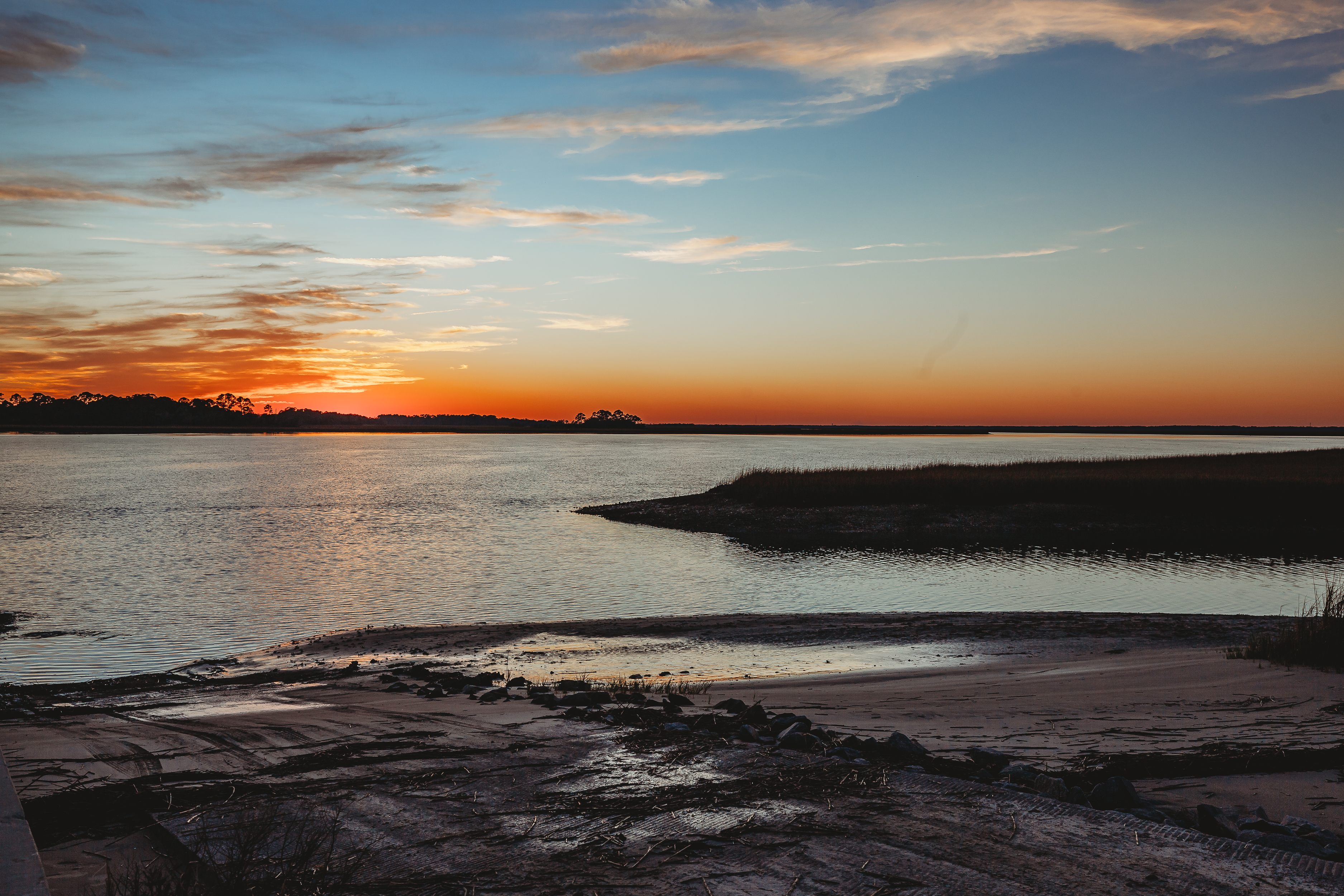 As the sun sets, the island keeps the same rhythms it has since before humans arrived. Deer, coyotes, and boar make their way to the freshwater ponds and fox squirrels dart along the road. To the north, the low tide in the marsh exposes fiddler crabs and mollusks.
This land remains wild and timeless, inviting intrepid adventurers to discover the treasures of those who once claimed it.