Singaporean English Is Almost Impossible to Pick Up
Wah lao! Why can't I speak Singlish?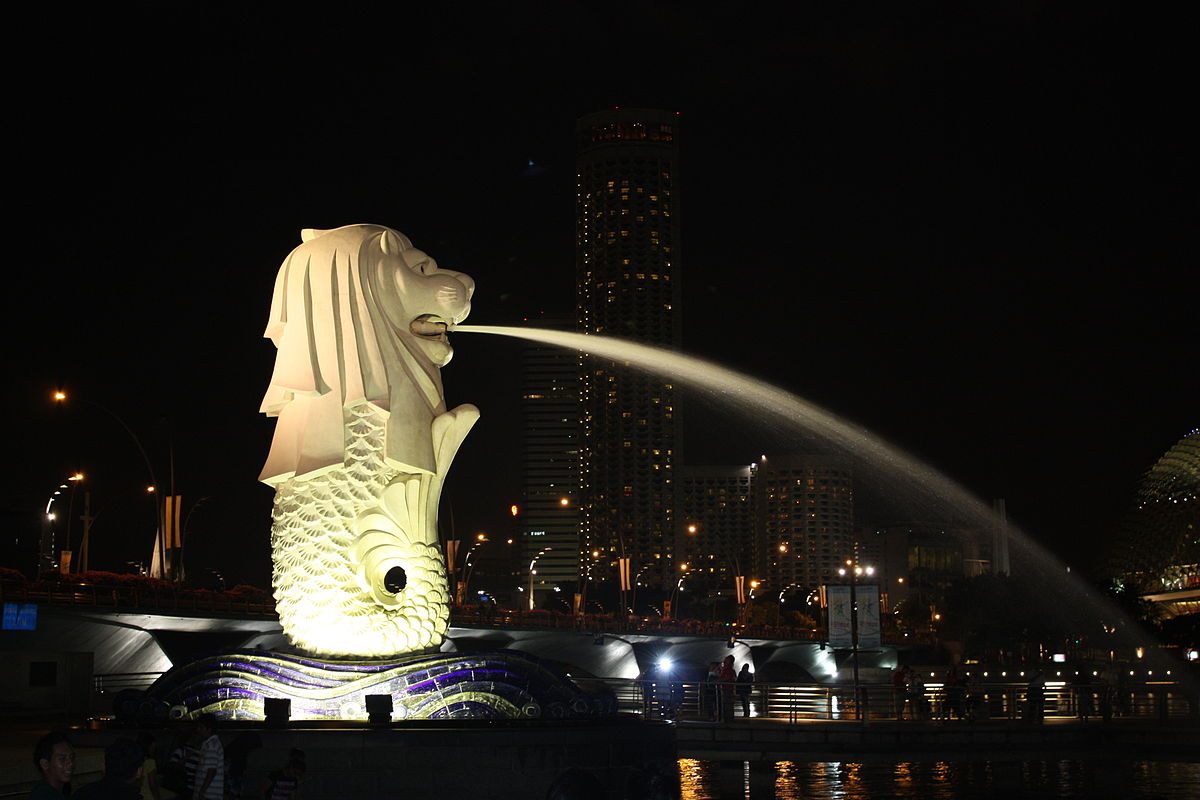 The Merlion is a famous statue and symbol of Singapore. "To merlion" in Singlish means to puke everywhere. (Photo: WolfgangSladkowski/CC BY 3.0)
"Two dollar onny, dis one," a street vendor might say to you in Singapore. A local might reply, "Wah! So espensive one, cannot leh."
While this might sound like broken English, it is an example of Singlish, the highly complicated English creole spoken in Singapore. Its staccato, off-grammar patois is the subject of much bemusement for visitors to the country, and it's almost impossible for outsiders to imitate.
"Singlish is easy to learn, but hard to execute," says Sai Pogaru, who moved to Singapore in 2001 and is now a citizen. "There is a certain flair to the language/accent. It actually requires lots of practice to sound authentic."
Singlish is not just one creole: it's an amalgamation of many different Southeast Asian dialects and pidgins all rolled up into one. If you haven't heard it, the video below offers a humorous Singlish voiceover for Disney's Beauty and the Beast.
Singlish comes from the mixing of Singapore's four official languages: English, Mandarin, Malay, and Tamil. English, now the lingua franca, was brought over by the British during Singapore's period of colonization, which lasted from 1819 to 1963. Following its introduction into Singaporean schools, English began to permeate the streets outside them, and was picked up by the Malay, Chinese and Indian populations. After independence, the newly formed Singaporean government made the decision to continue teaching in English after identifying that there was a need for a common language in the country.
Many British expatriates moved back to England after Singapore's independence. In the unregulated environment following their departure, the English spoken in Singapore became substantially influenced by Malay—the native language—and the other languages brought over by immigrants: Tamil and the Chinese Mandarin and Hokkien dialects.
The grammar of Singaporean English began to mirror the grammar of these languages. For example, a modern-day Singaporean could say "I go bus-stop wait for you," to mean that he will wait for you at the bus stop. This phrase could be translated into either Malay or Chinese without having to change the grammatical structure of the sentence. Those unfamiliar with the grammatical structure of these languages, as a result, have a hard time picking up Singlish.
Words from the other languages became appropriated into the creole as well, creating an entire Singlish lexicon that is used today. The word "ang moh," for example, is a Hokkien word which literally translates to "red hair," but is used in Singlish to describe people of Caucasian descent. The Malay word "makan" is commonly used to mean food, or the act of eating. The Tamil word "goondu," which means "fat" in its original language, is used in Singlish to describe a person who is not very smart.
An advertisement written in Singlish on the Singaporean island of Pulau Ubin. (Photo: Michael Elleray/CC BY 2.0)
Perhaps the most famous Singlish word is the ubiquitous "lah," an example of the language's more playful sensibilities. It is essentially a filler word with no meaning. "Lah" can be placed anywhere in a sentence, but is often used as a form of audible punctuation at the end. Another popular exclamation is "wah lao," or the even more flamboyant "wah lao eh," used to express surprise or wonder.
One of the many barriers to picking up Singlish is its complicated intonation. English is a stress-timed language, which means that some syllables are longer, and others are shorter. Singlish, however, is syllable-timed, which means that each syllable is pronounced for an equal amount of time, making Singlish far more staccato in nature.
Where it gets even more complicated is in the tones. English is a non-tonal language, which means that words do not have particular tones associated with them. Chinese, on the other hand, is a tonal language, in which words change their meaning depending on the tone used to speak them. Singlish retains all the tones of the Chinese words that it borrows, but maintains no tones in its English, Malay and Tamil words, making it a semi-tonal language.
There's more. Though Singlish is prevalent all over Singapore, it operates on a spectrum dependent upon the circumstances, making it even harder to trace down. In formal settings, for example, Singlish tends to be toned down to its acrolectal form: Singlish words and grammatical structures are eliminated, and only the accent remains. In the day-to-day, however, a more colloquial form of Singlish is used.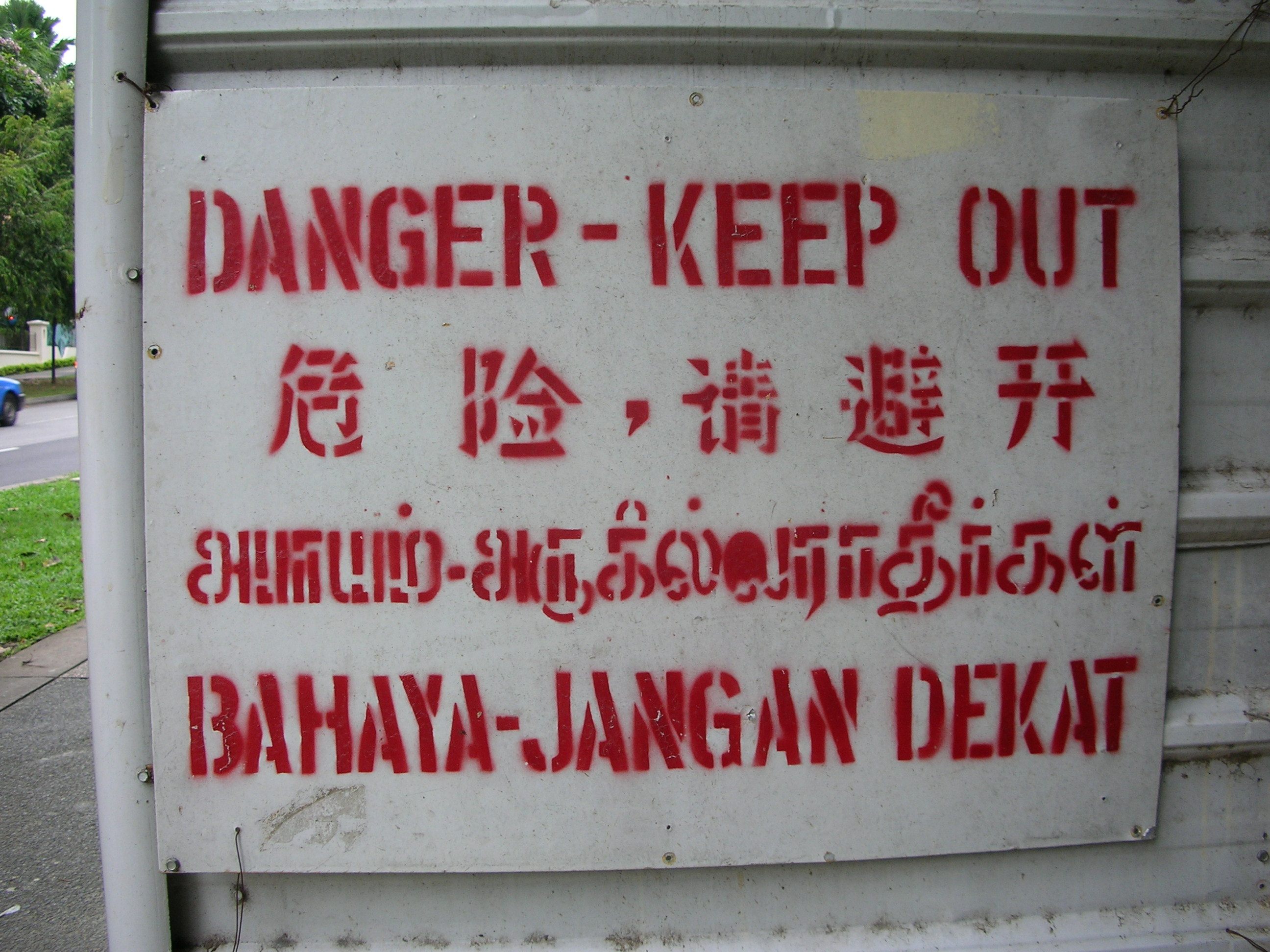 A warning sign in Singapore written in the country's four official languages: English, Chinese, Tamil and Malay. (Photo: Gabbe/Public Domain)
Pogaru, who moved to Singapore with his family at the age of eight, explains that his ability to speak Singlish only came when he joined the Singapore Armed Forces at the age of 18. "Singlish to me was just an accent with a "lah" thrown in at the end of a sentence," he says of his opinion of the creole before joining the army. "I didn't think much of it."
His experience with Singlish drastically changed in his first year of National Service, the two-year period of compulsory service required of all male citizens of Singapore. "I vividly remember an incident in Basic Military Training where my sergeant told my platoon, 'You all have 15 minutes. Go up and lepak [relax],'" says Pogaru. He spent the next 15 minutes trying to figure out what "lepak" meant and what exactly the sergeant wanted. "Singlish was the language of communication in NS, and I realized that I would have to learn some new vocabulary to truly understand what was happening."
Though Pogaru has worked hard to increase his understanding of Singlish over the years since his time in the army, he's not quite sure he has it down yet. "Despite knowing Singlish, I still have not been able to impress my Singaporean friends with my attempts to sound local," he says. "Guess I just have to keep practicing."
Update (5/5): The article originally stated that the British colonization of Singapore lasted until 1965. It lasted until 1963, at which point Singapore joined other former British territories to form Malaysia. Singapore gained full independence in 1965.