Swarms of Summer Birds Are Lowering the Speed Limit on a North Carolina Bridge
When purple martins moved into the William B. Umstead bridge, the laws changed.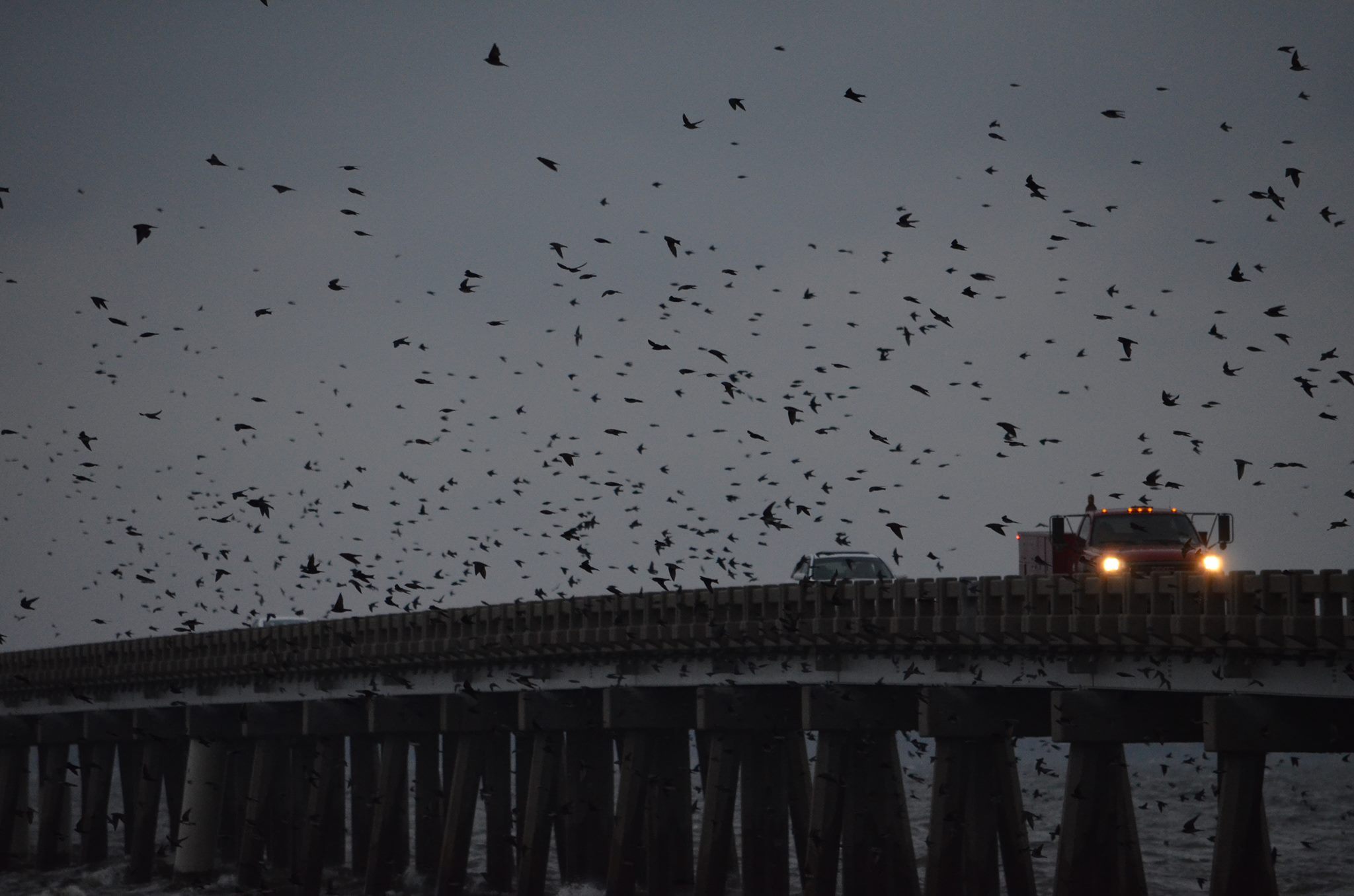 Earlier this week, the weather radars that focus on the William B. Umstead bridge in North Carolina's Outer Banks began to look a little strange. Each day at dawn, a huge cloud of activity swelled out of the bridge and then dissipated into the surrounding body of water, the Croatan Sound. At dusk, another cloud would appear, swooping in from the sound and back towards the bridge again.
The bridge is not creating its own small thunderstorms. Instead, the Doppler radar is picking up on a huge group of temporary residents: about 100,000 purple martins. In the summertime, large gatherings of martins can be found all over the South, from an abandoned mall in Texas to a parking garage in Oklahoma. But this flock's particular choice of habitat has changed how their human neighbors use—and think about—local infrastructure.
Purple martins are North America's largest swallows. The males are known for their chipper calls and their glossy plum-colored feathers. They split their time between North and South America, spending winters near the equator and summers in the southern United States.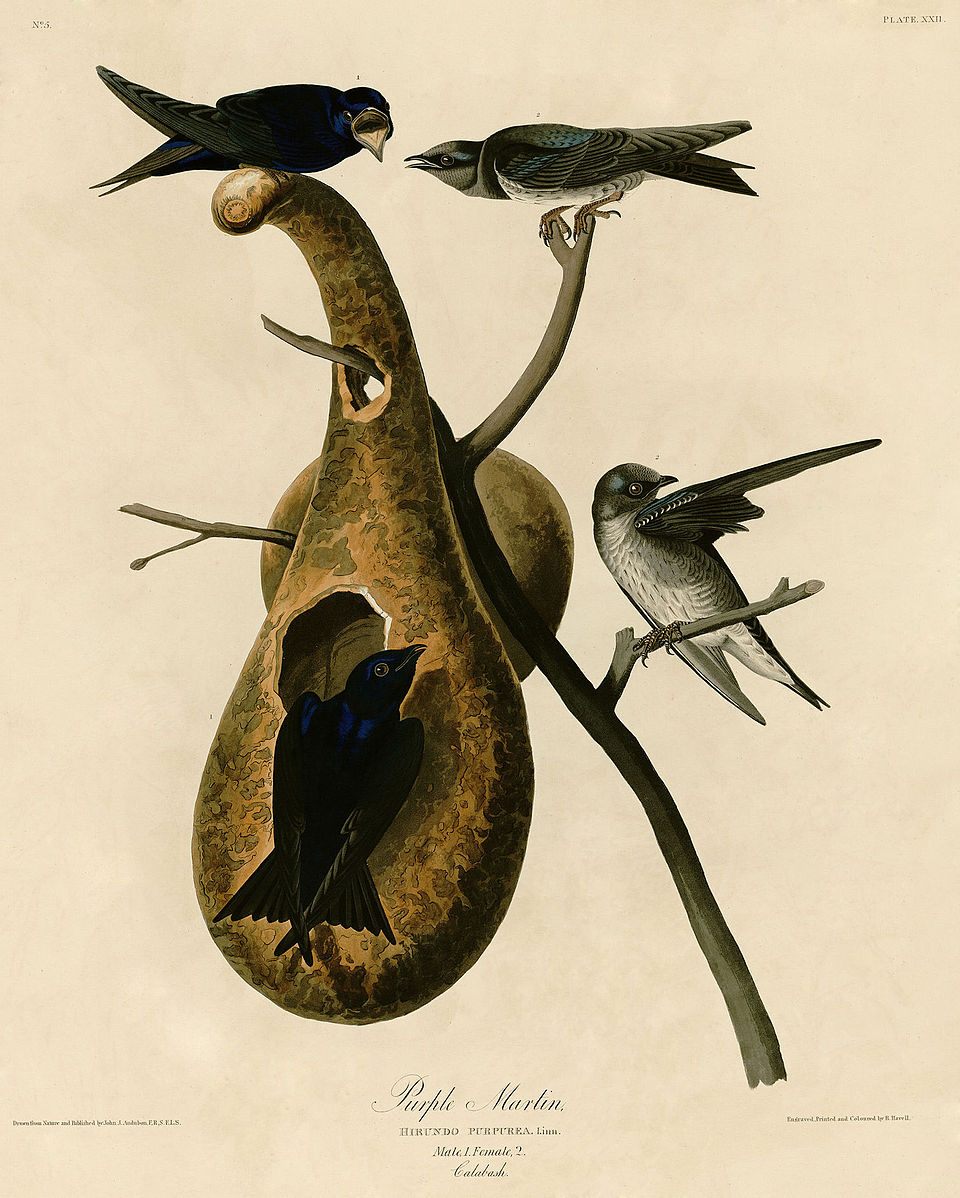 Purple martins who travel down the west coast of the U.S. tend to roost on their own, generally in abandoned woodpecker holes. But east coast ones depend almost entirely on human help. "The summer residence of this agreeable bird is universally among the habitations of man," the ornithologist Alexander Wilson wrote in 1808, adding that he had seen them nesting in pigeon-houses and in cornices, as well as in hollowed-out gourds hung on trees by members of the Choctaw and Chickasaw tribes.
Purple martins who fly through North Carolina these days have plenty of roosting options: Many fans still put out houses and gourds for them, and stand guard against competing species, like starlings and house sparrows. But about 40 years ago, a whole lot of birds decided to switch to co-op housing. They started roosting under the William B. Umstead Bridge, a 14,000-foot span that crosses the sound, and links the town of Manns Harbor to Roanoke Island.
"We're not really sure why," says Gail Hutchinson, a board member of the Coastal Carolina Purple Martin Society (CCPMS). "But they really like this bridge." Martin families now come from as far as 150 miles away to roost here for the summer, and to fatten up in preparation for their fall migration to Brazil. "There are girders that are just wide enough for a bird to sit, and they do that in long rows," says Hutchinson. They come in slowly, in late June and early July. About six weeks later, they depart, leaving the bridge empty again.
In this case, there's just one problem: Martins and people have similar commuting schedules. Every summer morning, the birds head out from under the bridge all at once: "Someone says 'Hey, let's get going,' and they jump out and fly all over the place," says Hutchinson. They spend the day feeding. At sunset, they all head back, full of bugs.
Because this bird rush hour coincides with human rush hour, the birds tend to lose out. In 2007, Hutchinson was driving to her parents' house in Mann's Harbor when she experienced this firsthand. "I totally forgot about the birds—I just wasn't thinking about them," she says. "I rounded the corner and plowed right into them. It killed my heart." She called a friend at the Outer Banks Sentinel, who wrote an article about the problem.
This spurred the CCPMS to make this shared infrastructure a little more bird-friendly. With the help of the North Carolina Department of Transportation, they introduced a special summer speed limit. Drivers crossing onto the bridge, used to going 55 miles per hour, are now greeted by an explanatory sign: "LOW FLYING BIRDS. SPEED LIMIT 20 WHEN FLASHING. DUSK AND DAWN." They try to start it up a few weeks before the birds come, to get people used to the idea. Police are occasionally stationed to enforce it.
Since this speed limit was introduced, the avian death toll "has gone down considerably," says Hutchinson. "Maybe three to seven birds a night, instead of 50 or 60." The birds have also embraced this cooperative spirit, learning to fly a bit higher and dodge cars. The CCPMS has built more infrastructure, too: In 2009, it added an observation pier, where people gather to watch the birds fly in and out. This year, the martins arrived a bit earlier than usual, in mid-June, but "everything seems to be going smoothly," says Hutchinson. "We're thankful for that."
Every once in a while, it's not so bad to make ourselves slow down. "Almost every county tavern has a martin box on the upper part of its sign-board," John James Audubon observed in 1831. "The handsomer the box, the better does the inn generally prove to be." The William B. Umstead Bridge may not be particularly handsome on its own, but with the birds swirling around it, it certainly is.