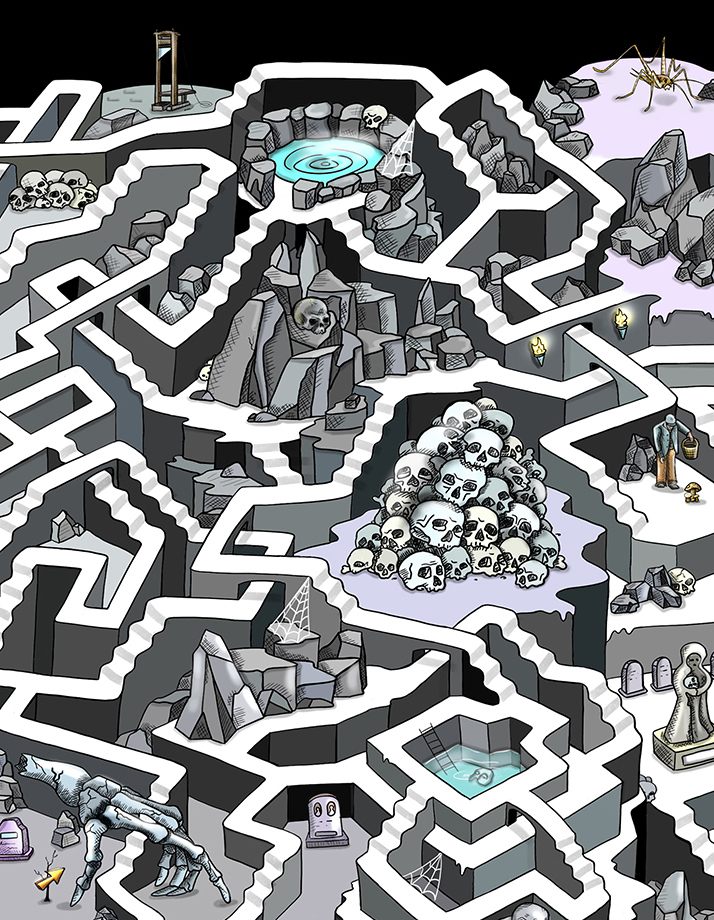 Get Lost in the Catacombs With Our Latest Maze
A new, Paris-inspired challenge from a record-holding maze-maker.
Michelle Boggess-Nunley is a Grosse Pointe, Michigan-based artist who holds the Guinness World Record for the biggest hand-drawn maze. This is Michelle's second original puzzle for Atlas Obscura. Check out her first here!
When I'm creating a maze, I often focus on real places. I dive into research of a landscape and the attributes of the location. In this case, and to celebrate Halloween, I went to the Paris Catacombs. They are a natural fit for maze-making—a real-life maze on their own, consisting of nearly 200 miles of curious underground passages, some lined to the ceiling with the remains of some six to seven million people. Mostly unexplored in modern times, the catacombs leave so much to one's imagination!
Basing a maze on a real-world place adds an extra element of adventure, and solvers become travelers who discover real things and places in the maze and its illustrations. In this case, I've tucked away a few surprises found in the Catacombs, as well as a few other Paris haunts, secrets, and wonders sourced from Atlas Obscura.
All of these surprises are clickable in the downloadable PDF. You can download the puzzle in:
I hope solvers find this maze an adventure of its own, and pause to explore all the little surprises. Just getting from start to finish is only part of the spooky fun!