On Tour with the War on Drugs: Pinball Paradise in Pittsburgh, PA

Dominic and Willie Stargell. (All photos by Jon Natchez.)

For the next few weeks, The War on Drugs' Jon Natchez is going to be sharing his adventures on a current tour. Like any touring musician, Natchez experiences a very specific form of travel, the kind where you usually have 24 hours, tops, to explore a new city. This is the second installment in his Atlas Obscura tour diary; read the first one here.
10:30 a.m., Pittsburgh, PA : Usually we all begin the morning sitting in the bus/lying in our bunks and staring vacantly into space. For some reason—maybe it's all the nighttime activity, maybe it's the constant bumping and jostling while asleep, or maybe, just maybe, it's all the booze—it takes longer to get into the day when out on tour. But today a few of us are up and fed and out-n-about earlier than normal because we're going to the Warhol Museum. Our Pittsburgh venue is right down the street from it, and Anthony, our guitarist/keyboardist (also one of the best drummers I know, though he doesn't drum in this band), has done some previous performing there. He arranged for us all to get free admission, so four of us—Anthony; Charlie, our drummer; Dominic, our guitar tech; and myself—scoot over just after they open. Our walk takes us by PNC Park, home of the Pirates, and we detour a little to check out some of the statues by the park's entrances. Willie Stargell's is especially great. Mentioning him (the captain of the "We Are Family" Pirates) also gives me an excuse to link to one of the sweetest jams ever.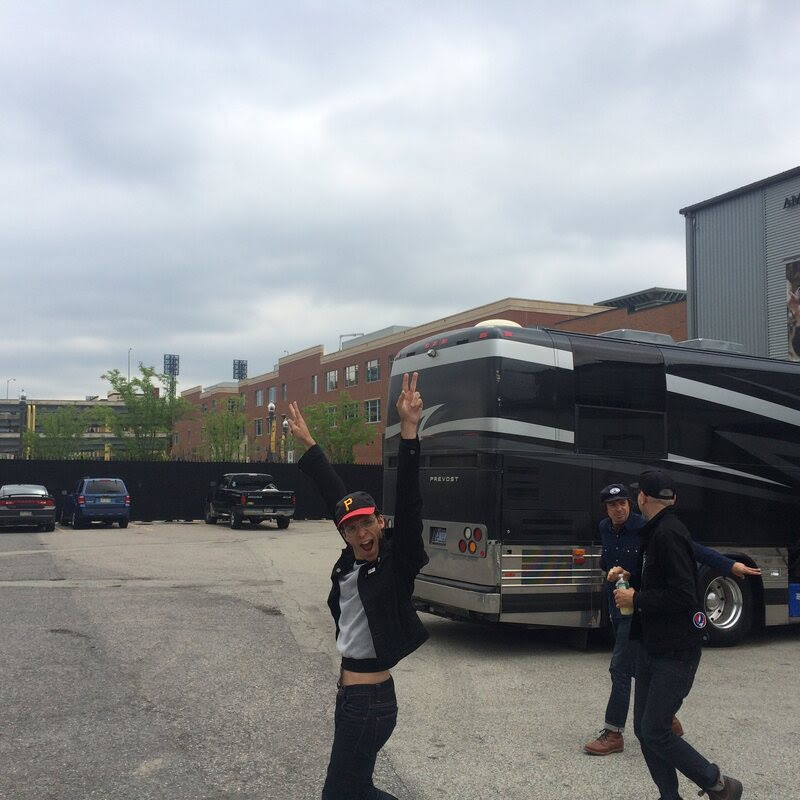 En route to the Warhol Museum; Anthony, a native of nearby Youngstown, OH, is excited about Pittsburgh.
One constant problem when trying to explore while touring: your day is broken up into these little chunks.  Even when the band is traveling by tour bus—which means that you don't spend any waking hours traveling, so it's the type of touring that offers the most opportunity for non-band activity—free time comes in tiny parcels, an hour here, a couple hours there.  Case in point: We had to be back at the venue by 12 p.m. for load-in and set-up. (Standard day for band: Load-in/set-up 12 p.m.-1 p.m. Soundcheck 4 p.m.-6 p.m. Get ready for show, 8 p.m.-9 p.m., show 9 p.m.-11 p.m.  Breakdown/load-out 11-midnight. Standard day for crew: work your ass off noon-1 a.m.)  An hour and a half at the Warhol Museum, incredible though it was, left me feeling that I'd only experienced a small fraction of what the place had to offer.  Getting to see a lot of new places is undoubtedly a fringe benefit of tour, but it the experience is always less, "Wow, I got to see this  great place" and more, "Wow, some day I have to go back and really check out that great place."

The museum doesn't allow pictures but here's something Warhol Museum-adjacent.
Anyway, the museum: It is a phenomenal collection, and gave me a new appreciation for Warhol's output. I always knew he was prolific, but…holy CRAP. The museum has 6 floors, proceeding chronologically through Warhol's life and career (plus one floor dedicated to a temporary exhibitions of other, somehow-Warhol-related artists.) And the amount of great work is just staggering. I was especially curious about the time capsules, which are simultaneously an exercise in biography and self-mythology, a demonstration of what untethered OCD looks like, and a magnificent middle finger to art historians and critics, who have spent and are going to continue spending countless hours cataloguing the damn things. But (as always) the most exciting elements of the museum were the pieces I hadn't expected. As a die-hard Velvet Underground fan, I had heard/read about the Exploding Plastic Inevitable, but the museum's immersive recreation of the event was tremendous.  Then there was the stuff I had never even heard of: his huge collection of Americana kitsch (OCD again in full flower), his fascination with taxidermy (including "Cecil", a massive stuffed Great Dane that sat in Warhol's Interview office), and various strains of his artistic output I'd never encountered. My favorite of these: one of his "Oxidation" paintings, created by urinating, and by having various friends and colleagues urinate, onto a canvas covered in metallic paint. I know, it sounds like a bad joke about modern art but it was totally mesmerizing.
After seeing as much as I could without rushing through any particular exhibit (which meant missing huge swaths of the museum, including a bunch of apparently great Basquiat stuff and an exhibit in which you get to make your own screen tests), it was time to run back to the venue. Along the way, we stopped at the PNC Park gift shop because Charlie was keen to find a Pirates stovepipe hat (they don't make them any more! The injustice!) and we were both struck by how, after being immersed in the museum's pop-art world, everything began to look like a Warhol piece.

Warhol everywhere.
12 p.m.: Well, really 12:15pm, because we were a little late. We unpacked all our cases, set up our gear, and then made some lunch, which, as usual, consists of various combinations of cheese, veggies and deli meat, aka "flat meats", as our tour manager Q likes to call them. Then, the sweetest of all tour discoveries: in-venue laundry. We all go nuts. The laundry queue grows quickly.

A view of the city from the West End Bridge bikepath.
1:30 p.m.: But I get mine in early and so it's off on adventure number #2. I normally don't like to pack my days quite so full, but this was an unmissable opportunity: a visit to PAPA headquarters. I've been a crazy pinball fan since forever—collateral damage from touring in the pre-wifi/smartphone mid-90s, when you'd show up at clubs and there was nothing to distract you from the ennui of the pre-show afternoon other than the hulking machines by the bar. When I started playing with this band, I was hugely excited to learn that Dave Hartley, the band's bassist, is even more pin-obsessed than I am. As a result of his deep and persistent fandom, he has a lot of friends who are members of the pinball community, and one of them hooked us up with the most special of privileges: a visit to PAPA HQ, a normally-off-limits 30,000 square foot warehouse full of more than 500 immaculately maintained pinball machines.. Due to a last-minute conflict, Dave couldn't join me. So feeling like this was a good opportunity for exercise, I hopped on my bike and rode out to Carnegie Pennsylvania, a sleepy town just outside Pittsburgh.

Rolling down PA Route 60.
(Quick note about the bike: I long ago learned that a folding bicycle is the secret to happiness on tour. You get exercise, you get to explore and get personal time away from the band, and you get to see more of the cities you visit than you would otherwise. Even if I hadn't had a destination as exciting as PAPA headquarters, it would have been amazing to get out into the hills west of Pittsburgh, see some an area of the country that I probably never would get to experience otherwise. Plus, one of the great pleasures of the American road: there's always excellent signage to see.)

I'm a sucker for excellent signage. Half-assed trademark infringement is also fun.
2:15 p.m.: Arrive at PAPA headquarters, an anonymous-looking warehouse tucked behind the languid river that runs through town. Mark Steinman, PAPA's Director of Operations, welcomes me inside. Mark and his colleagues are frantically preparing for ReplayFX, an "Arcade & Gaming Festival" that will be held July 30-August 2 in Pittsburgh. For years, PAPA has been running Pinburgh, an annual pinball tournament out of the headquarters—the one time of year the public can normally get in—but participation has increased so much in recent years that, this year, they've been forced to move it to a larger location. And so, figuring they might as well go extra-big, they've joined forces with a video game organization to make the event a combo pinball/arcade/game console smorgasbord. The techs need to get literally thousands of machines in mint shape, so in various corners of the warehouse, they scamper around, working on scattered circuit boards and consoles, soldering and assembling and generally trying to wrangle incredibly huge piles of machinery and electronics.

A small fraction of the pinball splendor at PAPA HQ.
 Despite the focused chaos on the fringes of the room, the vast center of the structure is filled by row upon row of beautiful pinball machines. Mark simply hands me a bucket of tokens, gratis, and tells me to have fun for as long as I want. Again, the (very first world) problem of the limits of tour exploration: I have, max, an hour before I have to head back for sound check. I don't even know where to begin. I would—not especially proudly—describe myself as a pinball connoisseur, and I particularly enjoy finding weird or obscure or unusual games. So I'm more familiar with lesser-known or unique games than the average pinball fan. Which I only mention because: there are so so so so so many games that I've never before seen or even heard of. For example, I get to play the incredibly rare Orbiter 1, a white whale of mine that I've been seeking for years. It's the only pinball machine ever made with a non-level playing field. The ball careens over divots and bumps and curves made to resemble the surface of an alien planet. It's fantastic. 

The unusual and impossible-to-find glory of Orbiter 1.
I could talk about this place for pages and pages, but I'm sure that detailed descriptions of dozens of pinball machines would try the patience of even the most pin-loving readers.  Suffice it to say:  I ended up playing a few older, hard-to-find games that I enjoy, but for most of my hour there, I didn't play any pinball at all, I just wandered around, dazed and overwhelmed, checking out dozens and dozens of beautiful and unusual machines.  

I'm a sucker for great backglass.

I'm especially fond of backglasses featuring disturbing artistic renderings.
3:15 p.m.: Sprint back to soundcheck. No more time to take pictures of fun signs!
4 p.m. : I arrive back at the venue sweaty and gross. I'm lucky that my bandmates are both used to and tolerant of such things. We launch into sound check, which takes an extraordinarily long time due to problems with a bunch of Adam's amps. They are behaving strangely for no immediately obvious reason. Much fussing and rewiring ensues and our heroic crew solves what turn out to be several problems. Between the activity at PAPA HQ and the troubleshooting at soundcheck, I have spent a lot of my day around experts tinkering madly with electronics in the service of relatively meaningless amusement. There's a metaphor in there somewhere.