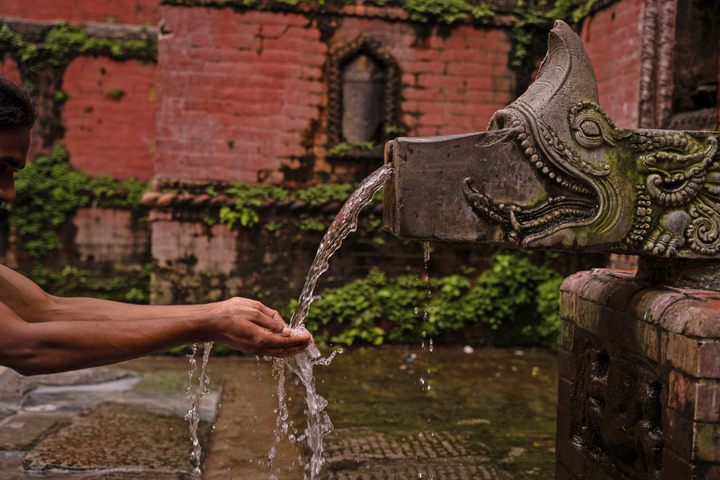 The Lost Waters of Kathmandu Are Needed Now More Than Ever
To prevent drought and save water, Nepal is turning back to 1,500-year-old fountains—with the help of a few snakes.
Viewed from a bird's eye, Kathmandu takes on the appearance of a sprawling mosaic. The narrow pathways wind through tightly packed houses, revealing medieval courtyards, while the streets below bustle with a multitude of people, cars, and motorcycles that seem to multiply infinitely, painting a portrait of a city bursting at the seams.
Long ago, when the city was but a humble settlement, more than 400 stone water spouts were scattered around Kathmandu, standing like guardians of the life-giving liquid. The taps, locally known as dhunge dharas or hitis, have been an integral part of the city's communal water supply for centuries. Predating the introduction of modern pipes in the 1890s, these systems were constructed around 1,500 years ago. Typically made of intricately carved stone, the spouts fell out of use for some time, but have once again become the lifeblood of Kathmandu.
At 82 years old, resident Juna Devi Shakya recalls from her childhood how the community would gather around the Yangaa hiti every morning. Some balanced clay pots on their heads and many shared stories or discussed matters of the day, all to the sound of trickling water.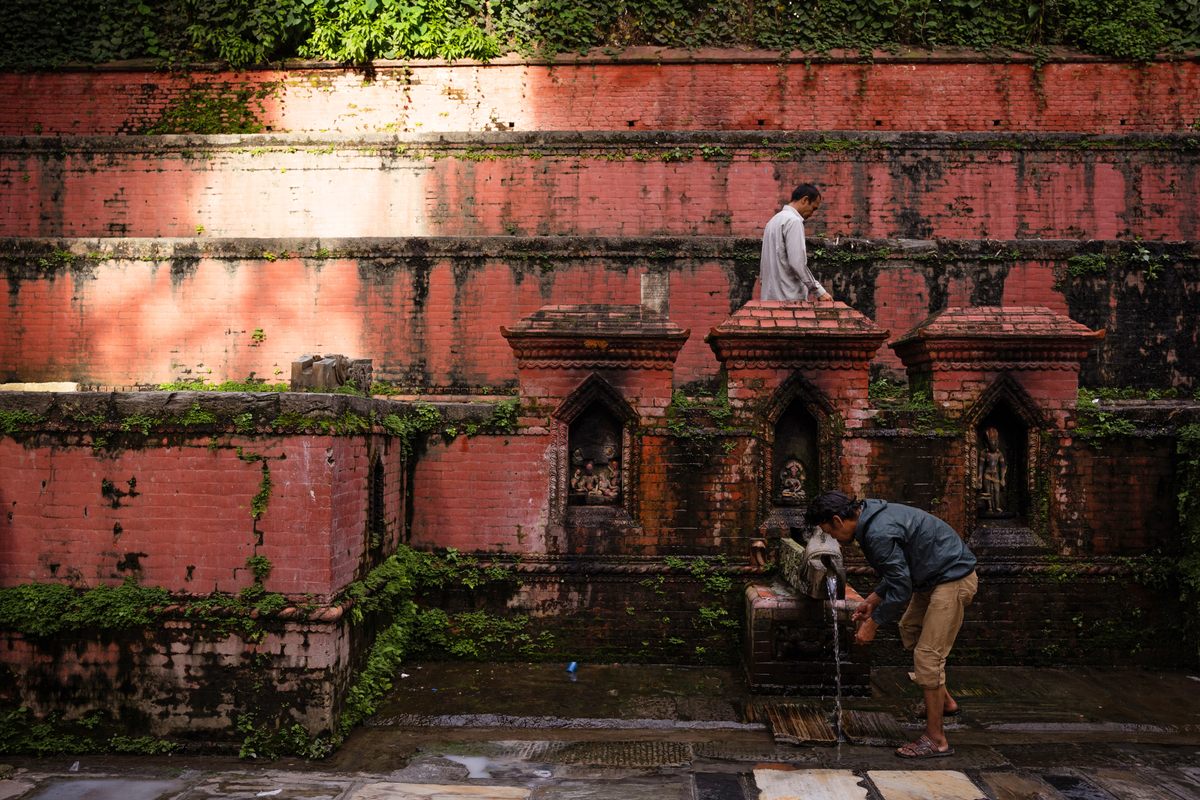 "We approached the spouts with reverence," Shakya says, "for they believed that these stone taps were sacred gifts from the gods themselves. They held stories—stories of ancient kings who commissioned their construction, stories of craftsmen who made these intricate carvings."
But decades ago, the Yanga hiti dried, and it seemed as though everyone forgot about it. When piped water became available in the late 1990s, Yanga was abandoned and surrounded by prime real estate.
As the city underwent urbanization, new development encroached upon the once-verdant wetlands that had nurtured these subterranean water sources. The abundance of water, once perennial, dwindled over time. Currently, among the 479 stone spouts identified by the Kathmandu Valley Water Supply Management Board's survey, only 171 retain flowing water. And they're needed more than ever. Today, Kathmandu grapples with a pressing water scarcity. The public entity tasked with water provision falls short, meeting just half of the current demand. For many, a handful of these historic fountains are their sole source of sustenance.
Luckily, these hitis have proved extremely durable over the years. The ancient water system requires minimal cleaning and only minor periodic maintenance requirements.
"In a remarkable juxtaposition, today's most ambitious drinking water projects are optimized for a lifespan of just 20 to 30 years, whereas our predecessors pioneered a mechanism that admirably supplied water with minimal human intervention for an astonishing period surpassing 2,000 years," says Padma Sundar Joshi, an engineer and researcher who has authored a book on water spout preservation called Hiti Pranali, which translates to "the hiti system."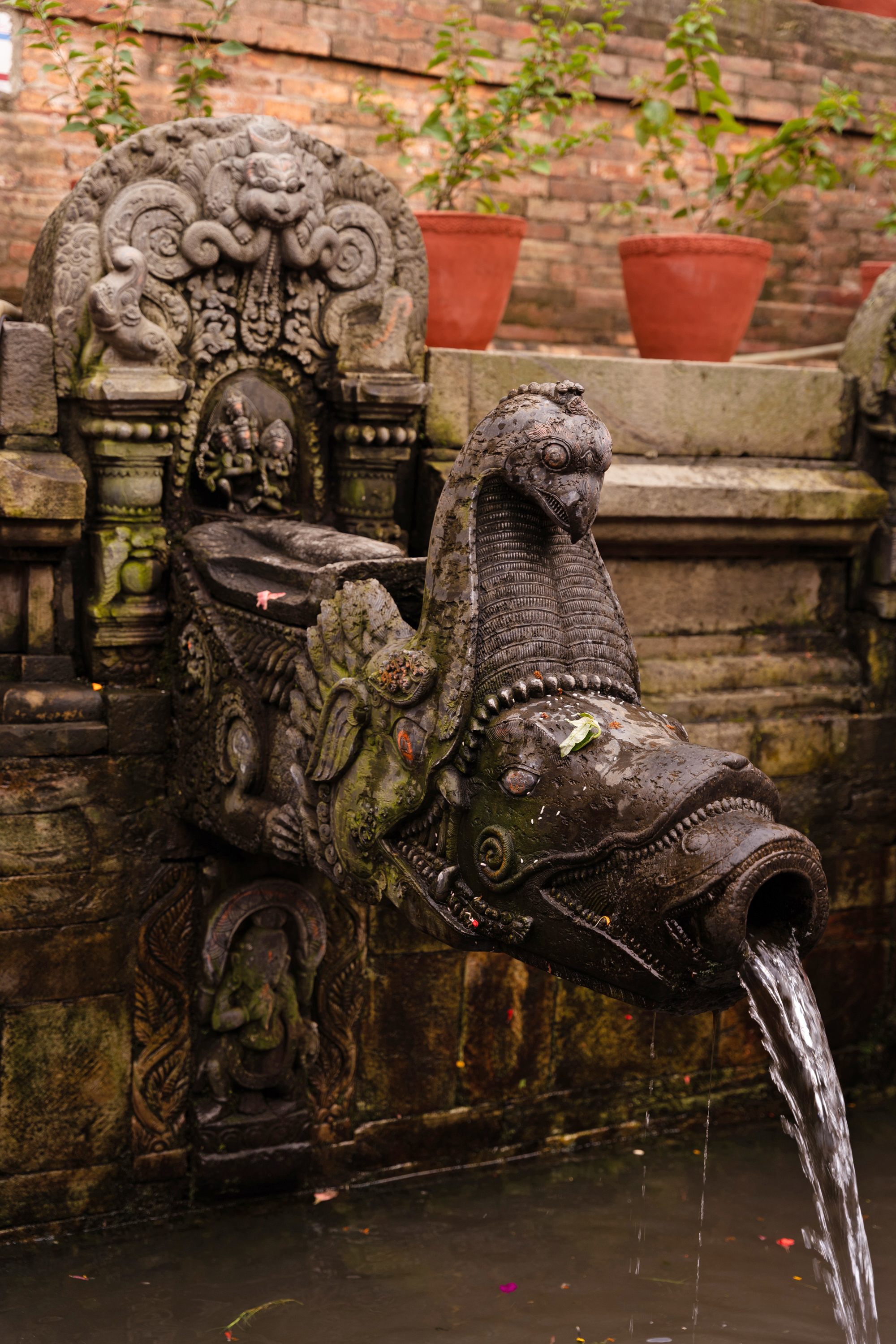 Joshi explains that every facet of the hiti system was crafted using locally accessible materials like soil, wood, bricks, and stone. This ensured self-sufficiency, sustainability, and longevity. Another locally sourced tool? Snakes.
The builders applied an ingenious biological intervention to keep the channels running smoothly. Whenever there was a blockage, the drainage system was cleared by moving live snakes and frogs into the narrow conduits. The sinuous movement of these animals as they navigated their way through the drains effectively dislodged obstructions, allowing them to emerge unhindered from the lower extremity of the drainage pathway.
Joshi, along with other heritage conservationists like Anil Chitrakar and Yadav Lal Kakshapati, say traditional water systems like hiti offer cost-effective solutions rooted in indigenous hydrology knowledge, which can function for centuries with minimal technology. They don't demand intricate infrastructure or significant investments. While restoring degraded canals, ponds, and spouts may require initial funds, their revival ensures a sustainable long-term water supply.
These systems prove invaluable in adverse climate scenarios and disasters. Amidst drought, the hitis can rely on aquifers and groundwater resources, since canals and ponds continuously feed the sources. In times of torrential downpours, the hitis serve as natural buffers, since the ponds can absorb and accumulate the excess water, which prevents flooding and erosion. Ultimately, these systems safeguard heritage while providing pragmatic responses to present-day difficulties.
Joshi cautiously holds optimism that a selection of the valley's hiti systems can be revitalized. When the hitis were placed on the World Monument Watch list in 2022, The Kathmandu Valley Preservation Trust (KVPT) and government of Nepal renewed efforts to restore them. "Even if we manage to preserve just a portion, whether it's 50 percent or even 10 percent of what has been lost, it would be a significant accomplishment," says Joshi. "But there is potential for even greater preservation."