Building a Life-Sized Gingerbread House Takes Over 10,000 Cookie Bricks
To be ready by Christmas, you better start baking in August.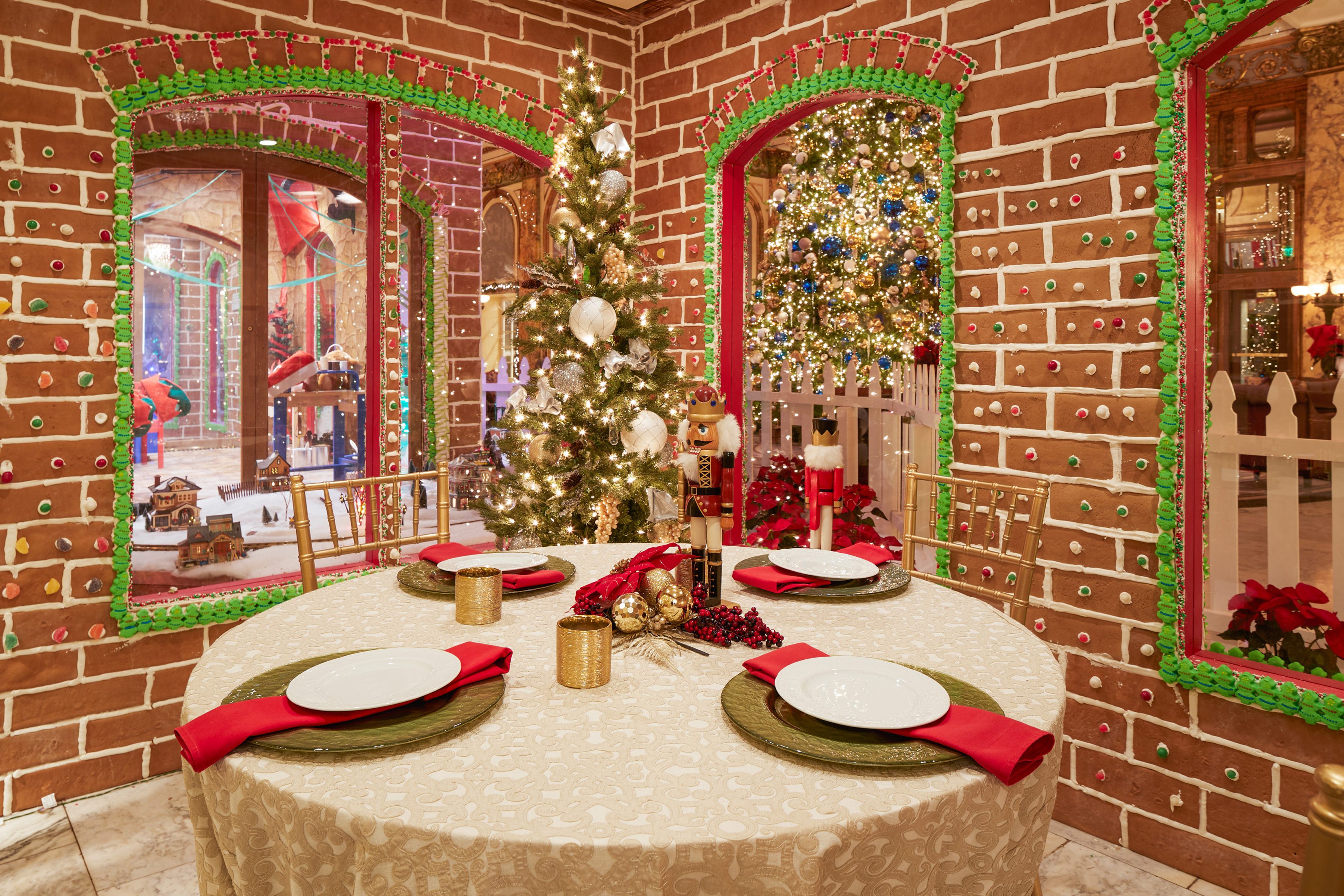 Gingerbread houses tend to be associated with either the holidays or the gruesome story of Hansel and Gretel. If the fairytale witch of lore left her forest cottage for the city, she might build a house such as the one displayed in the Fairmont San Francisco hotel's lobby, most of which is edible.
Every Christmas, the hotel's engineering and culinary departments team up to produce a building on a Hansel and Gretel scale. Flat gingerbread bricks line the house's facade, and smaller pieces curve to line the windows. Each brick is attached with snow-white royal icing. The hotel's culinary team also uses the icing to pipe in the cracks between bricks, sealing them firmly together. This sweet cement is made of egg whites, vinegar, and sugar.
The house's entire footprint is thirty-five by ten-and-a-half feet, and it's 25 feet tall. The bottom floor has a a toy-filled workshop, where children (and the occasional adult) press their faces against the glass for a look inside. Another nook houses a six-foot tall nutcracker. The second floor is off limits to visitors, but features a spinning Christmas tree (which is fun to watch in the time lapse video, twirling away at warp speed.) Modeled after one of San Francisco's Painted Lady Victorian homes, it's a structure that visitors can both wander through and peer into.
For the last five years, the gingerbread and candy has decorated an ever-expanding wooden frame. Each year, the candy covers a new (and larger) layer of Masonite siding. Though competitive gingerbread house makers and purists might object to non-edible substances being used, it's necessary to support the combined weight of 10,250 gingerbread bricks, 3,300 pounds of icing, and 1,650 pounds of candy.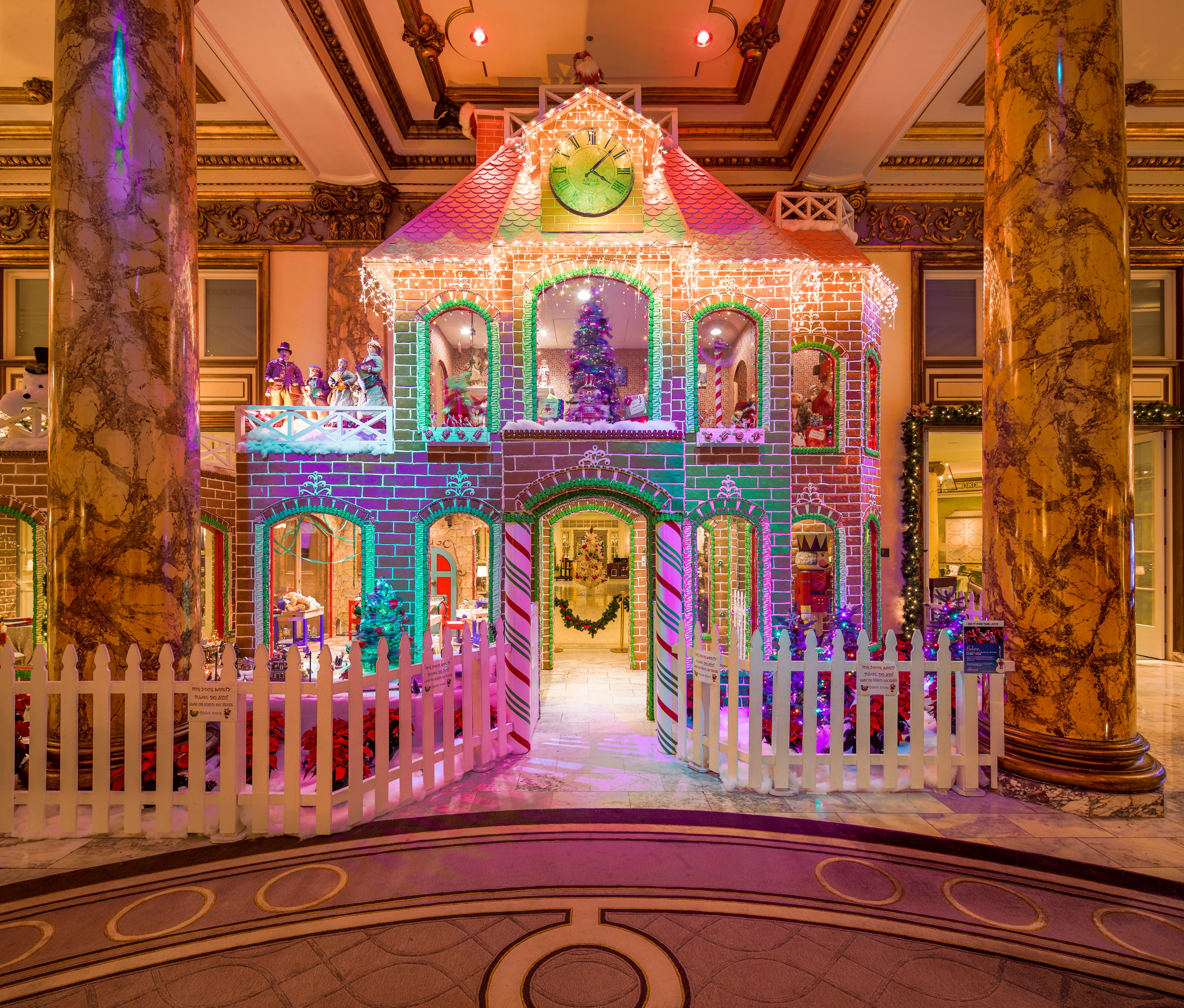 This is executive chef Oscar Gonzales's second year working on the house, and chief engineer Richard David's fourth. It started out small, Davis says. Its first iteration was as a display surrounding the entryway to the hotel's Laurel Court restaurant. Since then, the house has expanded each year. The most recent addition is a dining room for 12 guests.
The theme changes each year, too. This year, it's Santa's workshop. Two familiar red-and-white-clad animatronic legs kick furiously from a rooftop chimney, almost hitting the ceiling. A small electric train weaves through the workshop, and multicolored lights set around the structure wash the house in colorful hues.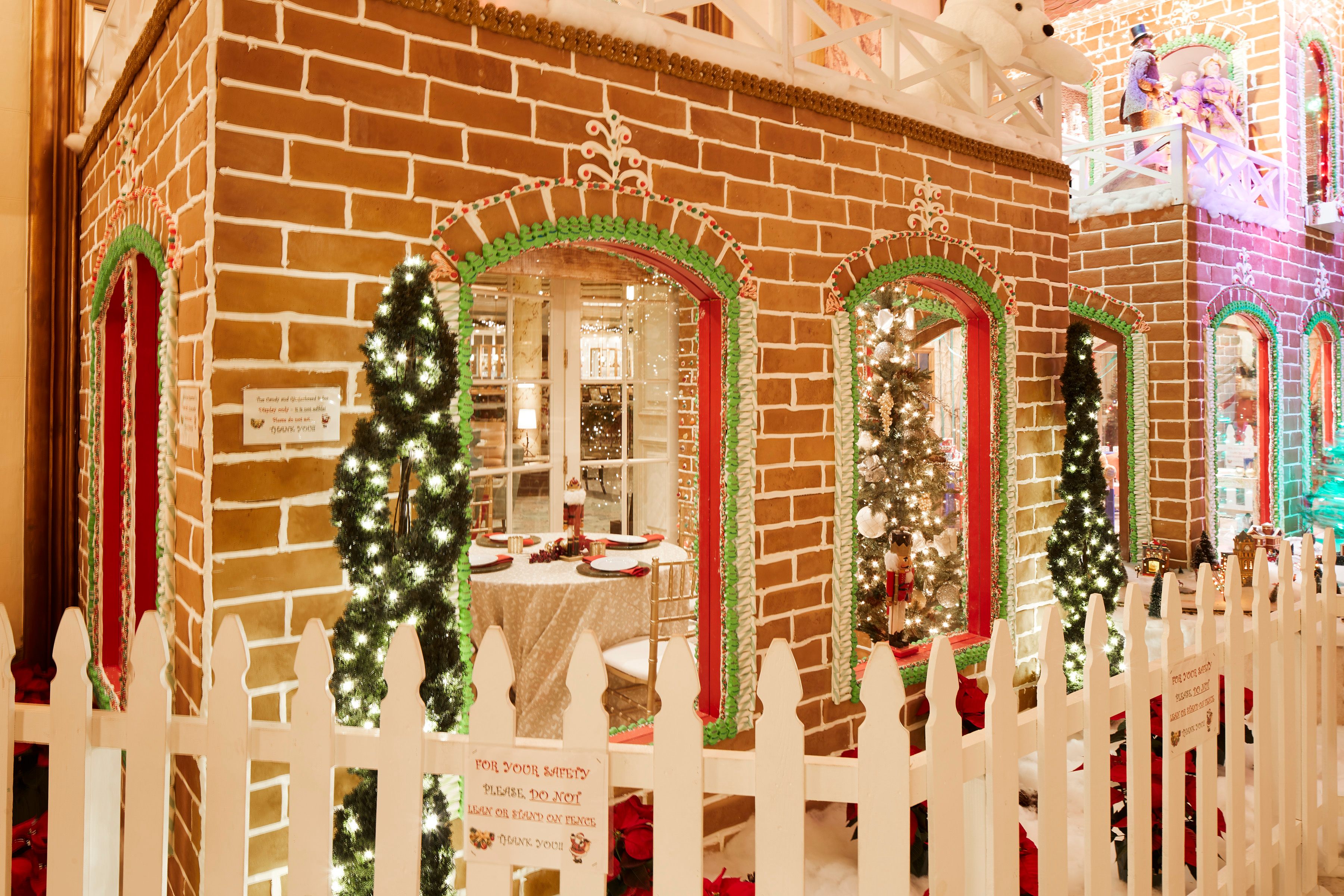 The scene is decidedly wintry, but planning the 2017 house started in July. While most San Franciscans were dreaming of escaping the fog for sunny beaches, engineer Davis and chef Gonzalez began sketching out this year's winter wonderland, going over theme changes and deadlines.
The engineering team's frame modification began in August, in what Davis describes as "an overflow parking area" down the street. Building the large, new annex meant an earlier start than usual. While the frame was being modified, the hotel's pastry shop baked thousands of gingerbread bricks. Gonzales's recipe for 100 bricks includes 45 pounds of flour and three gallons of molasses. Once baked, the bricks were frozen and stored. But even with a five-month window, it was difficult to bake enough, Gonzales says. Next year, he plans to start in July.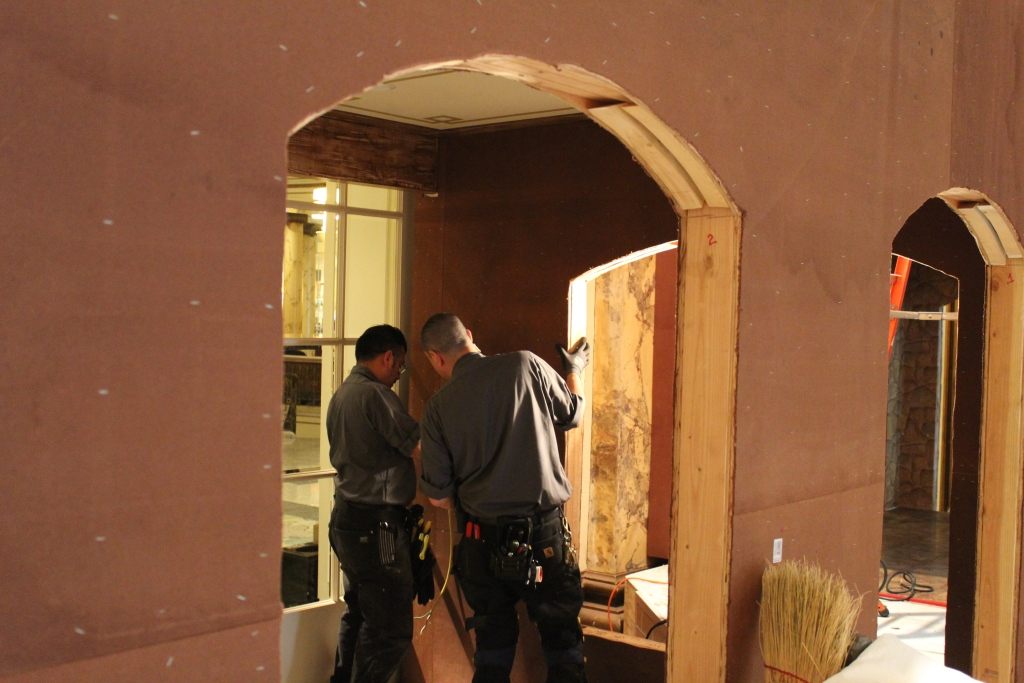 Once the frame is finished, it's carted in pieces—up one of San Francisco's hills—to be assembled in the hotel lobby overnight. It's added just before Halloween, and Davis laughs when he recalls the gloomy, undecorated frame looming over the hotel lobby like a haunted house. All of November is for decoration.
"It's a big project for everybody," Gonzales says. (The staff still has non-gingerbread duties.) A team of 12 from the pastry shop rolls out the prepared bricks, attaching them to the Masonite with spackle-like royal icing. After every brick is placed, then piping decorations and arranging candy begins. The pastry team busily lines windows with green-and-white, striped candy canes and Christmas-tree Peep marshmallows. Gingerbread-man shaped Peeps are placed along windowsills and balconies with mathematical precision. In a last flourish, the team uses piping bags to draw dramatic icing whorls, studded with gumdrops and gumballs. Since the house is so tall, much of the work is done on of scissor lifts and ladders.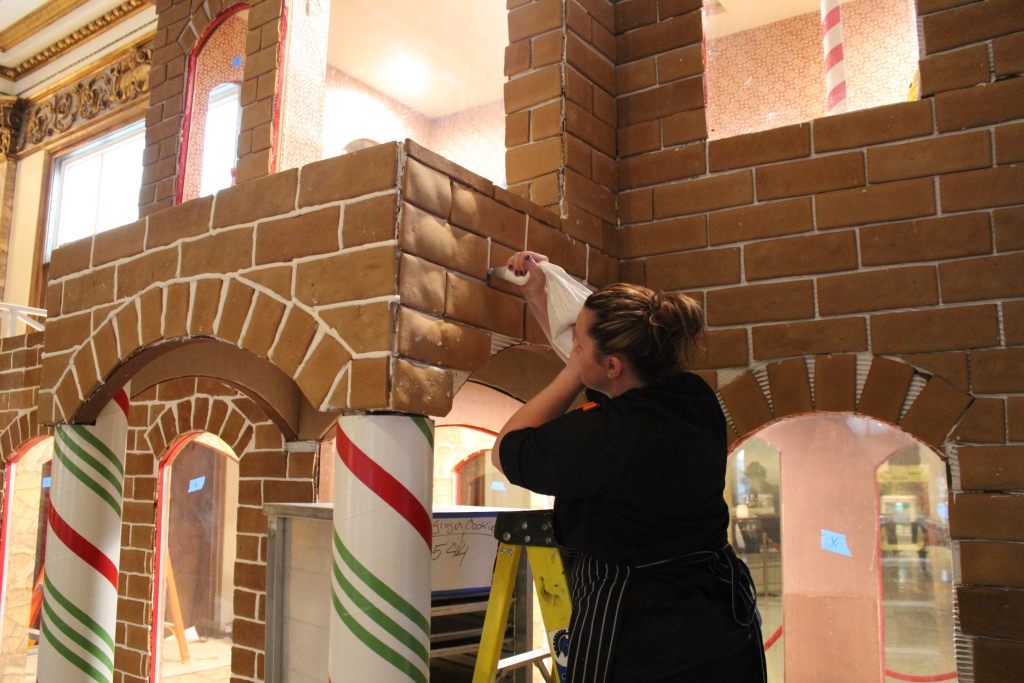 The pastry team even gets help from Primed and Prepped, a local after-school program that prepares teens for culinary and hospitality careers. Meanwhile, engineering installs lights and animatronics. The Fairmont has calculated that it takes 772 hours from engineering and 375 from the culinary department to complete the entire display.
After so much work, acting like Hansel or Gretel and feasting on the walls is strongly discouraged. "We have a lot of overzealous patrons who walk in and actually eat a lot of the coverings of this gingerbread house," Davis says sadly. He points out that the candy and cookies have been exposed to open air and casual touching for weeks. "It's really disgusting." But both children and adults nibble away with abandon. Gonzales says that the house has to be touched up with new cookies and candy at least twice a week. "They go to town on it," he says.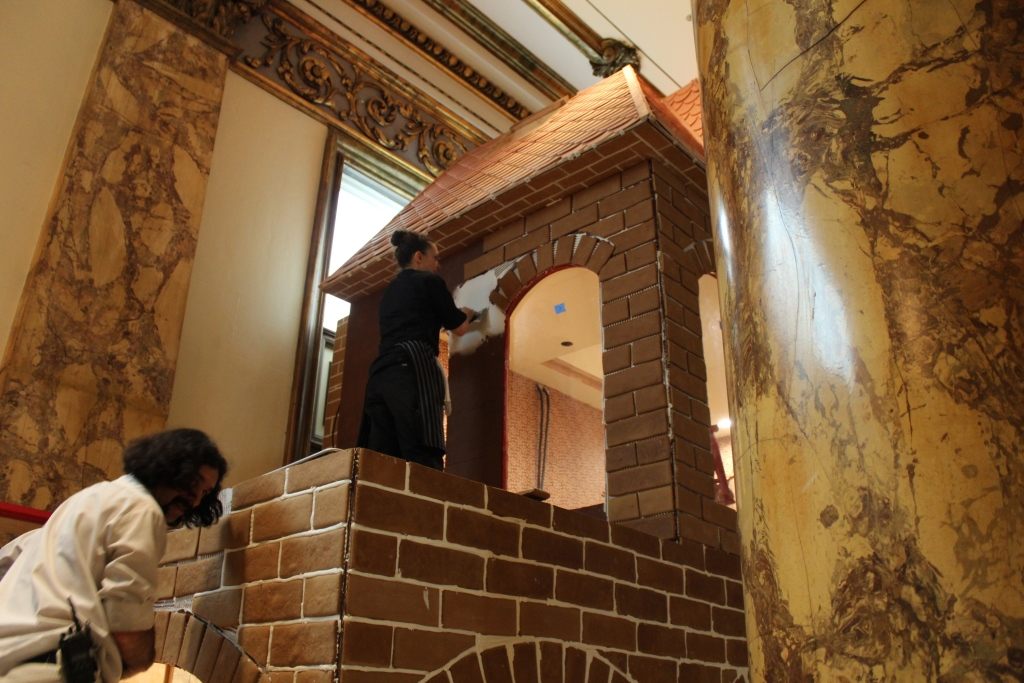 Gonzales and Davis even tested shell-like coverings for the candy this year, hoping to make them harder to peel off. But everything that worked was also fairly toxic, so they had to give up. Despite the destruction, they say the excitement that greets the house every year is rewarding.
While Davis, Gonzales, and their teams work hard to make the house visually stunning, the gorgeous smell of gingerbread that fills the lobby is almost as compelling. But the smell, and the house itself, are fleeting wonders. On January 2, the house is dismantled. The icing, gingerbread, and candy is scraped off the house, and since it's San Francisco, it's composted. The frame will re-appear next year under a new layer of cookies, and the only thing thrown away is the Masonite.
Gastro Obscura covers the world's most wondrous food and drink.
Sign up for our email, delivered twice a week.