The World's Largest Bottle of Wine Just Spilled in Austria
We're gonna need a bigger napkin.
If spilling wine is bad luck, the residents of Lustenau had better brace themselves. Recently, a Chinese restaurant in the Austrian town became the scene of an unprecedented spill from a world-record-breaking bottle of vino. Only through the efforts of local firefighters, dairy farmers, and cidery workers were the townspeople spared from chaos.
In 2017, the world's largest wine bottle was presented at the grand re-opening of the Chinese restaurant, Engel Wang Fu. Fashioned over three years by a German manufacturing company, it measured 9.8 feet tall with a 40-inch diameter, and weighed more than 815 pounds. A custom-made, climate-controlled glass chamber in the center of the dining room housed the bottle.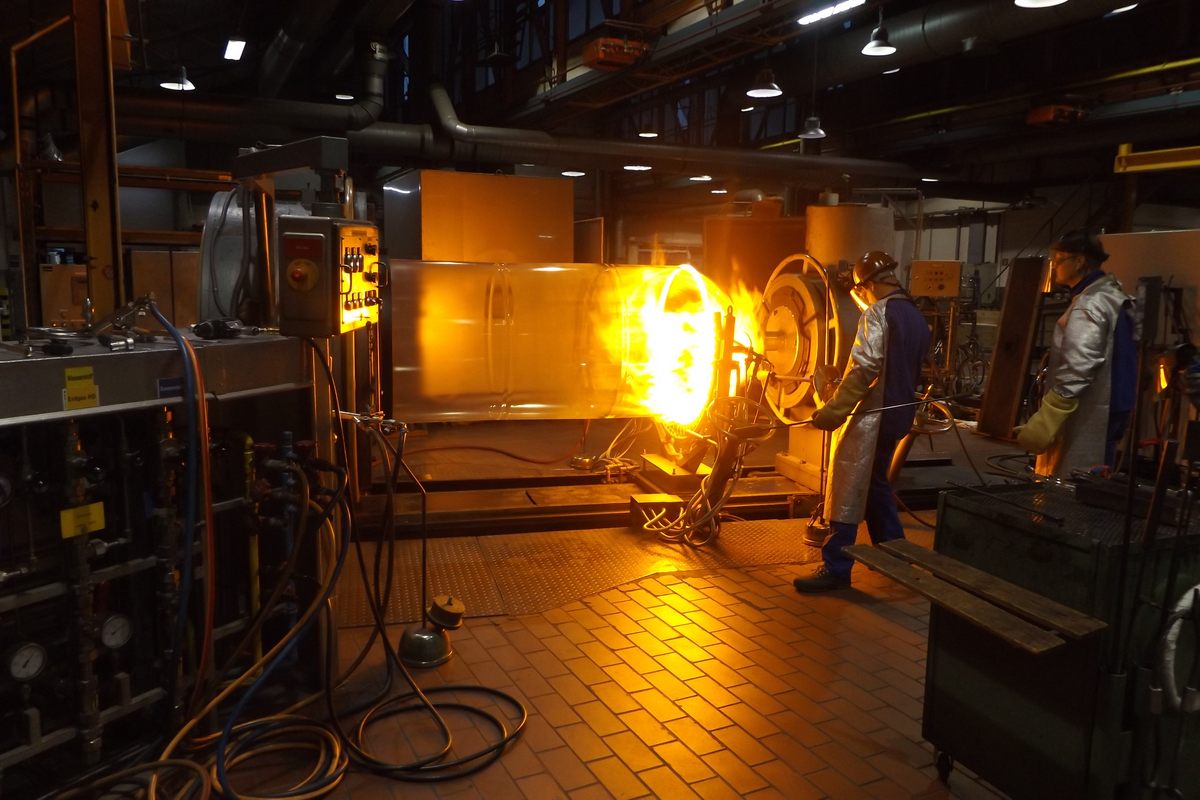 The event culminated with 1,590 liters of Keringer Wineries' award-winning "100 Days Zweigelt" being pumped into the empty bottle before it was sealed with a one-foot-thick cork and a layer of wax. "100 days means at least 100 days of exposure to the mash, i.e. with peels and seeds," explains winery owner Robert Keringer in an email. The wine was meant to further mature, while on display, for several years before being auctioned off for charity.
Fate had other plans. At some point, Lustenau firefighter Jürgen Hämmerle told Wine Spectator, the power to the bottle's glass chamber was tripped. As the internal temperature rose to room temperature, the charity wine expanded and gushed through the giant cork. All told, 230 liters, or the equivalent of 306 bottles of wine, leaked onto the floor of the restaurant.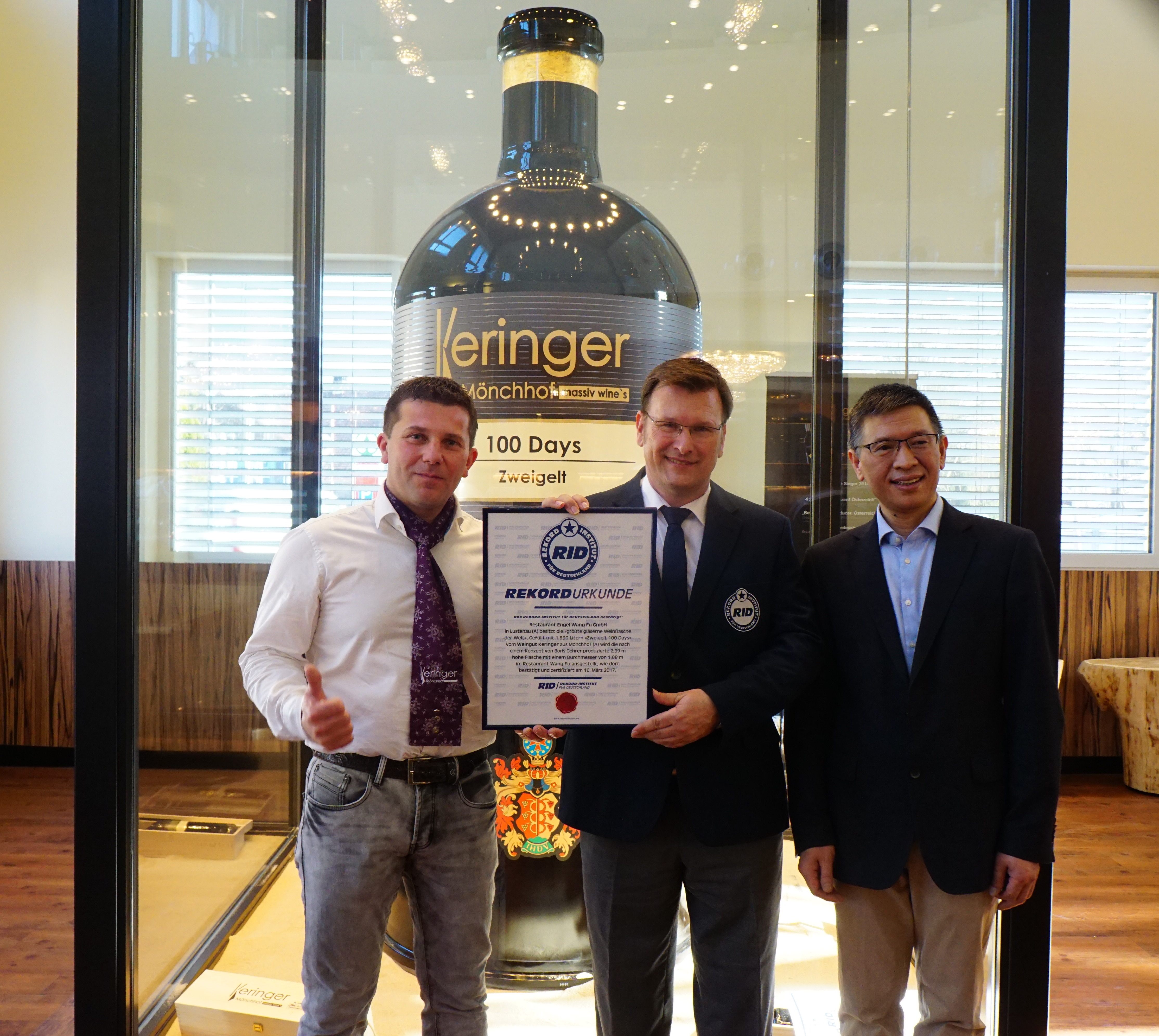 Concerned about the integrity of the nearly half-ton glass masterpiece, the firefighters first buttressed the base of the bottle with sandbags. "It was not clear whether the bottle could burst due to a suspected crack," Hämmerle told Wine Spectator.
The rescue took a village. Once secure, the firemen mounted the bottle and drilled through the cork from atop a ladder. "An unusual application for the fire department!" writes Keringer. A local dairy farm supplied them with food-safe hoses to siphon the wine, and a cidery provided a tank large enough to hold it.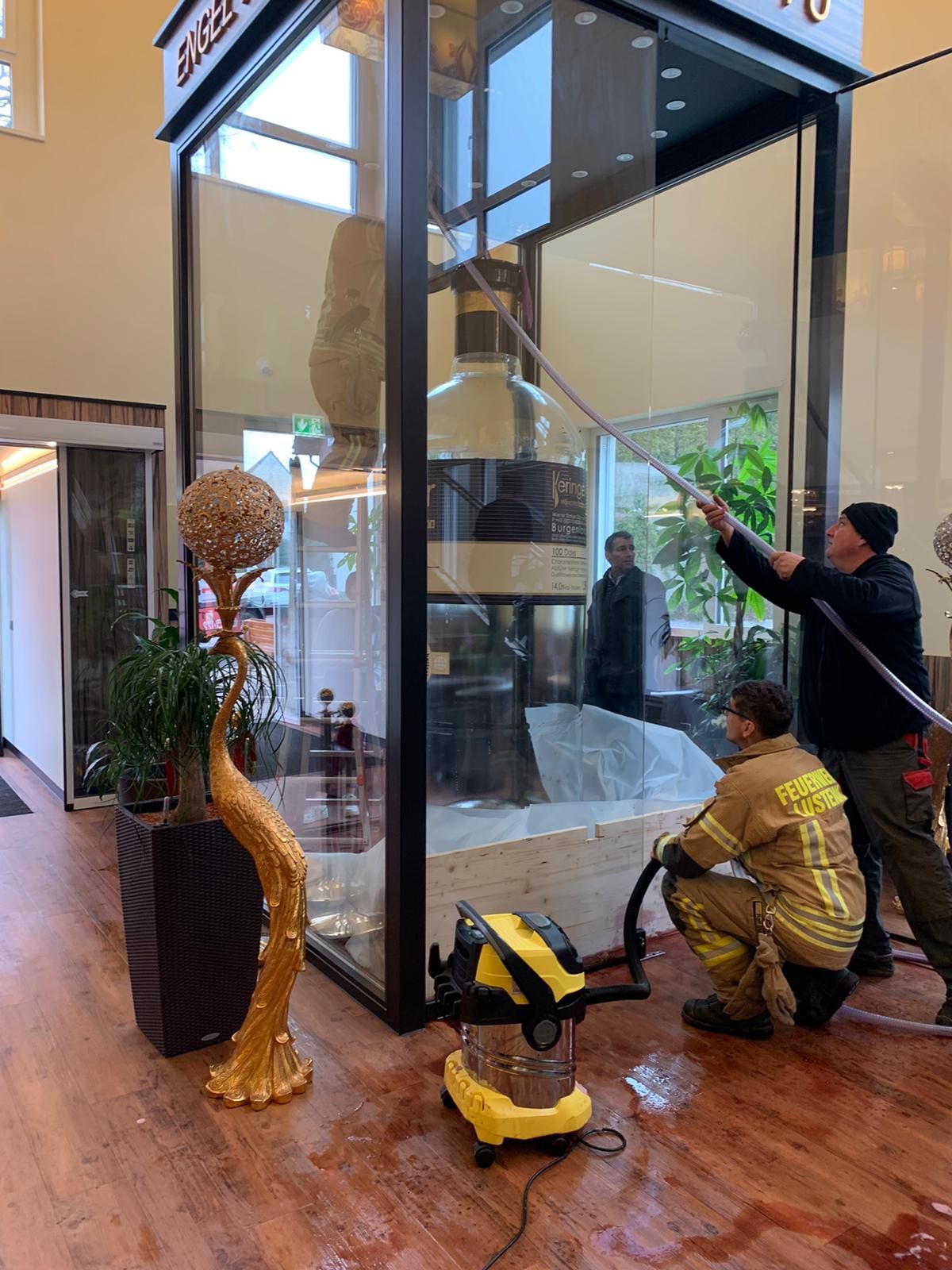 All told, firemen safely extracted 1,360 liters of the remaining Zweigelt which passed taste examination back at the winery. Keringer writes that they'll be individually bottled and auctioned at a later date. What's certain is that "dry January" is officially over for the residents of Lustenau.
You can join the conversation about this and other stories in the Atlas Obscura Community Forums.
Gastro Obscura covers the world's most wondrous food and drink.
Sign up for our email, delivered twice a week.