There's Gold In These Here Strange Squiggles
Mining operations at one of Russia's largest gold deposits includes a method that leaves twisty tracks on the landscape.
Curving across a landscape colored in chartreuse and bronze, a strange arc of squiggles looks like the work of some very confused burrowing animal. This curious, maze-like feature in East Russia was, however, created by humans and their machines. The site is part of the sprawling Kuranakh ore field, which stretches nearly 600 square miles and represents one of the country's largest gold deposits.
Mining operations in the area, located in the Central Aldan District in the Republic of Sakha (Yakutia), have been ongoing since the deposit's discovery in 1947. Since the mid-1960s, large-scale open-pit mining has carved a signature into the landscape (see pits visible in lower portion of large image below). But the squiggly maze shown above represents another approach: placer mining with gold dredges.
Perhaps the earliest form of gold mining, going back millennia, placer mining is simply the act of collecting bits of gold that have piled up relatively loosely. This happens most often in stream and river beds. The squiggles in the satellite image above, taken in September 2019, follow the course of an old tributary of the Aldan River. Over time, the placer deposit became buried by sediment, so miners use dredging equipment to collect it. The gold dredges dig up the sediment and sort out large rocks and other undesirable material, leaving them behind in long, snaky lines of tailings as the machinery moves, Roomba-like, back and forth over the landscape.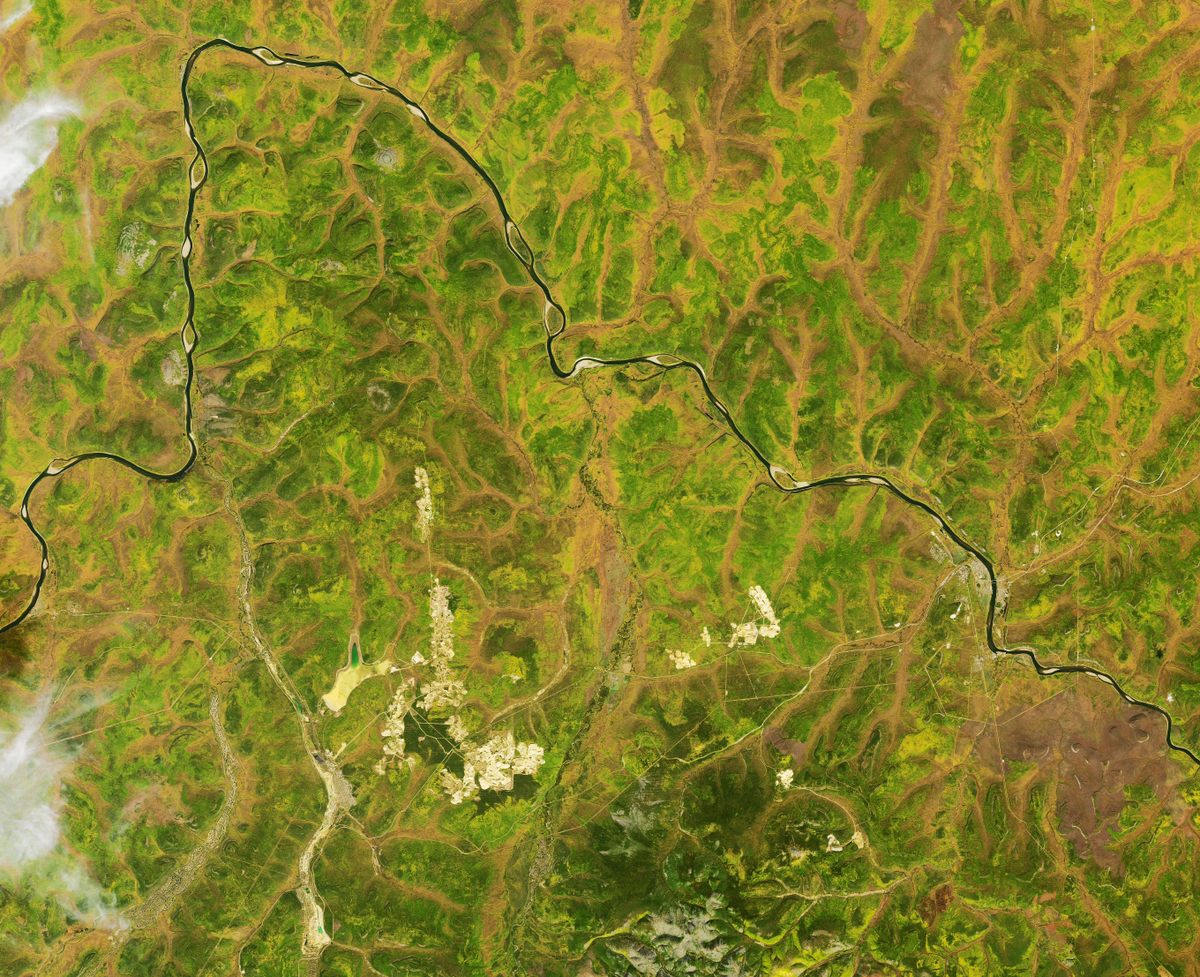 Not all placer mining relies on dredging. The term simply refers to mining those loose placer deposits, which can't be tunneled to or exposed in open pits like more stable lode deposits. Placer mining can be small-scale: It's technically what you've done if you've ever tried your hand at panning for gold in a stream. But on a commercial scale, it can be extremely lucrative. According to a paper in Ore Geology Reviews published online in 2013, the Bolshoi Kuranakh placer deposit, one of several in the area, had already produced about 80 tons of gold.