How Kiddie Pools of Kimchi Bind Korean Families Together
The practice of "kimjang" is about more than fermenting napa cabbage.
For most Koreans," says Yena Lee, of the South Korean Cultural Heritage Administration, "real kimchi is homemade kimchi, preferably made by their mothers." When autumn slides into winter, making the spicy fermented vegetable dish becomes especially important in South Korea. After Chuseok, the fall harvest holiday, many Korean families set aside a weekend in late November or early December for kimjang, the practice in which near-industrial quantities of pogi kimchi (the most common kind, made with napa cabbage) are made in homes across the country to sustain Koreans through the cold months.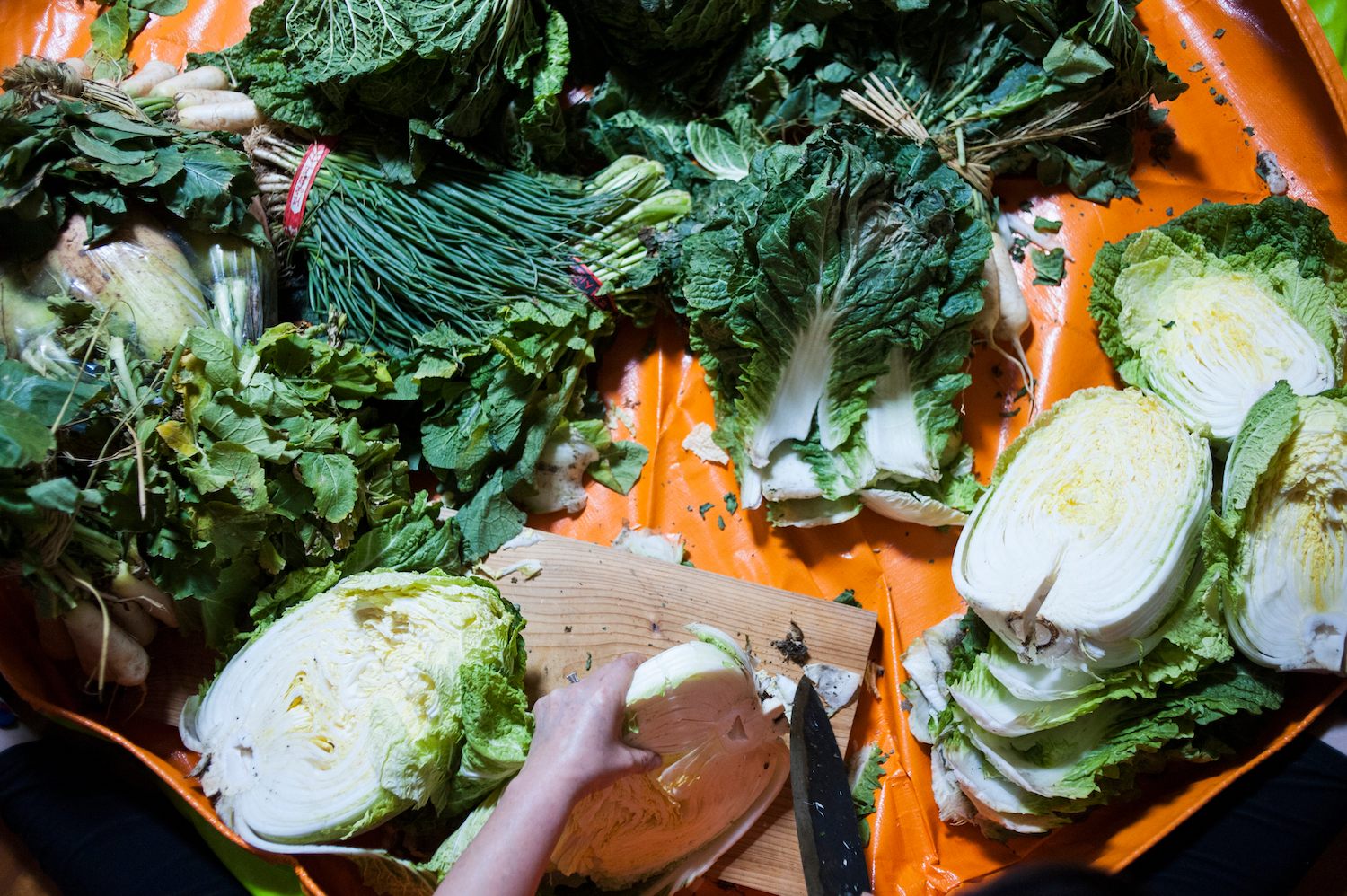 Kimjang season is so important to Korean life that, in 2013, it was enshrined in UNESCO's Representative List of the Intangible Cultural Heritage of Humanity. Some 230 tons of the foodstuff are eaten each year in South Korea, the UN reports—and of that, barely seven percent is commercially produced. "Koreans are really picky about their kimchi," says Elijah Park, a Korean-American now living in Brooklyn. "So it's like—you can't really fake it."
To make pogi kimchi, chopped napa cabbage, daikon, and other vegetables are coated with a red paste made of sugar, chili pepper, oyster sauce, and tiny fermented shrimps. Garlic, ginger, and scallions add even more flavor. Traditionally, the mix is packed into earthenware pots, covered with brine, and buried in the ground to regulate the temperature as it ferments. Today, it's more commonly loaded into jars or bins and placed in a considerably more high-tech kimchi fridge. The result—intensely savory, sweet, spicy, and sour, fizzing with lactic acid—has soared in popularity in the United States as well, where it was touted as a health food following the 1988 Olympics in Seoul.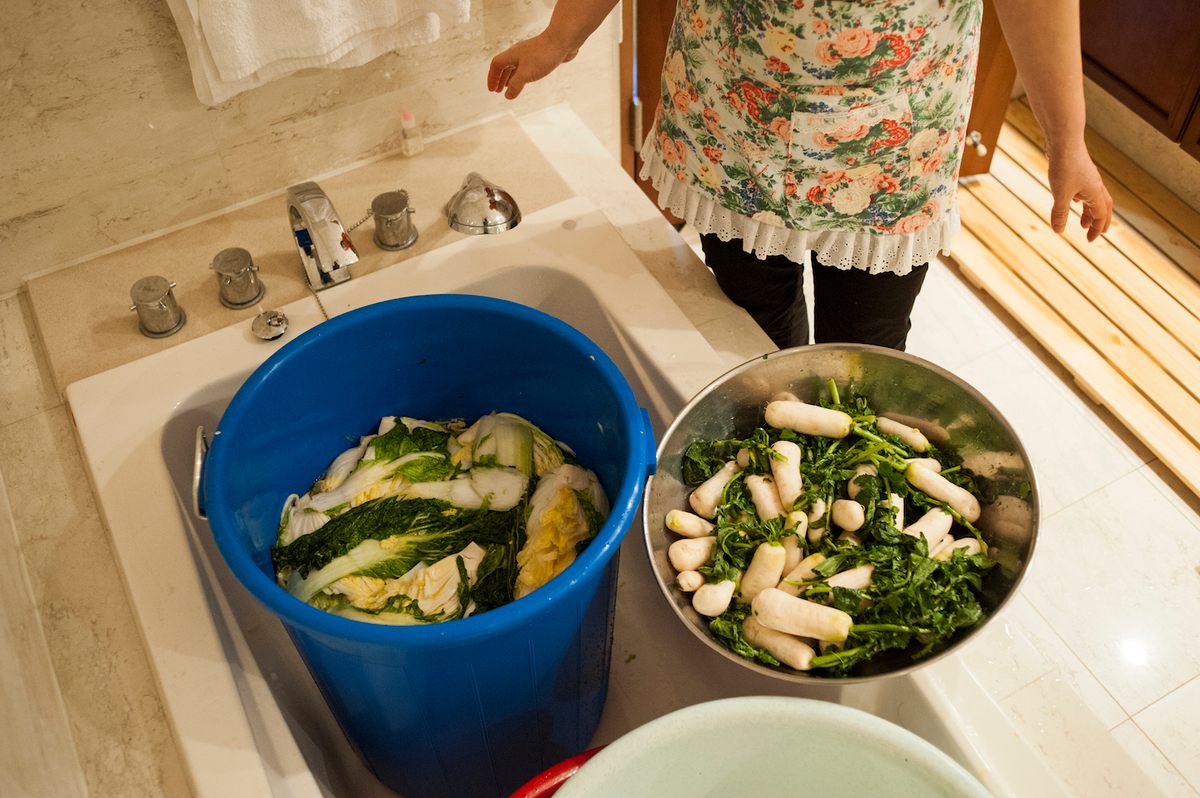 Park's family moved from South Korea to Northern California in the early 1990s. Every year, he remembers, the whole family set aside a special weekend for kimjang, just as they had back home. "There were no questions asked," he says. "We couldn't make any excuses not to do this, everybody would have to wake up at 5 a.m. and help. Both my mom and dad were equally invested in this thing." He remembers the whole family, including his sister, elbow-deep in napa cabbage, washing and chopping, salting and drying, and filling every crevice of each individual leaf with the paste. Park was the designated taster. "She'd have her gloves on, and then put it in my mouth," he remembers. "Was it too salty? Or not salty enough?"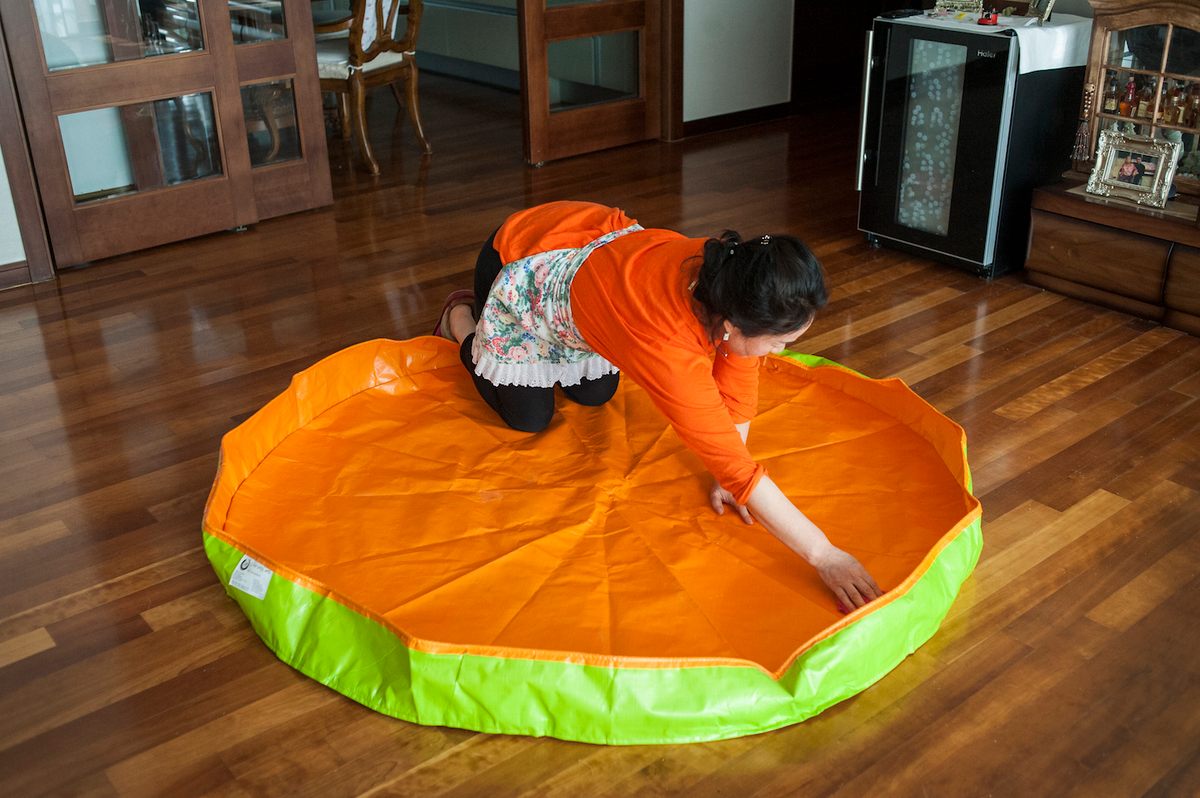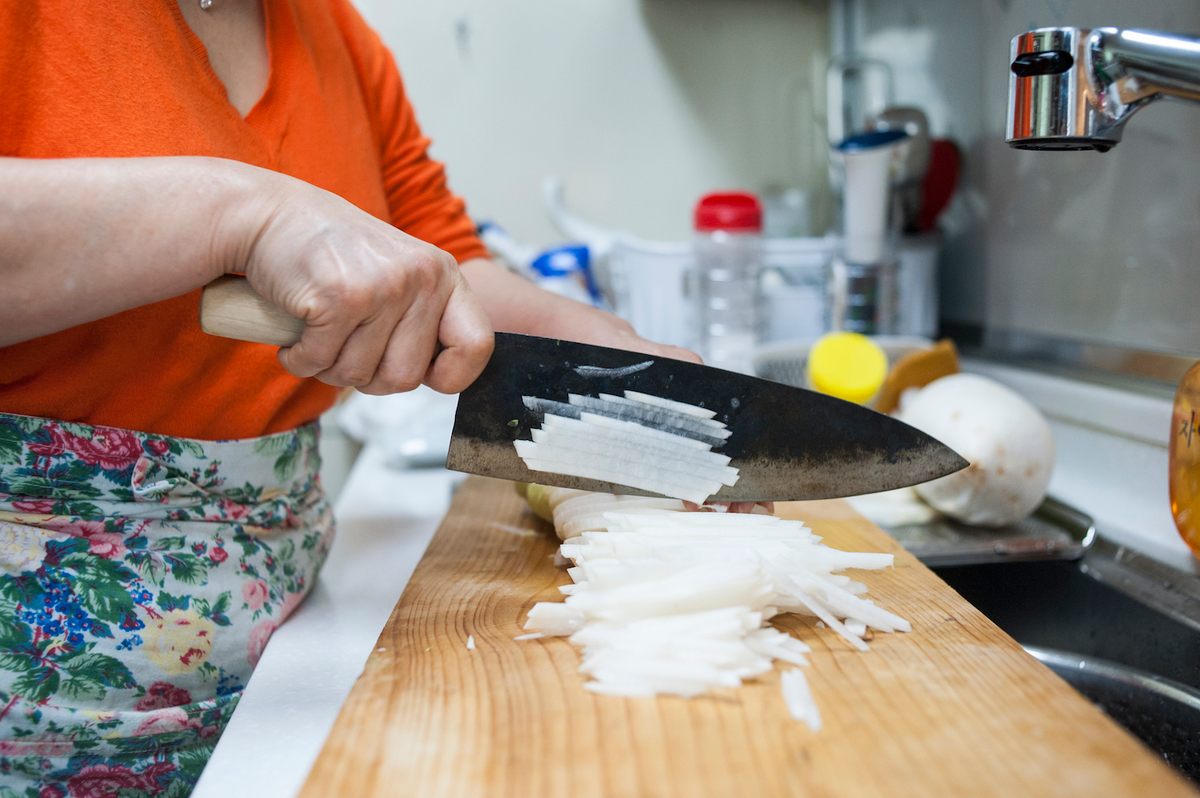 Sangsuk Sylvia Kang, a photographer who documented her mother making kimchi for this story, remembers her home in Seoul being beset by aunts when it was time for kimjang. "My mom was a stay-at-home mom in a house full of Kangs who really liked her food and didn't know how to help out in the kitchen without being in her way," she says. As her mother and aunts chatted and chopped, Kang remembers, she ran around in the background, scooping up samples. "Aunts or my mom would always give us little bits to taste before jarring everything up."
While it is easy enough to buy kimchi, both Kang and Park say their mothers frowned upon it. "My mother has such disdain for store-bought kimchi," says Kang. But that wasn't true for everyone. "Some moms know that they suck at making kimchi," Park says. "So either they ask their friends to make it for them, or mooch off them, or they go and buy store-bought kimchi. If you go to a friend's house, and their mom brings out kimchi, you know right away if it's store-bought or homemade." His own mother took great pride in the family's output, giving away jars of their kimchi—distinctively sweetened with Coca-Cola—to friends and acquaintances at church.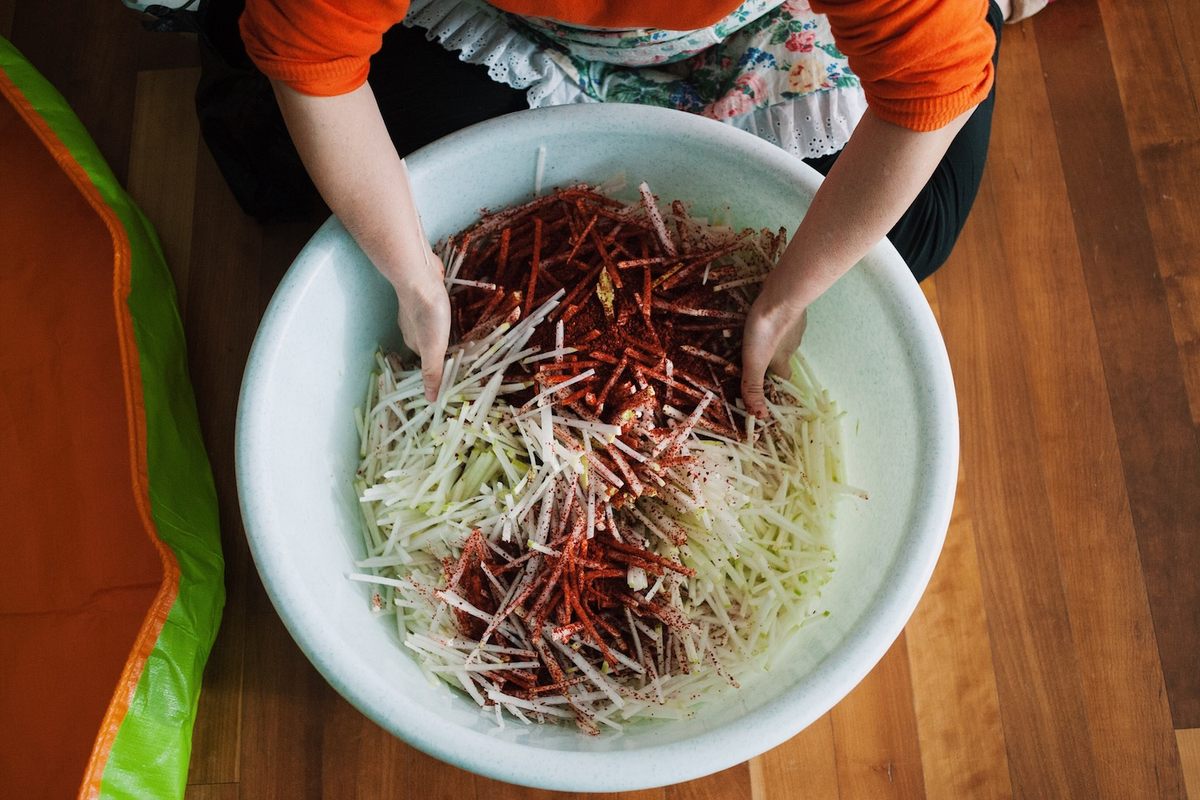 For their efforts, Kang's mother, Kyung Ae Lee, uses a kimjang mat, a collapsible plastic pond near-indistinguishable from a kiddie pool. (In fact, an online listing for one suggests there's no reason it shouldn't do double-duty: "Ideal for making Korean Kimchi and can be kids clay playmat.") Korean-American chef Ann Kim, who lives in Minnesota, remembers using their actual pool. "We literally used the plastic kiddie pool my sister and I splashed around in during the summer months because it was the only vessel large enough to hold our brining napa cabbage. Although it was fully cleaned and sanitized prior to kimchi making, we joked that the secret to our kimchi had something to do with that damn pool."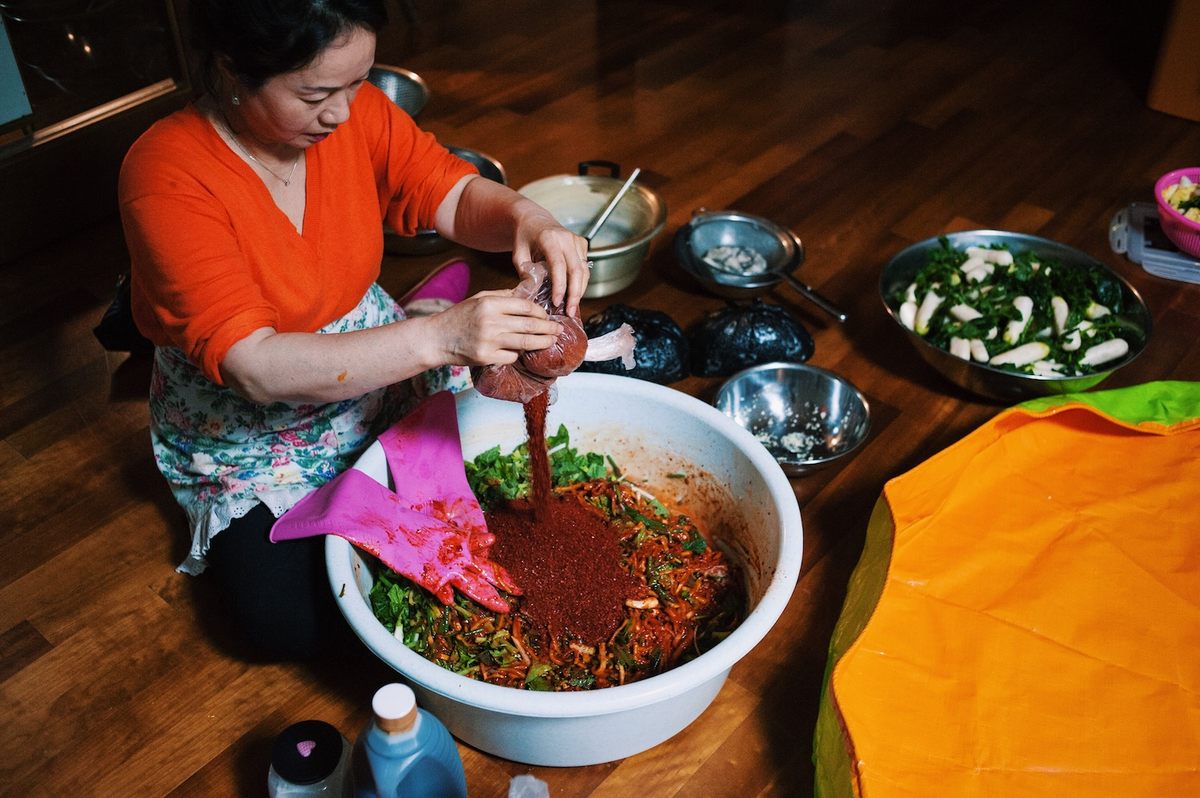 When they moved to the United States in 2000, Kang says, all of a sudden her mother had to make kimchi alone. (The family has since returned to South Korea.) She measures the quantity by the number of cabbage heads, or pogi, that go into it—last year, she made nine pogis worth. "It isn't that large of a load, relatively, and good for one person," Kang says. "I should have been helping instead of documenting, from a good daughter perspective … I have to learn it soon, learn by helping her, and then make kimchi of my own when I grow up!"
---
Though Koreans have eaten things like kimchi for millennia, the characteristic brick-red shade is a relatively recent innovation, writes Robert Ji-Song Ku in Dubious Gastronomy: The Cultural Politics of Eating Asian in the USA. "Columbus's 1492 voyage initiated a back-and-forth flow of biological matter between the Eastern and Western Hemispheres that radically and irrevocably altered both worlds." One of these bits of biological matter was the chili pepper, which found its way into vindaloo and harissa, chorizo and gumbo, tom yum and, of course, kimchi. Before that, kimchi had been flavored with mustard, black pepper, or even tangerine peels.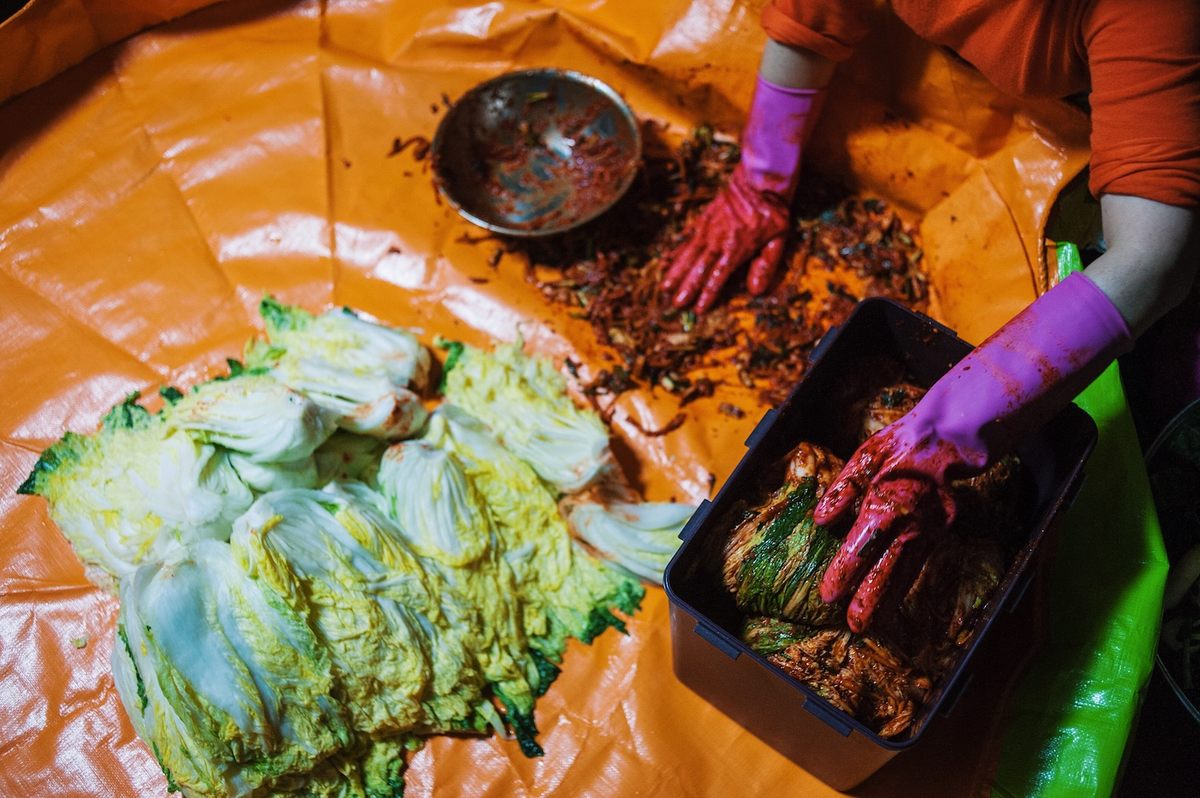 Today, South Koreans are among the highest per capita consumers of chilis in the world, Ku writes. Much of that consumption comes from kimchi of one sort or another. "For better or for worse, the chili is the ingredient that comes first to mind whenever Korean gastronomy is discussed, even if plain evidence—such as menus or cookbooks that contain a substantive number of dishes without chilis—indicates otherwise."
While most people are familiar with pogi kimchi, there are a few hundred different kinds, involving a variety of vegetables and different periods of fermentation. Many have no definitive recipe. Every year, Kim's mother improvises slightly, and later might complain if the result ends up slightly too funky or not quite funky enough. "I asked my mother why she never wrote down a recipe so she could get it just right every time," she writes. "She scoffed and explained that a recipe for kimchi isn't reliable. 'You never know what you're going to get from year to year in terms of quality of cabbage, the weather, and even the salt … You have to taste and smell. Always taste and smell because kimchi is always changing.'"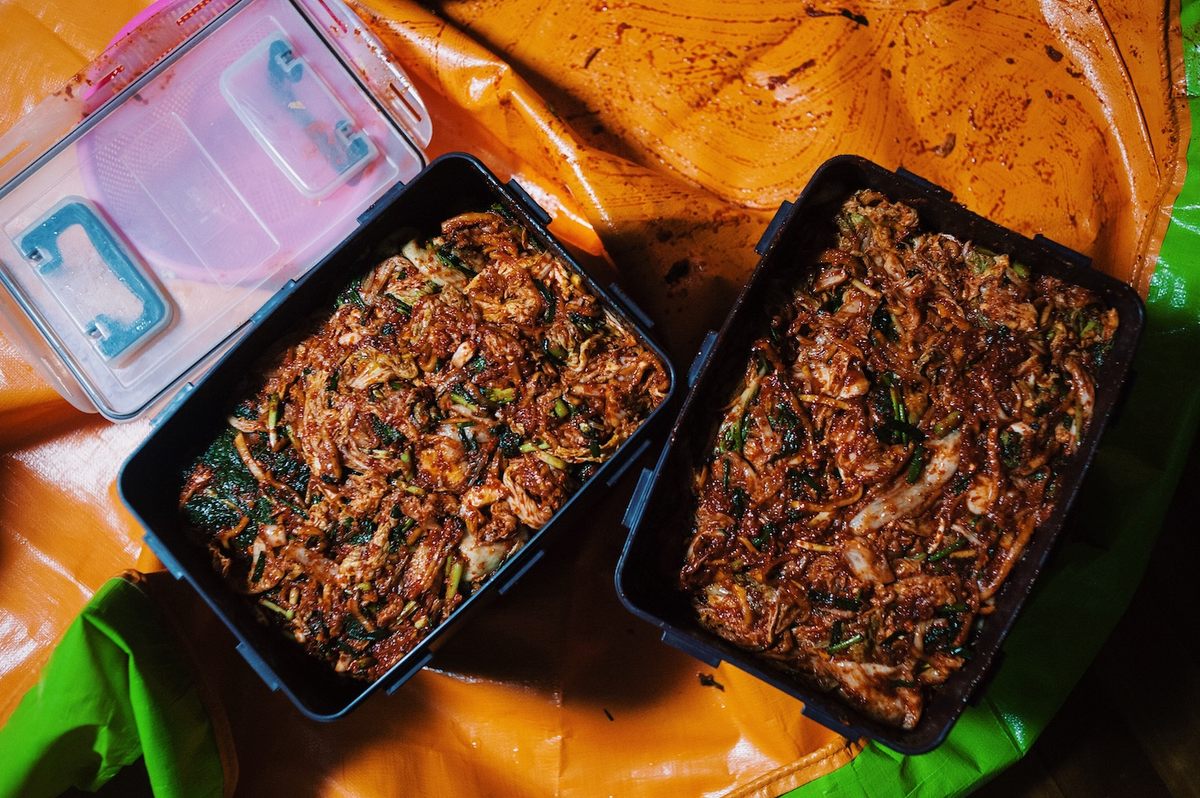 Lauryn Chun, the founder of Mother-in-Law's Kimchi, has compared these subtle changes to the complex flavor bouquet of a fine vintage wine. This champagne of pickles, she writes, "tingles on the tongue like a sparkling wine, with tiny pinpricks of carbonation." The company gets its name from a tradition of women seeking kimchi-making advice from their husbands' mothers. In Kang's home, she says, something similar has happened with her brother's wife. "My sister-in-law has been asking my mother for cooking advice, because my brother likes [our mother's] better," she says. "She's from Jeolla Province, which makes good food. Arguably the best food in Korea."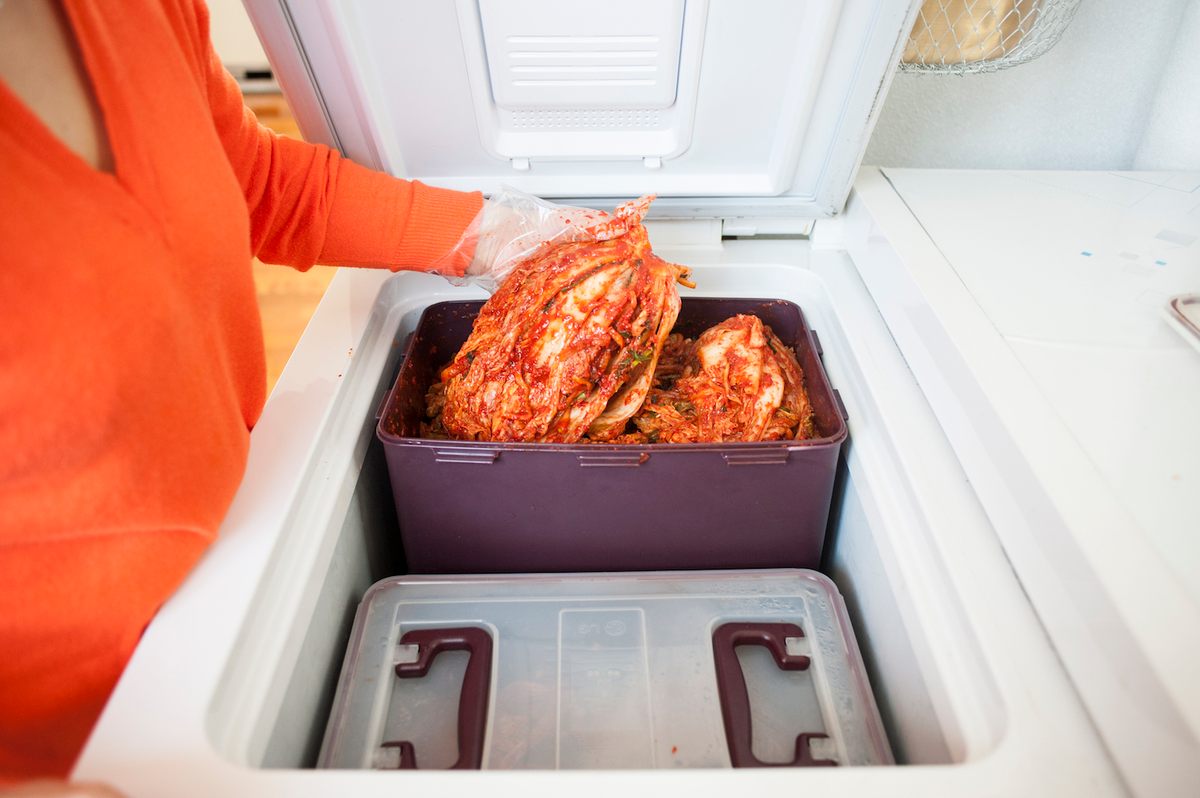 Last year, Park brought kimjang into his home in New York. For his birthday, he brought friends together to recreate the kind of kimchi-making he'd done with his family as a child. His mother, he says, was shocked. "She was like 'Why did you guys do that?' Because we're in a cramped Brooklyn apartment, it smells, kimchi's not the most pleasant smelling thing." His girlfriend brought the ingredients, and everyone sat down together. "We chopped everything, and mixed it all together." But there was one particularly Brooklyn element to his transplanted kimjang party. "Everyone took their own individual mason jars home."
Gastro Obscura covers the world's most wondrous food and drink.
Sign up for our email, delivered twice a week.