In a Slovenian Forest, Fairy Tales Come to Life
A winding path through the woods is lined with more than 60 scenes from fables, folk tales, and children's films.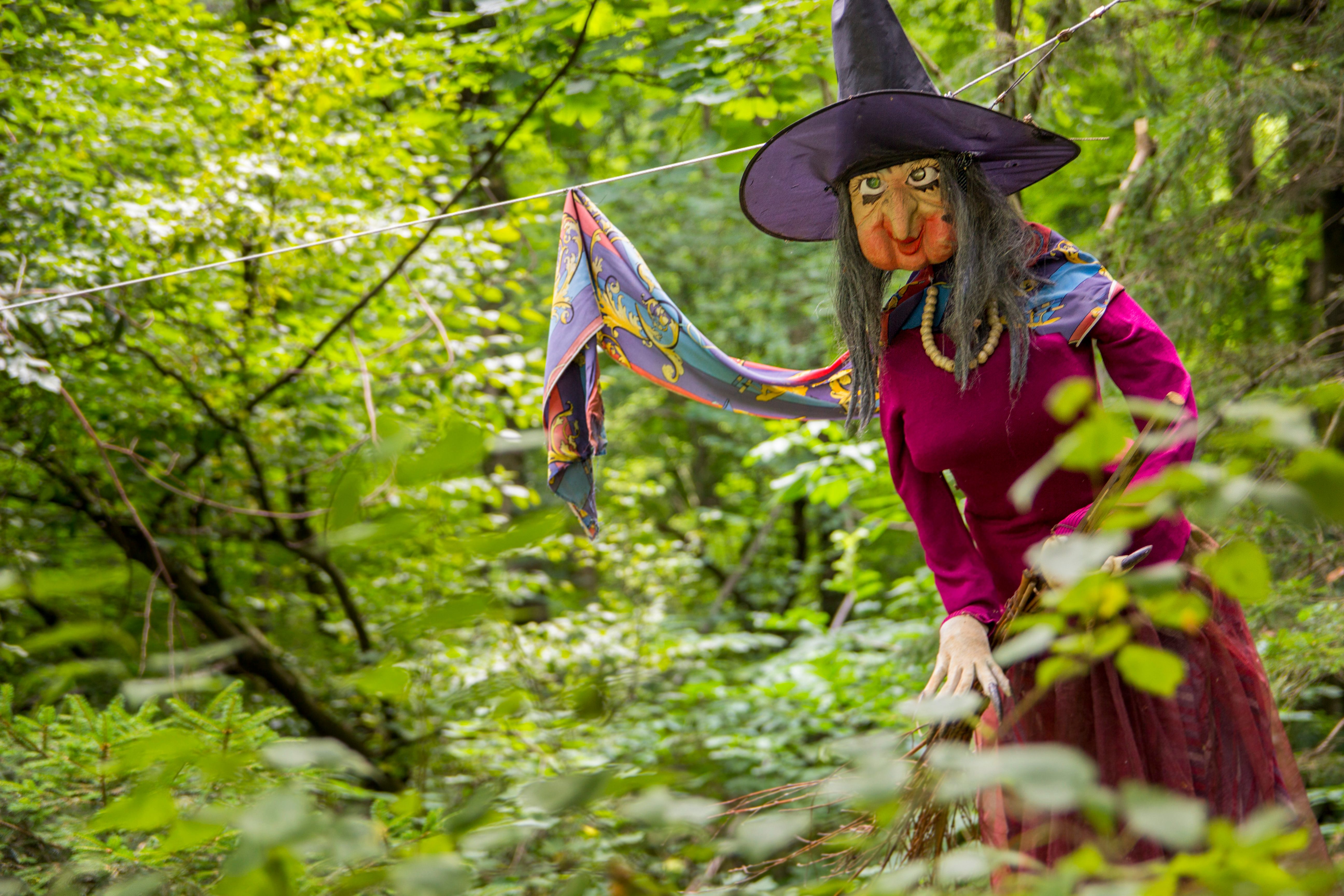 The way Goran Kneževič tells it, you wouldn't be wrong to mistake his grandfather for a character out of a fairy tale.
A kindly headmaster assigned to an impoverished farming region of eastern Slovenia (then part of Yugoslavia), Jože Brilej created a school so special that children begged to attend. So esteemed was his work that he was bestowed Slovenia's highest award for educators: enough money to build a cottage in the forest next to a babbling brook. With any free time they had, the headmaster and his family escaped to the cottage for peace and communion among the flora and fauna of the woods.
But their peace did not last long: Drunken passersby returning home from the market at night began to suspect that lamps in the cottage had been lit by witches. As rumors of unnatural activity grew louder, Brilej made plans to dismantle the cottage and rebuild it deeper in the forest, further from curious eyes.
Instead, he thought, why not make the rumors true? Out of building scraps and discarded materials, Brilej created a witch, complete with a pointed hat, and hung her in the trees near the footpath. The fear of the villagers turned to delight, and he added more enchanted figures, filling the woods with characters and scenes from beloved fairy tales—all made with his own two hands.
Before long, his forest haven drew visitors from distant lands—and the children who had been his students were bringing their own children to see his sanctuary of imagination and ingenuity.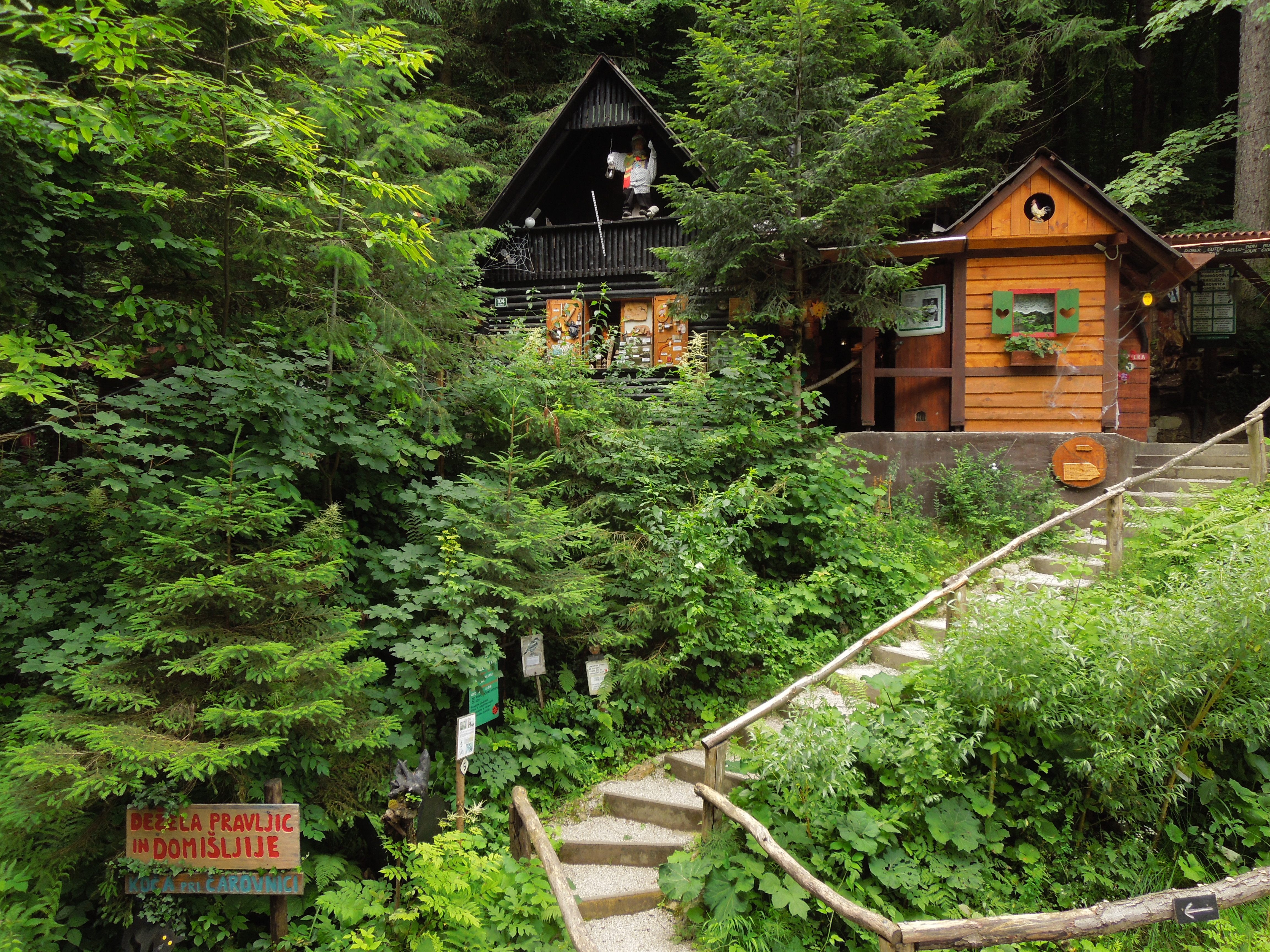 However fantastical it might sound, the enchanted hillside is decidedly real. Brilej built the cottage—its first structure—in 1967, and in 1990, he opened it to the public. He remained involved in its operations until his death in 2015 at the age of 91. Koča pri Čarovnici (in Slovenian, "Witch's Cottage") includes the original dwelling and a winding forest path lined with Brilej's creations, named Dežela Pravljic in Domišljije, the Land of Fairy Tales and Imagination. In the years since he created his first friendly witch, the park has remained a small but determined part of the tourism infrastructure that now sustains Slovenia's Podčetrtek region.
Since the country first voted for independence from Yugoslavia in 1990, tourism has risen sharply, most dramatically after Slovenia joined the European Union in 2004. The industry got a head start in Podčetrtek, says Janez Bogotaj, a Slovenian ethnologist, with the area's early investment in its natural hot springs. In 1966, the region's long-famed therapeutic waters were made publicly available in Terme Olimia's first wooden pool, and the spa is now one of Slovenia's most popular.
As tourism in the area has increased, so has traffic to Koča pri Čarovnici: Kneževič estimates it draws up to 10,000 visitors annually.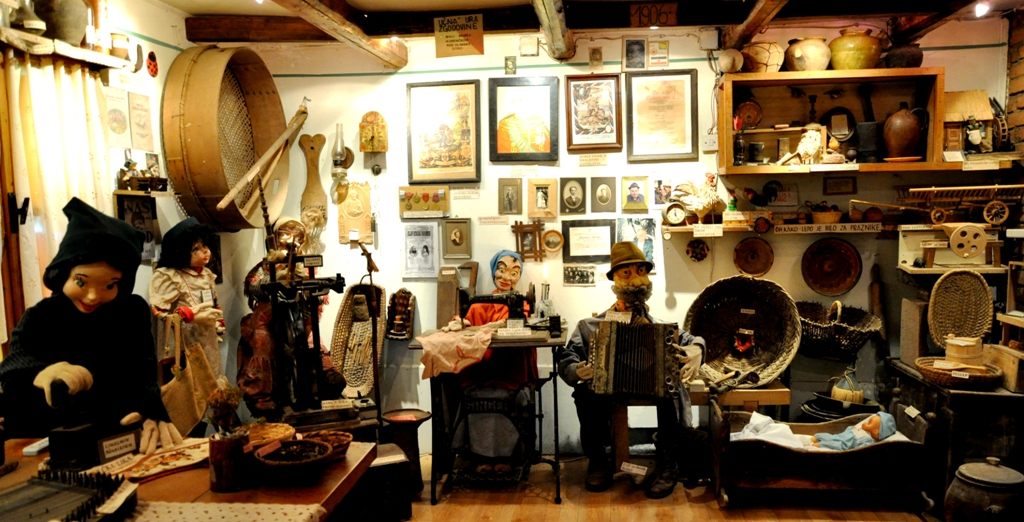 In the height of summer, the attraction is easy to miss from the road, with little more visible than a hand-lettered sign, a stream-fed water wheel, and Brilej's original witch, broom, and scarf still hanging mid-air. Up a set of stone steps is the cottage, now converted into a "How They Once Lived" museum depicting the Slovenian farm life of Brilej's youth. The cottage also houses a trinket shop: Witch dolls hang from the ceiling and witch-head-topped pencils crowd earthenware jars.
Beyond the museum is the park itself, a forest footpath lined with more than 60 scenes from fairy tales, folk tales, and Slovenian children's films. To visitors from abroad, the mix of familiar and foreign can be exhilarating. Here is a recognizable tableau of Snow White's dwarves gaily making music, mouths open mid-song. Nearby, there is a miniature log cabin where, inside a darkened shadow box, twinkling fairy lights illuminate the flaxen-haired Twinkle Sleepyhead, heroine of a well-loved Slovenian fairy tale. Motion-triggered sound and movement give displays an element of surprise. Many, like the Flašefon, a handmade instrument of glass bottles, invite visitors to interact with them.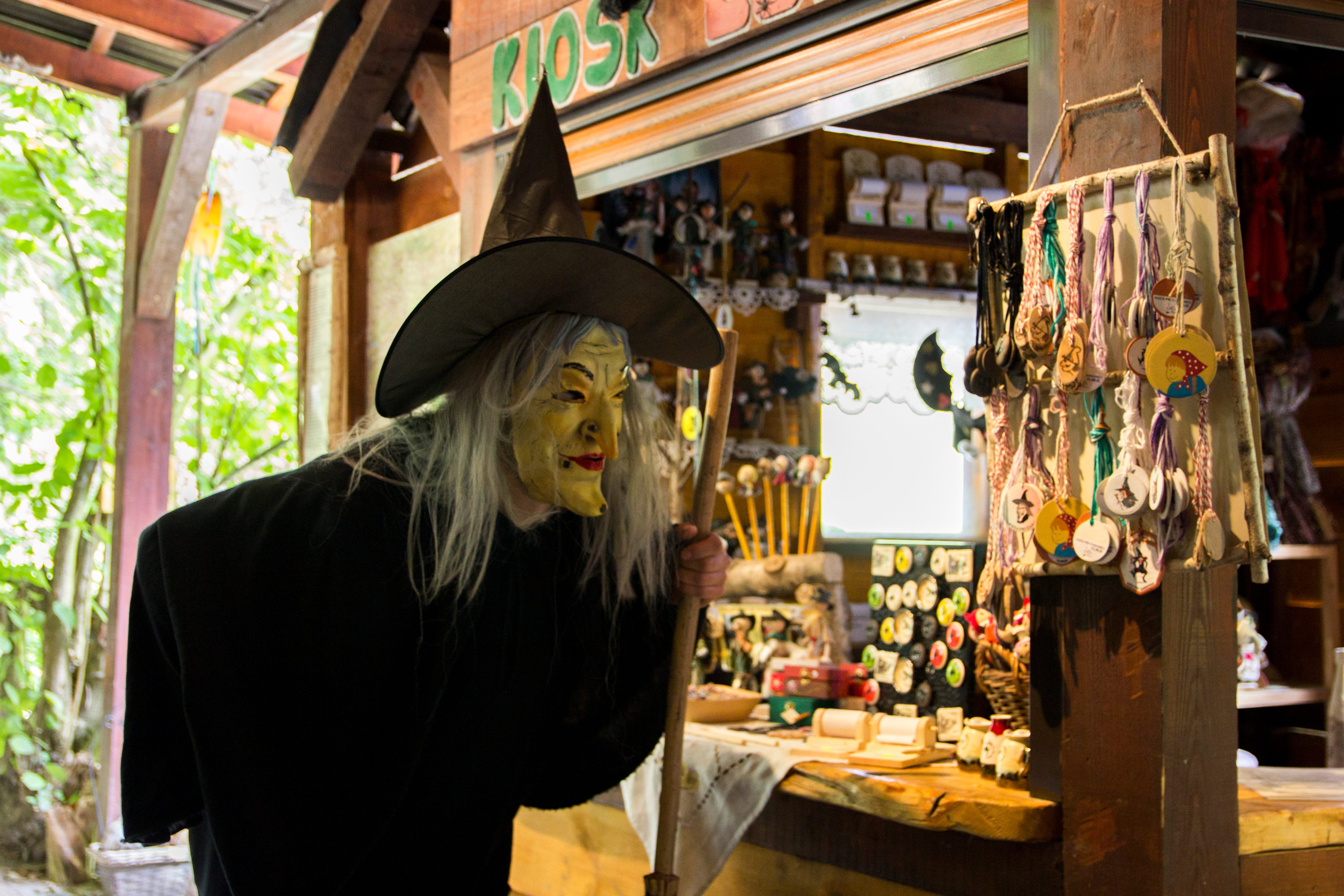 A huge part of the park's appeal is that it is self-made. No sign, structure, or creature appears prefabricated; nothing looks new. Much of this was by necessity.
"Thirty years ago, you didn't have stores where you can go and buy material, wood, plastic… so my grandfather built from scrap material… old houses, old washing machines," says Kneževič. Slovenia's markets have since changed. Since 2004, modern materials and E.U. funds to support tourism development have become easier to obtain, says Kneževič, but he and his family will continue doing things the old way, by reusing and recycling materials, many of them from nature. To do otherwise, he argues, would be to abandon his grandfather's values.
When he created Primary School Podčetrtek, Brilej imagined a place where children ages 7 to 15 would acquire knowledge and skills by operating miniaturized versions of real-world institutions. The school had a bakery, a bank, a garden, an apiary, and a radio station—all run by and for students with the goal of teaching sustainability and conservation. A lush imaginary world built conspicuously by hand, often of discarded bits and pieces, Koča pri Čarovnici also seems to encourage self-sufficiency and respect for the natural environment in its visitors.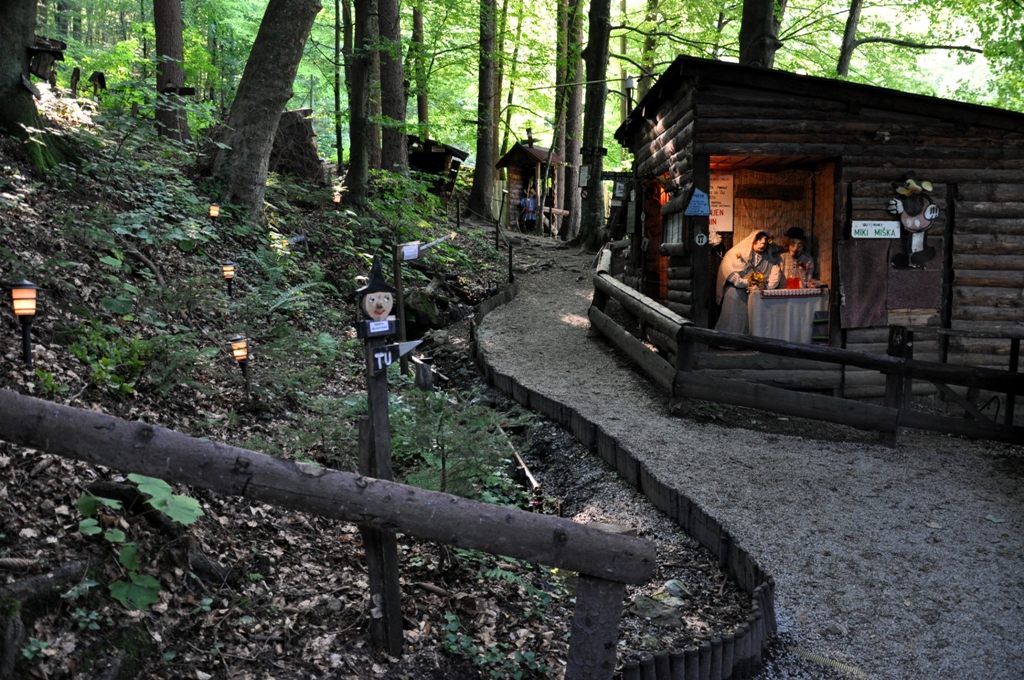 "The point of our fairy tale land is to make things with used materials and do it on our own, not to call some firm [to do it for you]," Kneževič says. "It's another way of educating children."
Many of the park's repeat visitors were first introduced to it shortly after Slovenia got its independence from Communist Yugoslavia. Kneževič, himself just a boy at that time, thinks children's imaginations have since changed. Back then, he says, video games and television cartoons were less widely available, and children's play was largely outdoors; as a result, childhood fantasies were grounded in nature. Additionally, he says, parents worked shorter days and were more available to read to their children. Now, there's less time for all of that.
Irena Mrak and Irma Potočnik Slavič, geographers at the University of Ljubljana, agree: Slovenians now work longer hours than they did before the country's markets became globalized. While Slovenia considers itself "a nation who likes to go back to nature," longer work days have translated to less hours outside, and encounters with nature that once prioritized tranquility now prioritize efficiency.
When parents return to the park with children of their own and wander its meandering paths, Kneževič says, some of the old Slovenia gets revived. And what parents may not think to say, the park says for them: Each curio and hand-painted sign whispers the pride of making new from old. It also sends a message about the responsibility to preserve creatures of fantasy and the forest that provides their home.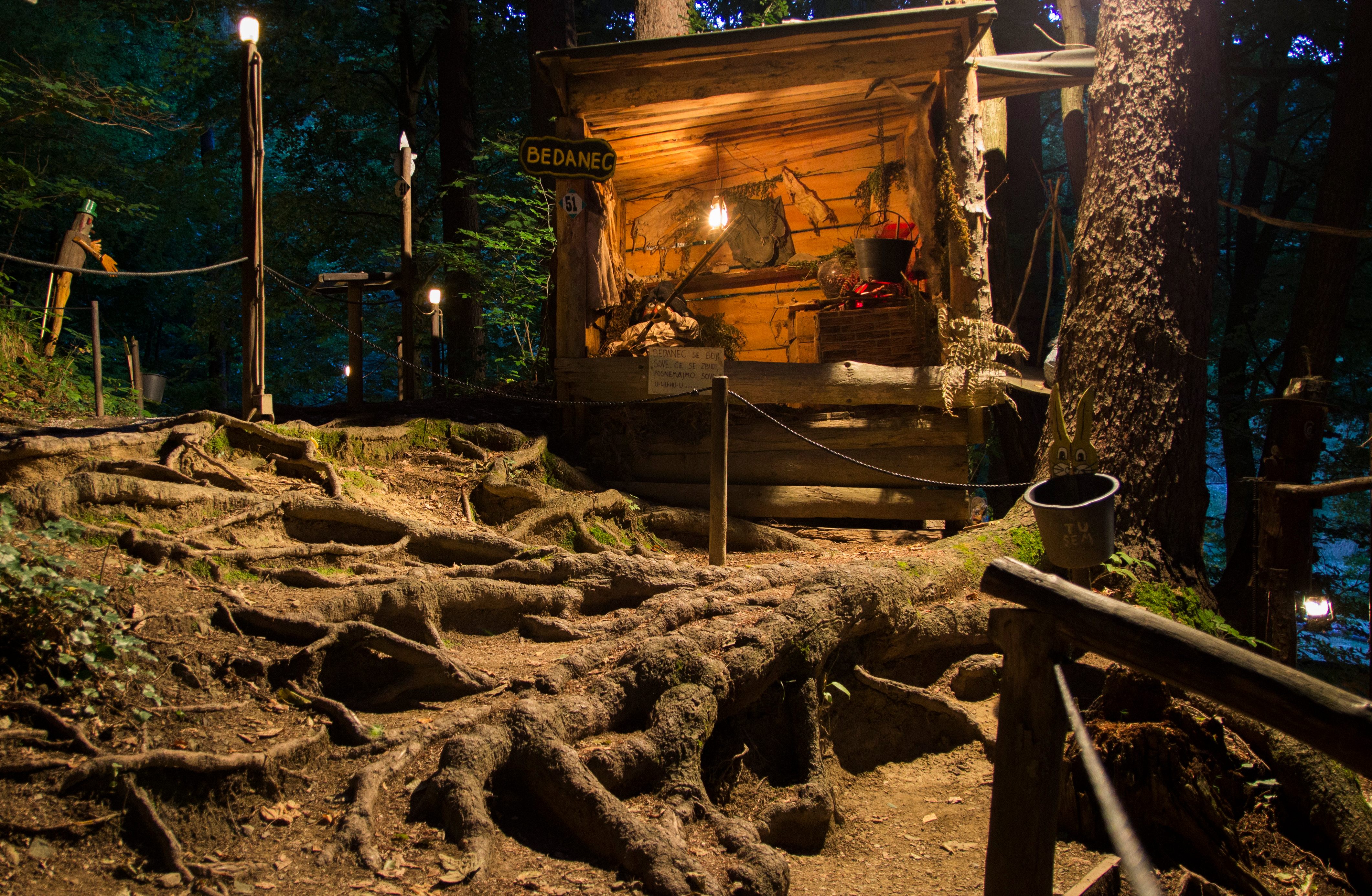 As they have for decades, Brilej's descendants meet at the cottage on weekends and holidays to perform upkeep. In good weather, men restore aging structures and rewire electrical connections while women rebuild dolls. In the winter, they gather to produce the handmade souvenirs sold in the park's shop.
Several years ago, Kneževič returned to Podčetrtek from a brewery job in Serbia to take over full-time management of the park with his wife, a kindergarten teacher, their two "little witches," and his extended family. He hasn't looked back; keeping the place true to his grandfather's original mission sustains the park, his family, and himself.
"Back then, people used to laugh at my grandfather: 'What is the principal of the primary school doing, building dolls in the forest?' Now, I see why it was so important for him," he says. "I never come home in a bad mood, sad, or angry. It's such a stress release, working in the forest, making your imagination come true. Whatever you want, you can build there."