In Germany, Karl Marx and Elvis Direct Traffic
East Berlin's famed Ampelmännchen has inspired a new generation of pedestrian signals that will make you stop in your tracks.
When German traffic psychologist Karl Peglau designed an easy-to-recognize symbol for pedestrian street crossings in East Berlin, he had no idea that it would eventually grow legs of its own. The German Democratic Republic's Ampelmännchen, or "little traffic light man," is not your typical tall, stick-like figure.* Rather, this stout and somewhat childlike silhouette, with a flat-top cap and a confident stride, is as iconic as he is eye-catching.
Over the years, the quirky Ampelmännchen has become a much-loved symbol of "Ostalgie" (East German nostalgia), right alongside the Trabant automobiles with which it once shared the streets. Now, at age 60, the little street crossing man is also the inspiration for a new generation of bespoke traffic symbols designed not only for pedestrian safety but also to attract tourism and devoted followers of their own.
In the Hessen towns of Bad Nauheim and Friedberg, an Elvis Presley Ampelmännchen instructs foot traffic with his signature dance moves. ("The King" lived in the former and was stationed in the latter during his years in the U.S. Army.) In the Saxon cities of Zwickau, Dresden, and Leipzig, female crossing signals with long braids and skirts, known as Ampelfrau, preside over pedestrian crossings. Whether it's because of the Pied Piper Ampelmännchen in Hamelin, a silhouette of the cherished German cartoon character Det in Mainz, or the newly installed Brothers Grimm signals in Hanau, the birthplace of the famous fairy tale publishers, crossing the street in Germany has become a much more fun endeavor.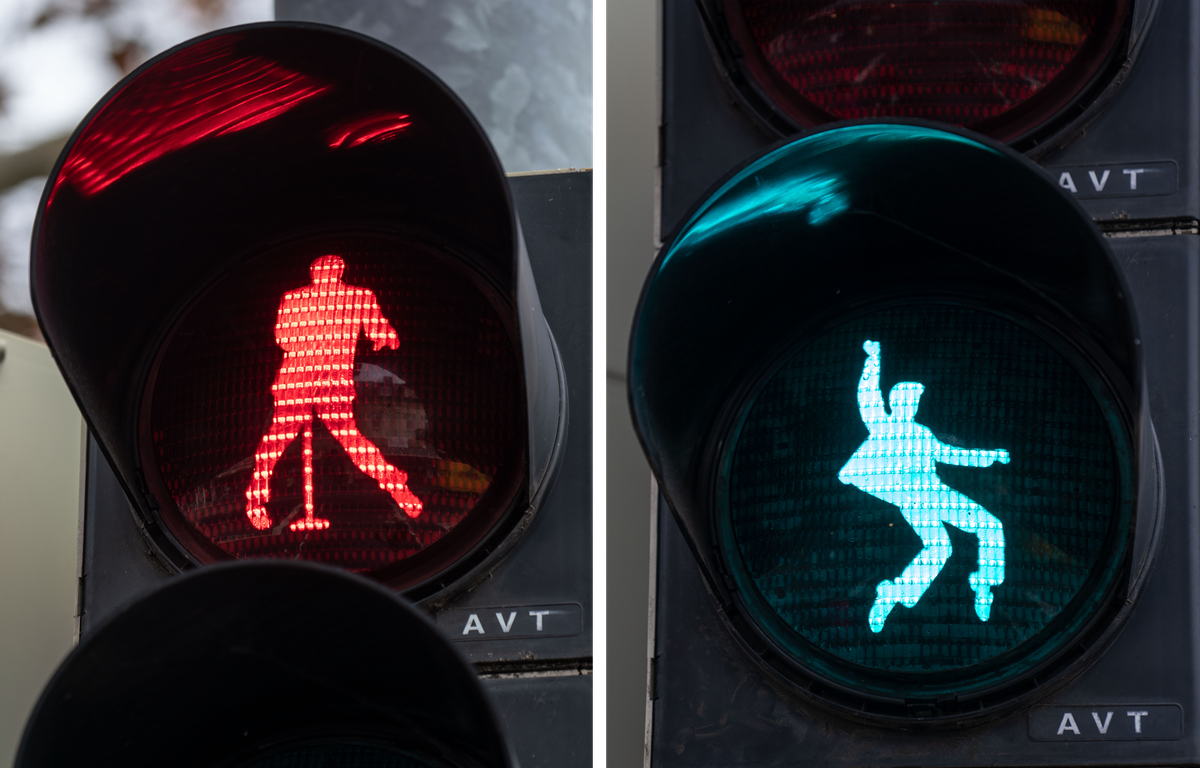 Like Japan's yuru-chara—those typically big-eyed and adorable mascots resembling bears, ducks, and sushi rolls created to promote individual towns, businesses, and events—Germany's Ampelmännchen and his place-centric counterparts have become some of the country's best marketing tools.
Peglau's original Ampelmännchen design went into use just after the construction of the Berlin Wall and by the end of the Cold War, it was so beloved that when the reunified country began standardizing pedestrian crossing signals nationwide, former East Germans waged a campaign to save the symbol. But it wasn't until 1996 that a product designer from Baden-Württemberg, Markus Heckhausen, came along and turned the crossing signal into a celebrity. Heckhausen's initial series of Ampelmännchen lamps launched a souvenir frenzy. These days you can drink from Ampelmännchen coffee mugs, pull on Ampelmännchen underwear, and even eat Ampelmännchen-shaped pasta colored red, green, and yellow.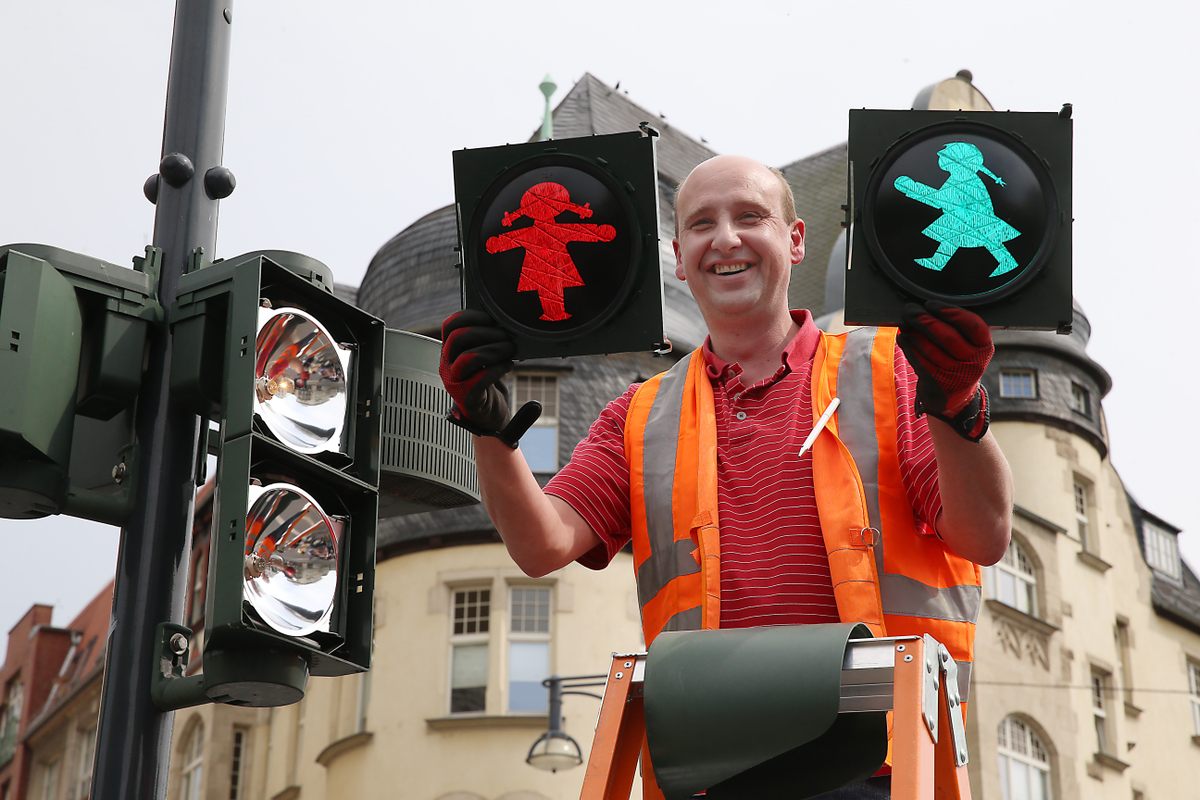 The little street crossing man has become so well known that other countries have adopted versions of their own. In London and Madrid, traditional traffic symbols are transformed into same-sex couples walking hand-in-hand during annual Pride events. In Denmark, little helmet-wearing, shield-carrying warriors help direct traffic in Aarhus, a coastal city with Viking roots.
It often seems like one Ampelmännchen begets the next. Take the riverside city of Trier in southwest Germany's Moselle wine region, where crossing guard duty falls to social philosopher and revolutionary Karl Marx. When the city was looking for ways to celebrate the 200th anniversary of the birth of its most famous son, an Ampelmännchen seemed like the obvious answer. City administrators already knew it could be done; all they needed was a pair of designs that complied with a couple of road safety standards. One rule, explains Nicole Lauer, the head of Trier's Public Relations and Marketing department, is that the figures must clearly convey whether they're "standing" or "walking.'" "The standing-symbol must also have a large red area," Lauer says, "so it was to our advantage that Marx wasn't a skinny man."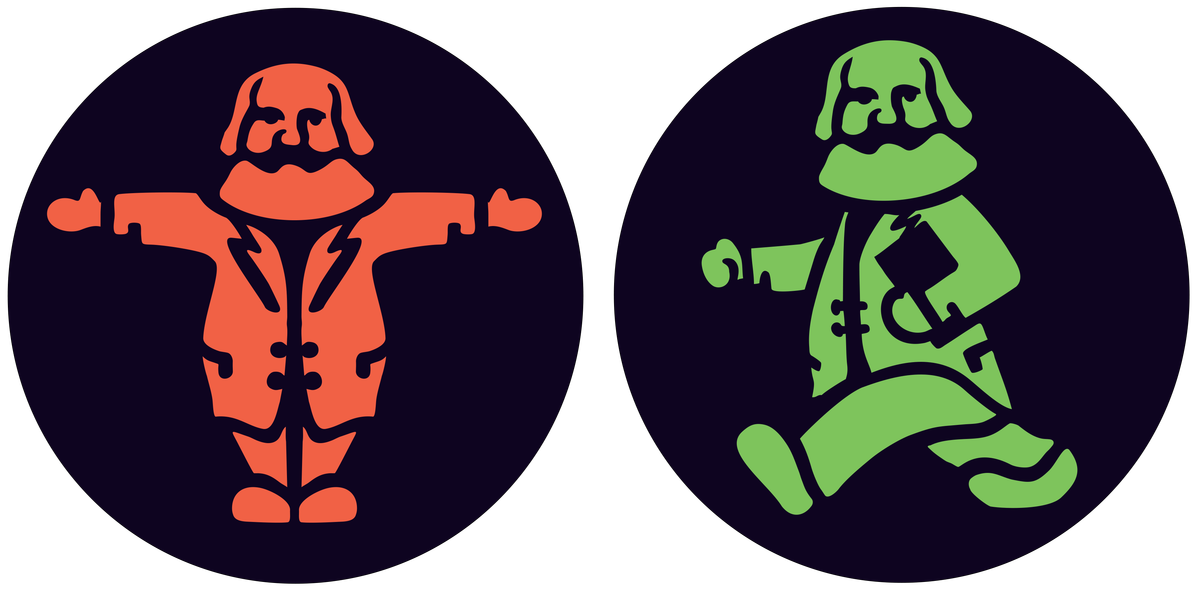 For Trier, the Karl Marx Ampelmännchen "was a way of taking Marx off of his pedestal and making him more tangible to the public," says Lauer. However, coming up with the right image proved a challenge. "Not only did we have to meet the necessary requirements for traffic lights," she says, "but the symbol also had to be both recognizable and adorable." Local graphic artist Johannes Kolz worked hard perfecting the contours of Marx's common features (his hair, beard, suit, and book) so that they would be clearly visible, despite the bright light.
Not every Ampelmännchen or Ampelfrau is as immediately identifiable. One of the most recent additions to the Ampelmännchen family is a tribute to Sebastian Kneipp, a Catholic priest and 19th-century forefather of the naturopathic medicine movement. Kneipp earned the nickname the "water doctor" for his holistic treatments, including hydrotherapy. Kneipp now directs foot traffic alongside Elvis in Bad Nauheim, where Kneipp's healing methods are still practiced.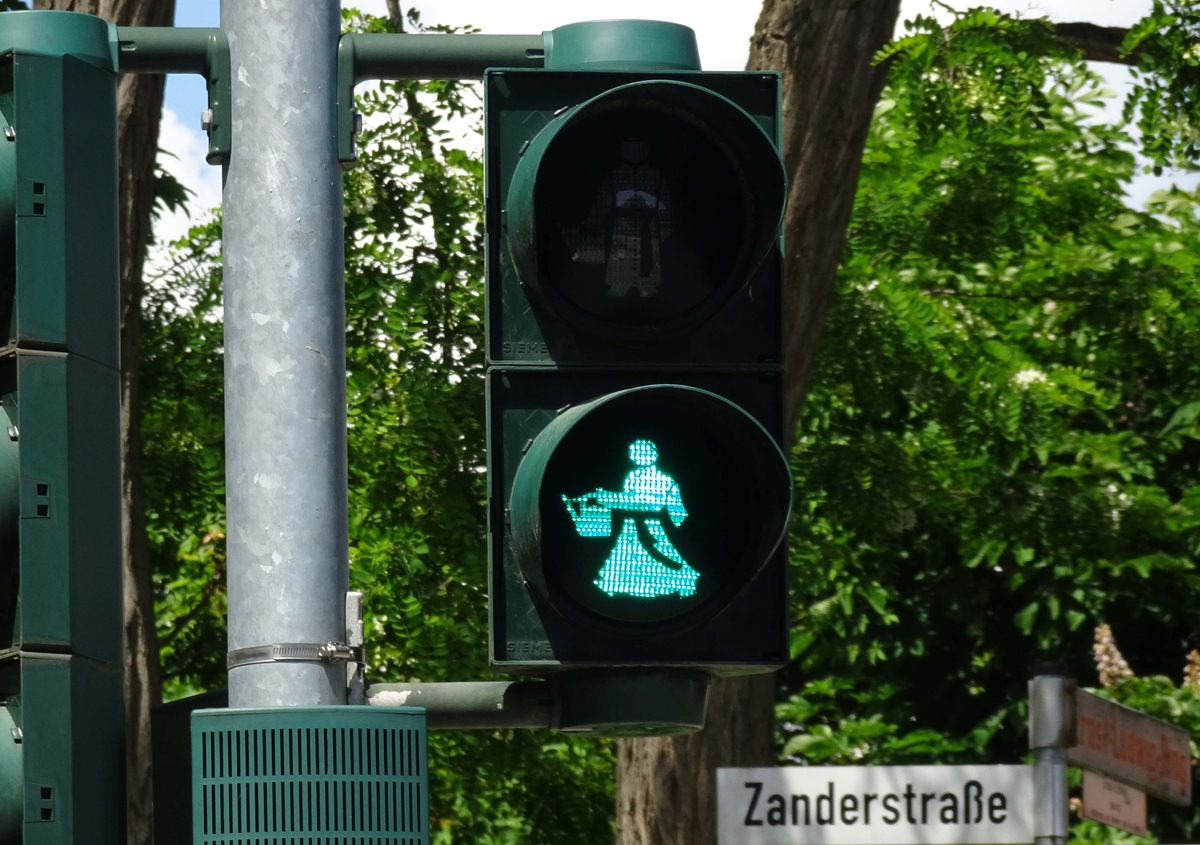 Stefan Reichert, a Bad Nauheim government specialist, worked closely with the town's Kneipp Association to create the sign: a silhouette of Kneipp wearing his signature clerical coat and carrying a water jug. It was installed at an intersection close to the town's gesundheitsgarten (health garden). "Some people thought that Sebastian Kneipp's silhouette was actually that of a ninja," says Reichert. "Others confused it for a Jedi Knight." This offered a perfect opportunity to teach pedestrians a little something about Kneipp and his health treatments, Reichert says. "Even if some of them might have found a Jedi Knight more exciting."
* Correction: The original version of this story stated that Ampelmännchen translates to "little street crossing man." A more accurate translation is "little traffic light man."